Sally Lindsay's Height
5ft 4 ½ (163.8 cm)
English actress, best known for playing Shelley in Coronation Street, Lisa in Mount Pleasant and Kath in Still Open All Hours. In 2000, she had her height listed as being 5 feet 6 inches in the Spotlight casting directory.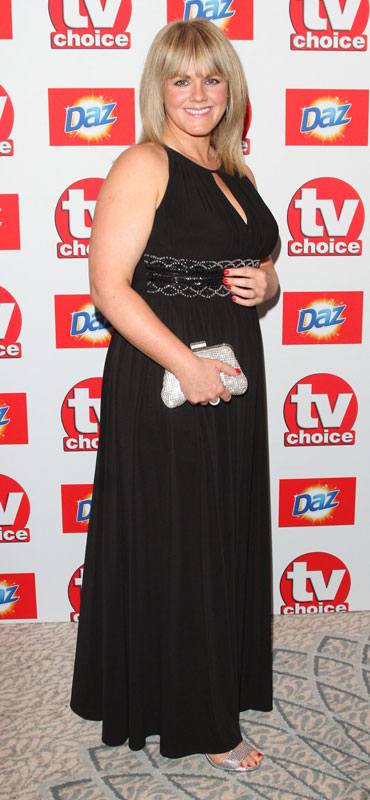 Photos by PR Photos
Add a Comment
15 comments
Average Guess (8 Votes)
5ft 4.53in (163.9cm)
Miss Sandy Cowell
said on 8/Jul/19
I can see that Sally hasn't had a comment for one day short of one-and-a-half years, so what better way to do something about it than by wishing her a very Happy Birthday!
🎂🕯️🎁 Happy Birthday Sally! 🎁🕯️🎂
Sally is still only in her mid forties, so height loss? Nah! 5ft4.5.
🎈🍰😁💐🎂🕯️🎁🎉🎈🍰😁💐🕯️🎁🎉🎈
Sandy Cowell
said on 9/Jan/18
@ Nik
👍 Mmmkay!
Nik
said on 9/Jan/18
@ Sandy Cowell
The last part of what I said should have read "no longer than an hour of sitting down."
Sandy Cowell
said on 8/Jan/18
@ Nik - Hi! It's Monday afternoon and I am soon going to feed the cats but before that, I thought that I should write to you to say that I'm feeling a wee bit more optimistic today! I was just writing on Connor McIntyre's page about 'Coronation Street', the programme which introduced Sally Lindsay to British audiences! What did you think of Friday's offerings? I was sitting there watching with my hand in front of my mouth! I couldn't believe what I was seeing! Then I called my brother in so that he could see it on +1, and then I saw the repeat on Saturday, Sunday and again today! I think there is a remote chance that Luke might possibly have slithered out of the car door as I did notice it opening when Phelan shot the petrol tank and the whole car went up. I do hope so, though I doubt it very much! Then it would be Luke's word against Phelan's! I am incredibly excited to see tonight's episodes now! The Street is my favourite at this moment in time, but it varies, of course.
I don't think it is in any way surprising that so many soap stars leave to go on to bigger and better things - but whether they are better is arguable! Of all our actors, there is no denying that soap stars work the hardest! They get up early, from what I hear, and then look at all the lines they have to remember - and say with complete conviction! Isn't it amazing, and they do it week after week, month after month and year after year!
They earn their money, there's no getting away from it. The other day, I wrote about Sally and Sarah Lancashire going on to greater things! Well, over the weekend I read that Sarah's 'Happy Valley' is returning for a third series this year! That was the best thriller in years, and I SO can't wait!
Cheers Nik, and have a fantastic week!
Nik
said on 7/Jan/18
@ Sandy Cowell
Many thanks mate! You will have to look into moving if you get chance, I am so sorry what you have had to put up with and my thoughts are with you and Christopher.
I am aware that it is very difficult to do exercise at the moment but one thing that would be a good idea is to stand up every so often, I am a great believer that this coupled with a great diet is as valuable as exercise alone. Aim for standing up for as long as you can, it doesn't matter if it is just for seconds and do this after periods of no longer than an hour of standing up.
Cheers!
Sandy Cowell
said on 5/Jan/18
@ Nik - Thank you very much and a very Happy 2018 to you and your Mum too!
When I woke up today, I got very distressed that I couldn't stroke my Manelia. She is the first one I wanted to stroke when ever I woke. The fact that she and little Peelio were both destroyed by careless drivers makes it insanely difficult to accept. I never forget any of my cats, of course, but I feel like moving now because the road is so dangerous.
My painkillers have already been cut and I have to go to my doctors to discuss a new pain control plan. I have seen on TV that a great many operations have been put off and mine is obviously one of them, because I won't die without it! But being like this prevents me from being able to take exercise, which is awfully depressing and very unhealthy too.
OK, so the weekend is upon us again - hooray, more of the same routine again of soap omnibuses etc and sports fixtures for 'the boys'!
Have a good one, Nik and tell your Mum the same!
Nik
said on 2/Jan/18
@ Sandy Cowell - Many thanks!
It has been a very upsetting year for you in 2017 and I am very sorry about that, unfortunately the hurt you have felt in losing three of your beautiful cats will remain with you and I only hope it subsides as quickly as possible. The scars will never go entirely but I hope in time things becomes easier to deal with, I know this will be the case.
Let your doctors know how much pain you are in before your painkillers are being reduced and tell them how frequent the pain is and how intense it is, challenge them to consider whether your painkillers should be reduced. Tell them you are in more pain than ever.
Here's to a great year, my friend!
Sandy Cowell
said on 1/Jan/18
@ Nik - Happy New Year to you!
I will be very grateful if I have a year go by without losing any more of my beautiful cats. Three was just ridiculous last year. It will help if I can get my operation sorted out soon. I don't let cats into the front garden, you see! They are far too precious for that!
This very month, my painkillers are being reduced, though I am in more pain than ever. I will then be referred back to my doctor for them to prescribe what they think is necessary.
After the operation, I hope to get back to over 5ft1 at least.
Lots hope this is a great year for everyone, Rob and Jenny, plus all the visitors and celebs alike!
2018 - We salute you! 👋🕛🍻
Nik
said on 1/Jan/18
@ Sandy Cowell - Hi!
Thanks for telling me this Sandy! I will now be eagerly anticipating the return of these two stars to the cobbles!
The actors and actresses from our soaps are very hard working, good point! They have to prepare a lot for episodes of their soap, and each soap is on our televisions at least 4 times a week these days. Scenes will constantly have to be refilmed if any of the the actors and actresses involved don't get it right and the soaps stars have to be in tip top form because they are under the spotlight continually throughout their careers.
Cheers!
Sandy Cowell
said on 30/Dec/17
@ Nik - I believe Sally is making a comeback in the New Year as well as my all-time favourite, Sarah Lancashire! Isn't that exciting? We have something to look forward to come New Year with these 'Coronation Street' favourites! I love to see Soap Stars go on to make successful careers when they leave their respective Soaps. They are such hard-working actors and they SO deserve it! 👍 😁 😆 🔔 🎆
Nik
said on 30/Dec/17
@ Sandy Cowell - Hi mate!
I was surprised to learn about Sally's real height, something we would never have found out but for this wonderful website. However she is of a good feminine height, and like you said, this is the case whatever height she is, whether it be 5'4.5", 5'7", or any other height!
Life has been very unfair for you recently and I hope things start to get a little bit better as soon as possible, at least you, Christopher, and Jim, are there for each other and that is so important.
I am having problems with my internet connection, it was OK in Whitby this morning when I sent my first message on this page but since I got home I have struggled to get on celebheights until 15:35 pm! I wrote off to Rob via e-mail!
It will be another new year in a couple of days!
Take care.
Sandy Cowell
said on 30/Dec/17
@ Nik - Hi my friend!
It looks like you aren't the only one to think Sally was taller!
I have to get my painkillers and then I will try to answer some of your comments today. I have been, and still am, very upset about Juicy.
Have a nice weekend, Nik, and the same to your Mum.
Nik
said on 30/Dec/17
@ Rob @ Sandy Cowell
Sally is a fine addition to this website! I always thought that she was 5'7" right up until coming on this page, as that is what I read on the Internet! I was surprised to find out she is 5'4.5".
Faza
said on 29/Dec/17
Have seen her listed as 5'6 and 5'7 figured she never looked that tall wonder how tall daniel ryan is who played her husband on mount pleasant
Sandy Cowell
said on 29/Dec/17
Ah yes! I remember Sally playing the part of barmaid Shelley in 'Coronation Street'!
So she is 5ft4 and a half inches! Very nice too - a good feminine height, but aren't we all, ladies? 😉 (good feminine heights, that is!)
That's what I will go for then!