Savannah Guthrie's Height
5ft 9 ¾ (177.2 cm)
American tv presenter. She commented on her stature:
"I'm about 5ft 10 inches tall, maybe a little bit under...But I do wear high heels because all the ladies on the Today show wear the high heels, and once I put those heels on - yeah, I think I'm getting over 6ft tall"
. Also, in a tv spot she said her weight was
"between 139 and 145lbs"
.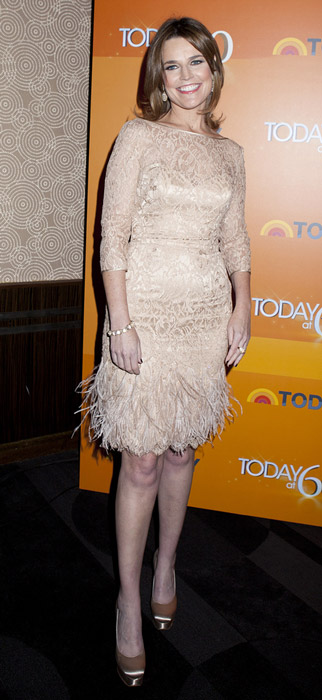 Photo by PR Photos
Add a Comment
20 comments
Average Guess (12 Votes)
5ft 9.85in (177.4cm)
Sandy Cowell
said on 19/Dec/18
...and, Nik, I have clearly got confidence that her dress would look a lot better on me!
5ft9.75.
Nik
said on 18/Dec/18
The ten voters have clearly got confidence in Savannah's claims!
Michael 5'10", 178 cm
said on 16/Dec/18
Savannah Gunthrie is a really tall lady for sure. She easily gives the impression of a 5'10" woman, you could tell that she is tall next to Al Roker and Matt Lauer who isn't 5'11". She is 5'9.75"-5'10".
Luigi
said on 30/Nov/17
Rob please add Matt Lauer, and how do you feel about him being fired about by NBC
Editor Rob: he might be 5ft 10.5 at most.
Sarah
said on 29/Nov/17
Close to 5'10", or above that mark
Donna M
said on 21/Nov/17
I was so happy to find out Savannah is as tall as I am!!! She looks great on TV also....It's beautiful to be tall!!
Greg
said on 11/Sep/17
OK, I'm confused. Savannah Guthrie is closing on 5'10" but Hoda Kotb's height is given at 5'9" and looks taller than Savannah in every side-by-side shot I've seen. Something does not compute.
C.E.B.
said on 23/Jan/17
With flats on she is barely smaller than Matt Lauer and I guess he is around 5'11 so she must be around 5'10.
J.Lee
said on 1/Oct/16
Rob how tall is Matt Lauer?
Editor Rob: will need to have another look
J.Lee
said on 14/Jun/16
Bean, she is not taller than Matt Laurer when I saw them stand next to each other today and she had on small heels. I don't know if he had lifts, probably not. But she is not taller. It's just that she wears high heels a lot.
Bean
said on 5/Mar/15
Taller than supposedly 5'11" Matt Lauer.
Emily
said on 3/Aug/13
So is she a weak 5'10 or what?
Amoney
said on 30/Jul/13
On the voice, she towered over al roker with maybe 3 inch heels so she was 6'1" in heels and he is 5'7"
Loverboy
said on 23/Feb/13
She completely tromps all over Natalie Morales' hotness and it infuriates me.
someone
said on 30/Dec/12
christyv, please tell me this is a (bad) joke...
christyv
said on 9/Nov/12
It isn't her height... SOMEONE should teach her how to SIT like a lady.
OR not to cross her legs at all. ankles should always be close.. she sits UNlady like..please....c
J.Lee
said on 6/Oct/12
She is probably 5 ft 9.9 so Rob rounded off to 5 ft 10
Mathew
said on 24/Sep/12
5'9.75" would be a better listing as she's self admittedly a little under 5'10".
Doink
said on 22/Sep/12
Click Here
5-10 is listed on her driver's license. Natalie Morales 5-5 & Al Roker 5-9 (yeah right)
Nirvana
said on 19/Sep/12
Rob she herself said she was a little under 5'10, so wouldn't 5'9 3/4 be more accurate?