Schoolboy Q's Height
5ft 6 ¾ (169.5 cm)
Quincy Matthew Hanley is an American Hip-Hop artist. On twitter he mentioned his height a few times, saying
"I'm only 5"8"
,
"nobody wants a 5'8 wide reciever dat tHInks He can rap lol"
and
"ni**aHz always be like damn Q i tHOugHt u waz taller lol ni**aH i aint even 5"10 lol"
. He also revealed his ideal women
"#thickchicks i gotta fetish foe gurls tht weight 150 5"5 thts tha best b**ch hands down im sorry but i really like big gurls lol"
.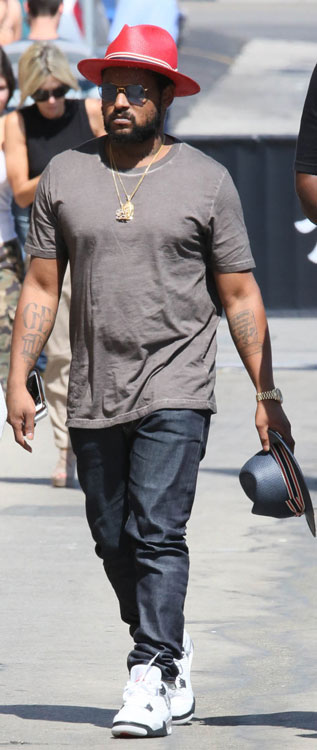 Photos by PR Photos
Add a Comment
30 comments
Average Guess (14 Votes)
5ft 6.88in (169.9cm)
Nik
said on 2/Jan/18
@ Sandy Cowell
No problem, it's a pleasure!
Thanks!
Sandy Cowell
said on 1/Jan/18
@ Nik - Thank you very much indeed! I wish you and your Mum the very same!
😁😀😊😃☺ 🍺🍸🍺🍷☕ 🔔🔮
👔👗👖👚👕
Nik
said on 1/Jan/18
@ Sandy Cowell - Hi!
With the new year now upon us it is incredible to think that we are now in 2018, it doesn't seem like 2 minutes since we were letting the millennium in!
We didn't have a right good time of it on Boxing Day, my Mum touched one of the buttons on the washing machine and the panel with the buttons fell inside the washing machine and we couldn't retrieve it!
The soaps have been brilliant over Christmas, however I must say that Roberts recurring dreams on "Emmerdale" confused my Mum and I, we couldn't understand it all!
Like you said, we are seeing a hard and ruthless side to the whole Barlow family on "Coronation Street" and we are seeing a callous side to Ken! I think they should lay off Billy now, he is a good person and the torture they are putting him through doesn't achieve anything positive. It just causes destruction, which was very close to occurring when Billy fell off the cliff, something which would not have occurred if Peter hadn't tried to "teach him a lesson". Also the Barlow's would have blood on their hands if Billy committed suicide, something a person may do when they are tortured as much as he is at the moment.
The events on "Eastenders" were an absolute shocker, and how things will turn out, I do not know. At the time of that tragic event I thought to myself that Max should have got down from the roof of the "Queen Vic" as soon as his daughters got onto the very slippery part of the roof that they fell from, but although he is a ruthless man to many he does love his daughters, so what I am trying to say is that he wasn't thinking straight, hence the reason he did not get down from the roof as soon as Abi and Lauren turned up.
On another note, wouldn't it be good if the actors who play Robert Sugden and Aaron get pages on this website? What is your guess for their heights? I reckon 5'8" for Aaron and 5'10" for Robert!
You have made me think back to the reaction my Mum got from my Dad when she took the soaps very seriously (nowt wrong with that!), my Dad always used to say to my Mum, "They are not real!", he must have said this umpteen times! I don't take them as seriously myself but plenty of people do and there is nothing wrong with that, in any case the soaps do reflect real life circumstances and real life issues. I do take them seriously at times but I also think to myself that they are not real too plenty of the time.
Onto televisions, a 40 incher sure is a whopping big telly, I suppose at the end of the day it just depends which size you prefer most! It's worth investing in the right sized television for your needs because it can give you a lot of pleasure for many years!
One last thing, have a great new year Sandy. I am really sorry about how terrible you have had things in 2017 and here's to a good 2018! 🍻
Nik
said on 31/Dec/17
@ Sandy Cowell
🍷🍰🎈. Happy new year Sandy! 🎈🍰🍷
Sandy Cowell
said on 30/Dec/17
@ Nik - I was really pleased that you had a good Christmas Day, but rather upset that your Boxing Day went a bit 🍐 shaped, what with your Mum unable to find her i-pad and the both of you being unwell. Hardly an ideal type of day, let alone a special Christmas day😛!
The Soaps at Christmas were really first rate, weren't they? 'Emmerdale' was the gentlest, and almost akin to a Christmas pantomime! It had Robert reminiscing in his dreams, after his car accident, and the viewer was left in the hope that his brush with death shook him enough to turn over the many new leaves necessary for him to become a good father.
EastEnders left me quite angry because I thought that the two Branning girls had tragically fallen to their deaths! I was so pleased that they survived, and even Abi's baby lived through the trauma! I hope she doesn't stay in a coma and that young Lauren pulls through and is completely well again.
As for 'Coronation Street', I feel they are behaving far too harshly with Billy. It's obvious that he's suffered already, and he did originally react to the tragedy of Susan's demise by mending his ways and becoming a man of the Cloth, going on to help and support people that would otherwise had nobody. That is a career path he chose to atone for what he did. He is a good and loving man now and I SO hope the Barlow family relent! They are showing an evil side to them that I expected from Tracy only, but even she isn't that bad now! Ken should be ashamed of himself, threatening the sick Billy like that!
Ha ha - My Mum would be laughing at me for getting so worked up about it! But so did she sometimes, though not as badly as I do! Jim also thinks I am hilarious when it comes to my reactions to the Soaps, and often films in general! I just tell him it's escapism, wiping away the tears! So that is the Christmas Soaps covered!
As far as my phone goes, I will have to forgive and forget as before buying a new phone, as I was thinking of doing, I'm going to get a larger TV with any spare money in the New Year! My big one doesn't work anymore, and this 21" is simply too small! I suppose I am spoilt - I have Jim to thank for that!!! You should see his! It's a 40 incher! How I would get one of them into the house I do not know, but I managed with the 32" which I bought him one Christmas and 'inherited' when he bought the bigger one!
Mind you, I did get a shop help to carry it to the taxi and the taxi driver to carry it to the house, so I didn't lift it at all!
That is all for now! My phone has behaved throughout the writing of this comment! Would you credit it? 'He' really does seem to have a brain of his own sometimes! It's quite spooky!
Bye for now! 😁🙋 👍
Nik
said on 30/Dec/17
@ Sandy Cowell
👍
Sandy Cowell
said on 29/Dec/17
@ Nik: That should, of course, have been GOD bless.
xxx
Nik
said on 29/Dec/17
@ Sandy Cowell
Hi Sandy,
I am really sorry to hear about the pain that you, Jim, and Christopher, are all going through. My thoughts are with you all and I know that you will receive the full support of everyone on this website. I fully understand it will be difficult to reply to comments and that is something you can do only when you are ready, I have one or two replies that I am behind on but I will do them at a later date.
God Bless you too Sandy, my friend.
Sandy Cowell
said on 28/Dec/17
Hello Nik, honey,
I am too upset to write a proper reply because I found my beautiful Cordercy dead this afternoon. I just phoned Jim and he is heartbroken. I bought Cordercy on his Birthday in 2009. He was the kitten who the taxi driver stuck in the boot and I had the swine stop the cab and I left, leaving no tip. Then Cordercy and I am enjoyed an ice cream together.
Good Bless you and Good Bless Cordercy. XXX XXX
Nik
said on 28/Dec/17
@ Sandy Cowell - Hi!
My Mum says "Thank you!" back to you for that! We enjoyed our Christmas dinner and we had a really good Christmas Day, the soaps were brilliant and it was brilliant to see some of my comments go up on this website within minutes during the morning! I really enjoyed the festive feel to the comments on here!
Unfortunately Boxing Day things went slightly pear shaped, we have both suffered from sickness, my Mum couldn't find her ipad and we turned the house upside down to look for it, and we had and still have problems with the washing machine!
I look forward to hearing about Mr naughtocorrects mistakes, and your plans for him! 😭😭😭😭😭😭!
Cheers!
Sandy Cowell
said on 26/Dec/17
@ Nik - Hi! ✋ Please tell your Mum 'Thank you!' 👍 I hope you both really enjoyed your Christmas dinner 🍗🍱🎅, not to mention the rest of the day and of course, I hope you had a great Boxing🎍📦🎄Day too.
Earlier today, when I wrote some comments, Mr😤 autocorrect made some funny mistakes but I didn't write them down and then forgot them 😮! I will need to wait 😴 for the comments to go up and then my memory will be jogged 🙌 and I will tell you all about them! 📝
See you then! 👀👀
Cheers! 🙋
Nik
said on 26/Dec/17
@ Sandy Cowell - Cheers!
Animals can do the most amusing things and DVD's of moments like the situation you described would be a right 'ole laugh for any one fortunate enough to own a copy. Jasmin has also been guilty of having a dirty tail on quite a few occasions!
Treats like Lindt balls are good for your mood and lift morale at Chridtmas! I haven't been great this Boxing Day, I guess I ate too much dodgy food yesterday!
The soaps were good last night, Eastenders had a terrible ending but was captivating throughout! They're all on again tonight, so happy Boxing Day Sandy, they're all on again tonight!
Sandy Cowell
said on 25/Dec/17
@ Nik - I made a mid-afternoon mistake instead!
Now it's time for a
🎅Christmas Giggle!🎅
Yesterday I brought a couple of Lindt balls upstairs, (you know - those mega yummy ones!), ate one and put the other away for later. They came from a Lindt selection box containing milk chocolates, plain, white and hazelnut ones. Mine were both hazelnut. Then a bit later I went back downstairs and returned with a cup of tea. Erramius, who is pure white, had melted chocolate all over her tail and it looked like she'd messed herself!
I had previously sat on the remaining chocolate and then when I went away, Erramius went to sit in the place I had been sitting because it was nice and warm. (She always does that!)
Well, apart from the initial shock, I wondered what it would have looked like if I'd decided to have the white chocolate flavour! I might have thought she was melting! 😨
She HAS presented me with a dirty tail like that before and it wasn't chocolate that time! She'd been careless in the litter tray, but this time, I merely looked up to the skies and said to her, "NOT at Christmas, girl!"
Have a very Merry Christmas, Nik, and one and all!
Nik
said on 25/Dec/17
@ Sandy Cowell - Hi!
My Mum wishes you a merry Christmas too Sandy, thanks for that! We will be having our dinner shortly!
Thanks!
Nik
said on 25/Dec/17
@ Sandy Cowell
Good morning! Although right now there is only 36 minutes of the morning left as it is 11:24! I have made my fair share of early morning mistakes, particularly when I have commented before 7:00 am! It's great to find out about new celebrities and learn a little bit about them!
I hope you enjoyed Coronation Street and here's to a safe, healthy, and merry Christmas!
Cheers, my friend!
Sandy Cowell
said on 25/Dec/17
@ Nik - Good morning! I'm sitting here at just gone 7 this Christmas morning, but I don't plan on making any early morning mistakes, though I know it is easy to do!
I never knew Schoolboy's real name was Quincy - you told me!
I hadn't even so much as heard of him, but his name does stand out a bit!
Now I am going to catch up on Coronation Street! Merry Christmas to you and your Mum!
Sandy Cowell
said on 24/Dec/17
@ Nik - Thanks for telling me
about your afternoon and how you ended up finding Mark and his wife down the pub! I haven't been to one for ages, but should I ever decide to go, I couldn't think of a better, friendlier time to do it than at Christmas! As far as being without my internet facilities, well perish the thought! I only have this (badly behaved!) little phone, but I'd be lost without it. At least you and your Mum have your internet back now. The 'South Park' fellas did a damn funny, if filthy, episode of how up in arms everyone gets when the internet is down! You should try and it! I have loads of 'South Park' on DVD, but I am not sure if I own that one, but I can always send away for it. Why is that, when I can barely even walk right now? Yeah, that's right! Because I have the INTERNET! 😁 I must send this now, Nik, as my phone is beginning to play up! Cheers!
Nik
said on 23/Dec/17
@ Sandy Cowell
Cheers for that mate! We arrived at Whitby this afternoon and for a while my Mum and I were struggling because we had no internet! 😭😭😭😭😭🤐! My brother and his girlfriend had gone to the pub! 🐝🍺🍺! It had worked when we first arrived but then became disconnected!! My Mum had a bright idea and she worked out that a plug had tripped so we sorted the problem out! My Mum and I will be on our own tomorrow but Mark said he would come back and visit us over Christmas, he won't be stopping again for the night after tonight! It's great to spend Christmas with family wherever you are spending it, and to make the most of the food, TV programmes, and the sport that is on offer!
I have some comments that I want you and your loved ones to see over Christmas, you have contributed so much towards them and I hope that I have added interesting comments too! Off hand I can think of 3 pages I would like you to visit, I am not sure they ever hit the comments page so I would like you to be aware of them! The comments are on the pages of Boris Johnson, Craig Charles, and an interesting coincidence can be found on the page of Charlotte Hawkins, of which I am the only commenter so far!
I will certainly try to have a healthy Christmas, the 🍇 will still be consumed daily! I certainly feel happy too! I return those wishes to you, Jim, and all your family, as well as your cats, of course!
@ Rob
I hope you and Jenny have a great Christmas and once again thanks for your wonderful dedication to this website! It has not been unnoticed that you switch your computer on at 4 o' clock in the morning on occasions to start work on your job, I sometimes wake up at that time and go onto celebheights and see that the average vote has changed on the pages of some of the the new celebs, or the number of comments assigned to a certain page has changed! I have a fascinating thing to tell you and Sandy over Christmas about things I have noticed through watching you moderate!
@ Rob and Sandy
I had to chuckle to myself because after I had sent my comment to this page at just after 8 o'clock this morning I noticed a mistake so I made the necessary amendment and resubmitted it! However to try and make sure that Rob didn't publish both copies I e-mailed him asking him to only publish the second one, which he did! I referred to the page in question as school boy's page! I like his name but of course we know that Quincy is a fully grown man. I admire him to be honest, as I am sure that you both do, the fact is he lied about his height but then thought to hell with it, I will just accept myself as I am and be honest about my height and admit that I am not 5'8"! I bet he felt good doing this and why not? There is nothing wrong with his, or anyone's, height!
It will have amused him to own up to the truth after the lies!
👍👍
Editor Rob: yes, I hope everybody has a love Christmas. Some days I do get up at 4am!
Nik
said on 23/Dec/17
@ Sandy Cowell. @ Rob
A longer comment will follow imminently!
Sandy Cowell
said on 23/Dec/17
@ Rob - He he he! Yes at least Schoolboy admitted to this funny little 'crime!'
Anyway, may I take this opportunity to wish you and Jenny a wonderful time this Christmas! I will be doing a greeting for everyone but on whose page, I haven't yet decided! 💏 🎄🎅🎍 xxx
@ Nik - How exciting to go away for Christmas! Personally, I prefer to remain at home, unless it is with loved ones that I am staying 🏡,in which case it is home from home anyhow! It will be like that for you and your Mum of course, and great to spend this beautiful time of year all together! I wish you the Christmas 🎄 you so richly deserve - a very, very happy, healthy one! Love to your Mum, yourself, Jasmin 🐩 and your other family members! xxx
🐩😆🎄🎅😉😁😃😊😀👵💝🎍🎁
Nik
said on 23/Dec/17
@ Sandy Cowell. @ Rob
Quincy is certainly in the 5'6" - 5'7" range and I think that I will plump for 5'6.5"! However with the average vote being exactly the same as what you both think then maybe he is 5'6.75"!
He is certainly no schoolboy but I like his name!
We are off to Whitby today for Christmas and 🐩! will be with us as Mark and his partner will be staying for a night!
Cheers'
Sandy Cowell
said on 22/Dec/17
Height at 5ft6.75? Yes, I think so!
Schoolboy? Not anywhere close to this century!
Need for a bra? Absolutely! He can have one of my little ones, if he adds about 15 inches to the strap!
Editor Rob: there are certainly lots of 5ft 6.75 men who claim to be 5ft 8, I think Schoolboy may well be that type of guy too...at least he admitted to lying.
Rick
said on 22/Dec/17
Long body or long t-shirt?
Greg
said on 22/Dec/17
@anonymous even guys who are above 6'0 boost so.
Nik
said on 22/Dec/17
For me he is over 5'6" but under 5'7"!
Anonymous
said on 21/Dec/17
Men always upgrade there height if they r 5.4 to 5.6,5.7
:)
said on 21/Dec/17
Thought he was taller like 5'10 or something.
Troy
said on 21/Dec/17
He says here in this interview at 1:08 that he tells people he's 5'8" but he's more like 5'6" or 5'7".
Click Here
Editor Rob: yeah, he's at least he admitted it!
Greg
said on 21/Dec/17
Whatttt I thought he was 5'10, that's what he was listed at for many years. I'm shocked tbh.
David
said on 21/Dec/17
Yeah looks about this height