Scott Weiland's Height
5ft 11 (180.3 cm)
American Singer best remembered for Velvet Revolver and Stone Temple Pilots.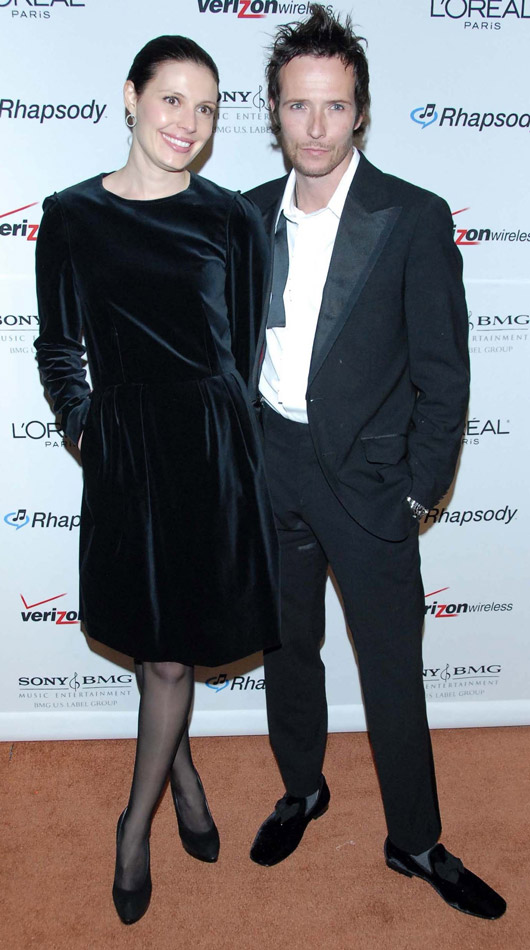 Mary Forsberg and Scott Weiland
Photo by s_buckley/BigStock.com
Add a Comment
76 comments
Average Guess (7 Votes)
5ft 11.07in (180.5cm)
Bobadob
said on 15/Nov/20
Seldom stood up straight. Imo 5-11 if he did properly.
joseph183
said on 27/Oct/20
How tall is this guy Robert DeLeo? bassist of the band. 6'2" ?
he looks 3-4 inches taller than Scott in some old photos

Editor Rob
Ian C.
said on 20/Feb/18
I'm just on this page because I was trying to find a listing for Harvey Weinstein. Who is Scott Weiland, exactly? Is he taller or shorter than Harvey Weinstein? This would be easier to ascertain if there were a Harvey Weinstein page.
idk
said on 8/Dec/16
definitely not shorter than 5'10". i think if he stood up straight he would measure around 5'11". RIP Scott
Mat
said on 20/Jan/16
Ah. voila Rob. supposedely 5'11 Scott with 5'10 chester:
Click Here
Click Here

Editor Rob
can depend how he stands, there's photos of him out there taller than stallone so I doubt he's less than 5ft 10-11 range.
Mat
said on 17/Jan/16
glenn said on 25/Sep/07
he is 5-11 .has bad posture.change if you can rob.
[Editor Rob: really that tall, since I'm not that familiar of him I'll give him it then.]
Maybe you should reconsider keeping that listing Rob? He'll be probably a good inch smaller if Glenn thought 5'11.
Joe
said on 6/May/15
I saw him live on a very small concert, and he was 5'11 with huge hells on, so i agree with prince... 5'9/10 barefeet
Prince
said on 29/Oct/14
Scott Weiland is 5'9" barefoot. Chester Bennington of Linkin Park is 5'10" There's a pic of the two together and Chester had most likely an inch on Scott.
truth
said on 10/Jan/14
solid 5ft10 guy.
Kyuss
said on 5/Jul/13
looks right,pretty slim tallish guy.
the real truth
said on 23/Dec/11
178 cm...probably 180cm in the morning.
gabe
said on 16/Oct/11
you guys fail to realize how he always wears and wore big heeled platform shoes especially in the early 2000s so of course he would appear to be a giant. Ive seen him live in person in concert 3 times in a matter of 10 years. Hes no more than 5'8" tops he wears 3 inch dress shoes so he looks taller than what he really is. The only person whos 6'1" in Stp is robert deleo and he towers over weiland by a lot.
BigSean
said on 24/May/11
He claims 6'1 in the sleeve of Velvet Revolver's Contraband album. i reckon he is 6'. Only 3 inch max between him and Duff MCkagan who is 6'3+
TheVerve180
said on 19/May/11
the guitarist, drummer and singer are around 5ft9, average height for a male; the bassist is "only" 6ft1 but he appears huge to them. Shows how people have a warped perception of height doesnt it? Sometimes 6ft1 even looks very tall from afar.
MsKitty
said on 23/Mar/11
Well, I can say he is definitely closer to 5'11 than 5'7-5'8...Saw STP live and took a pic next to him...I am 5'5 and he was several inches taller than me, wearing similar footwear. He never appears to be a "short" guy...I'd say barefoot he isn't shorter than 5'9.
Sotreba
said on 22/Mar/11
5-8, maybe even 5-7. Saw him last night in Sydney performing. A girl was pulled up on stage at the end and she was about his height. She walked past me at end of the gig and we were the same height. I'm 5-7 so he's not much taller than that.
kookierx
said on 15/Mar/11
He is average height like 5-8/5-9 but since he is thin he appears taller
but this 5-11 seems TOO tall for him
Anonymous
said on 26/Dec/08
Robert DeLeo said in an interview that he is 6 foot 2. Judging by this pic, Scott seems a little bit shorter than 5'11
Click Here
dude
said on 21/Dec/08
dude hes 5'11" for sure.
glenn
said on 26/Oct/08
just got him again recently.5-11.
Lmeister
said on 25/Oct/08
Dave, U had too much to drink ;) He has pretty bad posture, if he'd straighten up he'd be around 5ft11
Dave
said on 24/Oct/08
Met him in a bar - he is 5'7" max
Vancouver Jimmy
said on 2/Sep/08
I just saw the STP concert in Vancouver. We were staying at the Four Seasons. After the concert we returned to the Hotel and I followed Scott from his tour bus into the lobby to the elevators. I was surprised how small he was. I'm 6'1 with a bigger build. He was the size of my girlfriend. He's not over 5'10". I would guess 5'8. I saw Howie Mandel that day too. Howie looked slightly taller than Scott.
Canada Steve
said on 27/Jul/08
I met Weiland in 1993/94, when STP were touring their first album. I'm 5'10", and standing in front of me he appeared to be 5'10" when he straightened up. He had a pretty good slouch most of the time. Very quiet fellow, liked his wine.
Anonymous
said on 22/May/08
he's not 5'11. letterman is listen as 6'1 on the late show there was more then a 2 inch difference between them. i'd say 5'9 to 5'9 1/2
Jake Is Back
said on 9/May/08
5'9.5" to 5'10" next to Glenn but he's really an inch taller than he looks in the pic.
RYRY
said on 25/Apr/08
i dont think hes 5'11 i believe 5'9 his body type makes him look taller and his shoes make him taller too
Chris175
said on 7/Apr/08
yeah 5-11ish maybe 179 is closer
Lmeister
said on 7/Apr/08
He is a bad sloucher. He is 5ft10 - 5ft11.
glenn
said on 3/Apr/08
5-11 it is.
Daniel
said on 2/Apr/08
For all those who say Weiland is 5'9ish, why don't you watch the videoclip of "Fall to pieces" carefully? The guy seems to be easily 6ft tall there, so if Glenn says 5'11'', this the least we can accept for Weiland's height!
Nick
said on 2/Mar/08
met him 5'8 to 5'9 tops
chris175
said on 18/Nov/07
i would give him 5-10 easy
Pete
said on 29/Oct/07
Met him and had to hang out with him and slash in some club. hes 5-10ish with huge boots. id say hes around 5-9 barefoot.
glenn
said on 21/Oct/07
exactly derek.
Derek
said on 14/Oct/07
Also looks like Scott isn't standing straight. Probably is 5'10 1/2"-5'11" if he stands straight.
Franco
said on 12/Oct/07
he isn't any taller than 178cm barefoot, i dont care much for that pic with glenn
because it isnt too realistic.
i watched a live concert of Velvet Revolver, he had boots and looked about 181cm, remove the shoes and voila' 177-178cm.
i say more 178cm than 177.
Camilo
said on 10/Oct/07
Man, he looked sooo tiny the other night at the concert, I could swear he was like 5'8
Anonymous
said on 9/Oct/07
glenn you're the one who said on your page that you can't judge height from pics, especially because who really knows what kinda weird footwear he has on in those publicity stills. they do all kinds of things in thsoe to make band members who are shorter look taller. take for example radiohead with thom yorke being only 5'5 and ed obrien being a foot taller, and yet in the bands pics thom is closer to the camera making him appear bigger than he isn't while ed is pushed away.
glenn
said on 8/Oct/07
i dont care what the photo shows.he is 5-11.examine velvet revolver pics and youll see.
bruce_willis
said on 8/Oct/07
looks 5'9½
Anonymous
said on 7/Oct/07
looks no bigger than 5'9.5 or at very most 5'10 he looks 5'11 in photos because his band mates aren't tall. i'm sure his barefeet height is like 5'9ish
Warren Elliot
said on 6/Oct/07
no there's no way he has a 3 inch advantage over glenn, it's like the height difference between my brother 5'9 and myself 6' there's no way there's a three inch difference here, not even a full 2 inch difference, more like 1.5 inches between them
glenn
said on 5/Oct/07
looking foward to it evanna.thanks!
Evanna
said on 4/Oct/07
Thanks Glenn. I've just sent my pics with Stockhausen to Rob, maybe he'll put them here soon.
Anthony
said on 3/Oct/07
He looks 5'10 at best here. But if Glenn says 5'11, I'll take his word. Maybe Scott's pavement isn't too good.
Leung
said on 3/Oct/07
I went to a Velvet Revolver concert a few years ago at the Hordern Pavillion in Sydney. Before the concert there were some kids waiting behind the gates outside the private back entrance carpark, they were waiting for the arrival of the band in hopes of getting autographs.
Duff, Matt and Slash arrived together and came over to the gates and signed photos, records, one kid even brought along a electric guitar for signing.
Duff and Matt went inside but Slash stayed outside longer to continue signing autographs. Slash seemed very fan friendly.
Scott Weiland must have arrived in a separate car just before the band hit the stage because we didn't see arrive.
Slash and Matt are similar height between 5'10"-5'11". Duff is tall and lanky but he is normally hunched over with bad posture, looks around 6'3" if stood up straight.
The concert was very good, but between songs Scott Weiland did occasionally talk weird stuff, seems a bit of a weird character.
Anonymous
said on 2/Oct/07
weiland is not 5'11 he never has been over 5'10 and this pic makes me think he's more like 5'9 and a bit. very thin so he gives the appearance of being taller
glenn
said on 1/Oct/07
i dont know why my post didnt show.alder gives a 5-7 appearence now,but i believe he is 5-8.
Mark
said on 30/Sep/07
Sorry unless he's barefoot he really does not look 5'11" at all. Eye and mouth levels are only 0.5" taller then Glen's. Foreheads are similar, just his hair is more spikier then Glen's. He looks more like 5'10".
Evanna
said on 30/Sep/07
Actually I thought Duff was even taller than 6'3", back in the old GnR days he absolutely dwarfed his bandmates. Glenn, how tall was Steven Adler? I'd say 5'8ish like Axl, or maybe shorter?
Markus
said on 30/Sep/07
Franco, Weiland's forehead is not so much huge..his head is tilted down, so the back of his head comes up as Glenn's face is looking up.
Franco
said on 29/Sep/07
"glenn says on 29/Sep/07
matt sorum is 5-11.duff was or still is 6-3.."
really? Duff was 190cm ?!
i would never have thought that, most of the time i thought he is 185-186cm or something in that range but no more than 186cm, but if you say so then i believe you.
glenn
said on 29/Sep/07
matt sorum is 5-11.duff was or still is 6-3..
Franco
said on 28/Sep/07
hey nice, at last scott weiland :D
@Danius, dont look the eye level he got a huge forehead compared to glenn and eyes are much lower.
said that, he is max 178cm not 180cm, maybe 181-182cm in shoes/boots but not barefoot, a 178cm person can look easily 181-182 in shoes hence appear taller.
178cm max.
Markus
said on 28/Sep/07
Anybody an idea about Matt Sorum's height (RV drummer)? I used to think he would be about 5-10, but now I think he must be at least 5-11.
danius
said on 27/Sep/07
5'11? looks 5'9 at best
glenn
said on 27/Sep/07
markus-it depends.random or whoever im hanging with or working with.or people that work for the celebs.
Markus
said on 26/Sep/07
Glenn, practical question, who makes the pictures? Just a random person who's around and you ask him ?
Bee
said on 26/Sep/07
Yeah 5'11 seems pretty accurate for him. I think he can sometimes appear taller though due to his slender build.
glenn
said on 26/Sep/07
thank you lmeister.and slash is 5-10.5.makes you wonder if 6ft is true.
Lmeister
said on 26/Sep/07
He is taller than Slash and Dave Kushner even with a bad posture.
glenn
said on 26/Sep/07
6ft? 6-1????. he is taller than the pic looks and what one thinks.but that 6 mark,nope.
glenn
said on 26/Sep/07
jimmy2k.-you met him? read what lmeister says.mike-yeah,i heard he is impossible.he would ignore me even in 1997.i got him in 1992 first time.he had casual shoes.
Lmeister
said on 26/Sep/07
He does have a really bad posture. 5'11'' seems correct. The only thing is his footwear. I've never seen him wearing flat shoes.
john
said on 26/Sep/07
he looks like 2 inches taller than glenn. 5-10 seems to be right.
jimmy2k
said on 25/Sep/07
he looks 5'9 to me in that picture. No way will I belive 5'11. his posture can't be that bent. 5'11 should be looking over the top of Glenn's head if he's 5'8.
Mike
said on 25/Sep/07
Cool, you actually got a pic with him glenn. surprised you got it, you said he was hard to get?
Leung
said on 25/Sep/07
Weiland is commonly referred to as 6' in magazine articles but I agree with glenn that 5'11" sounds about right.
glenn
said on 25/Sep/07
sure looked at least 5-10.5 when he was in stone temple pilots.
Markus
said on 25/Sep/07
A lot of times when i see a pic of him, it looks like his back is bent from left to right...cant tell from this pic though. What kind of shoe wear did he have ?
Looks pretty skinny btw. During the first STP album he looked pretty muscular, but lost a lot of weight since. (The needle and the damage done...)
Caesar
said on 25/Sep/07
I read that he was 5'10 somewhere. Never looked particularly tall until he went super-thin.
glenn
said on 25/Sep/07
he is 5-11 .has bad posture.change if you can rob.

Editor Rob
really that tall, since I'm not that familiar of him I'll give him it then.
Markus
said on 25/Sep/07
Can't be much more than 178 cm in this pic. Although I expected him taller !
Lynn
said on 25/Sep/07
Glenn,
why 5'10? Hope no from the pic.
PJ
said on 25/Sep/07
HA! I remember reading an interview where Weiland said he was 6'1 ... what a farce.