Sean O'Pry's Height
6ft 0 (182.9 cm)
American male fashion model. His agencies regularly described him as being 6ft 1.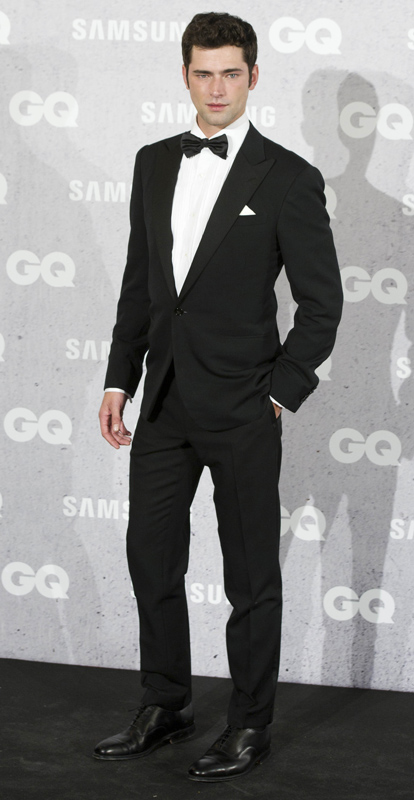 Photos by PR Photos
Add a Comment
47 comments
Average Guess (90 Votes)
5ft 11.83in (182.4cm)
Blanc
said on 15/Jul/20
Just doesn't look tall for some reason unlike Tyson Beckford
QM6'1QM
said on 31/Mar/20
182 cm!
Lcd65
said on 25/Nov/18
Sean O pry is a solid 182.5 cm. He looks 5 cm taller than Taylor Swift who is 177-178 cm. I doubt he's more than 183 cm. Models fake their height even more than singers and actors. You can notice that almost every model is listed as 6'2 (188 cm), because this height is considered 'ideal' in men model agencies, but all of them are at least 3 cm shorter than this height.
under6'1
said on 11/Aug/18
Rob, Jordan Barret has a picture against a height chart showing him in the 181cm range ( i don't know how to add images). He's near the exact same height as sean since there's a pic of them on a flat surface in identical shoes.
In need of a downgrade. He just has excellent proportions that make him look over 6"
Jordan142
said on 4/Jul/18
@Hijoputamus. That picture was posted in Sep 2017, Jordan was already 21, I doubt he grew a whole 3 inches in a few months. You can tell that he's in the strong 5'11 range, with hair he barely push a little over 6 feet. Now you count hair, shoes and lift and then round it up by model agency and you got 6'2.
The reason why you see so many male models at 6'2 is because as long as you are in the 6ft range you get round up into 6'2 which is the perfect height for male models. If you are too tall like 6'4 6'5 you get your height reduced so it closer to 6'2.
Hijoputamus
said on 23/Jun/18
Jordan132, Jordan Barret is 5'11 Max and his agency had him at 6'1 and now at 6'2.
Maybe these kids are still growing because they start so young
MAD SAM
said on 22/Jun/18
181.5-182 cm guy, but his height can be rounded off to 6'
Jordan132
said on 1/May/18
Dude is 5'11, even shorter. Models fake height even more than actors, they all add 2-3 inches to their original height. My mate is listed as 186 or nearly 6'2 yet shorter than me at 6'0.5. Sean O'Pry look shorter than a slightly slouching Jordan Barrett who is also in the 5'11 range yet listed as 6'2!
Click Here
Click Here
John Bode
said on 21/Apr/18
Weak 6 foot - probably 5'11.75" barefoot.
Luc
said on 24/Jan/18
He is far better than most modelling past 2001 but still IMHO overrated and I think 5'-11 and if this guy with shoes with a one inch heel turns out is 6'-1" I want to see it in front of an impartial chart. Anyway today models are not what they used to be. They all say 6ft and most I have seen lately are not. These "discovered" stories in my opinion a rarely happen ...if at all.
Antje
said on 11/Jan/18
Hey rob
What about this pictures of him next to gisele?
Click Here
She is 5'10, and her heels are huge, but she is probably 6'2 in them, right?
His eye level doesn't come up to her mouth, i'd give 5'11.5 for him.
What do you think?

Editor Rob
Here's a funny shot of them both from that event
Click Here
....on his highest tip-toes he's close in height...but you could certainly make a case at times he's 5ft 11.5. Zero chance Sean is barefoot 6ft 1.
grizz
said on 3/Jan/18
@Free, what did I say wrong? Is Will Smith fat? Is Dolph Lundgren fat? Is Stephen Amell fat?ARE THEY?
I'm the same height as this guy,but 190lbs AND a 32in waist. I could go down to 175lbs 30in waist for that Ryan Gosling "Crazy Stupid Love" look, but with that my fitness level degrades significantly. Appropriate diet and workout regime does wonders. I had a friend in class, really into soccer,who is your height,but 200 lbs-dude didn't have an ounce of fat on him and he would look worrisomely thin below 190 lbs. And take a look at the new BMI calculator, more realistic than current archaic one.
Free
said on 28/Nov/17
Grizzly is funny troll. I'm 6-3 190 and I'd look better at 170. Get down to a 32 inch waist
handsome guy
said on 22/Jul/17
small head makes him looks taller, but he is no more than 182cm.
mdarby65
said on 1/Jul/17
Barely 6 feet.
Original
said on 16/Jun/17
IMO He is solid 6'0, if not 6'1.
Peter175
said on 11/May/17
I think Jordan Barrett is taller than sean. Looks nearer 6'1
spainmen191cm
said on 25/Mar/17
Rob, how tall do you think is the model Jordan Barrett, probalby the same as Sean?
Click Here
Editor Rob: they could be height twins!
Pharaoh
said on 18/Mar/17
Rob you should add Jon Kortajarena
Rampage(-_-_-)Clover
said on 30/Jan/17
Weak 6ft guy possibly and 6ft1 in shoes
different bod type
said on 26/Jan/17
weird posture.. in the morning he might be like 187cm if bald and at night in low 180's.. my guess 6'2 though
Wonderland
said on 26/Jan/17
The model on the right is 6'2. Sean is around 5'11.75 to me.
Click Here
Bard
said on 20/Jan/17
Looks about 6'
CS
said on 17/Jan/17
Rob do you think this guy looks taller than he is because he's thin?
Editor Rob: he never seemed a big 6ft 1 guy to me, but in photos, he might have good proportions at times making him look it.
spainmen191cm
said on 16/Jan/17
@Kaneff
Im 20 and weigh right now 74-75 kg. My night height is 191.7cm and many people though me as skinny, but as you said I eat when Im hungry and very healthy. I dont like fizzy drinks and I dont drink alcohol because I dont like it. I had tried to force myself eating in the past, but now not. Im happy with my ectomorph constitution
grizz
said on 16/Jan/17
Have you ever heard of muscular build? Like,someone who actually raised something heavier than a pencil.
Take a look at Will Smith-6'1 200 lbs. Not fat.
Dolph Lundgren-6'3,220 lbs,not fat.
Stephen Amell-6'1,180lbs,not fat. All of these guys have BMI 24 or above.
And they are not professional athletes.
They have money,fine,but Stallone was flat-out broke while filming 1st Rocky. 5'9 180-190lbs. Not fat.
Definitely less fit than in Rocky4,but he was not fat.
In short,ignore BMI. Body fat % and waist size count only.
Kaneff
said on 16/Jan/17
@grizz
Well, I'm 23 and weigh 63kg. My night height is 183cm. I actually weighed 4kg more in high school when I was 1-2cm shorter. My diet has gotten a lot better since then. I eat only whole foods and cut out all refined sugar and only have alcohol occasionally. I eat when I'm hungry and don't count calories. It's all about a conscious effort to stay healthy, nothing to do with "metabolism".
Generally, overweight is seen as the new normal these days. Anyone under a BMI of 25 is considered skinny now.
Hijopotamus
said on 16/Jan/17
Some male models like Oliver Cheshire are 5'11 and did all the major designers shows but you need to have the face to get away with being under 6'
@grizz, dude are you kidding? So many ADULT athletes are 6' and under 75kg. Even at MMA.
grizz
said on 15/Jan/17
@Giorgi,"used to be" is quite telling. That means that you're an adult now,right? That's the thing:once you reach early 20s,your metabolism isn't as fast as it used to be and you gain weight,even though you exercise and eat the same as you had at the of 16-18. I don't know any adult man over 6feet who weighs less than 75 kgs.
oliver
said on 15/Jan/17
He always appears one inch shorter than Karlie Kloss so 6'0-0.5 is possible.
Aza
said on 15/Jan/17
Has exceptional posture.
Giorgi
said on 15/Jan/17
grizz said on 12/Jan/17
Finally! Thanks,Rob! I'm surprised we're the same height. Although his listed weight is 72kg which is unbelievably light for a 6footer,let alone for his claimed height
That's not even light, let alone unbelievably light. I'm a half inch shorter than this guy and used to be 62 kg. That is light, although still believable ;)
Yes yes
said on 15/Jan/17
LollyPerdue, Actually I remember last year when I saw a company looking for male models and they were very picky when it caem to height. You had to be atleast 6 feet tall and the maximum was 6'2" or 6'3".
LollyPerdue
said on 14/Jan/17
Everyone expects male models to be super tall. In reality, male models are typically 5'11-6'2 range. Most people would think the taller the better, but actually they don't want many men over 6'2 or under 5'11. Its how they want the clothing to look and fit and with sizes. I bet he's 5'11.5 Perfect model height.
Donald Mc
said on 13/Jan/17
He could be a solid 1.83.
Victor Surratt
said on 13/Jan/17
Strong 1.83
HonestSlovene
said on 13/Jan/17
Yeah I always thought 6'1" was a tad too much for him, models tend to get overlisted. 5'11.5"-5'11.75" night time range would be most realistic or 182 cm, but 183 cm isn't unbeleivable either.
Hijopotamus
said on 13/Jan/17
182 max on his best day after a good sleep.
MaryAnne
said on 13/Jan/17
@OneWay, thank you for this nice idea. Nick Bateman would be good pick for my new request.
OneWay
said on 12/Jan/17
Nice addition Rob! Now we just need Nick Bateman
gian92
said on 12/Jan/17
He gives me an impression of 5'11 .
James
said on 12/Jan/17
Good add, MaryAnne will be delighted lol!
Click Here
Looks 2 inches shorter than 188 Nick Bateman.
Kaneff
said on 12/Jan/17
good listing. He looked 2 inches shorter than 6'2" Nick Bateman.
MaryAnne
said on 12/Jan/17
Finally!!! LOL Rob, you are one of best site owners. you care about your visitor's requests and i truly appreciate it! For him, 6'0 is right.
grizz
said on 12/Jan/17
Finally! Thanks,Rob! I'm surprised we're the same height. Although his listed weight is 72kg which is unbelievably light for a 6footer,let alone for his claimed height
Editor Rob: yeah 72kg at 6ft 1, he'd look slimmer than he actually looks.
spainmen191cm
said on 12/Jan/17
Rob, how tall do you think is the guy that appears in the photo with Sean and with Gandy? He claims to be 191cm
With Sean O Pry
Click Here
With David Gandy
Click Here
Editor Rob: hard to tell, but he certainly could be over 6ft 2.
Vibram
said on 12/Jan/17
5ft11.5 / 181cm.