Sebastian Vettel's Height
5ft 8 ½ (174 cm)
German Formula One World Champion Driver. On his official page in 2008 he was described 174cm and weighing 64kg (141 pounds).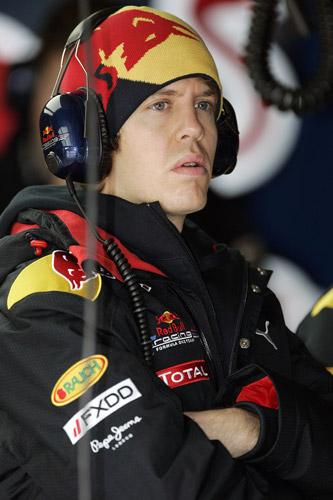 Photo by PR Photos
Add a Comment
30 comments
Average Guess (9 Votes)
5ft 8.64in (174.3cm)
nikolas
said on 13/Oct/19
Click Here
173.5 for Vettel
174 for Leclerc
171 for Hamilton
170 Bottas
Bartek
said on 30/Jun/19
What do you think Rob about Charles Leclerc
Click Here
- with ronaldo
Click Here
- with hamilton
Click Here
- with kimi raikonen
177-178 for him?

Editor Rob
Wouldn't have guessed him much over 5ft 9
Youn
said on 12/Feb/19
Why does Lewis Hamilton look the same height as Vettel these days? Is he wearing some kind of lifts in his race boots? Surely he can't have grow a few inches in recent years.
Frankie
said on 31/Mar/18
Frederik said on 6/Mar/18
rob, rosberg appears only slightly taller than vettel so would it be fair to say he is 5ft 9in?
Rosberg is listed at 5'10, but he is absolutely overestimated.
Nico is 5'9 at the very best.
Frederik
said on 6/Mar/18
rob, rosberg appears only slightly taller than vettel so would it be fair to say he is 5ft 9in?

Editor Rob
He could be 5ft 9 on the nose
John Davis
said on 21/Aug/17
@gabenewton I honestly don't know how you can observe half an inch
John Davis
said on 21/Aug/17
I'd never thought he was this height, I'd say at least 5ft 10
gabenewton
said on 3/Jun/17
5'8.5 seems right, he looks like a legit 5'9 sometimes maybe because he's skinny and it make him looks taller
J bag
said on 17/Mar/17
Looks like 5ft 8.75
F1 fanboy
said on 25/Nov/16
@Johnson
I don't buy that. The photo is tilted so it boosts Vettel and you can't see their legs&shoes. Also like I said, in my opinion Raikkonen never forces extreme posture. Ofc, I might be mistaken.
Johnson
said on 24/Nov/16
@F1 fanboy
Vettel is taller than Raikkonen. Proof:
Click Here
F1 fanboy
said on 14/Nov/16
Listing seems accurate to me. In my opinion his teammate Raikkonen is just a fraction taller. Raikkonen is usually with much looser posture eventhough Vettel might edge him in some photos.
plus
said on 4/Jan/16
I realized Schumacher is 175. 174 listings can be when he was 17 years old. You should look pictures with footballers: Podolski, Reus, Messi, etc
Arch Stanton
said on 13/Mar/14
You're British with a name like Matthieus LOL. Not all Germans are over 6'3" Matthieus but yeah a 5'8" guy would be considered short in Germany and the Scandinavian countries, where as in the UK and US it's more borderline short and lower end of average range.
Matthieus
said on 27/Dec/13
Seems on the short side for a German guy. Not to stereotype but I associate a lot of German guys with mostly being tall, or generally taller than us Brits.
I could see the advantages of being a shorter/average sized racing driver as opposed to tall.
Chris
said on 26/Dec/13
I never miss a F1 race,so i see these guys frequevently and there is always 3 cm between Vettel and Hamilton,
174 for Vettel and 171 for Hamilton is very accurate
Mr-KILLER-SHRIMP
said on 16/Dec/13
Rob, thanks for adding Vettel. I think he definitely deserves a page, he is currently by far the best F1 driver. I think this listing is about right.
Rampage(-_-_-)Clover
said on 12/Dec/13
Rob, Lewis Hamilton had 174cm on his site and you've given him weak 5ft8.
What makes you so sure that this guy is 5ft8.5?
[Editor Rob: Lewis ended up getting a measurement and I think if you look at Vettell with hamilton, he looks a lot nearer his 174 claim than lewis ever did.]
5ft 8.5 guy
said on 6/Dec/13
@KJK: He actually looks more 5ft 9-9.25 in those shots, plus Hamilton is nearer to the camera... 6ft 0.5 listed Webber looks to have 3.25-3.5in on Vettel too.
Granted, Vettel has significantly more hairstyle than Hamilton but the difference still looks more than an inch in these shots
MD
said on 6/Dec/13
Thanks for those pictures, KJK. Those are definitely better photos we had to judge off of than before.
KJK
said on 5/Dec/13
Vettel is around 3 cm taller than Hamilton who has been measured at 171 cm. Check out the links below:
Click Here
Click Here
Click Here
John95
said on 5/Dec/13
Vettel is about the same height as Kimi Raikkonen, and he is around 173 cm.
Vibram
said on 4/Dec/13
I think the 5ft8.5 (174cm) Schumacher as 1/2 inch over Vetell. That would make Vettel 5ft8 flat (173cm), maybe 172,5cm.
Click Here
Both are in racing shoes in that pic, which are basically a wafer thin rubber sole. So no footwear advantage/disadvantage for either man.
MD
said on 4/Dec/13
@Miko,
In that photo, he actually looks shorter than Hamilton, too. Look at the shoulders. They are pretty close
Arch Stanton
said on 2/Dec/13
Spot on I reckon.
miko
said on 2/Dec/13
In most pictures I've seen he's similar to Hamilton and clearly shorter than Schumacher...
Click Here
He could be 173...
KJK
said on 1/Dec/13
174 cm is a good listing for Vettel. He is not shorter than that because he is clearly taller than both Hamilton and Alonso.
5ft 8.5 guy
said on 1/Dec/13
Ah, with "as well" I meant Schumacher who you have listed 5ft 8.5 here as well, the page hasn't been updated since 2006 though.
5ft 8.5 guy
said on 1/Dec/13
About time :)
in most shots Schumacher looks a bit taller than him as I said on the Hamilton page, is your guess still 5ft 8.5 as well for him?
Also, Vettel is listed 176 nowadays, but when you compare him to 171 measured Hamilton I guess 174 is fair enough for him...
[Editor Rob: I'm going with what he was on his site, I don't buy the 176 mark, 174 seems closer]