Shannon Sharpe's Height
6ft 1 ¼ (186.1 cm)
American former NFL tight end, who played for Denver Broncos and Baltimore Ravens. On TV he co-hosts Skip and Shannon: Undisputed. He mentioned his height numerous times on twitter including,
"5'5 132 as [Freshman] and 6'2 180 as a [Senior]"
and in 2017
"6'2 245 lbs under 8% bf with a size 13 foot."
He was also listed as
6ft 1.5
|
6ft 1.25
during the time of the Draft.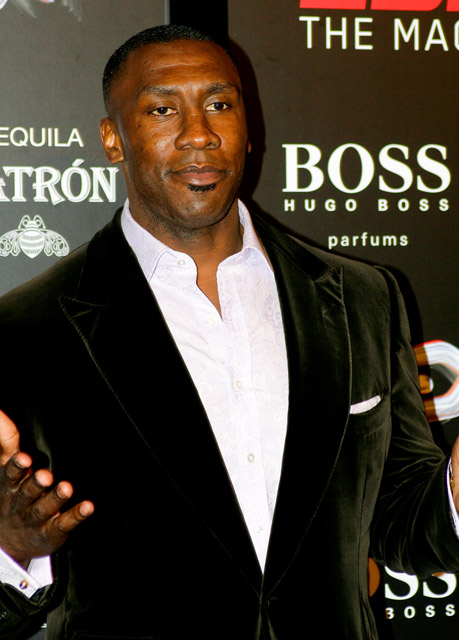 Photos by PR Photos
Add a Comment
59 comments
Average Guess (14 Votes)
6ft 1.64in (187.1cm)
viper
said on 18/Oct/19
He measured 6-1 1/4.
He's not 6-2
truthtellr
said on 16/Oct/19
He is just about 6'2 not shorter than 6'1.7
Canson
said on 4/Aug/19
@Viper: Steve Smith is more 5'8.5 than 5'9"
viper
said on 25/Sep/18
Elway has been looking 6-1 a lot
RP
said on 22/Sep/18
Canson, very true on John Elway. Totally agree.
Canson
said on 16/Sep/18
@RP: means Elway likely isn't more than 6'2.5 which he also measured. Maybe 6'2.25. He looks close to 3" shorter than Peyton Manning at times
RP
said on 7/Sep/18
He was 6'1-1/2"@ the Combine & 6'1-1/4"
@ the SR Bowl. Always looked a strong one inch shorter than 6'2-3/4" Barefoot John Elway. Marino IMO always looked a good 2" inches taller when both were on the CBS Pre Game Show.
Sal
said on 21/Mar/18
I don't know about this one Rob. Next to Skip Bayless he looks 4 inches to a tad more taller and he's listed 5'10". Next to Dan Marino he looks an inch shorter and you have him listed at 6'3.5". Next to other NFL players like Tony Gonzalez he looks on the taller side of 6'2." What are your thoughts?

Editor Rob
6ft 1.25 was from the draft, rounded up to 6ft 2.
viper
said on 10/Mar/18
It is surprising he's just 6-1
viper
said on 10/Mar/18
Best 6-1 tight end ever
Canson
said on 8/Mar/18
I'm thinking 73.3 is 73 3/8. 6'1 3/8. 6'1.25 is probably the most he is if the combine is morning
Animus
said on 6/Mar/18
He is listed at 73.3 inches here:
Click Here

Editor Rob
Considering they never measured in 1/10ths, it should be 73.25 inches.
Here is a reference to it in one paper (others had 6ft 1.5)
6ft 1 and 1/4
.
he did look around that with measured 5ft 6 and ½ Big G.
Free
said on 23/Feb/18
A measured 6-1 1/2.
Click Here

Editor Rob
Stick to this one name V, and thanks for finding the 6ft 1.5.
Canson
said on 22/Jan/18
Looks close to accurate
Christian-6'5 3/8
said on 21/Jan/18
Rob, did you add this page recently? Why are there comments here that were posted over a decade ago?

Editor Rob
There were a set of pages with our old friend Glenn that were deleted, because most of the comments were about the photo, but I reactivated this one and a couple of others, and included at the bottom the photo the comments were referring to.
Frost
said on 13/Jan/18
Click Here
They all look their listed heights ironically enough.
Viper
said on 1/Aug/07
The NFL isnt accurate at all on some. Guys like Michael Strahan, Warren Sapp, and Keyshawn Johnson are a full in shorter than their listed heights. And Tiki Barber is 2 inches shorter. You can just tell hes nowhere close to his 5-10 listed height. Hes downright short. Plus I saw 5-9 Steve Smith even mocking him on the NFL network showing that he was taller, and he was.
Chris
said on 1/Aug/07
The NFL is accurate when listing heights. They round up, or down by the 1/2 inch at most. If a player is measured at 6'2.5", for example, they get to chose whether to be listed as 6'2", or 6'3". Sharp may be 6'2", barefoot, but chose to be listed at 6'2". With shoes, he would probably be over 6'3".
FWIW, I've met Jamarcus Russell on a few occassions. I'm a legit 6'5" exactly, barefoot, and Russell was certainly no shorter than me. I even felt he was a bit taller. He was measured at 6'5.5", and is listed at 6'6". Unlike the NBA, NFL player's height's, for the most part, are acurrate.
OutBenchThis
said on 22/May/07
looks closer to 6'3"
Jake W.
said on 18/Feb/07
Peyton never looked 6'6" to me, I always saw him as 6'5" or at least 6'4". Probably 6'5". Sharpe seems to be 6'2".
Anthony
said on 17/Feb/07
He looks 6'3 minimum in Glenn's phot. Probably shoes or a pavement advantage, or both.
footballed28
said on 15/Feb/07
hey Alex we are exactly the same height...tho I am only 6'0 1/2 in the morning and only shrinks a 1/4 inch by the time I head to bed...I have excellent posture by the way
Anonymous
said on 15/Feb/07
he easily looks 6'4
Jordan
said on 15/Feb/07
Derek I was referring to Manning as 6'5. Sorry, I didnt specify who I was speaking about. I think now that Sharpe is 6'2.
Derek
said on 13/Feb/07
Standing next to 6'5" and change Peyton Manning and 6'5" Tony Gonzalez, Shannon doesn't look anything over 6'2".
Jordan
said on 12/Feb/07
Yeah CJ, I always thought he was over 6'5, but now that article is better evidence.
Ball-A-Hallic
said on 12/Feb/07
also wen peyton stands by marvin harrison who seems more 5'11 than 6'0 or 6'1 peyton completly towers him
CJ
said on 12/Feb/07
I saw that on the pro bowl. Your right about Peyton. He is more around 6'6. Here is an old interview he did with Dan Patrick and he says this:
"DP: As Marino said, he's deceptively slow. That's why he was able to last.
PM: Those white shoes. White shoes make you look faster. Notice that I'm probably 6-6 but I say 6-5½; 6-6 sounds slow. I heard that from Drew Bledsoe. You gotta give Bledsoe credit on that quote. Great quote"
Here is the whole thing.
Click Here
Viper
said on 12/Feb/07
Hasselbeck is 6-3, but Peyton does look as tall as 6-6 half the time I do admit.
Alex
said on 12/Feb/07
Some people can shrink easily 1/2 inch throughout the day. I lose a full inch by nightime, 3/4 minimum as it depends on the day. I go from 6'0.75-6'1 out of bed to 6'0 by the evening/night.
Ball-A-Hallic
said on 11/Feb/07
i don't think peyton manning is 6'5 he seems taller last pro bowl he stood by 6'4 matt hasselbeck and seemed to ahve a good 3 inches on him...Peyton could very well be 6'6 i think causei think matt hasselbeck is around 6'3 so i guess it oculd make sense i cant see manning being 6'7 but def 6'6
Viper
said on 11/Feb/07
Irvin had over 2 inches on him, which was very strange.
flipflopjaguar
said on 10/Feb/07
I'd say 6'2 is about right. He was standing beside 6'5 peyton manning and looked about this. But also in the Pro Bowl today he was standing beside Michael Irvin and looked a bit shorter. Irvin is listed at 6'2.
Viper652
said on 9/Feb/07
I doubt he really shrinks much at all, maybe a quarter of an inch.
footballed28
said on 8/Feb/07
keep in mind that this guy could be a full 6'3 in the morning, then shrinks to 6'2 and change at night.....just like Glenn shrinks a bit at night and becomes 5'7 and change.....so yeah there is a 7 inch difference...this theory makes sense to me
Ball-A-Hallic
said on 7/Feb/07
was his brother sterling short cause i read something sterling was like 5'10 thats kinda odd uthink he'd be a little bigger but strange things happen cause most siblings with the same parents are close in height by an inch or two
Alex
said on 7/Feb/07
Jordan, yea he looks more 6'3ish compared to Glenn.
Jordan
said on 6/Feb/07
He must be standing on a curb or higher elevation because he looks alot more then 6'2 in that pic with 5'8 glen.
Viper
said on 6/Feb/07
Thats still just a billed height Antron.
Antron
said on 5/Feb/07
NFL measured him at 6'2":
Click Here
No reason to argue otherwise, he certainly doesn't
J.
said on 4/Feb/07
He always seemed 6'2" to me. He had a really solid built, I think that creates the impression of him being over his actual height.
Ball-A-Hallic
said on 4/Feb/07
How tall was his brother Sterling Sharpe the wide receiver who played on Green Bay
Derek
said on 3/Feb/07
Click Here
- With 6'5" Tony Gonzalez
Alex
said on 3/Feb/07
He actually looks 6'3.
Jordan
said on 3/Feb/07
Dmeyer, I agree. Sharpe looks 6'3-6'4 to me , because keep in mind that Sharp is leaning in. Maybe since they are outide, Sharp is standing at a higher elevation then Glenn.
dmeyer
said on 2/Feb/07
he looks over 6'2 in that pic
Height Tracker
said on 2/Feb/07
Glenn does only look about 5'7" next to this guy. Not saying that's the case, I'm just saying that's what the picture looks like to me.
G-unit
said on 2/Feb/07
Hmm, he looks taller than 6'2
Viper
said on 2/Feb/07
I just dont see an 8 inch difference that Danimal and others are saying. No more than 7 to me. Ive seen Shannon fairly up close in person before a Baltimore Ravens game and hes a legit 6-2.
St Andrews
said on 1/Feb/07
This guy looks taller than 6'2"
By the way, what a great expression of "the celebrity-hunter guy".... I enjoy seeing his funny face expressions on his photos more than anything on this site!
Global
said on 1/Feb/07
He Look 6'4" or taller for me
[Editor Rob: the man is 6ft 2...

"They've never seen a receiver who is 6-2, 225. They look at a [scouting] report and see that I bench press nearly 400 pounds, squat 550"

Sharpe himself said the above in an edition of Atlanta Journal in 1989...]
asfasf
said on 1/Feb/07
he look 6'4'
Eric
said on 1/Feb/07
If he's 6-2, the other man looks nearer to 5-7
Viper
said on 31/Jan/07
Hes 6-2, Ive seen him in person up close.
Austrian
said on 31/Jan/07
LOL nice facial expression Glenn
Jake W.
said on 31/Jan/07
Looks 189 - 190 cm with Glenn, but 188 cm might be correct because the NFL usually rounds up.
Daniel
said on 31/Jan/07
In that picture the man looks at least 8 inches taller than Glenn, so I don't think he is less than 6'4'', unless he's wearing high heel shoes
derbi
said on 31/Jan/07
looks more like 6'3 iin glenns pic
Derek
said on 30/Jan/07
Shannon was always listed at 6'2" while he was a player and he did look it. By the way Rob, I thought you didn't add athletes without a fan photo?
[Editor Rob: glenn's pic will be added]