Sharon Osbourne's Height
5ft 1 ½ (156.2 cm)
British TV personality.
"When you're 5ft 2, hiding behind 225 lbs, then lose half your weight, things hang and sag"
, in Ordinary People book, although in the Daily mail she was quoted saying
"five-foot-one and a smidge"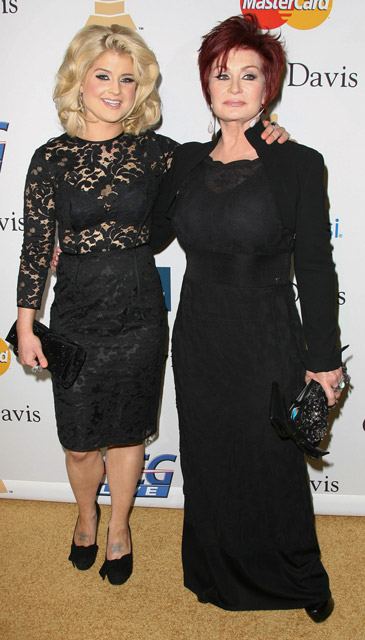 Photo by PR Photos
Add a Comment
31 comments
Average Guess (4 Votes)
5ft 2.06in (157.6cm)
Miss Sandy Cowell
said on 9/Oct/20
💝🎂🎈🎊 Happy Birthday Sharon 🎊🎈🎂💝
Many Happy Returns to Sharon Osbourne, who is today celebrating her 68th Birthday, but looks nowhere near it!
5ft1.75 😄👍💐
💝🎂🎈🎊💐🎂🎈🎊💝🎂🎈🎊💐🎂🎈🎊
Katie Guidry
said on 27/Feb/17
I'm 5' 1" and it's so nice to see someone famous that is tiny.
You look amazing.
Sandy Cowell
said on 20/Nov/16
I never thought about Sharon O's height very much because she has such a larger-than-life personality that she makes up for her lack of height just by being herself! I thought she might be an inch more though!
She is one of those women who makes no bones about having surgery and I like her for that honesty! She does look fabulous, there's no denying that and if she chooses to be criticised for that rather than for 'letting herself go', I know which one I would choose in her position. There will always be nastiness in the industry and I think she couldn't look better. To hell with the bitchy comments! They're damned if they do and...well you know!
She's also a very funny, animal-loving, motherly type and is excellent as a judge on the 'X' Factor.
Heightgirl
said on 4/Feb/11
Sharron said that she was 5f2, barely... BARELY on cbs The Talk. She`s probably 5f1 and holds her own with most guests. I couldn`t believe how many celebs are petite even after saying that they are taller.
Anonymous
said on 28/Oct/10
"I'm 5f2, barely" Sharon Osbourne on The View, Oct 28/2010 What does that mean? 5f1?
Heightgirl
said on 11/Jun/09
She looks over an inch shorter than her 5f2 daughter so she is a bit under 5f1
Click Here
glenn
said on 12/May/09
duce-not sure what you mean.i measured a dreadful 5-6.75 after not sleeping right for days and being up for many hours.10 other people backed me on similar height loss.i believe im 5-8 when i wake.if im wrong,im not less than 5-7.5 when i wake.
glenn
said on 12/May/09
heightgirl-he stumbled upon the frank langella page too recently .i gave him a piece.
Brad
said on 10/May/09
See those guys walking down 5th Avenue in jackets duce? Bud, trust me, it ain't gonna happen with that comment.
James
said on 10/May/09
Was she friendly glenn?
duce
said on 10/May/09
glenn u've always said u were 58 why 56 on this page when others state you as 58 curious thats all
Lozzer
said on 8/May/09
You are idiots saying Glenn is 5'5 or whatever. How can you possibly know when you can't see the bottom half of it? Are you all psychic or something?
Heightgirl
said on 8/May/09
Glenn, he can't be missed lol
glenn
said on 2/May/09
no jokes from the blind.
Haze
said on 1/May/09
i agree miko. nothing to be ashamed of. we is wat we is
Brad
said on 1/May/09
Hey Fred, no jokes from the audience.
Fred Bloggs
said on 1/May/09
Glenn looks 5 foot 5 here, no jokes
glenn
said on 30/Apr/09
thank you heightgirl.i have one were i tower her also,like hamilton,from 1991,1992.
Heightgirl
said on 29/Apr/09
Glen was being polite and leaning in a lot. She looks 5f2 but don't forget she was most likely in heels and closer to 5f5. She always wears at least 4 inchers and maybe even slight 1/2 inch platform so she could get closer to 5f6.
glenn
said on 29/Apr/09
thanks er.
Brad
said on 29/Apr/09
She's 5' 2", I saw 5' 4" girls owning her in person.
ER.
said on 29/Apr/09
I agree with Glenn, enough with the spam already. He's 5-8 in the morning, or close to it, and in the 5-7 range the rest of the day. There. Case closed.
glenn
said on 28/Apr/09
miko-calm it down.we went over this already with you.im 5-7 or a hair under it late at night.5-8 or slighty under it when i wake.enough of this.im sick of it.not just you,the whole site.
Anachros
said on 28/Apr/09
Well you're leaning quite a bit so that shouldn't be a problem, Glenn. :)
miko
said on 28/Apr/09
Glenn we know your not 5"6, only late at night. Your 5"7, a fair height for a man, nothing to be ashamed of.
Volgan
said on 28/Apr/09
hahaha, in that picture glenn you are 5'3. Photo perpectives can make a big, BIG difference, in this case a short difference between both of you.
Ryan
said on 28/Apr/09
She could be 5'2", but I also wouldn't be surprised if she's adding a inch onto her height. She could also be 5'1".
glenn
said on 28/Apr/09
great one to pick rob.so they can say im 5-6.

Editor Rob
I'll pick a good one next, don't worry!
anon
said on 22/Apr/09
well, dannii minogue is 5ft 2 and sharon's taller so I'd say she was
aboyt 5'3..
RocketQueen
said on 20/Oct/07
That lady may be small in stature (5'2" though?RU sure?Id have said just under the 5'4" meself!!)But she towers above nearly ALL the female celebs in intelligence, business savvy, courage, caring & loyalty.Not 2mention sheer charisma & elegance!An ugly dwarf?Hardly!Check out the cover of "Survivor" - the epitome of a woman in her prime at 55!Wish sincerely I did have a pic Rob.Im 29 and about 2undergo a battle against a 13yr heroin addiction and I wish Ihad MissusO's support at this time!Help plz2contact?x
manicbrit
said on 4/May/06
My friend did some bodyguarding work for Sharon Osbourne. He said she's tiny and he's only 5ft 7". He reckoned 5ft 2" was generous.