American Actress best known for roles in films such as Terms of Endearment, The Apartment, The Trouble with Harry, Artists and Models, Some Came Running, Two for the Seesaw, Sweet Charity, Being There, Bernie and Two Mules for Sister Sara. On her website she mentioned her height:
"I also knew that at 5'7" (over 6 foot on point) the only thing that I could partner with was a tree"
, and also in a 1961 interview,
"I'm 5 foot 7 and 5-5 of it is legs"
. In the film Sweet Charity, her character described herself as weighing
"128 pounds"
.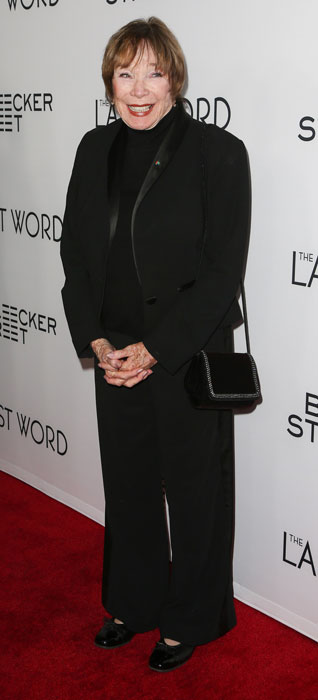 Photos by PR Photos
Sandy Cowell
said on 31/Mar/23
'Woman Times Seven'? I woke up to find this on my TV. It was wonderful, hilarious and other expressive words, including crazy! I'm going to have to check this out properly……
5ft7 peak and 5ft5.5 now.
Nearly 180cm guy
said on 22/Jan/20
Hey Rob! Is there any chance that Shirley may have been a little over 5'7"? Please look at her picture next to Fidel Castro from 1978:
Click Here
Castro was only 52 years old at the time so he could not lose anything noticeable. It's true that he drops a little in his posture, but we must remember about footwear:
Click Here
His shoes look thick and Shirley was barefoot during their meeting. Rob, can you see the chance for her at 5'7.25"?

Editor Rob
I am not sure I'd give her over 5ft 7 flat.
Beau Dare
said on 30/Aug/19
I first met Shirly MacLaine early one morning as an actor, buy the coffee machine, on the set of her film "Out on a Limb" in 1986. She was very charming and flirtatious and appeared to be 5'6" tall, with effortless grace and bearing. Nice memory.
ReallyShortRussianDude
said on 20/Nov/17
Click Here
Rob, how tall does Vladimir Mashkov look with Shirley?

Editor Rob
could be 4 inches taller than her, although she has shrunk a bit now.
Sandy Cowell
said on 24/Jun/17
When at first I found out that Shirley MacLaine was Warren Beatty's sister, I let out a sigh of surprise, "Randy fox Warren has a sister, and this is she!"
Well, looking back on her career, she has had similarly raunchy roles and is the female equivalent of a regular dude! At 5ft7, she was certainly tall, especially for her day, and even now at 5ft5.5, she is taller than many women of her generation. She's a smashing looking brunette woman, well - she's dark in the picture above, but we all know that Hollywood stars rarely keep to the same hair colour! Shirley also has a very saucy little edge to her!
5ft7 - peak
5ft5.5 - now
Arch Stanton
said on 16/Mar/17
@Rob, can you mention that in the film Sweet Charity she described herself as "128 lbs"?
Arch Stanton
said on 3/Jan/17
With Hitchcock also difficult to argue under 5'7
Click Here
Maybe she was 5'7 after all. Perhaps her heels with Mitchum were lower than I thought, I still think though that Mitchum could look more 6'1.

Editor Rob
Arch, a weak 5ft 7 argument for her is believable, at times I've thought that range is possible.
Arch Stanton
said on 3/Jan/17
Mmm, maybe 5'7 is OK, check her out her in flip flops with Sinatra in shoes
Click Here
Pretty much proves that Sinatra did wear lifts at times as in some photos Sinatra looks a lot taller!!
Click Here
Arch Stanton
said on 3/Jan/17
Shorter than Frank Sinatra here
Click Here
but possible Sinatra was wearing lifts and her in flatter shoes of course.. Dean Martin again pulling off looking taller than he really was!
Arch Stanton
said on 3/Jan/17
Could look easily this in some films, at times can look stronger 5'7, but then oddly seem more 5'6 range. I could have sworn Audrey looked a bit taller in the Children's Hour. Difficult to see a full 5 ft 7 with Mitchum in Seesaw as she's in heels too. Overall from what I've seen perhaps 5'6.5 peak is better, and it was big heels making her seem taller in some films.
Sam
said on 1/Jul/15
Rob, would you please to her credits: Artists and Models, Some Came Running, Two for the Seesaw, Sweet Charity, Being There and Bernie?
MacLaine could be the dictionary definition of a b***buster but after her adorableness in The Apartment and sexiness in Irma la Douce, it's hard not to love her.
Arch Stanton
said on 10/Jun/14
Odd thing is that in heels in Artists and Models she was still easily 3 inches shorter than Dean Martin and Jerry Lewis!
Arch Stanton
said on 14/Mar/14
Actually looked a bit shorter than Audrey Hepburn in The Children's Hour.
Sam
said on 4/Nov/13
She was probably rounding up to 5'7", I agree. She never looked taller than than the very believable 5'9" Jack Lemmon even when wearing chunkier shoes.
Arch Stanton
said on 2/Nov/13
I doubt she is this today though, you compare her peak next to her brother Warren Beatty and now. She's lost a noticeable amount of height and Beatty I doubt he's under 6 ft 1 and has lost about an inch. I'd say she was nearer 5 ft 5 now approaching 80.
Arch Stanton
said on 2/Nov/13
Thanks Rob for adding her films. She can definitely look near 5'8" a lot, although in Two Mules for Sister Sara didn't look over this. Can't remember now how she fared next to Jack Lemmon in The Apartment.That role for her was odd as she played a vulnerable character and as you might know Shirley Maclaine probably has the biggest balls for a woman in Hollywood.Tough as nails. Even Clint Eastwood was afraid of her!
Arch Stanton
said on 28/Sep/13
Rob can you add some of her other films like The Trouble With Harry, The Apartment, Irma la Douce, Two Mules for Sister Sara, and Being There?
Arch Stanton
said on 28/Sep/13
Looks tall for a woman in Terms of Endearment, in flats she can look 5'8" in it actually.
richinkle
said on 25/May/11
If Shirley MacLaine was 5'-7" at her peak, then Lucille Ball was 5'-7 1/2" at the age of 65. The two costarred in a tv special in 1976, in which a 65 year old Lucille Ball is about a half inch taller than 39 year old Shirley MacLaine when the two are dancing in the same heels, side by side.
Click Here
Shaun
said on 11/Apr/11
Since when has 5'7" been towering?? LOL. She should try being Gabrielle Reece. 5'7" tall for a woman of her generation but by no means towering.
boswell
said on 22/May/09
I'm going against the trend on this one but I have spoken to Shirley McLaine face to face for about ten minutes and there is no way that she is 5' 7" tall. Sorry. I'm 5' 8" and I was looking well down when speaking to her. Before reading the other entries here and while searching for her, I had the figure 5' 3" in the back of my mind. Maybe she's 5' 4". I know she's not 5' 7". My two cents worth.
talker
said on 1/Apr/09
Shirley was probably 5'7"but Anita Ekberg looked 2" taller next to her in the movie Woman times seven.Anita must have been 5'9" at the time.
Mr. R
said on 3/Oct/08
Shirley was supposed to be at The AFI salute, but I am not sure if she came or not.
Jackie
said on 12/Sep/07
A famous statement by Shirley from as far back as the sixties was that she was not deemed suitable
to continue her ballet career because she was 5'7" and 6 feet flat "en pointe", and she would tower
over the male dancers. She's now 73, so she may have lost some of her height.
Click Here
richinkle
said on 31/Oct/06
I just saw a great youtube video clip of Shirley MacLaine dancing with Lucille Ball in a tv special from 1976 called "Gypsy in My Soul".
Click Here
In it they stand and dance side by side for about 5 minutes. Shirley is 39, Lucy is 64. In it, they look nearly identical in height, except I give a slight edge to Lucy by about 1/2". If Shirley was 5'-7" in her prime, Lucy was at least 5'-7 1/2" in hers, and maintained that height well into her 60's.
Frank2
said on 2/Mar/06
Shirley was five seven when she was younger. Jennifer Aniston is about five four. She also has an ugly nose that in person is even uglier! What Brad Pitt saw in her is beyond me.
Jessica
said on 31/Jan/06
I have to agree with gyllenhaalic823--
Shirley is NO 5'5"! I know people tend to shrink as they get older, but she's held up considerably well, both in looks and in height. She can't be that much shorter than 5'7" today.
gyllenhaalic823
said on 23/Dec/05
if shirley is 5'5.5" then jennifer aniston should DEFINETELY be downgraded to 5'4" or less. shirley is considerably taller than her in Rumor Has It!