Sofia Black D'Elia's Height
5ft 4 (162.6 cm)
American Actress from All My Children and the American version of Skins.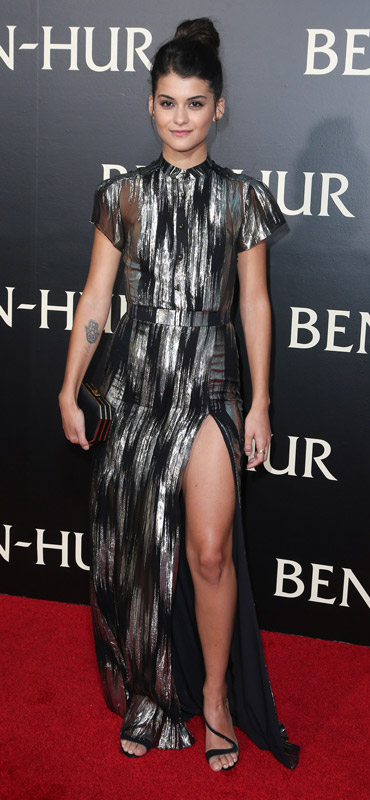 Photos by PR Photos
Add a Comment
55 comments
Average Guess (11 Votes)
5ft 4.73in (164.4cm)
Marc
said on 18/Mar/18
Noticed an upgrade from 5'3?am i wrong?Is 5'4 the maximum?

Editor Rob
5ft 4 may well be closer, although I didn't see enough to think she ended up at 5ft 5.
Aloofer
said on 30/Jan/18
no way she's shorter than 5'6.25"
Click Here
Kam
said on 22/Jan/18
Watch "The Mick." If Kaitlin Olsen is 5'8, Sofia is, at the very least, 5'7. They have a number of scenes where they're both barefoot and standing right next to each other and Sofia is like half an inch shorter. So either Sofia is 5'7 or 5'7.5, or Kaitlin Olsen is much, much shorter than she's listed.
LucyJ
said on 28/Dec/17
Actually a size 7 shoe is average for someone 5'3". A size 5 shoe is very small, even for someone 5 foot tall. Where do people get these odd ideas? Well, I am speaking of women in the US and Europe. In Asian countries a size 5 would be more average for that height.
Kayla
said on 22/Oct/17
She looks 5'6-7 now.
Sarah
said on 17/Aug/17
I have to say, looking at pics of her with Kaitlin Olson and comparing footwear, it's either impossible she's under 5'6 or Kaitlin is shorter than 5'8.
Aloofer
said on 29/May/17
She looks just a couple of inches shorter than kailin olson in The Mick my guess she's 5'5.5-6"
James
said on 10/Feb/17
Rob, Sofia's shoe size is 5 US. Is that reasonable for someone 5ft 3?
Editor Rob: James that is a very average size...if she had a size 7 or 8 that would be big for her height.
Erin
said on 21/Jan/17
I don't buy that she's five seven but I definitely think she's above 5'3. IN her new show the mick , she is only a couple inches shorter than her co-star Kaitlin Olson who is a solid 5'7-5'8. I would say she's around the 5'5 zone. I am not sure why shed lie to make herself shorter, but some people claim to have seen her say in an interview that she's 5'7. Overall I really am not sure , it's really odd to have somebody be so unclear about their height or claim to be 5'3 one day and 5'7 the next.
gian92
said on 30/May/15
she seems 5'7 in project almanac for me !
kelly
said on 6/Feb/15
i just saw project almanac she looked 170-175cm tall!!
Ann
said on 28/Apr/13
Don't you think that's impossibe for her to be 160 cm tall? I've always thought she's quite tall. Even in flats, she doesn't look much shorter than Blake Lively. Compared to Blair (and Leighton's 165 cm) she dooesn't look shorter at all. Was it really her facebook profile, where she put this information about height?
Mamun
said on 8/Dec/11
Sofia just posted on her face book wall that she is 5' 3" !
Regards
SUPERMUN
[Editor Rob: well that is the mark we gave her, so maybe it is good honesty from her.]
katie
said on 20/Nov/11
yeah guys she's 5'7 in one of those skins aftershows on ustream someone asked and she said 5'7.
Mamun
said on 12/Sep/11
Sorry Kostas , but somebody already punched me and woke me up !
Regards
SUPERMUN
Kostas
said on 11/Sep/11
Mamun,why would you want to stop dreaming if it's such a wonderful dream ?!
Isabella
said on 8/Aug/11
James Newman is REALLY short. You can see it whenever he is on camera. If she's wearing heels and is still at least 2 inches shorter than someone who is 5'8", she is not 5'7". I know that James Newman's height is said to be 5'7", but I don't believe it. That guy is ridiculously short. Probably 5'4", or 5'3" like Sofia.
Mamun
said on 6/Aug/11
I just had a chat with my sweet Heart ! I can't beleive it ! Somebody punch me please ! I must be still dreaming !
Regards
SUPERMUN
bill
said on 6/Aug/11
Oh please there is no way she is 160cm , then that will make James Newman less than 160 hah. What a joke . Need to get her height rite!
Adriannnna
said on 8/May/11
I watched it come right from her mouth, she is 5'7" tall.
Nicole E.
said on 11/Apr/11
Wow what a very lucky man there hahaha :) but it is a very good picture!
Noam
said on 20/Mar/11
In an interview she said she's 5'7 ... I'm 100`% it's false but what is her damn real HEIGHT ?
Adriannnna
said on 15/Mar/11
She is 5'7 :)
Ellie
said on 12/Mar/11
Is she 5'3 or 5'4 , ROB ?
[Editor Rob: there's a chance 5ft 3.5 is possible]
Someone
said on 22/Feb/11
FALSE! SOFIA ISN'T TALLER THAN JAMES NEWMAN !
Click Here
James is probablly 165cm max, Sofia is about 5cm shorter so => 160 cm !
Celebheights is right ;)
[Editor Rob: maybe she is 5ft 4, it's possible]
Santiago
said on 18/Feb/11
That cannot be true. I saw the picture you are with Jesse Carere and he's almost your height. Right, you are not 13 cm taller than Sofia. Sofia is taller than James Newman, and he's not shorter than 160 cm. At least Sophia is 166 cm in my opinion :)
Someone
said on 13/Feb/11
WTF ??? 5'3 ! I thought she was 5'6 ...
Mamun
said on 11/Feb/11
I was 14 ! Nothing wrong in being 14 is there ?
Regards
SUPERMUN
runt
said on 11/Feb/11
Mamun, you've been posting on this site for a good 2 years or more. You were 14 when you started posting pics? How old were you when you took this pic?
Click Here
Mamun
said on 10/Feb/11
Thank you soo much Rickie for your kind words ! It's comments like yours that makes want to go out there and get as many celebs as possible so that I can make people like your self happy ! There is a saying in Arabic ! If you can't please someone with expensive gifts , then at least give the person a nice smile ! If I can't buy you a gift Rickie , I am at least happy I can make you happy with my pictures !
King ROB , I hope I make you proud !
Regards
SUPERMUN
[Editor Rob: yes you do a good job thanks!]
Rickie
said on 9/Feb/11
Mamun. I'm proud of the work you do here, yourself and Rob's pictures are what makes this site stand out in my opinion. So for that I congratulate you don't get me wrong. Imma just saying I don't think you're 17. BUT we shall never no, nor will it really make any difference to anything, so I'll take your word for it. Case closed.
as Editor Rob said....I hope you added your phonenumber on the pic ;) Good work.
Oh by the way Rob if you read this, celebheights was mentioned in a small editorial in one of the magazines that comes with the Sunday Times a few weeks ago. Infact that editor might be here! He's a guy from Hull, has the back page of one of the mags ( I forget which one).
Anyway..peace out.
Rickie The Boss
[Editor Rob: ah nice, any mention of celebheights is good for the site!]
Mamun
said on 7/Feb/11
OH MY GOD ROB !!!!!!!!!!!!!!!!!!!!!! NOW YOU TELL ME !!!!!!!!!!!!!! I DIDN'T DO THAT AND DO YOU KNOW WHAT ! SOME OF THECAST , THE DIRECTOR AND PRODUCER ACTUALLY ASKED ME TO HAVE LUNCH WITH THEM WHEN THEY WERE SERVING LUNCH ON THE SET . I DIDN'T ! DO YOU WANT TO KNOW WHY ? BECAUSE IF I DID I WAS GOING TO MISS
MY 3D MOVIE SHREK 4 WHICH COST ME $ 18 ! STUPID STUPID ME ! WHY DID I DO
THAT FOR ONLY $ 18 ?????
REGARDS FROM A STUPID 17 YEAR OLD
SUPERMUN
Mamun
said on 7/Feb/11
Rickie , how often do SuperHeros or even normal people for that matter actually put their IDs on a world wide site such as this ????????? You are
kidding me when you are asking me to do this right ? I am guessing you have
never heard of ID theft or Cyber Crime ? How is that for a forfeit ! Besides
we should really stop this because these discusion might really annoy Sofia
whose page happens to be where we are writing all this . We should all talk
about how beautiful she looks and her acting . The chances are really really
high that she might be checking out this site because I have told her about
it and the next day when I met her I gave her a copy of this picture and she
loved it !
Regards from a very proud to be 17 year old !
SUPERMUN
[Editor Rob: I hope you wrote your phone number on the back of the picture!]
Rickie
said on 6/Feb/11
Mamun, the only way you can win this is by uploading some form of indentification. If I'm wrong I would happily do any forfeit you decide.
There's just no way I'm believeing you. Don't take it personally but I've been coming here now & again for years and you've always looked the same even in pics that are obviously quite old.
I hope you're joking and this is a wind up.
Mamun
said on 6/Feb/11
Thanks duncan ! Remember we teenagers are the future of this world ! We need
to be as good as possible brother so that this beautiful world stays as beautiful as posssible ! Unfortunately I don't have my planet anymore !
Regards
SUPERMUN
duncan
said on 5/Feb/11
Alright I'm holding you to it.
Mamun
said on 4/Feb/11
No dinner for you Rickie ! Regarding receeding hairlines , have you any idea
why soo many teenagers in America ( even 17 year olds ) shave their heads and
stay bald ? Wake up Rickie ! They also are starting to have receeding hairlines! Am I the only 17 year old who is overweight ? I come from a well off
family and I have got family all around the world ! So does this answer your
questions ?
Regards from a proud 17 year old !
SUPERMUN
Rickie
said on 3/Feb/11
Mamun....you...17? Haha, not a chance in hell. You're joking with us yeah?
There's nothing about you that appears 17. Here's why...
Mamun, you're:
- Pretty stacked. Got alot of muscle on you. Far more than any 17 year old.
- Overweight and got a belly.
- You've got a receeding hairline.
- You can afford to fly around the States getting pics with celebs & other douchebags.
- Your skin tone.
Doesn't add up buddy.
My educated guess would be that you're in your late twenties, early 30's.
chad
said on 3/Feb/11
mamun, how tall are you
Mamun
said on 3/Feb/11
Thank you duncan ! Dinners on me buddy !
Regards
SUPERMUN
Anonymous
said on 3/Feb/11
you look like you're in your 50's, brah
duncan
said on 2/Feb/11
Now that I think of it...maybe you are 17. Its so obvious!
MAMUN
said on 1/Feb/11
I AM 17 MY FRIEND ! YO CAN EVEN ASK SOFIA !
REGARDS
MAMUN
Rikashiku
said on 31/Jan/11
5'2" or 5'3" sounds right. Are you guys forgetting the "Mamun thought she had maybe a 2-inch heel when he met her." Part?
Mamun
said on 30/Jan/11
Well if I wasn't 17 she would never had posed for me ! Please get that into
your heads !
Regards
SUPERMUN
Mamun
said on 30/Jan/11
Well show yourself buddy and let me see how old you look ?
Regards
SUPERMUN
dashing alex
said on 30/Jan/11
Mamun you look more like you just turned 47 bro. I bet she would smell really good.
duncan
said on 30/Jan/11
@mamun damn you look old for 17 lol
Python
said on 29/Jan/11
5'3"???? No.
She looks about 5'6.5" in the picture with Mamun.
burby
said on 28/Jan/11
Yeah, like Vanessa Hudgens sister in this pic. SuperMamun is SuperLucky.
Mamun
said on 28/Jan/11
Duncan your 16 ? Well I just turned 17 and I have a much better chance of being friends than you !
Regards
SUPERMUN
linke
said on 28/Jan/11
No idea about who she is?She looks a lot like vannesa hudgens though.5'4-5'5 with heels,so 5'3 barefeet.
Brad
said on 27/Jan/11
She's really cute
Anonymous
said on 27/Jan/11
She's 5'4".
Perfect female height.
duncan
said on 27/Jan/11
gorgeous, gorgeous girl. not a bad actor either. How old is she? I'm 16 maybe I'd have a shot haha