Stephen Lang's Height
5ft 10 ½ (179.1 cm)
American Actor best known for roles in for roles in Avatar, Tombstone, Gettysburg, Gods & Generals, Last Exit to Brooklyn, The Hard Way and TV shows Terra Nova and Salem.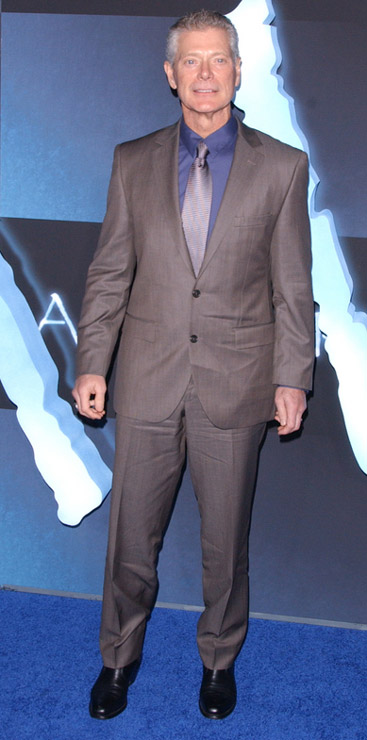 Photos by PR Photos
Add a Comment
20 comments
Average Guess (13 Votes)
5ft 10.75in (179.7cm)
TheBat
said on 10/Oct/19
5'10.5" is perfect.
Miss Sandy Cowell
said on 11/Jul/19
🎁🎂🎉 Happy Birthday Stephen! 🎉🎂🎁
Wishing actor Stephen a fantastic 67th Birthday!
5ft10.5.
🍰🎈😁🕯️🍰🎈😁🕯️🍰🎈😁🕯️🍰🎈😁🕯️
Rick Hannum
said on 6/Apr/19
Saw him in Newport Beach on St Patrick's Day. I'd say he's a mere
5' 4"
Jammes
said on 21/Mar/19
Saw him in a movie from the 90s with Josh Brolin and Mario Van Peebles,he looked shorter than both. I think Lang is like Frank Grillo,bulky tough guy character actor but not very tall but still badass
Miss Sandy Cowell
said on 18/Mar/19
I am watching Stephen in the super-creepy film 'The Monkey's Paw', where at first you see him swaying about drunk and belching and then he goes flying through the window of a car which has been taken for a joy ride! His friend, who has just met a man with a voodoo cursed monkey's paw, wishes he was still alive, and the next thing you see is he's standing behind the film's main actress, Michelle Pierce, a convincing 5ft5 - though never out of heels - and it's then that I decided that he looks about 5ft10. He has 3 months more before he turns 67, and as this film was made in 2013, he was 60/61 then and in remarkably good shape. In fact, I think I'll revise his height to 5ft10.5.
This guy's character has been brought back to life through voodoo magic and consequently, he doesn't quite look 'with it', because he's not properly alive - and it shows. He's also turned into an evil, vengeful beast, who no longer has a soul... 😱
GreRee
said on 8/Feb/19
I met him in Bagram, Afghanistan. I'm 5'11", and he was maybe four inches or so shorter than me, so I would say maybe 5'7".
Robert Robertson
said on 24/Jul/17
I think he is 3ft 34 inches tall
JakesPlace97
said on 17/May/17
He is about 5'6". Was talking to him on set today, and I am 5'8" and was clearly a couple of inches above him.
Sam
said on 30/Oct/15
Rob, would you add the credits I suggested a while ago for him?
Aussie
said on 24/Feb/15
5'10 - 5'11 seems spot on.
Came off as a 6'0 guy in the avatar. Good actor
Sam
said on 29/Dec/14
Rob, could you beef up his credits to include?: Manhunter, Last Exit to Brooklyn, Gettysburg, Tombstone, Public Enemies & Gods and Generals.
Lang is an unusual character actor, he played often doughy, weak, whiny characters when younger and then got muscular and played intimidating hardasses in middle age.
Arch Stanton
said on 14/Jan/14
He looks a bit taller than Sigorney in Avatar and looks about 6ft. Strong resemblance to Gary Sinise though!!
Oz
said on 9/Aug/13
Seems about right, he just looks a little bit shorter than Jason O'mara
Len
said on 20/Aug/12
5-10 guy, and with great presence.
Lynn
said on 23/Oct/11
I would like to underline that there is a great difference between 180 cm and 176-177 cm.
Just watching Terra Nova, he is clearly 176-177 cm barefoot max. Great body.
By the way, terra nova is fantastic.
[Editor Rob: true he could be 5ft 10 I flicked through channels the other day and saw him in something with cybill shephard, i'll have another look to see.]
elRey
said on 13/Sep/11
those 5´9" claims.. did you watch public enemies? he looked the same height if not an inch taller than Christian Bale in every scene.. I know, boots.. but 5´9"? be serious.
Josh B
said on 31/Jul/11
Just watched Avatar again and noticed when he's walking down a briefing room at the beginning of the film, there's a very clear shot of his footwear and he's wearing military boots of considerable size. I would estimate around 2 inches of heel.
I don't recall what Weaver was wearing but since she wasn't military i guess it would be less than Lang. I'm pretty sure Lang wears is large boots throughout the film also.
keyword
said on 16/Feb/11
I literally know this man, and have had conversations with him. He wears cowboy boots almost every day. He is around 5'9ish barefoot. Around 5'11ish with the boots. Great guy.
Another anon
said on 9/Dec/10
We belong to the same gym (Club Reebok, in Manhattan). I see him all the time. He is between 5'9" and 5'10", 5'10" tops, stocky, but very intense looking.
Rampage(-_-_-)Clover
said on 4/Dec/10
Closer to 6"0....and jacked!