Steven Berkoff's Height
5ft 9 (175.3 cm)
British Actor known for roles in Beverly Hills Cop, Rambo: First Blood Part II, The Tourist, The Girl with the Dragon Tattoo, A Clockwork Orange, The Passenger, Barry Lyndon and Octopussy. This photo is from a Collectormania event in London, 2012. On his agency resume he is listed as standing 5ft 11in tall with a weight of 13stones and 10 pounds.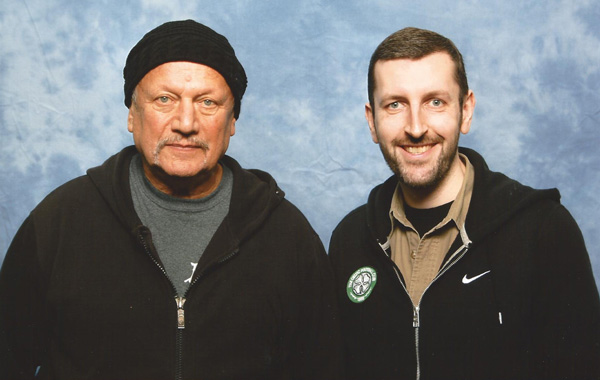 5ft 8 Rob with Steven
Add a Comment
29 comments
Average Guess (17 Votes)
5ft 8.81in (174.8cm)
JohnMoore-162cm
said on 27/Apr/20
5ft9 Peak
Christian 6'5 3/8
said on 24/Apr/20
@Rob
What does "Dyke" mean in the UK? I'm assuming that it has a different definition over there, because it's considered a slang/slur for lesbians in American English.

Editor Rob
It's like a ditch or embankment.
But people here also use the word in the other way you mention too.
Rory
said on 26/Sep/17
5'9.25 peak and 5'8 today I'd imagine.
Editor Rob:

Many actors won't bother even doing something like the film conventions, so I give Berkoff applause for actually taking the time to attend some of them...

I would suggest though to any actor, even if you don't really want to be there, try at least to ACT happy 😌

At the last event, there were a few folk who went to get a refund for his photoshoot as he was being 'difficult' from what I heard.
Rory
said on 25/Sep/17
Rob, if he looked 5'8.5 aged 75 don't you think maybe 5'9.25 or 5'9.5 peak might have been possible ?
Editor Rob: yeah it's possible.
Sandy Cowell
said on 29/Jul/17
@ even - Hi! I find that Rob's posture often holds him in good stead when standing next to celebrities of 5ft9 Steven's size.
You'd think from the picture that the two men could hold a conversation with each other eye-to-eye, but then when you compare their shoulders, Steven definitely has an inch on Rob, though it could past for slightly less!
This picture is one of those where I would guess Rob's height to be 5ft8.5, and Steven's a solid 5ft9.
even
said on 26/Jul/17
half an inch taller than rob
Sandy Cowell
said on 25/Mar/17
@ Rob - I just told my boyfriend over the phone about this little charade, to which he replied, "You know Stuart ****?" I said, "Yeah, you know I do! Well, some time back now!" Then he went on to say, "Well I was in the Annerley Arms with him and Steven Berkoff marched in and started drinking with us! He asked Stuart to be in a play he penned himself!"
Then I said, "What did Stuart say?" to which he replied, "Stuart told him to **** off!" I said "That's not very polite! Was he larking around or was he serious?" Jim (boyfriend) said, "Both!"
Stuart ended up in his play 'just being himself' and he loved it! 🎭
Editor Rob: interesting! I think Mr Berkoff is one of those actors who if you got to know, might have many an interesting view on the world...but many who meet him are left with a different impression.
Sandy Cowell
said on 24/Mar/17
@ Rob - and here's one for you!
There once was a fellow called Robbie
Who practiced an interesting hobby
He'd creep up behind you to suss out your height
And the lying soon lost all its glory!
The fibbers were found out at last
Height-bungling belonged to the past
But fate got him back
For his fondness to snack
Pushed his weight to 180!
Editor Rob: 😾 😼 👍
Sandy Cowell
said on 24/Mar/17
@ Rob - I'll get you back for that, I will, I WILL!
But you're right about there being no brakes on my bike! I used to have to use my feet, and they barely even reached the floor! Consequently, I did have quite a few accidents!
Sandy Cowell
said on 23/Mar/17
@ Rob - I have been known to write poetry you know!
Editor Rob:

me too! well, not quite 😂

There once was this woman called Sandy,
who one day was feeling so Dandy,
She jumped on her Bike
And fell down a Dyke
Some brakes would have come in quite Handy...


AJ
said on 7/Sep/16
Holy crap he's almost 80, he barely looks over 50 here.
Arch Stanton
said on 30/Dec/15
Rob any chance of adding the gorgeous Julia Nickson? She was in Rambo II and Sidekicks and Walker, Texas Ranger with Chuck Norris.
Arch Stanton
said on 30/Dec/15
Rob can you tweak Rambo to Rambo: First Blood Part II?
I quite enjoyed The Tourist actually, mainly due to the lovely location and JOhnny Depp walking across roofs in his PJs. I thought Jolie looked ravenous! ;-)
Berkoff looked pretty evil and the quintessential maniac back in the 80s, you can see why he got all those blockbuster villainous roles.
Editor Rob: he's a good actor, but this photoshoot he really didn't interract with anybody. Maybe for some it is awkward, having random people want photos with you...feels uncomfortable.
Matt the Great
said on 20/Sep/15
mabye....5ft9 peak....doesn't look to happy in that photo does he rob
[Editor Rob: to be fair, if I was in The Tourist, I wouldn't be happy either!

no...it's not that bad a movie! I think he generally has that look to him, I never seen him smile much with others.]
Key
said on 31/Jul/15
They listed him as 5-11? He looks no more than 5-08!
Greg
said on 4/Aug/14
Really, listed by agency at 5'11'? In Outland (over 30 years back) he looks maybe 5'9"-5'10".
[Editor Rob: yes, I checked this the other day and was surprised he is described 5ft 11!]
valiant
said on 16/Jun/14
5'8.25-5'8.5 with rob
peak maybe 5'9
dmeyer
said on 25/Jan/14
legit 174cm
avi
said on 17/Jan/14
5'8 .25
Peak weak 5'9
GP
said on 13/Nov/13
He was clearly taller than Van Damme in Legionnaire and he was 60 years old at the time. So I don't understand how is it possible for Van Damme to be 5'9.5". I have always said that Van Damme is about 5'8" and nothing more. Rob, you maybe need to adjust Van Damme's height at least accordingly so there won't be any discrepancies. Rob, did he appear nice to you, because I dealt with him over the summer and he came off as angry and rude.
Voiceless Dental Fricative
said on 15/Oct/13
Robby,
If he looked 5'8.5, why not put him as that?
Or is 5'9 his peak height?
[Editor Rob: today he could be 174ish, peak 5ft 9 range]
Rusty
said on 15/Oct/13
@rhonda
he slightly edges Rob out, but hes older so maybe 5'8.5" in this photo and 5'9" at peak
richkid123
said on 3/Aug/13
yah 5'9"ish this guy looks like he could handle himself in a fight
Rhonda
said on 17/Jul/13
Surely Rob would have thought he was the same height 5ft8 as the eye level is exactly the same.
West-end Mole
said on 22/Jun/13
5'8" but no more these days. I've met him several times and his posture is excellent. Age has rather caught up with him in the last five years or so.
Kyuss
said on 17/May/13
Perhaps around 5-7.5"-5-8" maybe Rob? Lost some height imo. Btw an awesome actor,loved him in Rambo II.
[Editor Rob: I thought he looked in the 5ft 8.5 range that day, no smaller than that. He is a great actor although he didn't really acknowledge people much during this photoshoot.]
W E Mole
said on 22/Jun/11
Met him in 2003. Probably a shade under 5'9" now. Put on a lot of weight in the last few years.
Anonymous
said on 5/Mar/08
Just on Alan Titchmarch in trainers, slightly taller than 5ft 9 Titchmarch, so probably 5ft 9.5 or 5ft 10
CelebHeights Editor
said on 13/Nov/05
His agency lists him as 5ft 11. He doesn't look that tall.