Sue Cleaver's Height
5ft 9 ¾ (177.2 cm)
English actress, best known for playing Eileen Grimshaw on TV soap Coronation Street. On her resume she was listed
5ft 10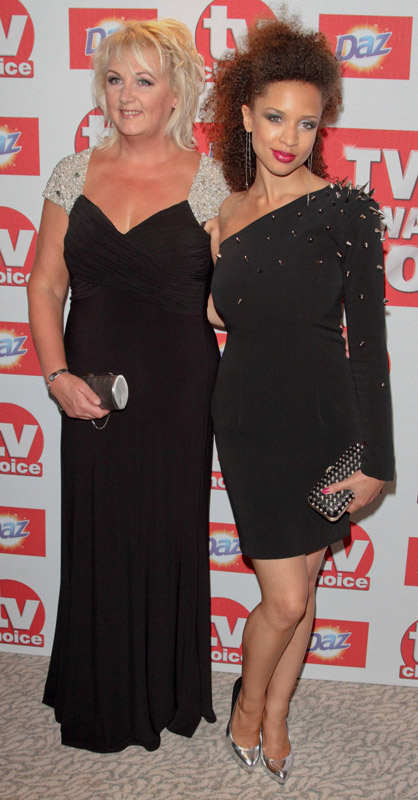 Sue and
Natalie Gumede
Photos by PR Photos
Add a Comment
30 comments
Average Guess (28 Votes)
5ft 9.87in (177.5cm)
Miss Sandy Cowell
said on 20/Oct/20
When Todd thanks his Mum, Eileen, for helping to solve the spurned lover, Mick, situation, she retorts with, "Get in the shower - YOU STINK!"
Well done Eileen! We even saw a nice side to Mick coming to the surface! 👍
Miss Sandy Cowell
said on 15/Oct/20
Poor Eileen, having to deal with that crook brought to her door by her son Todd, albeit inadvertently. She's coping better than I would!
5ft10 for Sue Cleaver. 😁👍💐
Nik
said on 28/Mar/20
I would love to see a photograph of Sue Cleaver together with Liv Tyler! It's great to give her her 28th comment on the 28/Mar/20, she has 28 votes!
Nik
said on 8/Feb/20
She is probably taller than most of the men on Coronation Street!
Miss Sandy Cowell
said on 6/Feb/20
🎶 Come on Eileen! 🎶 You really HAVE to poke your nose in as far as Tim Metcalfe's father's abusive marriage is concerned! Put that horrid Geoff Metcalfe in his place - you're much bigger than that worm of a man!
5ft10 for Sue! 😁💐
Miss Sandy Cowell
said on 15/Jan/20
I'm watching the Classic Coronation Street version and I blinked twice when I saw Sue Cleaver on an episode playing a nurse just now. What surprised me was not any radical change to her height whatsoever but how much taller Ken Barlow (William Roach) was some 25 years ago. It makes sense!
Sue gets 5ft10.
Miss Sandy Cowell
said on 2/Sep/19
🕯️🎂💐🎉 Happy Birthday Sue! 🎉💐🎂🕯️
Sue Cleaver, who has long been one of 'Coronation Street's' biggest stars, turns 56 today. I wish her a splendid time!
💐🎁🍰🎈💐🎁🍰🎈💐🎁🍰🎈💐🎁🍰🎈
Miss Sandy Cowell
said on 31/Aug/19
Just as poor Eileen has the chance for some happiness, even if the bloke she's losing her heart to, is dodgy - AGAIN! -
he gets shot right in front of her. How awful! 😧🔫😪
The event was freakishly carried out with The Hollies' 'The Air That I Breathe' playing in the background....
Eileen gets 5ft10. She really does look it, and I reckon she's quite a bit taller in the morning. 🌄
Nik
said on 7/Aug/19
She looks roughly the same height as Jan!
Miss Sandy Cowell
said on 7/Aug/19
Eileen may be the tallest woman on Coronation Street, but it hasn't helped her with her choice of boyfriends. I didn't think it was a good idea taking in that ponytailed Pole, Jan, but she looks for the good in people, bless her. Look at the many lads she's put up over the years! Most have been trouble-free, but there was something iffy about that recent one, who then turns out to be involved in the business of human trafficking. 🙄
I think Sue Cleaver looks 5ft10.
@ Gladstone Screwer - Pukka name for the smarmy shop keeper! 😂👌
Nik
said on 5/May/19
@ Sandy Cowell - Poor Eileen, she can hold her head up high though!
Miss Sandy Cowell
said on 4/May/19
How DARE that boring redheaded receptionist deflate Eileen like that! She's got more personality in the toenail on the second biggest toe of her left foot than you have in your entire package! 😝
5ft10.
Sandy Cowell
said on 20/Jan/19
I saw Sue in a Celebrity edition of 'The Chase' in the early hours this morning standing with John Thomson, Carol Vorderman and someone else whose name I forget!
She had her hair curled and looked very attractive in a navy blue outfit, and as for the cash build-up round, she answered every single question right accept for the last - which was most impressive.
She was much taller than Bradley and about a third of a head taller than everyone else, so I'm assuming she had some kind of heel on. With a smart outfit like that, it goes quite without saying.
The brainy foursome beat Mark Labbett and he was very good humoured about it.
Each won £25,000 for selected charities.
After what I saw last night, definitely no less than 5ft10. 😁👍
Sandy Cowell
said on 17/Aug/18
I might have got that wrong; it could have been alcohol that Sean pilfered. Sozzles about that! 🤗🍺
Sandy Cowell
said on 16/Aug/18
I'm so glad She's character, Eileen, is back! I didn't half miss that woman and her humour!
Back she is though, tall as ever and every bit as funny! "Yeah, he is right Sean, you do pong a bit!"
Little does she know that poor Sean (Antony Cotton) is homeless, and being very brave about it. He's even lost his job now, the unfortunate lad, for helping himself to some money, which I'm sure he had every intention of paying back. Good Heavens - he was beaten up recently and mugged, and however tall and muscle-bound he is, about average I'd say, he didn't stand a chance because he was set upon by at least two thugs.
Well, as soon as Eileen finds out, she'll put him up again, I have no doubt about that!
I haven't changed my mind from the last time, and will offer Sue 5ft10.5 again. Imagine how tall she'd be in high heels?
🤣 There's a thought....!
Sandy Cowell
said on 26/May/18
Isn't Sue the tallest of all of those who are lined up on the cobbles for next week's preview? She certainly looks it! She can have the maximum I've gone for - 5ft10.5!

Editor Rob
Good to see you able to post this!
Rojina
said on 23/May/18
I had her down as 5ft 7
Nik
said on 5/Nov/17
@ Gladstone Screwer - Hi!
I think there are other people who think she is taller than her stated height, you are not alone! However I'm with Rob on this one!
Nik
said on 28/Oct/17
5'9.5" - 5'9.75" makes a lot of sense!
Max
said on 27/Jun/17
5ft 9 is liable
Adey P
said on 25/Jun/17
I think she's taller than 5ft 10 and plays it down as any taller could actually be detrimental and regarded as too tall. I think you're looking at a woman who is 5 ft 10.5 to 5 ft 11. She pretty much always wears flats and is as nearly as tall as the taller male actors.
Nik
said on 24/Jun/17
Maybe 5'9"!
Csimpson 6ft
said on 22/Jun/17
Maybe 5ft 9.75 would be an accurate listing
Amy
said on 21/Jun/17
Rob I saw her on Corrie getting married to Pat phelan she was in Heels how tall would you say Pat Phelan is off Corrie on his resume he claims 6"1 which is believable but I thought 184 range?
Editor Rob: 6ft 1 might seem a bit much, but that guy's posture at times isn't great, can seem 5ft 11.5-6ft half the time.
Sandy Cowell
said on 21/Jun/17
Yes, I do actually believe she is as tall as 5ft10! I have often wondered about her height, and as Sue is on our screens 3 times a week plus both Saturdays and Sundays in the soap omnibuses, it isn't as though we don't get enough opportunities to check her out and compare her to the members of the cast we DO know the heights of!
She is the tallest woman of the existing cast, and I have know qualms in giving her 5ft10! Her part doesn't call for glamorous high heels either, but still she comes over supremely tall!
Arch Stanton
said on 21/Jun/17
What I guessed, I noticed she was a big lady on Corrie a while back and looked around this. Saw her in a 90s film recently too and she towered over the other women.
Editor Rob: one of those women who probably doesn't seem tall, but get her under the stadiometer and might not be much under 5ft 10 today, though I can understand how she looks 5ft 9ish too.
Rampage(-_-_-)Clover
said on 20/Jun/17
Much taller than I thought...I guessed a short plump woman
Nik
said on 20/Jun/17
I think that she is 5'8" - 5'9", what her height is exactly, I do not know!
Nik
said on 20/Jun/17
I think that you have gone too high to be honest Rob. Thanks for adding her!
CD
said on 19/Jun/17
Certainly the tallest female cast member in Corrie, visibly taller than her on-screen sons (Bruno Langley and Ryan Thomas). She's not far off her resume listing but could be between 5ft 9 and 10.
Editor Rob: always possible she could have lost 1cm by now I suppose.