Susanna Hoffs Height
5ft ½ in (153.7 cm)
American Singer from The Bangles, who had memorable hits such as Walk Like an Egyptian, Eternal Flame and Manic Monday.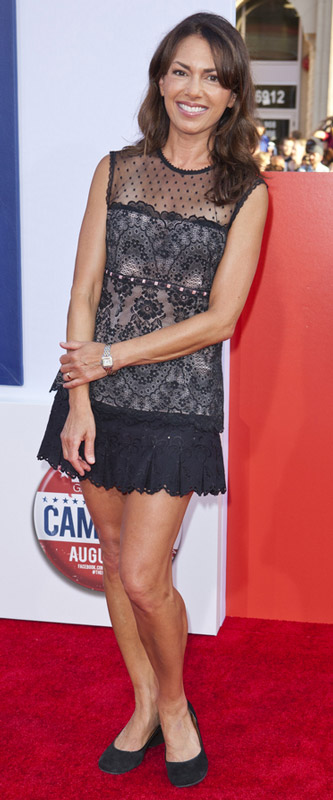 Photo by PR Photos
Add a Comment
16 comments
Average Guess (5 Votes)
4ft 11.85in (152cm)
Gary Salmon
said on 10/Feb/19
She was and still is very attractive. I love her voice. A very talented woman.
Shredder
said on 12/Jul/17
Rob , how tall is the rest of the band? She looks tiny next to them.
Editor Rob: never really looked much at the rest.
Mark M
said on 4/Apr/17
Small and perfectly formed!
DAVID LEWIS
said on 5/Jan/17
So Gorgeous!
Arch Stanton
said on 27/May/16
I think there's some tall gals in that Bangles band though which make her look smaller. The bassist in particular looks like an Amazon.
Arch Stanton
said on 27/May/16
No idea what you're talking about Greg, still smoking hot!! Her voice on the otherhand not so good now. This is really the most she could be, she's really small.
Greg
said on 4/May/15
Oh dear. The years have not been kind
Arch Stanton
said on 4/May/14
You can see how tiny she is by how big the guitar looks when she plays it! Kind of like with Sheryl Crow.
Sam
said on 24/Apr/14
She was and is gorgeous...probably too short for me in reality but doesn't detract from her attractiveness really.
Arch Stanton
said on 21/Apr/14
Really Sue?
Click Here
Looks perfect to me :-) Now somebody like Angelina Jolie, Sarah Jessica Parker, that's too skinny! Susanna does look like she could be George Harrison's daughter though.
littlesue
said on 21/Apr/14
I would have put her around 5ft, gorgeous woman back in the day but always way too skinny imo
Arch Stanton
said on 20/Apr/14
Rob, what would you guess for Jay Roach? I think he looks taller than 184
Click Here
I think he looks nearer 6'2" than 6'0.
Arch Stanton
said on 20/Apr/14
Click Here
Not even stood straight there and looks minimum 6'1" range next to Tom Hanks.
Arch Stanton
said on 20/Apr/14
i can't believe Roach is only 6'0'5, he has typical 6'2.5-6'3" proportions.
[Editor Rob: he could be in 6ft 1 range]
Arch Stanton
said on 20/Apr/14
Nice one. Her husband Jay Roach looks 6'2"-6'3" proportionally and next to her but he's only listed at 184. He looks minimum a foot taller I think. She looks tiny next to him.
Arch Stanton
said on 20/Apr/14
Thanks Rob, how did you remember my request for her hehe!! Spot on, exactly as I guessed, definitely not 5 ft 2 or whatever she's listed at. Stunning and talented woman though. I still listen to In a Different Light and Eternal Flame albums regularly. They're pretty good musicians and some of the songs have chords and harmonies which are above basic level playing put it that way. Susanna is probably my ideal sort of woman, although rather short, but in her case it sort of makes her more attractive.
[Editor Rob: I had time to have a look at her, I remembered you asked about her a while ago]