Tara Lipinski's Height
5ft 1 (154.9 cm)
US former Skater and Actress from Alpha Dog. She said aged 17
"I'm 5ft 1 now and weigh 100 pounds."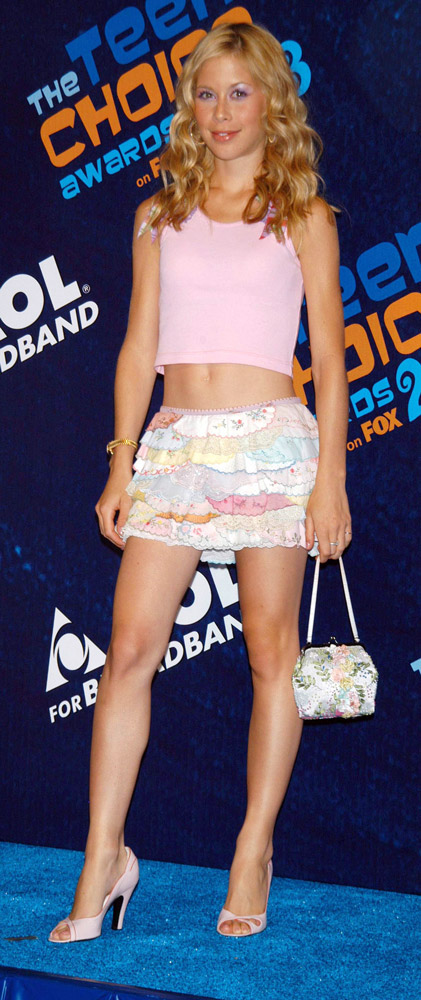 Photo by PR Photos
Add a Comment
14 comments
Average Guess (4 Votes)
4ft 11.75in (151.8cm)
greg lehmann
said on 28/Oct/18
At 4'11" Tara would be the same size Cathy Rigby is. Like Cathy Tara has pretty petite legs and she can look nice in a long flowing gown or more casual clothes like jeans! She calmly keeps her weight comfortable which is rough for petite women especially if they're under five feet tall to do. She is nice too although I haven't seen Tara in person like I did with Cathy or 5' Patty Duke. Love you Tara!
Johnson
said on 1/Nov/17
yes, he must grow up late... he is now 1.55
Johnson
said on 26/Oct/17
@Rob she is not 5'1, she is quite shorter than Michelle Kwan 5'2
Greg Lehmann
said on 4/Jul/14
Just like gymnasts,ice skaters tend to be 5'3" or under. (Ditto with jockeys.) Tara is very pretty on her 5'1" frame,and she's sweet,like petites generally are. She's my favorite skater!
gregory lehmann
said on 17/May/11
Sweet 5'1" Tara looks a lot like 5'2" Janet Lynn,the dominant ice skater during Cathy Rigby's reign as the dominant gymnast. Janet,though,has battled severe coughing asthma for years. Jan's asthma is "cold induced," just like Cathy's coughing asthma,meaning when Jan and Cathy come down with nasty chest colds,it turns into bronchial asthma. Cathy,though,has much milder coughing asthma than Jan,but they somehow control their coughing "cold induced" asthma pretty well,but Jan,unlike Cathy,suffers severe wheezing with her coughing asthma,while Cathy wheezes lightly with her coughing asthma. The other difference is Jan's asthma is also exercise induced,while Cathy's strikes only when she gets the flu or a nasty chest cold,but Cathy once exercised on a nasty head/chest cold and she stopped coughing.
gregory lehmann
said on 10/May/11
A sweet 5'1"! She may have been only 4'9" as a skater,making her smaller than my 4'10" girlfriend Joanie,but ice skaters and gymnasts do run tiny.
monique
said on 22/Feb/09
I've met her. She was nearly a full head shorter than me, which would put her at 4'11-5'0.
observer
said on 24/Feb/08
Tara was 4'8" when she won Worlds. When she competed in the Olympics, she was 4'10"
Maybe she grew three inches in two years to a height of 5'1" because she stopped training. Instead of her cells and tissues recovering from the pounding from the constant training, she finally had a chance to grow a little bit.
RentGirl
said on 18/Nov/06
I read in a book that she was only 4'8! IT was about her and Michelle kwan.
Ahsun
said on 3/Oct/06
Hi rob i think u should downgrade her to 4'11 or 5'0 not more than that.
Alex
said on 12/Apr/06
She is short. 5'1 is possible but I wouldn't be suprised if she was more 5'0 even but shes not under 5'0 though.
ice
said on 25/Oct/05
Did she really grow over three inches after 15?
http://www.freep.com/sports/othersports/qtara15.htm
moo
said on 7/Aug/05
i think she's shorter than 5ft 1. I'm a figure sk8er myself, and 5'6", I've gotten an autograph from her backstage at "Stars on Ice" at the Milwaukee bradly center (LOTS of other people got backstage passes), and man oh man! Was she short or what!
Anshelm
said on 7/Aug/05
I remember her being listed at 147 cm/4'10" and 35 kg/77 lbs when she was 14.