Taya Valkyrie's Height
5ft 7 (170.2 cm)
Kira Renée Forster is a Canadian wrestler, who has fought in Impact Wrestling. She says
"5'7...... Tv makes me look like an Amazon lol"
and
"I'm 5'7.... Think that's pretty average for a chick lol"
.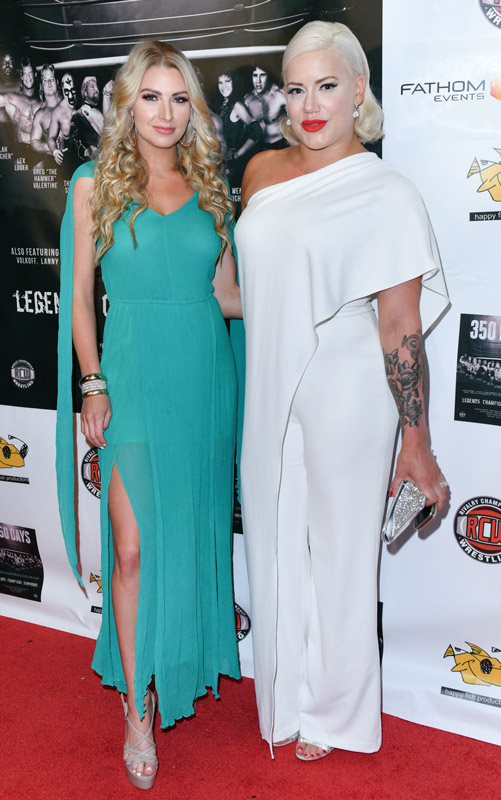 Mckenzie Mitchell and Taya Valkyrie
Photos by PR Photos
"Amazon" , never knew being 5'7, a totally average height in my opinion, an Amazon. Am I the only one that ate her Wheaties as a child? 😂
Add a Comment
14 comments
Average Guess (8 Votes)
5ft 6.75in (169.5cm)
6'3 Julian
said on 4/Sep/20
I thought 5'10 was average. Maybe it's a regional difference or something
Christian 6'5 3/8"
said on 2/Sep/20
@Julian
In relation to your height, it may be short, but 6'0" objectively is a decently tall height, as it's 3" above the average. But anything below that would be merely above average territory IMO.
6'3 Julian
said on 2/Sep/20
Bro I'm 6'3. It's literally in my name. 6'0 feels short to me
Christian 6'5 3/8"
said on 30/Aug/20
@Julian
5'7" sounds "normal" (although I don't prefer using terms like that when it comes to height) because of many people exaggerating height, so it becomes devalued, similar to how 6'0" is devalued for a guy.
6'3 Julian
said on 28/Aug/20
High end of average. If I hear a gal claim 5'7, I think "That's pretty normal, maybe slightly tallish". If I hear her claim anything higher I think it's kinda tall
Christian 6'5 3/8"
said on 22/Aug/20
@Julian
More like the low end of tall. Mind you that the average Canadian woman is about 5'4", and she's around 3" taller than the average.
6'3 Julian
said on 21/Aug/20
5'7 is high end of average. Would be considered relatively normal but looked huge in heels
OscarWinner
said on 16/May/20
I met Tenille Dashwood (aka Emma in WWE) in person. She's like 5'3" tops.
Tenille stood face to face with Kira. Kira Foster can't be anymore than 5'5".
Also, please do an entry on Tenille Dashwood. Thank you.
Samuel89551
said on 11/Mar/19
How tall would you guess Mckenzie Mitchell? She claimed to be 5'7 on Instagram, but she looks much shorter.

Editor Rob
Yeah that looks too much. See with
Brooke
, if she were 5ft 7 she'd look a good 4 inches taller!
Christian 6'5 3/8"
said on 19/Feb/19
@Nik
Maybe it's because she's a wrestler is why she doesn't feel so tall. Wrestlers are bigger than the average person, especially male wrestlers, and to a lesser degree female wrestlers too.
Nik
said on 18/Feb/19
5'7" is pretty tall for a chick!
Littlelee168cm
said on 31/Jan/19
Yeah I noticed that Sandy though you can't see the heel itself the platform on the front looks to be a couple inches high while tayas heels don't have a platform on the front
Sandy Cowell
said on 29/Jan/19
@ Littlelee - Have you seen the size of Mckenzie's heels? I can see her as about 5ft3 myself!
Littlelee168cm
said on 28/Jan/19
Haha the women with her is listed at 5ft 7 as well I highly doubt that is the case as she has higher heels than taya and looks several inches shorter 5ft 3 at best for mckenzie