Tim Henman's Height
6ft 1 (185.4 cm)
English former Tennis player. He said in a DailyMail interview
"I'm 6ft 1in and weigh just over 12st, about half a stone more than when playing professionally"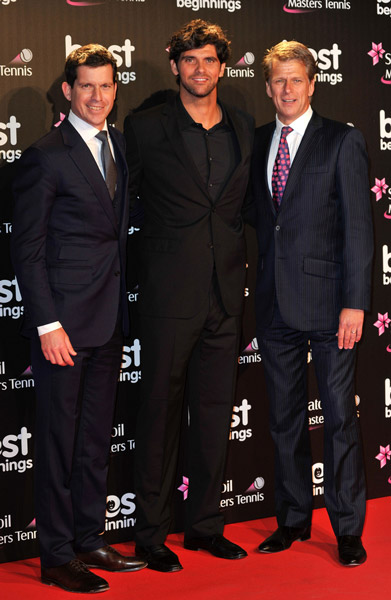 Tim with Mark Philippoussis (who claims 6ft 4) and Andrew Castle
Photo by PR Photos
Add a Comment
39 comments
Average Guess (17 Votes)
6ft 1.26in (186.1cm)
Rampage(-_-_-)Clover
said on 25/Aug/20
Castle I think was maybe near 6ft2 in his playing days, possibly still is based on the above photo. 6ft3 barefoot though I just can't see unless Henman himself is 6ft2!
OriginalAnon
said on 16/Jul/20
Henman has good posture and favourable proportions. But he is not closer to 6'2'' than 6'1''. A 6'2'' guy doesn't look as small as he does next to the 6'4'' and 6'5'' guys like Krajicek, Safin, Ivanisevic, Philippoussis. I think he is a solid 185cm guy like a Federer.
Importer
said on 14/Jul/19
This guy looks taller than this more often than not.
Vibram
said on 1/Jul/19
Spot on for Tim, yep, 6ft1. Castle was listed 6ft3 in his playing days. Was probably more like 6ft2.75 in his prime. Now 6ft2.25 at age 55.
MikeN
said on 16/May/19
I met him and walked across a tennis court with him in 2001. I'm a completely honest nailed on 6ft 1.Ive been measured at this several times. I even commented to him that he seems taller than that. I was wearing normal shoes and maybe his tennis shoes added extra height. I'd guess a solid 187.
Tennisfan
said on 9/Jan/19
I'd agree with this listing ...Henman is a true 6.1
Any ideas on what Pat Rafters height is? They always seemed about the same, sometimes Rafter looking a bit shorter , perhaps because of his bigger build ?
Rampage(-_-_-)Clover
said on 19/Feb/18
Castle is probably close to 6ft2 (and 6ft3 in shoes) while Henman you could make the argument that is a bit over 6ft1
Redwing
said on 1/Feb/18
If he was 193 cm tall rob then shouldn't castles eyes be under his nose not at his mouth?

Editor Rob
CLick Here
. I think he's possibly a bit more than 2 inches shy of Mark, but I think 187cm range is possible, nearly 6ft 2.
Of course you have another angle
Click Here
in which Castle seems closer in height...but I think overall he looked taller than Tim did.
heightchecker34
said on 14/Jan/18
Tim Henman is a flat 6'1 (185 cm) man. He looks about the same height as Federer, and is only slightly shorter than Andy Murray. He doesn't stand straight all the time, so sometimes he can look taller or shorter than guys around his height, but most of the time, I think he walks like a 6'1 guy. Great player, wish he would have won Wimbledon!
Rampage(-_-_-)Clover
said on 28/Oct/17
The guy in the middle claimed 6ft4 and 6ft5 so 194cm would make sense. I'd give Castle 188cm (needs a page by now, Rob) an Henman 186cm
Redwing
said on 20/Oct/17
Is the guy who claims 6'4 in the midd actually 193 cm or 194 cm?
Editor Rob: he has a chance of fallng into 194 zone
Rampage(-_-_-)Clover
said on 19/Aug/17
He can appear 186-187cm at times...
Jed
said on 9/Aug/17
This guy's a solid 6'1. Probably 186.5cm.
Rampage(-_-_-)Clover
said on 30/Jul/17
Rob, could you add Andrew Castle?
I've seen enough photos and I think he's gotta be 6ft2 or very close to it. He's clearly taller than Henman in that photo above and in other photos looks similar to Murray and Djokovic when he interviewed them. He also looked taller than Boris Becker. I'm not able to post photos at the moment for some reason but they're out there.
Rampage(-_-_-)Clover
said on 23/Jul/17
186cm is arguable
Rory
said on 20/Jul/17
Yh I think Henman faintly edges federer but I disagree that Federer is a weak 6ft 1, I think he's a pretty decent 6'1 guy but his cool,relaxed posture and disposition might mean you think of him as being shorter. Also I noticed Henman looked almost an inch taller than a slouching Becker at Wimbledon. Becker up close when slouching looked 184-5. I think Henman is 6'1.25, I've seen him looking 6'1-2 range at times, I've never rly seen him look sub 6ft 1 though.
John
said on 20/Jul/17
Have met him a few times over the years at tournaments. I'm 6'1" exactly and Henman was always slightly taller. Would put him between 6'1.25" to 6'1.5". Needs to be upgraded.
Christian-196.5cm (6ft5 3/8)
said on 17/Jul/17
May be a hair taller than Federer who's a weak 6'1" I think.
Rampage(-_-_-)Clover
said on 16/Jul/17
Rob, which of these would you slot him into?
A) 189cm/187cm
B) 188.5cm/186.5cm
C) 188cm/186cm
D) 187.5cm/185.5cm
E) 187cm/185cm
F) 186.5cm/184.5cm
G) 186cm/184cm
Editor Rob: D probably
Rory
said on 3/Jul/17
I think he's a guy who has rounded down slightly. Looks a good 186cm to me.
Rampage(-_-_-)Clover
said on 16/Jun/17
If Henman is 186-187cm then Castle is 189cm at least...
EZ
said on 15/Jun/17
Just met him at a drinks reception. Needs to be upgraded. Definitely 186-187cm range. I'm exactly 182cm (5' 11.5") and Henman was almost two inches taller.
Johnson
said on 31/Mar/17
Carlos Moya claims 190 and ge looks similar to Henman in 2004 Masters pic
Chris
said on 9/Jan/17
6"3 was always too much for castle though 6"2 I think is a good listing for him but he is getting older and having knee problems so doubt he would hold that mark much longer if he even does anymore. Probably peak 6"2 now 6"1.65 for castle still taller than 185-186 henman but not much at all.
Rampage(-_-_-)Clover
said on 18/Jun/16
Tim Henman: 185-186cm
Andrew Castle: 187-188cm
Mark Philippoussis: 194-195cm
Rampage(-_-_-)Clover
said on 11/May/16
Rob, how likely is 186cm for Henman?
Editor Rob: at times you could argue he looks a solid 6ft 1er.
Rampage(-_-_-)Clover
said on 15/Jul/15
Well, Rob he's visibly taller than Henman in that picture and he has less footwear. Unless Henman is under 6ft1 which I very much doubt...
Arch Stanton
said on 14/Jul/15
Castle claims 6 ft 3 I think!!
Rampage(-_-_-)Clover
said on 12/Jul/15
Rob, who do you think is taller Andrew Castle or Boris Becker?
[Editor Rob: they both can look in the 6ft 1 range, I don't think Castle is 6ft 2.]
Parker
said on 21/Dec/14
Similar height to Penny Lancaster, he may even be a smidge taller.
Click Here
Rampage(-_-_-)Clover
said on 5/Dec/14
Rob, what are your guesses for Boris Becker?
[Editor Rob: 6ft 2 could be ok for him]
Rampage(-_-_-)Clover
said on 27/Nov/14
I'd list Castle 6ft2 w/h the option of a slight downgrade. Henman at 6ft1 solid is fine. Can look 186cm aswell at times. The bloke in the middle can look both 6ft4 and 6ft5 so somewhere between those would fair
Arch Stanton
said on 26/Nov/14
I've seen Philippoussis listed at both 6'4" and 6'5". At times he can look a tad lanky to only be a flat 6'4", probably 6'4" and a bit of change. Henners can look a bit taller than 185 in some photos.
Arch Stanton
said on 26/Nov/14
I think Castle might scrape 6'2" yeah, 6'3" was probably a tennis shoe measurement.
Rampage(-_-_-)Clover
said on 24/Nov/14
Castle generally looks 6ft1-6ft2 range in those photos. I'm shocked because tennis pros are usually measured barefoot so I naturally assumed he was around 6ft3. Maybe he's shrunk? I wouldn't necessarily throw 6ft2 out the window just yet though. He does look it in that picture with Henman.
Rob, what are your guesses for Castle?
[Editor Rob: I remember a week or so ago channel flicking and he was on Pointless standing beside someone, I think Keith Chegwin and had a full head on him...I'd always thought Castle was near 6ft 2 guy, he could have been in the magical almost 6ft 2 category.]
Arch Stanton
said on 24/Nov/14
Click Here
Even 187 looks questionable for Castle next to Cameron here!! But the angle is not in his favour there either. I've met Gavin Henson and he's about 6 ft but I have a feeling Castle did look about 2 inches taller on 71 degrees north a few years back.
joe joe
said on 23/Nov/14
I've met andrew Castle and he is definatelt not 6'3 I would put im more around 1m87 max.
as for Ross in that picture. He always has terrible posture. I have met him in person aswell and standing up straight he is a 6'1 to me. I'm 1m85 and he was pretty much my height
Arch Stanton
said on 21/Nov/14
The scary thing is Jonathan Ross looks sub 6 ft in that Henman Murray photo and 5'11 range!!!
Arch Stanton
said on 20/Nov/14
Always looked it. Andrew Castle definitely isn't 6 ft 3 as he claims then!! Philippoussis is 6'4.5 I think.