Timothy Simons Height
6ft 5 ¼ (196.2 cm)
American actor best known for his role as Jonah on the TV series Veep. On his twitter he said he was
"6'5 ish"
and also that
"6 foot 5 and 3/4 inches on a good day. 3 foot 4 inches on a bad day (i don't get out of bed)"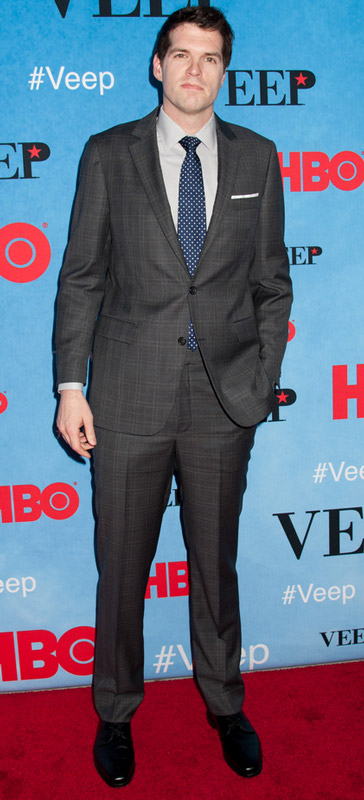 Photos by PR Photos
Add a Comment
21 comments
Average Guess (10 Votes)
6ft 5.13in (195.9cm)
mark thompson
said on 29/Sep/20
wtf rob google has him listed at 192 cm

Editor Rob
I'd be surprised if he were under 6ft 5...the only time he looks 192cm is when slouching down to talk to shorter people.
Chris Junior Hernandez 1990
said on 12/Jun/20
185vietnamese ,
Zach seem much closer to the camera. Maybe as listed 3cm taller than Zach.
185vietnamese
said on 21/Jan/20
Maybe just 6'5 with Zach Woods ?????
Click Here
Junior Hernandez 1990
said on 16/Aug/18
@Dream(5'9.5") I would give the max 6'5 1/2 how Bo can look. Timothy Simons more i look at him he look what Rob listed him best.
Dream(5'9.5")
said on 16/May/18
@Junior
Bo recently had an upgrade to 6'5 1/8."
I would say they fall in a similar range, but Bo can give a taller impression at times.
Junior Hernandez 1990
said on 2/May/18
Timothy may not be taller than Bo Burnham.
sulu2018
said on 17/Mar/18
There are far less 6ft 5.25 male celebrity listings here than 6ft 1.25, 6ft 3.25, 6ft 4.25, 6ft 0.25, 5ft 8.25, and 5ft 10.25
Easterwood 6'3
said on 11/Jan/18
Very rare for Google to under list someone. He does look the legit 6'5. Sometimes even with bad posture.
Canson
said on 19/Nov/17
The more pics i see the more he looks legit 6'5 maybe 6'5-6'5.25
Canson
said on 21/Oct/17
It's weird he is listed as 6'4" on wiki
Canson
said on 21/Oct/17
Tough to get a read on this guy honestly. He doesn't look 6'5 3/4 but prob a full 6'5" at his lowest is plausible. Anywhere from 6'4.75-6'5.25 is possible
@Deathstroke: I doubt a guy in this range loses that much height. If he's 6'6 out of bed 6'5.25 is probably a normal low for him 6'5 may be an extreme low. Otherwise the 6'5 3/4 could be his height in a 1" shoe and he could be 195cm at his lowest
S.J.H
said on 12/Jul/17
Def shorter than Derek Theler and not taller than Kobe Bryant. I did say 6'4.75 "
Deathstroke
said on 19/Jun/17
Out of bed: 198cm/6'6"
Before bed: 195,5cm/6'5" - might fall into 195cm after a long day, who knows, but in Veep he never looks under 6'5"
He must be over 196cm most of the day so this listing is perfect :)
Revisionist
said on 11/Mar/17
Been waiting for this addition.
Some of the tall jokes hurled at him on Veep are genuinely funny.
Another example of how it's acceptable to mock a man for being too tall.
The Man
said on 5/Aug/16
Could have claimed 6'6" and easily have gotten away with it. When you're that tall, more often than not you're preceived to be taller than you actually are, especially coming from people who are less experienced with guessing heights (AKA the average person)
pablo77bar(184cm)
said on 20/Dec/15
Wow almost 3 foot lost
This is quite a big
Sam
said on 20/Apr/15
AKA, Rob's tips on how to reduce height when you're awkwardly tall. Side effects may include: death.
joe 193cm night
said on 17/Apr/15
6´5.25(196)
Andrea
said on 17/Apr/15
Rob, do you think he really might dip to 3'4 on a bad day? I mean, that's a huge shrinkage even for a tall guy like him!
[Editor Rob: it's possible if you dropped a washing machine on his head.]
Sam
said on 17/Apr/15
Yeah, good addition...he's one of the few 6'5" range actors who convincingly would measure over the 6'5" mark rather than a bit under it. He was pretty accurate in his quotes, another actor probably would have claimed 6'6".
Arch Stanton
said on 17/Apr/15
Another 6'5 guy to the collection :-)