Titus Welliver's Height
5ft 10 ¼ (178.4 cm)
Peak height was 5ft 10 ¾ (179.7 cm)
American actor known for roles in numerous tv series like Bosch, The Good Wife, Sons of Anarchy, Deadwood, LOST and Touch. In film he has appeared in Gone Baby Gone, Man on a Ledge, Argo and Promised Land. On twitter he claimed to stand tall at
"6 ft. My eldest is 6 5 my middle son 5 10"
, and in 2017 also said
"I'm 6ft"
.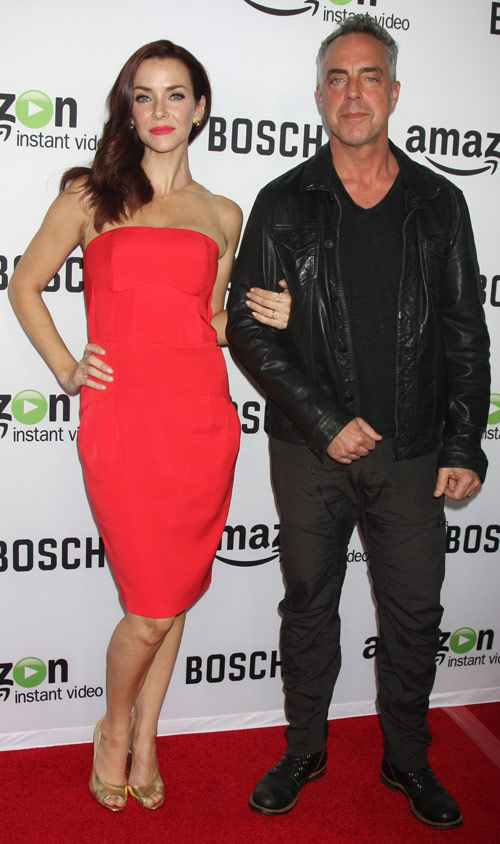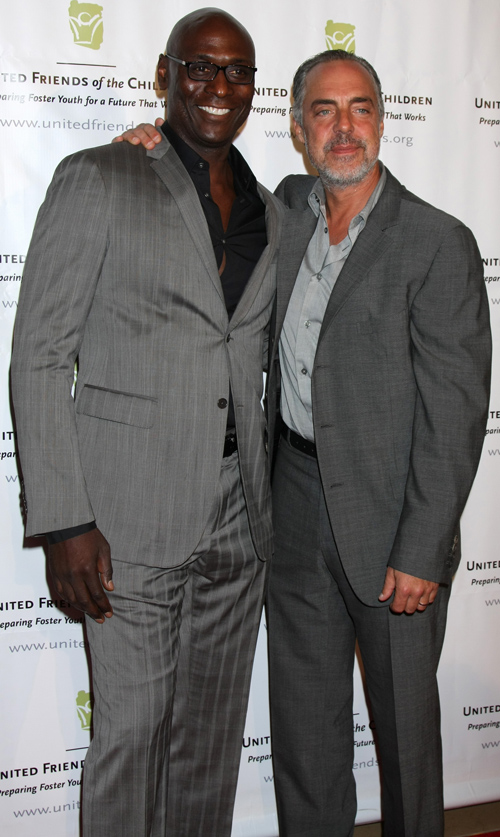 Add a Comment
32 comments
Average Guess (18 Votes)
Peak: 5ft 11.18in (180.8cm)
Current: 5ft 10.57in (179.2cm)
Greg
said on 5/Jul/20
Looks his 6'0 claim with boots so maybe 5'10.5-5'10.75"
Tony Cao
said on 14/Jun/20
Why the quarter inch downgrade Rob?

Editor Rob
The more I seen, the weaker 5ft 11 for him looks possible from 90's.
Patrick|1.76m
said on 12/Aug/19
Zero chance to met him at any convention, rob? Really interested in his height. No small appearance on screen, but not tall either. Therefore i would agree with you, but for sure, since i like this actor i would like him to be my heigh 1.76m.

Editor Rob
Some organisers never seem to bother with certain guests...but I wouldn't rule this guy out entirely as he was going to do a con but had to cancel.

Sean
said on 31/Jul/19
OK we've quickly gone through three seasons of Bosch, great show, great actor.
But I'm downgrading my guess from 5'9" to 5'8"
cmillzz
said on 20/Jul/19
I would have said 5'10 at the most maybe.
cmillzz
said on 20/Jul/19
I swear, he seems to give off a 5'9 impression in Bosch... so this listing surprises me.
Sean Day
said on 7/Jul/19
@ Andres 5'7"-5'8" is closer to the truth than the 6-feet Welliver has claimed!
Sean Day
said on 4/Jul/19
We've been binge-watching Bosch. There's not a single time where he looks taller than average.
5'9"
Andrea
said on 28/Apr/18
He can certainly look barely 5'10 on Bosch at times, and in fact 5'10 flat is probably a better shout than 5'10.5, but 5'7-5'8 is bogus.
Rollo Tomasi
said on 26/Apr/18
5'7" to 5'8" MAX.
I have been re watching the TV series "Life" that starred Damien Lewis. In one scene in episode 11 of Season 1 Titus and Damien are in a bank talking face to face and in one single long shot you can see both men full length. Damien is at least 3" - 4" taller wearing normal heeled shoes than Titus wearing at least a visible 3" - 4" heel cowboy boot. I've scoured the interwebs for a pic to no avail. Mr. Welliver benefits by looking 5'10-11" but I wouldn't be surprised if he was really 5'7" just like Elsa from Maine said.
Will 2
said on 30/Jan/18
He looks 5'10 when he stands next to 6'2 tall Lance Reddick
Adijos
said on 11/May/17
@Editor Rob: Rob, please add to the "Lost" series on your Blake Bashoff, Clancy Brown and Titus Welliver. Their characters in this show were quite important.
Editor Rob: Adjios, I am doing that slowly over next couple of months...I've got about 200 existing pages I'm going to work through and update.
Duke
said on 26/Mar/17
I doubt he's 5'9". Good actor Like his Harry Bosch, however he's more believable than Cruise as Reacher.... much more!!!
Adijos
said on 21/Mar/17
Peak: 6' (183 cm)
Now: 5'11.5" (182 cm)
mike
said on 23/Aug/16
He looked 3 inches bellow Gabriel Macht in suits, looked nothing over 177cm
Andrea
said on 18/Aug/16
I know, she's the reason why i say i'm not sure he'd be under 5'10... I remember they had a scene together (she was barefoot, he had shoes on) and he looked maybe 5 inches taller... I never commented on her height but do you think she's a genuine 5'6? In 24, even if she wore heels, Kiefer still looked comfortably taller, as far as i remember! Jamie i thought he could pass for a genuine 6 footer in The Wire but i don't know if he'd be over that mark! He had a scene with 6'2.5 Idris Elba and i'm sure he was at least a couple inches shorter! His 6'2 claim is quite optimistic!
Do you think a 178-9 guy would look so "short", though? I don't know, he's a tricky guy!
He also has at least 3 good inches on the young girl who plays her daughter and you have her at 5'8... Is she really 5'8, though? She has a picture with Paul Wesley on her Instagram and she looks well over 2 inches shorter than him! Again, she looks noticeably taller than Sarah Clarke (who probably isn't the full 5'4) on the show...
Editor Rob:
I'd like to see him and his 6ft 5 son, if he is really that tall.
I doubt Annie is outwith the 5ft 5.5-6 range from seeing her.
I've not seen this
This episode
, but most agree macht is a solid 6ft range, he might make Titus look 178-9 in it.
Andrea
said on 18/Aug/16
Rob, i've just finished to watch the second season of Bosch and i agree with these guys who say he looks well over an inch shorter than Jamie Hector...
Honestly, i'd say he generally looks a couple inches shorter than him, sometimes even more 2.5! I cannot buy him being only an inch shorter than Jamie, they NEVER look so close!!!
Actually, Titus looks shorter than most of the guys on the show, i would have never guessed him so tall (5'11) but more in the shortish/average range!
Now, i'm not sure he'd be under 5'10 but he looks nowhere near 5'11 on Bosch to me! He also looks AT LEAST 4 inches shorter than Lance Reddick...
He does claim 6' on Twitter:
Click Here
Maybe he's just a "short looking" 5'10...
His colleague Jamie Hector actually did claim to be 6'2 on Twitter:
Click Here
He looks nowhere near that tall, though! Maybe Titus told him "I'm 6'" and Jamie thought "Then i must be 6'2" :P
Jamie himself looks a couple inches shorter than Lance...
Editor Rob: it could be he is somewhere in 5ft 10-11 range, and hector a bit over 6ft, that might be more fair.
Not impossibly mid 50's to lose a fraction. He did have a brief scene in an early x-files, but with Duchovny wasn't the best angle, he looked shorter of course than David.

On agents of shield he had a scene with several of the crew, I would have probably said about 179cm range.

But Wersching is in that series and beside her, who I met, I can't see him looking less than that range.
BT
said on 13/Mar/16
@Editor Rob: Have you seen Bosch? I'd have a very hard time arguing a 0.75in difference between Welliver and Jamie Hector after seeing them together.
Click Here
Editor Rob: they can look 2 inches apart at times, but they might not be quite that much apart.
Paleman
said on 16/Feb/16
Looked only 5'10'5" next to strong six footer Gabriel Macht on Suits, but in his other work he does look the listed height...
Rampage(-_-_-)Clover
said on 25/Oct/15
Rob, who do you think is taller James Nesbit or Titus Welliver?
[Editor Rob: it's not impossible nesbit did measure over 5ft 11.]
Sam
said on 15/Apr/15
You know Titus has made it when people are downgrading him by 4 inches.
Elsa from Maine
said on 21/Mar/15
I saw Titus a several years back in Maine. His father spent a lot of time here. Titus is about 5'7 maybe a stretch at 5'8. One great actor with an awfully sexy voice. Really great in Bosch.
[Editor Rob: were you on a step?]
cole
said on 17/Mar/15
The strange thing is he actually did look a comfortable 5'11 not more than 3-4 years ago, 5'11.25 looked a good shout, but in his more recent appearances on 'White Collar' and 'Bosch' - he looks shorter, very often 5'10.5 at best. He only just turned 54, but it looks like he could have lost a little.
Matt
said on 6/Mar/15
He looks quite tall in the photo provided, but in Bosch he really doesn't look 181. Jamie Hector claims 6 ft, which seems to be accurate, and there seems to be a few inches between them. Even next to Shawn Hatosy, who's apparently 5'9, Titus looks around the same height; maybe slightly taller.
cole
said on 4/Mar/15
@Editor Rob: In nearly every scene he looks more than 0.75in shorter than Jamie Hector on Bosch. The difference usually looks more around 1.5in. I haven't seen too much of him, but he's 53, so a chance he's lost a little, if he ever was 5'11.25.
Rampage(-_-_-)Clover
said on 20/Dec/14
Taller than I imagined.
Sam
said on 19/Dec/14
Rob, could you add to his TV credits Lost and then some of his films?: Gone Baby Gone, Man on a Ledge, Argo and Promise Land.
Dmeyer
said on 3/Jun/14
He must be solid 184cm shoes on
Sam
said on 24/Apr/14
That episode of SVU was just on recently and, if anything in the first scene where they meet, it looked like Welliver might have marginally edged Meloni out, but it's possible that he was wearing chunkier work boots than Meloni's dress shoes.
Sam
said on 31/Mar/14
He also looked around 5'11"-5'11.5" next to Mark Pellegrino, being about 1.5-2 inches shorter than the latter.
Peyman
said on 18/Mar/14
he really looks no less than this
5ft 11in- 5ft 11.5in is what he looks, almost a tallish height
Sam
said on 17/Mar/14
I think he and Christopher Meloni looked the same height when Welliver was on an episode of Law & Order: SVU.