Tony Robbins Height
6ft 5 (195.6 cm)
Peak height was 6ft 6 (198.1 cm)
US Motivational Celebrity, also made a short appearance in Shallow Hal. He said on Larry King,
"I was 5'1" my sophomore year in high school, and now I'm 6'7", you know. So I tell the people the difference is personal growth"
I grew almost 10 inches my junior year, but I didn't discover why until I was 31 and a doctor told me I had a tumor in my brain. That was a brutal day, a moment of humbling disbelief, anger and doubt. I'd been healthy as a horse but was told I had a rare disorder called acromegaly, which caused the excessive growth spurt in my teens. At six-foot-seven, with size 16 feet.
- Playboy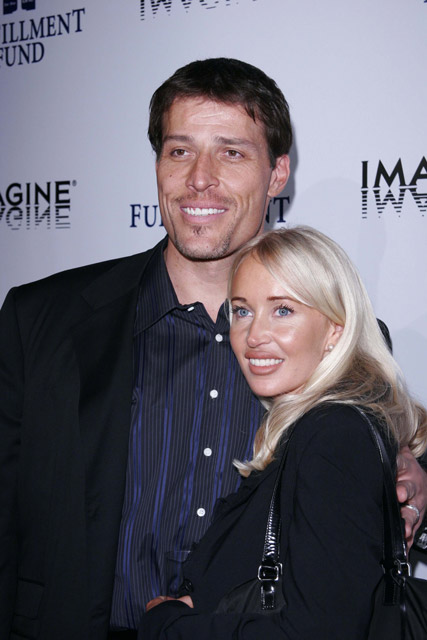 Photos by PR Photos
Add a Comment
78 comments
Average Guess (19 Votes)
Peak: 6ft 6.37in (199.1cm)
Current: 6ft 5.32in (196.4cm)
SnerhagAip777
said on 16/Feb/19
Is his head larger than Jeremy Clarkson's? Both of have huge heads with Jeremy's being at least 10.5 inch long. To me it seems like Robbins could be a little bit larger given that he's also an inch tallet than Clarkson.

Editor Rob
Yeah I think Robbins might edge Clark out, but not much.
Canson
said on 13/Jan/19
@Christian: well said!
Christian 6'5 3/8"
said on 13/Jan/19
@Canson
Is it that rare? I've seen more than a few occasions where a 6'5" guy claimed 6'6". Heck I even used to claim 6'6" in the past, granted I'm more strong 6'5" than just flat.
Canson
said on 12/Jan/19
@Junior: You've got one that is 6'5 and claims 6'6" then you have the opposite 😂. Do the two of them know each other? That's rare for a 6'5 guy to claim 6'6 as well. I remember once a guy claimed 6'5" that had to have been 6'6" and he admitted it to me in private he says 6'5 but is 6'6 and said it's too freakish. I asked him his actual and he said 6'5.5 and terribly slouched. He stood straight and I would've easily bought full 6'6". He wasn't less than 6'5.5 if maybe he had footwear advantage since some casual shoes have padding
Christian 6'5 3/8"
said on 11/Jan/19
@Junior
16 is believable for Tony. Mind you that he has acromegaly. People with acromegaly typically have feet and hands bigger than a normal person of the same height. But you're right that there are some who exaggerate feet size. The Rock claimed to wear 15 but then it's found out that he wears 13.
Junior Hernandez 1990
said on 10/Jan/19
Size 16 feet sounded exaggerrated. People nowadays lies about everything. Height, weight, age, wealth, relationship and shoe size not exceptional too ;etc. To me i can spot size 13-14 on him, i have know a guy claim 6'6 (6'5 in real) and wear size 17 and i nailed him by size 15 from suspecting it and then asked from his wife.
tree
said on 23/Oct/18
6ft6 looks accurate for peak,he did not looked taller with Jack Black.
Greatman
said on 11/Oct/18
This guy looks like a god. Every single person would be full of confidence at 6'7 with his face. How the hell is he supposed to help others? Most people wouldn't have these problems if they'd look as DOM as him. In fact, looking at him makes my problems worse, cause i feel like **** compared to him.
Rampage(-_-_-)Clover
said on 18/Sep/18
Always found 6ft7 a little suspect...but not outrageously so. I can believe he hit that in the morning in his prime. With that I give him a fraction over 6ft6 peak.
Nathan Wood
said on 23/Aug/18
Rob, would you say Tony has a 10 to 11 inch long head? It looks enormous

Editor Rob
Over 10 inches is likely
Canson
said on 13/Feb/18
@Wipeout: I agree with you and with what MrTBlack said before you. He prob was 6'6" peak. I wouldn't rule out 6'6.25 nor would I rule out 6'5.75 for him peak as he would be 6'7 or 6'7+ in sneaks at either height really. That's more than likely what his claim said.
@MrTBlack: well said as always! You are really good at estimating btw! I could almost see him peak being closer with someone like Ali Baba meaning both 6'6 guys
wipeout
said on 13/Feb/18
I think he might have been 6'6" and change at his peak but is closer to 6'5" now.
Canson
said on 16/Dec/17
@MrTBlack: I agree his peak 6'6" today could be only 6'5. Draymond green supposedly is only 6'5 or closer to it and looks 6'5/6'5.25 most of the time they look the same today but Tony is much older a legit 6'6 or 197 is def possible making a 6'7" with shoes peak
MrTBlack
said on 20/Nov/17
Hey Rob, I do remember reading in the beginning of the book "unleash the power within" a man describes Tony as 6-6 so you may be on to something here with the 6'6" listing. I'll find the quote to show you.
Anon
said on 13/Nov/17
Not sure how people can say his build isn't big. His structure looks like that classically represented by those with disorders. He is absolutely massive. Look at the size of his head and hands.
Canson
said on 7/Nov/17
@Rob: I ran into a guy the other night who was a bit taller than me 6'5" likely and said he was but was 6'6" peak a bit heavy tho. I'd say about 40 years old and claiming to lose an inch already sounds odd to me.
Editor Rob: by 40 any loss is pretty minimal on average, but from 40-50 it might be a fraction on average.
Canson
said on 3/Nov/17
Well said junior! And that sheds light that he's not 6'7" like he claimed never really saw that but I believed 6'6" somehow at peak. Maybe 6'7" was a shoe height and he was 6'5.5 barefoot
@Rob: did you have him 6'6 or 6'7 initially? That's odd if he lost two inches at this stage but likely the 6'7" was a shoe height
Editor Rob: I gave tony 6ft 7, but after looking at him, I think today he really does seem more 6ft 5 range, and is unlikely a true 6ft 7 peak, he's only 57 after all.
Junior
said on 31/Oct/17
More than i believe that Robbins could be as low as 6'4.75" like Kobe Bryant. He just don't look like a proper 6'5 guy. Magic Johnson could be 6'7.5" peak and about 6'7-6'7.25" max now that would put Robbins under 6'5
Click Here
: Robbins frame look much smaller than 6'7 guys like 6'4-6'5
Click Here
: Magic look a bit over 2 inch taller than Robbins
Click Here
: Magic look nothing over an inch over 6'6.25" Carmelo Anthony
Junior
said on 24/Oct/17
@Cy Tab said on 17/Oct/17
6'7.5" Magic Johnson look at least 5-6cm taller than Robbins. Now i think he can't be taller than 6'5.5" maybe 6'5 like you say if Magic had lost some height now.
Click Here
:
Gnaw
said on 23/Oct/17
WHAT! i need that disorder im still growin. this guy was born to have it got a good jaw line. at least 6'6.5. my neighbor took growth hormone pills to make him taller cuz he said he was 5'3 at junior year and claimed he got to 6'1 from that and i fr thought he was lying but idk cuz i never saw him that height. i dont even know if hgh growth hormone pills make you tall maybe its a lie
Cy Tab
said on 17/Oct/17
I met Tony at his seminar about 7 years ago. He's definitely big boned and large (which amplifies his height), but he's no more than about 6'5". I think he markets himself as 6'7" bc it helps his business image (i.e., Awaken the GIANT within, etc.). But there are photos of him standing next to say, Magic Johnson (who is widely reputed nowadays to be about 6'7", at most), and Tony looks a good 2 inches shorter than Magic.
Brianna
said on 10/Oct/17
By the way it looked I really thought that it was acromegaly disease, and I also was wondering how does a tumor help you grow?
berta
said on 2/Sep/17
i think he looks shorter than the listing.at absolute best i can belive 200 cm but maybe more chanse of him being 199cm and out of bed he is his claim.
Junior
said on 18/Aug/17
I think he measure 6'7 out of bed. He look more like 6'6 range maybe he hold 6'6.25" of most of the day.
MrTBlack
said on 20/May/17
Do keep in mind that he is also ethnically Croatian and many of them are well over 6'0".
berta
said on 18/May/17
i thought this guy looked 6 foot 6 but he is extreemely well built so i guess that can make him look shorter. But i will still give him a little lower than the current listing
Me
said on 21/Feb/17
Rob, does he have acromegaly?
Editor Rob: I added another quote at the top of the page, yes.
S.J.H
said on 14/Oct/16
I remember he look under an inch taller than kobe bryant
Rampage(-_-_-)Clover
said on 15/Sep/16
5ft1 to 6ft7...blimey!
slothee
said on 29/Aug/16
Looking at him next to 5'6" Jack Black in Shallow Hall, he didn't look 6'7"... although one scene isn't enough to prove otherwise
Jason
said on 11/Aug/16
I'm 6'5"(196 cm). I met Tony in person when he was in my city about to do a seminar back in 1989. He's a good two inches taller than me. Also, I wear a 2XL boxing glove and his hands are MUCH bigger than mine. At 56 years old he might not be quite the same size he was back then.
MrTBlack
said on 30/Jul/16
Hey Rob do you think he shrunk now? Maybe 6'6.5" now since he's pushing 60.
Editor Rob: haven't looked at Tony for years, but he may well have dropped some height in his spine nowadays.
kwyjibo
said on 30/Jul/16
I saw him at a Warriors game talking to Draymond Green, who easily had at least an inch or two on him. Draymond measured 6'5.75" during pre-draft, and I don't think he grew past age 22. So Tony is probably about 6'4" to 6'4.5" without shoes. He also looks shorter than Justin Tuck in a side-by-side photo, and he's *listed* at 6'5." 6'7" is absurdly wrong.
RP
said on 12/May/16
Tom Selleck is 6'3.5"...Tony only appears to be just 6'5.5" with Tom. However, Tom is in chunky shoes...Tony was in thin 0.5" flip flops....giving a Tom 1" footwear advantage ...meaning Tony, probably really is a legit 6'6.5" barefoot .
pedro builder
said on 28/Apr/16
My cousin was 5'9" as a freshman and graduated almost 6'10". His dad 6'6" mom 6'1". LOL his four brothers all between 6'6" - 6'8" and their 2 sisters both 6'2"
JT
said on 6/Apr/16
@tj lol 5'4" is an impossible stretch lol.
Sixseven
said on 5/Apr/16
He is 192 cm tall.
tj
said on 2/Apr/16
Met him in person a few years ago. I am 6"9 and he was easily a foot shorter than me. I would say he is no taller than 5'4.
jessman
said on 26/Dec/15
He looks the same height as Selleck. Not near 6'7.
bbob
said on 25/Dec/15
Here is a link to a photo of Tony Robbins with Tom Selleck, Robbins looks huge -
Click Here
James
said on 5/Mar/15
Maybe 6'6-6'7?
Arch Stanton
said on 2/Jun/14
Interesting that he actually came from a very short family!! He does look 6'7. Considering how bad his tumor was he still looks pretty good, but he's got a very prominent jutting jaw and cheekbones which really doesn't naturally look like that on most guys unless there is excess growth hormone. Given his size and prominent jaw and massive confidence and focus/motivation he's really quite intimidating I think.
Iron Fist
said on 6/Dec/13
He didn't have surgery, he considered it but then decided at the advice of his doctors to try some experimental new drugs. But just before he was scheduled to begin treatment, the tumor infarcted on its own. Six months later the FDA outlawed the drugs after realizing they were extremely dangerous so he dodged a bullet twice on that one.
Also, he was definitely 5'1. His brother is only 5'3. Everyone in his family is extremely short except for him because of the pituitary tumor.
Chareth
said on 19/Nov/13
6'7 easy
aaronious
said on 23/Jul/13
Tony Robbins had acromegaly, just like Andre The Giant and Big Show... only Tony obviously had it operated on so it didnt get any worse... i believe he could have been 5'1" as a sophomore in high school, since acromegaly doesn't really happen at a Young age, it usually kicks in around puberty...
Tall Joey
said on 7/Nov/12
Rob, do you think he was really 5'1'' in his sophomore year or do you think he was just trying to emphasize the fact that he grew a lot from his sophomore year to now?
[Editor Rob: maybe at the very start he was low 5ft 1-3 or something]
niceguy
said on 17/Sep/12
His hands are ridiculously huge. In "Shallow Hal" when he puts his right hand up to Jack Black's head (the elevator scene)....his right hand eclipses Jack Black's head!!
jo
said on 5/Sep/12
I know him. He is 6'7"-6'8" and he did have a pituitary tumor. He talks about it.
Jake T.
said on 30/Oct/11
He did look a foot taller than 5'6 Jack Black on Shallow Hal so 6'7 could be the right mark for Tony.
Cranberries
said on 27/May/11
Robbins looks unhealthily large. I don't know if his size affects his health, but if it doesn't he's lucky. He did have acromegaly (tumor in pituitary gland).
hey i know that guy
said on 13/May/11
he is huge. it's not just the height, but the proportion and mass of the guy. he has that giantism build. i never realized he had a pituitary problem, but it makes sense.
optobob
said on 6/May/11
I've stood next to Tony. 6'7" seems right.
Eddie
said on 20/Jan/09
Well Jack Black is kind of short. I think he's 5 ft 7 in. And Tony Robbins is 6 ft 7 in. 1 foot apart.
Clay
said on 17/Aug/08
What? He looked huge in Shallow Hal.
luke
said on 3/Jun/08
I think Tony is about 6-5ish he looks it in is brief appearance in Shallow Hal
Jake Is Back
said on 11/Mar/08
wow 6'7"? I assumed this guy was 6'5" - 6'6".
glenn
said on 18/Jan/08
lot of pics i slacked on.i almost didnt reconize this guy 15 months ago.seemed barely 6-5.
venus
said on 16/Jan/08
He is what he says he is. His hands are huge!
Jeff
said on 26/Oct/07
Anthony Robbins is a giant of a man. I'm like 5'7'' if that so I'm a whole foot shorter than he is. I'd feel like a midget satanding next to him. Nobody is gonna ignore a speaker that huge
Mr. S.
said on 4/Jul/07
I met him in a nightclub in Minneapolis back in '94 or '95 when the NBA All Star game was in town. He must have shrunk. I'm 6'5" he was between 6'3 & 6'4". Should have got a photo with him. He suffered from acromegaly as teenager, like Jaws in in the James Bond films, which explains Tony's banana-sized hands in Shallow Hal.
Glenn
said on 13/Jan/07
Oh.I thought I sent it.
Huey
said on 12/Jan/07
I read an interview were Robbins said he suffers from excess growth hormone. He also spoke about how he grew ten inches in his junior year of high school and would wake in the middle of the night suffering pain spasms because of the growth spurts. Also interesting, Tony said his brother is 5-4. Wheré's the pic Glenn?
Alex
said on 6/Jan/07
I actually think he is 6'7 now. Wasn't sure before if it was either 6'6 or 6'7.
Rub
said on 27/Dec/06
Maybe it was bad angle or he was slouching. I wouldn't doubt it though, with the problems a condition like that may bring.
Glenn
said on 4/Dec/06
Got him 2 weeks ago.I almost didnt reconize him cause he seemed 6-4.6-5 tops when I took the photo with him.maybe he shrunk.
Rub
said on 3/Dec/06
Robbins suffers from Gigantism, a problem plagueing former NBA players like Sean Bradley and Gheorghe Mureasan. Doctors found a tumor in his pituitary gland several years ago, in a routine check-up.
Brad
said on 12/Aug/06
Had me beat by 2". 6' 7" it is.
Anonymous
said on 10/Jul/06
Rpb, So he was 5'1 when he was 15-16 then hit 6'7 by what age? 21?
Viper652
said on 8/Jul/06
Looks 6-7 on the nose to me.
Alex
said on 7/Jul/06
Def. 6'6-6'7 but not unsure which exactly.
D. Ray Morton
said on 26/Jun/06
I think he had acromegaly. Not always a bad thing. I wouldn't mind being 6'6", 6'7", or whatever.
Colt
said on 24/Jun/06
I remember him saying in shallow hal " I have a shoe size of 16" interesting huh?
Hizzo
said on 2/May/06
It all makes sense now. I think he had a pituitary problem - thus his huge head.
Cantstop25
said on 19/Jan/06
I dont see a foot betwwen him and black in this pic though I am sure they had black stand on a box
http://www.imdb.com/gallery/ss/0256380/C11-7.jpg?path=pgallery&path_key=Robbins,%20Anthony&seq=12
Bob
said on 23/Dec/05
met him. 6'6" minimum, if he says 6'7" I beleive it.
Jason
said on 19/Dec/05
Nah, I've read before that he was real short in high school and had a massive growth spurt. He probably is 6'6'' or 6'7'' ... he looks like Andre the Giant.
yeh...
said on 17/Dec/05
um - J., i think he meant that he FELT as though he were 5ft1 in his sophomore year - like he felt really small and had low self esteem. wasn't meant to be taken so literally, eh Editor Rob ;) ?
[Editor Rob: I'm not sure :) Yes, it could be taken he meant that...]
J.
said on 16/Dec/05
I remember him saying that on one of the once inescapable infomericals for his motivational books/tapes. That's a hell of a growth spurt.