Trevor Francis Height
5ft 10 ½ (179.1 cm)
English former footballer, who played for Birmingham City, Notts Forest, Man City, Sampdoria and won 52 caps for his country. He was England's first £1 million player in 1979 and was also a manager at Birmingham City and Sheffield Wednesday.
Whilst at Birmingham, he
gave his Height
as
"5ft 10 ½ ins"
and Weight
"11st 13lbs"
. This photo was taken at a Showmasters Birmingham Comic Con in 2018.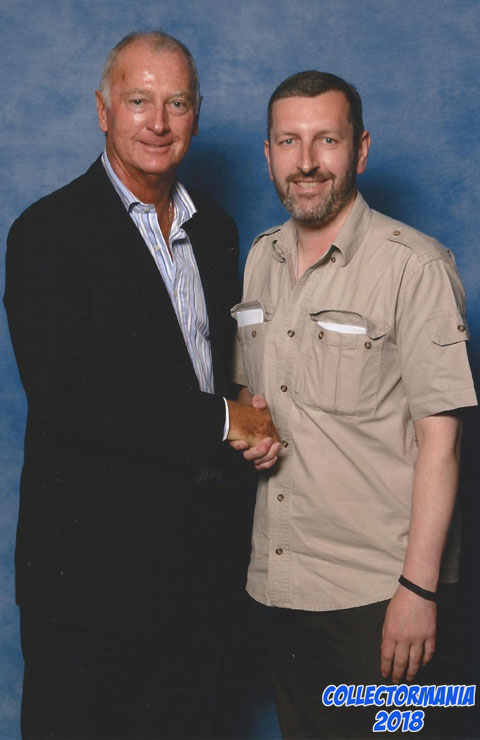 5ft 8 Rob and Trevor
Add a Comment
14 comments
Average Guess (6 Votes)
5ft 10.92in (180.1cm)
Hijoputamus
said on 22/Jun/18
Rob, this is how Gwyneth would look beside Brad....
Christian 6'5 3/8"
said on 19/Jun/18
@Andrea
Lol, I wasn't trying to attack or discredit you here, chill out. I was just being a bit tounge-in-cheek with my comment, but it wasn't ill-willed.
And cut the crap. Even if my comment was simply just "Trevor's noticeably standing a bit further away from the camera than Rob. If anything, it's more on Rob's side.", your response would be no different. That's just your personality and I don't think you can help it at this point. You act like an entitled know-it-all jack*ss, and anyone who disagrees with your point of view is "clueless about height differences and camera angles" no matter what. But it's funny how you never call Rob that. Only reason you "respect" him is because he's the admin and therefore has power. If he was a regular poster like me and you, the "respect" would be out the window and you would be calling him the same names you've been calling me and others.
Andrea
said on 18/Jun/18
LOL, it makes no sense, Christian, but again, it's not surprising. The only reason why you brought it up was because you were hoping to discredit me with my own words, but all you got was just another embarrassment. See, the problem with you is that not only you're ignorant as f*ck, but you also arrogantly attack anyone who disagrees with your ignorance, like you did here. If you just offered your (wrong) opinion, instead of personally (and wrongfully) addressing and attacking me, AGAIN, the discussion wouldn't have taken this turn, and maybe you could have spared your own blushes this time...
And you're right. I don't always agree with Rob (or every other poster that I truly esteem), but that doesn't mean that I have to attack him, like you often do when people disagree with you. Not because he'd ban me (LOL at that), but because not only I have a lot of respect for him, but he's always respectful in the first place (even towards those that don't deserve it). I certainly can't say the same for you, or certain other posters, with whom I just act accordingly, especially when they specifically call me out.
Christian 6'5 3/8"
said on 17/Jun/18
@Andrea
I brought it up to show your arrogance and lack of respect for other people's opinions. You've disagreed wih Rob's assessments in the past yourself, but you never acted the same way towards him compare to posters like me, Canson, Rampage, Viper and others. I wonder why.... Oh that's right, Rob's the admin so you're afraid that you think that Rob might ban you if you cross him, even though I'm sure he won't because he's not vindictive and spiteful unlike you.
Christian-6'5 3/8"
said on 13/Jun/18
@Rob
I've been on your site long enough, you know I'm sincere and I don't troll people. I know that crowns are further back than brows, but Trevor's crown honestly looks a bit further away than yours. And I'm not saying you're 4 inches in front of him. I'm saying only a bit, based on the photo. But you're right that judging depth can be quite difficult in photos at times. You have more knowledge about Trevor's height than me or Andrea, since you met him in person while neither of us did.
Andrea
said on 13/Jun/18
You are the one who brought them (camera angles and positions) up, Christian. And it's not my fault if you keep proving that you have no clue about them, like "an old broken record". 😊

Editor Rob
Well I wouldn't say no clue, because photos can certainly be interpreted differently and visually, head sizes could effect perception. If that's what Christian sees, fair enough...I was just a bit confused because if I had any camera advantage Trevor should have looked shorter, yet it turned out the opposite.
Christian-6'5 3/8
said on 12/Jun/18
@Andrea
I guarantee you that most people would see Rob as having the advantage when they see this pic. And I'm not embarrassed at all. It's not like my assessment was bad or anything. Like I said, Rob was standing a bit closer to the camera so it's expected to believe that Rob has the advantage. And once again, your favorite line of "no clue about height differences/camera angles" comes up. You sound like an old broken record. Do you have anything new and worthwhile to say?

Editor Rob

To gain advantage, the top of my head needs to be closer to the camera. Crowns are set further back than forehead/brow areas of our skulls.

You are essentially saying I am 4 inches in front of Trevor, that's the only way I can gain any sort of advantage. But the fact he looks taller than he is shows he is gaining advantage.

This has to be a troll attempt Christian 😉

It is difficult at times to judge depth perception in 2d photos. Some of that is tied to illusion of head sizes.

Andrea
said on 11/Jun/18
LOL, I love how every single attempt of yours to attack and discredit me promptly turns against you, and always ends up with you embarrassing yourself again and again, Christian! 😂😂😂
And yeah, I confirm what I have already said about you. You have no clue about camera angles and positions. Clearly. (Not that I had any doubt before) 😊
Christian-6'5 3/8
said on 9/Jun/18
@Andrea
Trevor's noticeably standing a bit further away from the camera than Rob. If anything, it's more on Rob's side. Being that you're such an expert at telling others that they can't gauge camera angles and positions, I honestly didn't expect you to say that Trevor has the camera advantage, when the pic shows the complete opposite.

Editor Rob

The camera lady's lens is more on Trevor's side and the top of my head is further away than his forehead.

That's one reason somebody can end up looking taller. Another could be posture difference, but in this case since Trevor wasn't much over 5ft 10, the camera position helped his side.

Compare to Alexis Denisof - the cameraman's lens is more on my side...Alexis is 2 inches taller than Francis in person.
Greg
said on 8/Jun/18
Rob He looks 5'10.75"-5'11 with you. What was your footwear compared to his if identical then he's a weak 5'11 guy.

Editor Rob
Pretty similar. Looking taller and being taller are different ;)

World Citizen
said on 8/Jun/18
Great listing.
Nik
said on 7/Jun/18
I doubt that he is less than his listing and it must be said that it is refreshing to see that he has always been height honest!
Rory
said on 7/Jun/18
He looks 5ft10.5 solid here with Rob and at age 64 youd expect him to have lost half an inch at least making him 5ft11 peak, but his 5ft10.5 claim undermines that theory so maybe he's a guy whose just held his height extremely well.
Andrea
said on 7/Jun/18
He "surprisingly" looks no less than his listing, and actually taller than that, like no less than 5'11 here. But again, the camera looks more on his side, so that could explain that...

Editor Rob
It's good to let somebody look a fraction taller now and again, keeps things interesting 😸