Tulisa Contostavlos Height
5ft 6 (167.6 cm)
British Singer from N-Dubz and judge on UK tv show The X Factor. Tulisa's own Spotlight actors page has her as 5ft 6 and on twitter she once mentioned:
"Wat do u reckon is the standerd very healthy weight 2 b if ur 5'6?"
.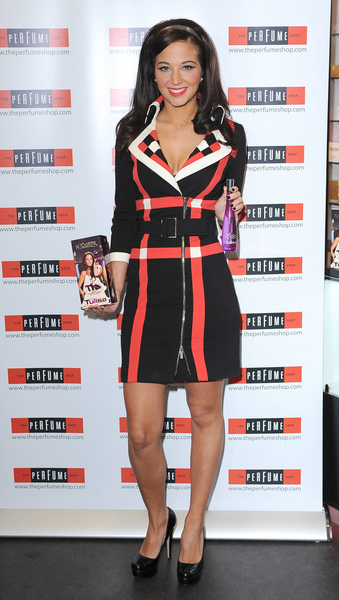 Photo by Landmark / PR Photos
I'm always 8-8.5st, that's where I am now...The biggest I have been is 9st
Add a Comment
17 comments
Average Guess (22 Votes)
5ft 5.55in (166.5cm)
Miss Sandy Cowell
said on 13/Jul/20
💐🎂🎊 Happy Birthday Tulisa! 🎊🎂💐
A Very Happy 32nd Birthday to Tulisa! Have a great time, girlie! 😁🎈
5ft6 👩🌹
💐🎂🎊💝💐🎂🎊🎈💐🎂🎊🎁💐🎂🎊🌹
Iman Ahmad
said on 27/Sep/19
I Guess She Is 167,5 cm Barefoot , She Is 167,5 cm Barefoot , A Pretty Woman ,
Iman Ahmad
said on 7/Sep/19
I Guess She Is 167,5 cm Flat , She Has 167,5 cm Body , A Lovely Woman ,
Miss Sandy Cowell
said on 13/Jul/19
💐🎂🕯️ Happy Birthday Tulisa! 🕯️🎂💐
Tulisa turns 31 today, which, according to the results of one survey, means she has a year to go before she reaches her most attractive age (for a woman!) of 32. 😁
Anyway, I heard her state her height on the Lorraine slot to be 5ft6. Lorraine had just called her 'tiny', but that was probably as regards her overall appearance. 😁
5ft6 it is then! She was considerably taller than all the members of Little Mix, the girl band she mentored to success.
🎈🎉🍰🎁🎈🎉🍰🎁🎈🎉🍰🎁🎈🎉🍰🎁
Mr.Donald
said on 28/Aug/18
She seems to be 5ft5 not more
MAD SAM
said on 9/Aug/18
She's 5'6" at 167.5 cm, the voting is downplaying her height
Rzy
said on 28/Apr/18
I reckon Tulisa's around 5'6, good listing.
icey
said on 17/Jul/15
She's so beautiful its unbelievable
ray
said on 29/Oct/14
How Tall is Dappy- 5 ft 4?
[Editor Rob: somewhere around this does seem possible.]
Arch Stanton
said on 8/Jul/13
More 5 ft 5, she has 5'5" proportions.
John B
said on 28/Sep/12
Met Tulisa last might at her book signing in Milton Keynes shes a good 5'5 couldnt see foot ware as she was standing behind a table, I'm 5'8 and she was a lot shorter then me .....
little sue
said on 23/Sep/12
Little Mi were given that name as they were all little which I would take as all under 5ft 3. I think Perrie Edwards listing is obviously a mistake!
Klaire
said on 21/Sep/12
I dont know if she's 168 or not, but what i cant understand is, Little Mix's Perrie Edwards is listed as 168 too, but in a photo, while perrie was wearing about 20 cm shoes, she still stood about 10 cms shorter than tulisa(she was wearing about 15-20's too), i just dont get that..
little sue
said on 16/Sep/12
She looks a good inch taller than Nicole Sherzinger on our X Factor, both in similar shoes
Alexa
said on 14/Sep/12
I don't think she's 5'6, she looks more in the 5'4 range! I've seen pictures of her in flats next to Dappy who is about 160cm and there's not much of a difference between them, she can't possibly be 168cm!
Plus notice when she's wearing heels next to someone as short as Dappy she should be able to tower over him if she was close to 168cm, she doesn't!
sh jan
said on 16/Aug/12
I think she is 165cm . No more
D. Ray Morton
said on 4/Sep/06
I think Steve Negus is about 5'10", yes?
Great band, Saga.