Uli Latukefu's Height
6ft 5 (195.6 cm)
Australian actor, known for playing Byamba in TV series Marco Polo and Cole in Alien: Covenant. He mentioned once
"I'm tall. 6ft6"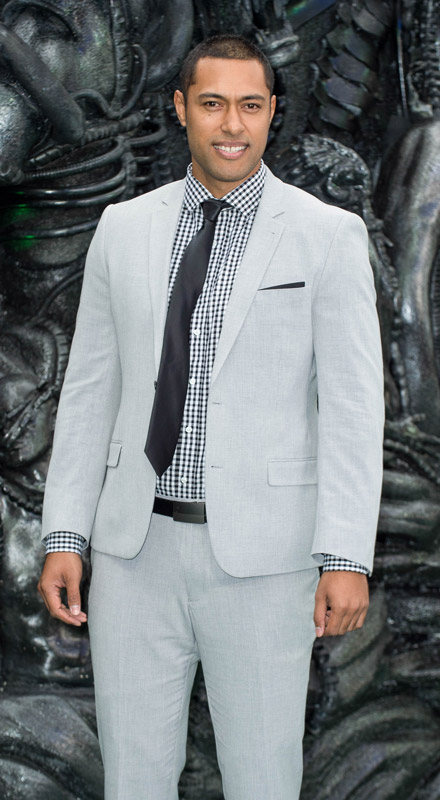 Photos by PR Photos
Add a Comment
28 comments
Average Guess (15 Votes)
6ft 4.95in (195.5cm)
Canson
said on 9/Nov/19
I don't get why a legit 6'5 guy would want to be 6'6" by claiming it.
Aza
said on 29/Jul/17
6'6 is too high but I do think he looks a strong 6'5 so will say he is 6'5.25.
Canson
said on 21/Jul/17
@Joe: yes Christian said it well. But he could pass the same way I also "pass" for 6'6 just like Christian passes for 6'7" and SJH passes for 6'8.5. But we are all really 6'4 and a little 6'5 and a little and about 6'7" respectively (SJH actually comes below 6'7 by a hair). At this guys size tho that is common for an athlete my height or slightly less or more 6'4.25-.75 to claim 6'6" because they'd be almost that with shoes. And Because so many others lie about their height and people are trained to believe it it's gonna be gospel because a guy like Michael Phelps also claims 6'4 and is 2" shorter than I was when I met him. Barring exceptions of course outside of sports and entertainment fewer 6'4 and 6'5" guys are less likely if they aren't pro athletes or measured in the morning to lie up. I don't and I can't speak for Everyone but I honestly see no benefit in lying about height especially for a common person and especially when you reach this height where I or Christian am.
Christian-196.5cm (6ft5 3/8)
said on 21/Jul/17
@Joe
He could pass for it by most people, but he'll eventually get called out for it if he stands next to someone who's actually an honest 6'6". Uli's 6'4.5" range, he shouldn't claim 6'6"
rikashiku
said on 21/Jul/17
I thought he was gigantic when I first saw him on Marco Polo, but it turned out that his co-stars were all very small. I'm also very surprised to see Shane Rangi listed so low on this site. I know the man, we worked together on the Spartacus series. We had his height at 195cm, just under 6'5", and he dropped to a lean(ish) 106kg/233lbs. Had to hide the pies from him.
I wouldn't rule off 6'5". Saw the set pictures of Shane and Uli together and 6'5" or even 6'4.75" would suit Uli height. Gotta see him with more people with confirmed heights.
@Koreanorigin188cm said on 15/Jul/17
Could someone fill me in on the average height of Samoan men? I couldn't find any sources.
They're about 5'8" if you look at the Samoa raised lot, and 5'10" for Australian and New Zealand raised.
Joe
said on 20/Jul/17
Could he pass for 6ft 6in, even if he's not quite that tall?
berta
said on 20/Jul/17
when i saw the new alien movie ( very boring ) :P i didnt even pay attention to the guys height. i thought he was a normal size dude at maybe 189 ore something like that.Maybe they on porpuse made him look shorter.. After looking at him i think he is somewhere beetween 194-196 cm. I think i would go for 195 cm. He is maybe 197 or just over in the morning.
Matt6'5"
said on 18/Jul/17
I believe 6'5 flat, nothing more .
Christian-196.5cm (6ft5 3/8)
said on 17/Jul/17
@S.J.H
Thanks man.
Canson
said on 17/Jul/17
@Miko: lol yup I've been accused of the same thing and I'm an inch shorter than Christian. Well at 6'4 plus Guess I estimate Yao and Shaq at 6'3" if that's the case😉
@SJH: He really doesn't look anymore than Colin Kapernick would (around my height) or if anything he's 194-195 only marginally taller. A Carmelo Anthony is comfortably taller than he is (prob 1.5-2 like he had on me).
miko
said on 17/Jul/17
Well said Christian-196.5cm (6ft5 3/8), it is really laughable.
Nik
said on 17/Jul/17
@ Sandy Cowell - Hi!
I don't know about that, you are not getting on really! It's all about mental attitude, tell yourself you are young , act young ,and you invariably are young.
There is no use lying about height within earshot of Mr Rob Paul, he'll suss a person out if they try to do it! The truth is height is one of the biggest things humans lie about, I don't see any point in lying about yourself though and I always respect honesty from people.
Small average isn't bad but it will get worse in the future, everyone else will be getting taller too! Never mind! 😭😭😭😭😭
I feel as if I am between classic small and average but in the senior echelons of the small range! I can feel anything between small and average compared to men and anything between tall and high average compared to women. I guess I am at the sort of height where I see a lot of men and a lot of women close in height to myself, Mr Latakefu won't have such a privilege so maybe there are advantages and privileges in being my height too.
Cheers!
S.J.H
said on 17/Jul/17
@Christian-196.5cm (6ft5 3/8)
Dude.. I have to support you this time. This guy just don't look 6'6 at all and rob put him 6'5 was generous. He look max 6'4.5 and at least full inch lower than you.
Christian-196.5cm (6ft5 3/8)
said on 17/Jul/17
@Danimal
I couldn't give two craps if a celeb is taller than me. If I did I would've lowered Shaq and Yao to 6'4". Get out of here with your nonsense. I remember Canson being accused of a similar thing once, I think someone told him he "downgrades" everyone because "he doesn't want anyone being taller than him" or something like that. It's utterly laughable.
Sandy Cowell
said on 17/Jul/17
@ Nik - Too true! Getting older does have a few great advantages! So, even, does getting on, as in my case! 😭😭😭 😛😜😝
In all honesty, I can't see someone being able to pull off a lie for very long! Not any more, with this website about! Besides, I can't see much point in lying about who you bloody well are, can you? No! I know the answer to that one already!
I used to accept being tall small. Now it'll have to be average small - and that's my final offer! You are small average, and that ain't bad at all!
Have a great week too Nik!
Nik
said on 17/Jul/17
@ Sandy Cowell
Many thanks for your comment on this page on the day of my birthday, it is much appreciated.
I like how you mentioned tall - small as a way of referring to ones height, in my case small - average is apt with me being stuck in between the two, I may be slightly nearer to small than average but give it a few years and I will be creeping ever closer to being small. You are right that I have accepted myself as I am for some time, it has not always been easy though but life is better when you do.
You can gain a lot of wisdom in 41 years of being alive, and this can come through battling with different issues.
There are a few people of about 6'5" or 6'6" who add an inch or two onto their height, truth be told people of all heights do it, I could easily do it and just tell people that I am 5'9" but I don't, I tell the truth! Most people on this site do the same and I think that's good.
Have a great week Sandy!
Canson
said on 16/Jul/17
So In this week's edition of the Danimal Digest Christian now wants everyone to be shorter than him lol! But at least Christian doesn't go around inflating other people like Tim Robbins Charles Barkley and all of his favorite wrestlers!!!!
Danimal
said on 16/Jul/17
Christian-196.5cm (6ft5 3/8) said on 14/Jul/17
Looks 2.5" taller than a weak 6'2" Rangi so 6'4"-6'4.5" is better for Uli Click Here He shouldn't be claiming 6'6" at this height because he doesn't reach anywhere near it in the morning. There seems to be an abundance of 6'4" and change guys claiming 6'6".
Let me guess, you want him to be shorter than you, hence why you lowered him to 6'4"-6'4.5". Makes you feel like a bigger and more powerful man to believe that you are taller than him, right?
Koreanorigin188cm
said on 15/Jul/17
Could someone fill me in on the average height of Samoan men? I couldn't find any sources.
Sandy Cowell
said on 15/Jul/17
6ft5 or 6ft6 are both very tall heights by anyone's standards! What did have my eyeballs on rather dilated stalks, though, was reading out his first name which, depending on its pronunciation, is 'Uli', or 'Yuwlee' and that is the short form of one of my delicious blue-grey brother cats, the other of whom is called Fletchley. The boys came from Wales, and if this boy, Uli Letukefu, is as scrummy as either of my blue-grey boys, he'll have no trouble finding someone to snuggle up to his 6ft4/5 frame!
I don't understand why he should have blurted out 6ft6! That makes me rather dubious about his honesty, so he will get a more realistic 6ft4.5 from me. I have been kidded too many time by the guys who have no reason to fool around, so anything I hear is going straight under suspicion!
It's so daft! It makes me wonder "Does tallness equal dishonesty?"
No! That's complete silliness as well, and we all have done it whether male or female, large or little! Some of us
reach that rather blissful state of honesty before others in our lifetimes, and that is a state worthy of admiration! One visitor we all know and respect is celebrating his birthday this very day, and I cannot say with any greater certainty that I have ever come across a person who has accepted his height of 5ft7.5, which is small - average, as sensibly as he has. That doesn't sound too bad at all, does it? At my best, I considered myself tall - small, or even small - average! We should settle with something that sounds comfortable to us, a 'label', if you like, that makes us wish to bounce out of bed in the morning and say to the world, "Are you ready? I AM! I am myself and what does it matter as long as I feel good and can be the Best Me that I can be!"
Well, that should be Nik's motto for the next years of his life, but if the truth be told, I think he reached that stage some time ago, and is now ready to share his wisdom and healthy lifestyle advice with us all!
So Happy Birthday to you Nik!
You are a great fun addition to Rob's supercool 'celebheights. com' and thanks for being your own person, and a damn funny one at that!
Cheers to you on your 41st Birthday!
Sandy XXX 🎂🎈🙋🎁 🐝🍺🐤🎁
traq
said on 15/Jul/17
but u tall 6'5 196cm
Arch Stanton
said on 15/Jul/17
No, Polynesian people seem to be generally bigger boned and heavier set. I'm not saying they don't have to work out, but compare Polynesian guys on average to Japanese/Chinese guys..
Redwing
said on 14/Jul/17
Arch@ Were not the most built ethnic group in the world to be built you need to work out to get buff...we're not born built
Arch Stanton
said on 14/Jul/17
Not a chance of 6'6, looks Manganiello sort of range to me 195-6. Another big Polynesian guy they must surely be the biggest built people on the planet overall, perfect for rugby and American football.
Christian-196.5cm (6ft5 3/8)
said on 14/Jul/17
Looks 2.5" taller than a weak 6'2" Rangi so 6'4"-6'4.5" is better for Uli
Click Here
He shouldn't be claiming 6'6" at this height because he doesn't reach anywhere near it in the morning. There seems to be an abundance of 6'4" and change guys claiming 6'6".
SomeGuy
said on 14/Jul/17
Here he is with 6'2''/188 cm Shane Rangi:
Click Here
Rob, Rangi is closer to the camera and might have footwear advantage but do you think that could make up for the 3 inch difference?
Editor Rob: it could be possible yes, but I think his 6ft 6 claim seems too much.
musicgeek
said on 13/Jul/17
He's a rare example of a guy who's 6'4+ but still very well-proportioned, and not excessively lanky
Valhalla
said on 13/Jul/17
Didn't think he'd be this tall