Vanessa Marcil's Height
5ft 3 (160 cm)
American actress best known for her role in tv show Las Vegas. In an interview (Luck by a Lady) she commented on her height,
"I'm five-four. Josh is six-four. I thank God for Jimmy Caan, because he's the only cast member who doesn't make me look like I'm two feet tall when I stand next to him"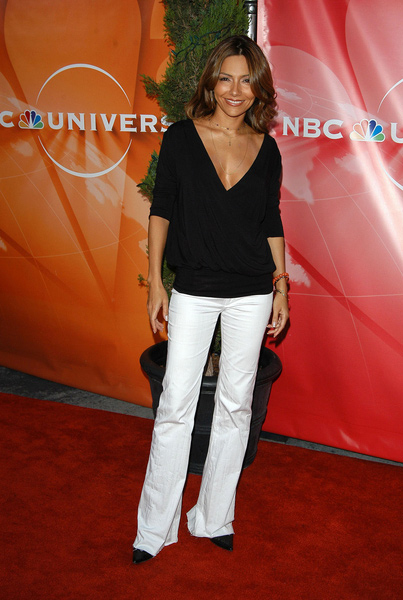 Photos by PR Photos
Add a Comment
21 comments
Average Guess (3 Votes)
5ft 4in (162.6cm)
Nik
said on 1/Jan/19
Josh is pretty tall anyways!
Cdb
said on 17/Aug/15
I know tv shows are not always correct but on the episode of Hawaii 5.0 she was on, her license had her at 5"1
®
said on 28/Jul/11
You mean 6'3 for josh.Vanessa is weak 5'2
Some gal
said on 24/May/11
Josh Duhamel is 5'3" -5'4". He indeed towers over her but definitely not more than a foot. Less, I'd say.
liloo
said on 17/Feb/09
She's far from 5'3....more like 5'1
sonia
said on 3/Aug/08
I think she is shorter,u can compare her with others in lasvegas.she is the shortest.
me myself and i
said on 20/Oct/07
I saw a little vid of her when he was on Ellen Degeneres's show and while in heels, the top of her head was still a little under Ellen's eyes even though she was in trainers. Maybe even shorter then 5ft3 then?
Viper
said on 14/Sep/07
I agree. We should be talking about how hot she is than her height.
leonari
said on 13/Sep/07
She is not 5'$". The usual 1 inch upgrade a star gives himself. You have her perfect Rob...What a hottie this chick is...incredible.
Editor Rob
said on 13/Sep/07

Claims:
"....I'm 5-foot-4, little Mexican kind of nerdy girl who wears glasses"
Viper
said on 7/Jun/07
She really does look 5-1-5-2.
noryie
said on 6/Jun/07
it is said that Vanessa Marcil's best friend, Jillian Michael's (The Biggest Loser's fitness guru) is only 5' 1 3/4" or 5' 2". you can see them side by side on
Click Here
- - jillian michaels' work out website. they both look the same height, and they are both wearing workout shoes (no heels).I would definitely say that Vanessa is a mere 5' 2", which makes her even cuter and makes me feel better about myself (5' 1") because when i get to my target weight, i'll hopefully look as cute as she does.
BT
said on 20/Apr/07
If you search for her on Getty Images in the editorial section and go to page 2, you will see her with Mila Kunis and Vanessa is taller than her ,and supposedly Mila is 5"3 so.....?
X
said on 7/Mar/07
She is thin, small, and dainty, but she isn't short. I'd say 5 ft. 4-ish is a good reference.
She is clearly taller than Kelly Monaco, Eva Longoria, and such.
ralph
said on 26/Aug/06
Rob, she is clearly shorter than 5'4". I think she is 5'2.5"
samantha
said on 28/Jun/06
Yep, we definitely need a down grade here. She's shorter than 5'4.
SJM
said on 31/May/06
I sat right behind her at a Laker's Game a while ago. She looks about 5'4, but no taller. She dosen't look shorter than 5'3 for sure though.
heightfan
said on 4/May/06
she is going to be on martha tommorow,this is a great show for comparison as they are nearly always standing.
hiphoppa
said on 26/Feb/06
When she was on Ellen, she said she was 5'4 and Ellen shot her a "WTF?" look! lol! I think she's probably 5'1 ... definitely NOT anywhere over 5'2!
Viper652
said on 6/Feb/06
Yep, I agree. I think she might be as short as 5-1.
ggg
said on 6/Feb/06
she looks much shorter than that. In las Vegas, she stands next to the others like nikki, nikki is a whole head bigger than her at times and shes listed as 5'7. Time to seriously down grade