Vanessa Merrell's Height
5ft 2 (157.5 cm)
American actress, singer and youtube personality, who along with Veronica have amassed 2.7 million followers on Youtube. Veronica said on twitter
"It's #ShortGirlAppreciationDay 😂 where are my 5'2 ladies at?? 🙋🏻‍♀️"
and also noted
"My mom is shorter than me. She claims she's 5 ft but I think she's actually 4'11"
. Her twin sister Vanessa said they were
"5'2 sometimes 5'3 because of our shoes haha :)"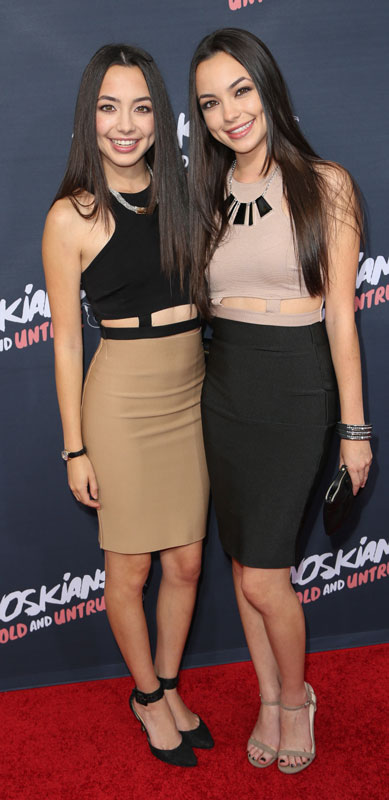 Veronica and Vanessa Merrell
Photos by PR Photos
Add a Comment
10 comments
Average Guess (18 Votes)
5ft 1.92in (157.3cm)
Christian 6'5 3/8
said on 28/Apr/20
@Rob
If you believe that the Merrell twins are the same height, then it may be a better idea to just combine them into one page, instead of creating a separate page for Veronica. I also think that you should combine Oliver and James Phelps' pages into one, since you listed them both as 6'2.5"

Editor Rob
The page title has always been "How tall are the Merrell Twins (Veronica & Vanessa)", so this page covered both really.
Miss Sandy Cowell
said on 27/Apr/20
There are TWO of them! 😵🤭😁
That's twice as nice! 👩👩
Vanessa gets five foot two.
Peter175
said on 27/Aug/18
Add to Youtube Stars height?
Nik
said on 29/Dec/17
@ Sandy Cowell - Hi!
Yes, i agree that twins are amazing! To have two individual people who are identical or very similar is wonderful!
I agree that Jackson Galaxy is an amazing individual but I am really sad that my first comment on his page was concerning your loss of Cordercy, I found out the awful news this morning and it is difficult to know what to say. Take care mate, I really am sad for you, Jim, and Christopher.
Sandy Cowell
said on 27/Dec/17
@ Nik - Yes, I am fascinated by twins - I think they are completely charming!
That 🔥 Mr Autocorrect of mine has been in full swing over Christmas! He called Jackson Galaxy... Jackass Gladstone!
Can you believe it? That was when I requested Jackson the other night. He is such a great fellow, (Jackson, that is!) and has prevented many cats from being taken to the pound to be put down because their owners had given up on them! He has got into planes and travelled miles to sort out a cat on the verge* of being put down. That's the sort of wonderful stuff that makes for a first rate television programme!
* My autocorrect tried to suggest that it was to rescue a cat on the lavatory that Jackson travels miles on a plane to do!
😁
👔 ✈ 🐈🚽
Nik
said on 26/Dec/17
@ Sandy Cowell
Your 🔥 autocorrect needs knocking right into line!
Nik
said on 26/Dec/17
@ Sandy Cowell
Tell 'im to put a sock in it! I hope that it has got through to him that you have plans for him, it's about time now he has come out with THAT statement! I mean how rude and abusive can he get? He has a mind of his own and it is not a pleasant and friendly one!
I like how you claim to be as daft as a toilet brush, nowt wrong with that!
I thought you would comment on this page as I know you are fascinated with twins, and the girls both get 5'1.5" - 5'1.75" from me!
Cheers!
Sandy Cowell
said on 25/Dec/17
I have just lost (I believe!), though it might have slipped through, a great big long comment about these girls - because somebody tried to phone me! Grrr!
It was a kind of running commentary on the comment itself, because as I was writing it, it seemed as through the same adjectives kept coming up to describe them and I was putting it down to it being a coincidence because I was seeing double!
I also suggested that I might consider joining in on the fun of having a 'Short Girl Appreciation Day', or if they wanted to form a club, that I'd consider joining as a senior member, but how could I do that when senior members are meant to set an example, and I am about as daft as a toilet brush!
The End!
@ Nik - My phone wanted to call the more diminutive of the female population 'Short GITS'!
If my other comment really did fail to get through, I will let you know what plans I have in store for this abusive piece of technology - now that I know what he thinks of me!
The girls can have 5ft2!
Marc
said on 25/Dec/17
I'm not sure how easy it would be to find but, there was a live broadcast where their father measured them with measuring tape against a wall. If I remember correctly they said Vanessa was 5"2 and a bit and Veronica dead on the line.
Editor Rob: if anybody ever finds it in the future, do let us know, as it would be interesting to see how he was measuring them.
Marc
said on 25/Dec/17
I'm pretty positive I heard them say they have a quarter of an inch difference between them.
Editor Rob: yeah there could be a small fraction between them, I briefly watched a video of them and while close, I think there is a chance Vanessa might have slight edge.