Walton Goggins Height
5ft 9 ½ (176.5 cm)
American Actor best known for roles in tv shows The Shield, Justified and movies like Django Unchained and Predators.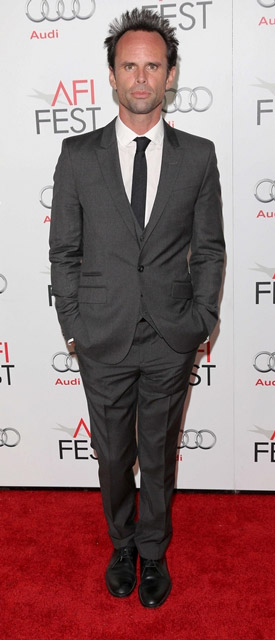 Photos by PR Photos
Add a Comment
22 comments
Average Guess (15 Votes)
5ft 9.52in (176.6cm)
Jkiller
said on 17/Jan/20
Good listing. 5'9 and a half is about right, 176.5cm.
Littlelee5ft6
said on 24/Aug/19
I liked his performance in the hateful eight think it should be added to his credits
Jenn
said on 17/Jan/17
Saw him at Baseball game 20 years ago and he was shorter than my 5 9" husband
Rampage(-_-_-)Clover
said on 15/Jan/17
looks 5ft11 on The Shield
MaskDeMasque
said on 24/Oct/16
Looks about an inch shorter than 5'10.5 Danny McBride in Vice Principals. This is fair.
S.J.H
said on 24/Sep/16
He look 5'10 with 6'0 timthony olynphant
MsKitty
said on 20/Sep/16
Noticeably shorter than Danny McBride on Vice Principals. I'd guess 5'9".
Rampage(-_-_-)Clover
said on 6/Sep/16
Around 2in below Olyphant who looks a solid 6ft
Josh Jeffords
said on 5/Sep/16
I'd bet 5 9 and change barefoot.
He looks average most times did look tall ish in shield many shorties in it though.
Did look average to short in recent days.
Rampage(-_-_-)Clover
said on 2/Mar/15
179cm, Rob?
alex
said on 13/Feb/15
The timberland-esque boots gogging wear in justified can give even more advantage in height than olyphant cowboy boots. I think anyway that goggins is a strong 5'10, close to 5'11, infact in the shield he is not much shorter than 6'1 kenny johnson and alex O'loughlin
Click Here
cole
said on 21/Jun/13
I thought there were times when he could look close to Timothy Olyphant on Justified, but that might just have been camera-work and boots, although Olyphant wears boots as well. I don't see Olyphant as a full 6ft, but 5'11.5 - 5'11.75 I could buy. 5'10 for Goggins is probably accurate.
Oz
said on 14/May/13
He looks 5'9" in Predators next to Danny Trejo, I think they make him look taller in Justified, trick filming
Gong
said on 21/Mar/13
More like 5'9" in my opinion
Michael
said on 22/Sep/12
Rob, he looks a good 4 inches shorter than Timothy Olyphant in Justified, but i guess that's due to Olyphants 2 inch heel cowboy boots.
ryan
said on 26/Nov/11
5'10" is not short bro lol just because someone isnt 6' does not mean theyre short
jasperwazap
said on 22/Nov/11
5'9'' in Predators as the Convict i'd say
Aaron
said on 2/Apr/11
He's not even close to 6'... My best guess is 5'10". He looks short and small in every picture he's in. Up next to <5'7" Elton John and <6'2" Ray McKinnon, who's not standing nearly straight, he looks 5'10" at best.
Click Here
Also a very gross-looking man. Bit off-topic, but his face and mega-forehead have started to bug me now that I see him everywhere.
Dufresne
said on 4/Apr/07
Found a promo shot from The Shield's 1st season online.
Click Here
Note the footwear, while also taking into account the placing of the actors.
Dufresne
said on 12/Mar/07
I'd say more around the 5'9.5" mark. On the show, he's usually wearing Frye boots, with a heel that measures around 1-2 inches, putting him at 5'11". In a recent episode, Goggins is shown standing side-by-side with 5'7" Michael Chiklis; both in suits and dress shoes, and Goggins only stood 2-2.5 inches taller.
Christy
said on 3/Jan/06
He is not 5 11 - more like 5 9
Codex
said on 14/Dec/05
5'11 sounds about right.