Wayne Newton's Height
6ft 1 (185.4 cm)
Peak height was 6ft 2 (188 cm)
American Singer. In the Daytona Beach Morning Journal (Nov 12 1965) he said,
" I'm down to 170 and I may take off 5 or 6 more pounds. I'm 6 feet 2 inches, so the weight wasn't unusual for my height, except it was all in my legs and hips"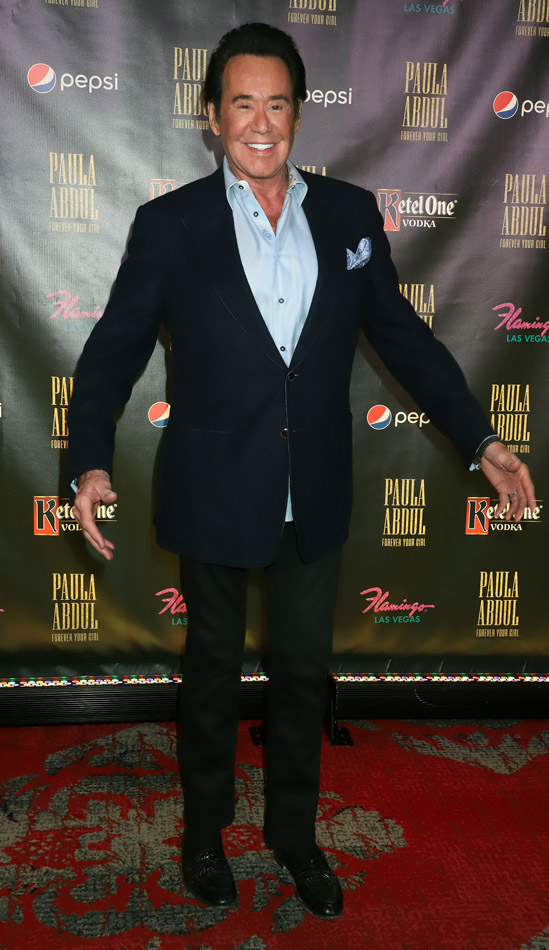 Photos by PR Photos
Add a Comment
24 comments
Average Guess (3 Votes)
Peak: 6ft 2.17in (188.4cm)
Current: 6ft 1in (185.4cm)
Rampage(-_-_-)Clover
said on 13/Sep/17
Maybe 6ft1¾ peak
baja74
said on 11/Sep/17
I met Wayne back in 1996. I was working line crew at a private airport in Kansas City when he stopped in for refueling his Gulfstream 1. He was very friendly and definitely looked over 6'1". Not sure about 6'2". I am 6'0" even and he was taller with good posture then.
Jack Ryan
said on 4/Aug/17
Watching Full House episode, 1990...he looks very tall...6'3, so claiming to be 6'2 doesn't surprise at all.
Gabriele
said on 6/Dec/15
A very good friend of mine has become good friends with Wayne. I have seen numerous pics of them standing side by side. My friend is 5'10.5" and Wayne has only 1-1.5" on him. Of course he is now 73 yrs. old, so he must have lost some. I'd give him 6'0" now at best. As a younger man, probably 6'1". The other point is that Wayne has worn heels that were a little more than standard ... at least while on stage.
Rampage(-_-_-)Clover
said on 20/Aug/15
Well Rob, he looks every bit of 188cm w/h future Mrs Richard Gere...
Rampage(-_-_-)Clover
said on 12/Aug/15
Click Here
Rob, would you say he was still 6ft2 in Licence To Kill?
[Editor Rob: Rampage, Wayne is a guy who could at times look a bit shy of 6ft 2 ]
slim jim
said on 29/Nov/14
seen him in his wifes shop on lakeside mt he looked real short and skinny and for his age he still carries that black hair he is still my favorite
Arch Stanton
said on 16/Mar/14
Yeah if anybody looks the type to wear lifts it would be this guy. Looks very vain doesn't he. He does look genuinely tall though.
avi
said on 31/Jan/14
Looks about 6'0 in bonanza. A known lift wearer he is.
richinkle
said on 18/Jan/14
On an episode of The Lucy Show from the late 60's he tells Lucy that he's 6 foot 2.
pasta
said on 11/Sep/13
6'1?? He looks like a short guy.
Bo
said on 29/Mar/08
He actually looks 5'8.5-5'9 in this pic.
Dave
said on 6/Dec/07
infact i remember seeing a pic of eric with kai hansen, they were almost exactly the same height
Dave
said on 6/Dec/07
eric is not 172, hes closer to 165 i think. scott and karl are both very tall though. Joey is 5'8 on the dot.... eric isnt much over 5'5 if hes lucky
glenn
said on 22/Nov/07
how is eric 172cm? he looks 5-4,5-5.
Louisa
said on 22/Nov/07
I agree with Alessio. I also think that Joey is about 180cm. A friend of mine told that Eric is about 172cm tall.
Thorgrim "steve"
said on 14/Jun/07
Awesome, i think manowar are great!
When i met them at earthshaker 05, joey looked about that height indeed, and judging by that pic glenn, you and him are the exact same height.
And yeah, Karl is a pretty tall guy, scott too... eric is even smaller than joey.
My estimates;
Eric: 170
Scott: 188
Karl: 190+
this is my opinion, and it was so hard to tell karl and scotts heights because, 1. i didnt talk to them personally (but stood very close), and 2. they were continuously bending over to hear what their much smaller fans were saying
Id give karl anything up to a 192 to be honest, hes a big tall guy. And scott could be close to there also, but id give him between 188 and 190.
pop
said on 5/Apr/07
I agree with you Chris. I also think that Columbus is tall as Karl.
Chris
said on 4/Apr/07
yeah Eric is about that 5-4 or 5-5 but he's strongly built. Karl is over 6'1 id'say
Pop
said on 14/Mar/07
Eric Adams looks 170 cm tall, but Logan and Columbus are much taller. I would say that they are over 185 cm tall.
glenn
said on 12/Mar/07
never met him.i would say 5-4.
Dominic
said on 11/Mar/07
how much is tall Eric Adams Manowar vocal?
Alessio
said on 13/Oct/06
I thought Joey DeMaio was taller than that, approximately 180 cm.
And how much is tall Eric Adams (Manowar singer)?
"Other bands play, MANOWAR KILL"
YaoMing
said on 21/May/06
that's pretty surprising. i always thought he was shorter than that
[Editor Rob: could be, waiting to see what glenn estimated the guy...glenn, you there?]