William Marshall's Height
6ft 5 (195.6 cm)
American actor best remembered for roles in the Blacula films, Demetrius and the Gladiators and The Boston Strangler. In a 1952 Jet magazine article it described his height and weight as being
"Six feet five in his argyles and weighing 225 pounds"
.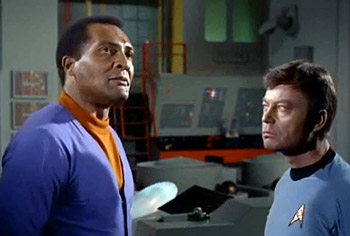 William in Star Trek
Add a Comment
16 comments
Average Guess (7 Votes)
6ft 4.39in (194cm)
Tariq Marshall
said on 20/Dec/18
He was definitely 6'5" in his youth. In his senectitude, he was around 6'4" up until his death in 2003.
Canson
said on 5/Oct/18
He doesn't look that tall imho. 6'4 probably
Jug
said on 29/Aug/17
In an episode of Danger Man, he looked about 2, maybe 2.5 inches taller than Patrick McGoohan, but maybe due to camera angles. He could have been a legit 6'5. He had a great body. An all-around good looking man. I wonder if he had some Native American in him.
diavolo
said on 21/Aug/17
In an interview, he said that Shatner and some of the other Star Trek cast members stood on boxes when they had to do shots with him.
Rampage(-_-_-)Clover
said on 27/Jun/16
Looked genuinely massive in Star Trek
Sam
said on 30/Mar/15
Recently saw Blacula for the first time, he certainly gives a tall impression, didn't know he was added but I had guess 6'4" based on appearance.
Arch Stanton
said on 21/Feb/15
Something like 1 in 500 when you really think about it would make more sense. I mean I can only think of a handful of guys in 6'5-6'7" range in my town of 50,000.
Tunman
said on 15/Feb/15
I saw the chart you're speaking about.I think it takes the average as 5'9.3 (possibly overall average for US/UK?)
Anyways while many figures seem fair 5'9 at 45,7% 5'11 at 72,8% and so on,it seems the end of the chart is somehow unrealistic,6'6 at 99,9% is unlikely that would mean 1 out of 1000 guys in US is 6'6+ hmmm,too much for a maximum 200,000 persons at 6'6+ worldwide.
Tunman
said on 15/Feb/15
doubt it arch maybe 1 out 500 at most and that's only for developed countries mainly europe and US.
I would be surprised if there is more than 500,000 persons over 6'5 worldwide.
Arch Stanton
said on 14/Feb/15
I'd think it's more something like 1 in 150 men who are a legit 6'5" but I don't know the exact percentiles.
Tunman
said on 13/Feb/15
1 out of 80 at 6'5 is unlikely maybe at 6'3.5-4.
I noticed there are also several guys over 7' well it's unlikely to get 1 out 4000 guys at that mark let alone many
We could say that height was a main factor for them to become celebs (Big show,khali,Andre...)
[Editor Rob: yes the database has many people 6ft 4 and over. Probably a very large percentage more than from a random 4000 men, because you also have these big wrestlers, big actors and big Basketballers.]
Arch Stanton
said on 13/Feb/15
Yes if you sampled an average 4000 men I reckon you'd probably get nearer 25-30 men at a legit 6'5" than 51, I'm not quite sure the percentiles of 6'5" guys, but I know I've read that roughly something like 0.8 men in 100 is a legit 6'4" or something like that. Even at 1 in 100 4000 would be 1 in 40.
Arch Stanton
said on 13/Feb/15
Yes agreed Steve, he had a fantastic voice, in fact if I could pick a voice it would be something like his!!
Steve
said on 12/Feb/15
He made Vic Mature look like a shrimp in Demetrius & the Gladiators. 6'5' sounds correct.
What a great voice Marshall had. What they used to call a radio voice.
Arch Stanton
said on 12/Feb/15
Just looking we've passed the 50 mark with 6'5" guys now with 51! There's really not many legit 6'5" guys about in everyday places, only the odd one or two in a crowd. 100 guys at 6'5" on here would be quite something, sure we'll reach that eventually, but we don't want to intentionally cherry pick them of course!
[Editor Rob: which if you sampled 4000 men in any city you wouldn't get that many men that tall. The database does have a much higher proportion of males 6ft 2 and over in the 4000 odd men.]
Arch Stanton
said on 12/Feb/15
Thanks. Yeah, I was thinking he looked a legit big 6'4-6'5" guy in Demetrius. That comparison with Mature he could look the full 6'5". The Boston Strangler is one I've long been meaning to see, one of those I really should have seen but haven't!