YaYa DaCosta's Height
5ft 7 ½ (171.5 cm)
American actress and model. FordModels listed her 5ft 8.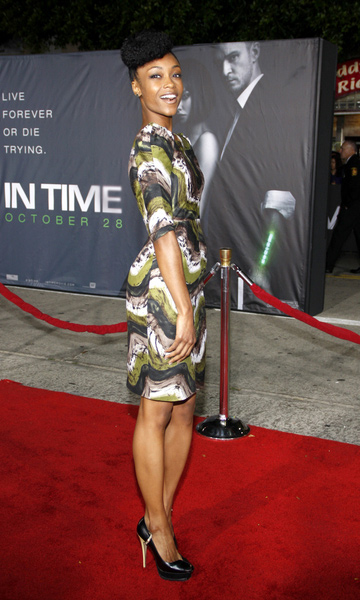 Photos by PR Photos
Add a Comment
17 comments
Average Guess (4 Votes)
5ft 7.56in (171.6cm)
Nik
said on 8/Apr/19
5'7.5" does look fair do's for her!
ronald
said on 28/Nov/15
Eva is 5'7 she said it on the show yaya is 5'8
pj
said on 5/Sep/15
i remember on the show, i think she was listed as 5'7 flat.
SAK
said on 12/Oct/11
Yeah she is 5ft7.5 and Eva was around 1" shorter at 5ft6.5".
Matthieus
said on 12/Nov/10
I think for most cycles of ANTM 5'7'' is the minimum height to be eligible as a contestant, however there has been some debate about Eva as she was roughly 5'6.5'' and not only got on the show but won.
I can believe Yaya is around 5'7''-ish as when she was in the final three with Eva and Amanda, who looked of similar height, Tyra Banks congratulated them on making it that fair and the fact they were also the three shortest girls that cycle.
5678dance
said on 5/Oct/07
yeah eva pigford was 5'6.5
Crissy
said on 26/Aug/07
Hey
actually no you don't have to be 5'7 to be on the show, I am an avid fan of that show and I remember clearly that Eva was 5'6 barley, so No you don't have to be 5'7. So given that information I don't think YaYa is 5'7.5, because she was significantly taller than Eva so I don't know about 5'8 maybe
Hey
said on 18/Jul/07
To Ivy,
In order to be on America's Next Top Model, you have to be at least 5'7" or else you don't qualify for the show. It states that on the application. She looks model short, so I say she is just at 5'7".
i don't think so
said on 7/Jul/06
Yo, I remember yaya from my freshman year in college. I do not recall her being 5'8. Many people up their heights. I do think she's just 23 or 24 but I highly doubt she is 5'8. The other tall girls in her dance company at my school were much taller than her and they were not six feet tall, either. She does look long, though. In fact, most people who went to school with her all say the same thing: she's not that tall. I'm going with ivy. She may be 5'5 or 5'6, if that!
dja.
said on 29/Jun/06
guess what?
im her sister.
we went to the same boarding school and resemble each other quite a bit and have been confused by teachers and such for years. im 31 ( 8 yrs older to yaya's 23) and i'm 5'6. she IS 5'8. and what does it matter. i'm a dancer and i've always admired (especially when she dances) her long legs and fabulous proportion. go figure. our younger brother is 6'4 . . .we don't choose our genetics. but damn, doesn't she carry it all quite well?
teamonegralinda!!!!
ivy
said on 25/Jun/06
I went to college with yaya and I don't remember her being that tall. She's not short; she's about 5'5 or maybe--a stretch 5'6. And, she is just 24.
me
said on 25/May/06
i say 5'8.at least 5'7.She was almost as tall as antonio b in the movie people.5'8 and eva is like 5'6
Lyla
said on 21/May/06
If her agency says she is 5'8, then she must be an inch or two shorter.
C
said on 4/May/06
Nigerian chicks are usually pretty tall, so I wouldn't be surprised if she's taller.
rae
said on 4/May/06
she is barely 5'7. and she is 28!!! not 22 or 24 as they say on the sites. i have friends who went to boarding school and college with her.

Editor Rob
this, I really think is true...well, the height part, not sure about the age stuff ;)
Serene
said on 26/Apr/06
Okay, if she looks 5'7" to you,then what about Eva Pigford??? She will look 5'3.5" then.. eik...how?
Serene
said on 19/Apr/06
Yaya isn't that short.. is she? She can't be shrinking at this age!!!
She is tall in the American Next Top Model.. looking 5'9".. and she is about 3-4 inch taller than Eva Pigford..you know.

Editor Rob
the thing is, beside Rob Brown who is a 6ft 1er, she looks more 5ft 7!