Aaron Ashmore's Height
5ft 11 ½ (181.6 cm)
Canadian Actor best known for roles in tv series Smallville (as Jimmy Olsen) and Warehouse 13 (as Steve Jinks). He has described himself as 6ft. In this photo I had about 1/3rd inch more sneaker this day.
5ft 8 Rob and Aaron @ Memorabilia London
You May Be Interested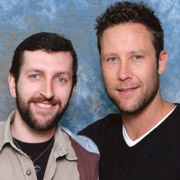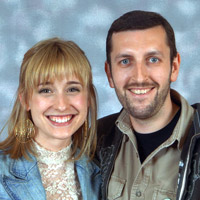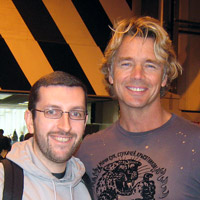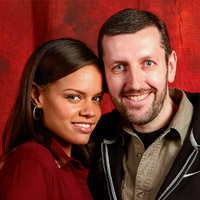 Add a Comment
50 comments
Average Guess (53 Votes)
5ft 11.49in (181.6cm)
Jkiller
said on 2/Jul/20
Guy is 5'11.25, don't see much more.
Jam Cherry
said on 13/Jun/20
181.5 cm is fitting indeed !
Nik Ashton
said on 20/May/20
He is not over listed!
Christian 6'5 3/8"
said on 5/Sep/19
5'11.5" is fair, although the door's open for 5'11.25" but no less than that.
Nik
said on 1/Sep/19
He convinces at 5'11.5"!
Junior Hernandez 1990
said on 29/Jun/19
Rob had 9mm more shoes, up here Aaron is legit 180.3-180.4cm with the white line then add up 9mm is 181.2-.3cm and Rob let go 1/8th inch which is 3mm to top up 181.2-.3cm so 5'11 1/2 seeem too legit for Aaron. His twin brother Shawn mostly look a full cm shorter could be a solid 5'11 1/8 guy. Average guess is more than accurate for Aaron. It's hard to think of 181cm. Bill Paxton before passing look to legit listing from Rob listed him.
Delvin chung
said on 7/Jun/19
Is 181 cm the lowest yu can possibly see him ?

Editor Rob
I doubt he's any less than somewhere in that range.
Miss Sandy Cowell
said on 9/May/19
@ Nik - So they do - the voters are spot on, just like the flea treatment for cats and dogs! I didn't check out that fact...😉👍
Nik
said on 5/May/19
Fair do's, 43 voters think so too!
Miss Sandy Cowell
said on 4/May/19
He he he! Aaron could have stepped in when his identical twin brother Shawn was knackered while making 'The Lord of the Rings'! I know that film makers have done that with small children before. Nobody is any the wiser!
And Rob, you've even met this fellow!
5ft11.5 is perfect for him. 😁👍
Junior Hernandez 1990
said on 10/Apr/19
5'11 1/2 to 5/8th inch.
Nik
said on 13/Sep/18
No less than 5'11.5"!
Zampo
said on 12/Sep/18
@Junior, Yh. Initially I felt he was 5'11.25-5'11.5 range but I change my mind, think he is a genuine 5'11.5 guy.
Sandy Cowell
said on 4/Aug/18
I have on in the background the film 'The Shrine', which is showing on the 'Horror Channel'. There are some truly vile looking demons in it, so just this once, I am choosing to look away! I have my own copy upstairs, so I can see it if and when I like anyway, and yes folks, it is a worthwhile horror/adventure yarn about some curious young journalists.
Aaron gets top billing in this. I have noticed he pops up in quite a few horrors of mine, but only tonight I have found out for sure that there are TWO IDENTICAL ASHMORES! Yes, Shawn is his twin brother, and while I have wondered before, tonight I have found out they are twins from the same egg! Isn't that fantastic? I believe this one is written up as 183, while Shawn only gets 180 centimetres. At least Celebheights has put us straight on that, and the truth is more realistic of identical twins, with just half-an-inch in it.
Both boys are fathers of one and their birthday is the 7th October.
Aaron gets 5ft11.5 from me at precisely 3 o'clock this Summery Sunday morning!
Junior Hernandez 1990
said on 9/Jul/18
Again looking it i can see Aaron legit 5'11 1/2 as he had less near 3/8 shoe and Rob did not put up the extra 1/8 of his atual height on the height chart.
Junior Hernandez 1990
said on 11/May/18
Shawn Ashmore 180.5-181cm
Aaron Ashmore 181-181.5cm
Zampo
said on 2/May/18
In this photo alone, he looks a solid 5'11 (5'11 1/8). Factor in the footwear disadvantage about 181.5 cm range. Assuming this photo was an earlier in the day measurement, I think he would measure anywhere between 5'11.25-5'11.5. Height twin of Benedict Cumberbatch.
A lot of you guys need to remember Rob is basing his listing on a "standing tall" height. I reckon a lot of the celebs would squeeze out 4mm if told to stand at their tallest or so.
Mimi
said on 11/Jan/18
Is Shawn Ashmore the same height as him too?

Editor Rob
I have given Aaron the edge, although in many photos the brothers look like they are quite close.
Sandy Cowell
said on 1/Jan/18
I was watching a film last night with Aaron starring in it called 'The Shrine', and I thought I was looking at Shawn, who simply must be his look-alike brother! How many times has this happened, I wonder? Same looks, same sort of height, I now realise that I have been fooled! There are TWO of them! Isn't that wonderful? 😂😂😂 😹😹😹
I give this version 5ft11.5!
Faza
said on 6/Dec/17
He might measure 5ft11.25- 5ft11.5 at worst i would go with 5ft11.5 for him 181- 182cm range
even
said on 28/Jul/17
a strong 5'11" even at night
World Citizen
said on 28/May/17
180 or 181 cm
Boomga
said on 18/Apr/17
He looked short next to Tom Welling never guessed he was this tall
S.J.H
said on 14/Nov/16
Hes full proportion and frame look taller than 5'11.5 david anders , christopher gorham , benedict cumberbatch and bill paxton
Click Here
MD
said on 1/Apr/16
Wait, so he's half-an-inch taller than his twin brother?
Johno
said on 29/Mar/16
5'11 ------ don't know what i was thinking when i stated near 6'0.
Johno
said on 3/Jan/16
Quite possibly 5'11.75 or even a weak 6'0, his forehead is quite large.
Johno
said on 3/Jan/16
5'11.5 taking account of footwear deficit, taller then i thought.
Nils
said on 8/Oct/14
He looks 181+- in the pic + 0.3 inch less shoe
i think weak 6ft is fair, he probably measured 6ft earlier on the day and is honest with his claim. Is 5ft 11.75 possible Rob?
[Editor Rob: earlier in the day he could be]
Rampage(-_-_-)Clover
said on 1/Oct/14
He struggles with 5ft11 in that pic
DMEYER
said on 23/Dec/13
considering near 1cm less shoes 5 ft 11.5 seems right
Emily
said on 30/Aug/13
Does he have a shorter head than you Rob? And how long was your head again? Around 9,4 inches? Do you think he has a small head for his height?
[Editor Rob: I think it's very similar length, a true 9.5 inch head is pretty typical for near 6ft man]
Borna
said on 14/Oct/12
In one scene in Smallvile the cops identified him like 5'10,11 when he was getting away..
He looks at least 4 inches shorter than Tom Welling but that guy is tall(at least 6'3)
So strong 5'11 I think.
173
said on 14/Oct/12
From what i've seen growing up, out of all the identical twins I knew, there was always one taller than the other, but not by much though, maybe a .5" to 1 inch difference at most. If identical twins have the same DNA, why is one always noticeably taller? Shouldn't they be the same height?
Lo sgozzatore
said on 13/Oct/12
Yeah, Rob keeps on saying welling's tall just because he wears boots! Too bad he doesnt consider that he often wears flat birkenstocks during lots of scenes where they dont shoot his full body. I saw the photos and also his costars said that in a lot of conferences! I can't find it, but i read an interview of Aaron, long time ago, where he said that he feels pretty short next to Welling and he said that he's like 4-5 inches taller than him! If they wanted to make Tom look big they wouldnt have used bad camera angles to make him look less tall next to some of his mates. Anyway, Rob is the boss on here and from now on i cant contradict anymore... So he's absolutely right! :) Tom is actually just 189-190 and wears boots to appear supertall...
[Editor Rob: I believe the almost 6ft 3 myself, you can believe or say any height you believe for him. But if comparing to Aaron, he's worn 1.5 inch boots in many scenes whilst Aaron has had 0.6 inch sneakers.]
balrog
said on 6/Oct/12
Andrea, you think there's 5 inches between Aaron and Tom? Don't think so, besides Welling HAS to look big in that series, so camera angles might help to Tom. 181-182 cm next to Rob. Welling is a legit 6'3 and has around 4 inches on him.
[Editor Rob: welling wears 1.5 inch boots at times, while aaron used to wear .6 converse a fair bit... ]
Johnnyfive
said on 5/Oct/12
Rob, if the 184 (6'0.5) height challenger is 1.5 inches taller than this guy, wouldn't that make him 5'11 flat?
[Editor Rob: I had about .3 inch thicker sneaker so near 11.5 is fair ]
Witchdoctor
said on 4/Oct/12
the difference between this guy and Rob looks devistatingly close to 4 inches and plus he is at a footwear disatvantage,he could be 1.83m
[Editor Rob:
Maybe not 4
...as you can see a guy who is almost 6ft 0.5 inch looks about 1.5 inches taller than aaron does...]
Alex 6ft 0 1/8
said on 3/Oct/12
I noticed this guy has a long forehead so his eye level is prob a good 5 inches from top of his head. With Robs footwear advantage this guy wouldn't be any less than 5'11.5 and 5'11.75 is possible too.
Greenbolt
said on 1/Oct/12
Triplescrew says on 29/Sep/12
You sure you don't meant fraternal? You two don't look identical (different facial structures). Could be a difference in weight too I guess.
--------------------------------------------------------------------
It's the weight difference; at the time he was 5'10.5'' 125 lbs., and I was 6'0.5'' 172 lbs. It's funny because in grade school and even through high school no one could tell us apart. But now that I weigh so much more than him, a lot of people don't even think we're twins.
linke
said on 1/Oct/12
does look strong 5'11. Looks way different here.
Johnnyfive
said on 30/Sep/12
As listed. Especially with Rob's footwear advantage. He can claim 6 feet easily.
thc-182
said on 30/Sep/12
strong 5'11", but it's right, he looks shorter in smalville
Triplescrew
said on 29/Sep/12
Greenbolt says on 29/Sep/12
MD says on 29/Sep/12
How common is it for twins to differ this much in height? Knowing a few twins growing up, I'm completely aware that even slight differences in height was one of the ways to differentiate between twins. But, even when they differed in height, it was never anymore than half-an-inch.
I have an idential twin, and I'm two inches taller than him:
Click Here
Click Here
Click Here
----------
You sure you don't meant fraternal? You two don't look identical (different facial structures). Could be a difference in weight too I guess.
Alex 6'0 1/8
said on 27/Sep/12
He looks over 5'11 with Rob easy
penguinboy25
said on 27/Sep/12
Don't forget camera angles people
UK182.5cm
said on 27/Sep/12
He looks about 181/ 182 but I think in Smallville Tom is typically wearing those massive boots which have an advantage over his, making him look about 3.5-4 inches taller instead of 3".
Larc-186.7cm-188.6cm
said on 27/Sep/12
Looks easily 5'11 range with Rob, 5'11.5 is good.
ANDREA[ITA]
said on 23/Jan/12
He looks way shorter than Tom Welling, at least 4 inches! But more like 5 inches...
Sony21
said on 10/Dec/11
He looks at least 4" shorter than tom in smallville