Alex Winter's Height
5ft 7 (170.2 cm)
British-born American actor best known for roles in Bill & Ted's Excellent Adventure (as Bill S. Preston, Esq.), The Lost Boys and Freaked. In this convention photo I had 1/4 inch more sneaker than Alex.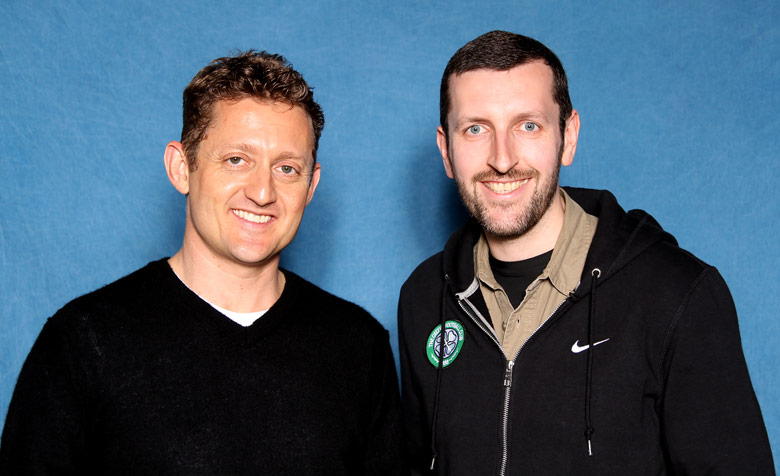 5ft 8 Rob and Alex @ London Film Con, 2012
You May Be Interested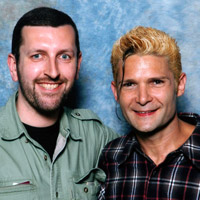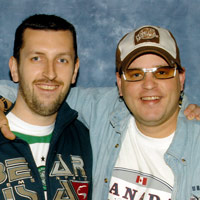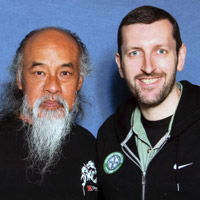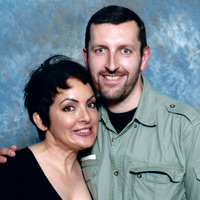 Add a Comment
50 comments
Average Guess (35 Votes)
5ft 6.69in (169.4cm)
Sean
said on 10/Sep/20
Rob is slouching and hair doesn't count. Accounting for the alleged disparity in shoes, 5'6" max.
CDS
said on 8/Sep/20
Rob, you are slouching. If you stood up straight, you'd easily have 2 inches on him. I say 5'6", 5'7" in shoes...
Christian 6'5 3/8"
said on 2/Sep/20
@Lamont
If he's a dual citizen, then it might be best to have him as "British-American".
Lamont Cranston
said on 1/Sep/20
Rob, you list him as 'American' and in a variety of ways, he certainly presents so...but he was born in the UK, and according to wikipedia, maintains British citizenship....

Editor Rob
Well he can have the british-born moniker, which quite a few celebs get described as who fall into the same category as Alex.
Nik Ashton
said on 9/Dec/19
@ Anonymous - Never a truer word said! 👌!
Nik Ashton
said on 22/Jul/19
The average guess of 5'6.64" is too low!
Nik
said on 15/Mar/19
I will offer Alex Winter 5'7" for a second time!
Bobby
said on 9/Aug/18
Rob's looking 1.5 inches taller here, but considering the footwear advantage, then Rob has to be around 5'8.25 here, right? So, 5'7 for this guy is believable.
Nik
said on 5/Jul/18
I can see the full 5'7"!
khaled taban
said on 5/Jul/18
5'6.75" is good for him
dumbass
said on 6/Nov/17
5'6.75 is the consensus rob
Christian-6'5 3/8
said on 2/Nov/17
His eyelevel's at 5'2" while Rob's are at 5'3.5", but Rob said he had 1/4" more footwear than him so I think 5'6.75"
Danimal
said on 2/Nov/17
Sorry Rob, but that's not a 5'7" guy. You clearly have more than 1" on him looking at the top of your heads.
Editor Rob: I didn't think he looked much under 5ft 7 in person
Anonymous
said on 28/Oct/17
Many UK men r 5.7 not just people in there 60s to 80s.
Bobby
said on 4/Oct/17
Rob looks around 1.5 inches taller, maybe 5'6.5 is closer to reality.
Pierre
said on 29/Jul/17
5"6.5' imo
Powerhouse
said on 11/Jul/17
5'6.75 is fine.
Aza
said on 1/Oct/16
An almost 'most excellent' listing!
lp
said on 10/Aug/16
this listing only makes sense if we were to measure him by the tip of his hair, not his acutal height... even with the advantage, I'd personally give him 5'6.5...
realtalk
said on 30/Jul/16
does he have a big head size?
teet
said on 17/Jun/16
even if it was a 1/4 thicker sneaker, it still seems a big of a difference to be 5'7. at least 5'6.75
S.J.H
said on 2/Apr/16
Big rob did not stand that straight up here. Alex winter could be 5'6.75 thought
DougQuaidHauser
said on 25/Mar/16
Barely looks 4 inches shorter than 185cm Keanu Reeves in Bill and Ted movies. Saying that, 5ft7 William Sadler (grim reaper) must be wearing monster lifts to look close to Keanu in height.
Dmax
said on 2/Mar/16
Looks like he is being measured by his hair there cause he looks 5'6.5ish.
mrtguy
said on 1/Mar/16
mrtguy said on 10/Feb/16
Solid inch difference.
Actually when I look at this pic closer Rob may have him jut a bit more of an inch.
mrtguy
said on 10/Feb/16
Solid inch difference.
Aza
said on 6/Feb/16
A most excellent listing.
dont drink and drive folks
said on 23/Jan/16
most controversial list ever, 5'6.5
hey rob
said on 17/May/15
he has the eye level of a 5'6er in this photo, head size do matter!
Austrian
said on 9/Dec/14
yea he looks like a crossover between michael schumacher and mark zuckerberg
Vibram
said on 26/Nov/14
5ft6.5. Does anybody see a resemblance to Michael Schummacher?
Boooooo
said on 17/Nov/14
To Mid190s - The only movie of those that was remade is Tron, the rest were either sequels or prequels.
Mid190s
said on 1/Sep/14
Weve had so many remakes of 80s movies like Indiana Jones, Rambo, Rocky, Tron, Star Wars, yet none of the time travel franchises have ever been revisited!
I want to see a continuation of Bill & Ted or Back to the Future.
the shredder
said on 9/Jun/14
Looks 5 '6.5 , 5'6.75 , but is leaning and Rob has more shoes , hes 5 '7
avi
said on 8/Apr/14
yes weak 5'7 probably
the shredder
said on 27/Mar/14
rob , sorry but this guy is not 5'7 more 5'6.75.
the shredder
said on 5/Feb/14
5'6.75 if posture
richkid123
said on 25/Dec/13
He doesnt look 5'7" and he is closer to the camera. He looks 5'6" to 5'6.5"
Voiceless Dental Fricative
said on 1/Dec/13
Even with the footwear advantage he still looks nowhere near 5'7 here.
Mathew
said on 15/Oct/13
Looks about the height of G, weak 5'7".
Balrog
said on 10/Aug/13
He looks 5'6.2-3" but has less footwear so should be 5'6.6-7". A weak 5'7" guy.
vegas
said on 6/Aug/13
Danimal says on 4/Aug/13
??? Rob, you're not serious are you? That's more than 1" you have on him and you're not standing straight. 5'5.5"-5'6" MAX.
____________
no way he is 5'5.5 in that photo, thats a measured ~5'5.5 next to rob, winter is leaning just as much as rob in the photo plus has less footwear, "I had 1/4 inch thicker sneaker than alex."
Click Here
Mac
said on 11/Jul/13
Rob I guess you could take that half an inch off since it is very clear that he's not a full 5'7" guy. The tallest he could be is 170 cm in the morning, 169 pretty much all the day and 168 before going to bed. I think it's a pretty safe bet what do u think?
Mike T
said on 10/Jul/13
Rob it looks like you got about 2 inches on him
Sharpshooter
said on 28/Jun/13
Rob - This question may seem a bit odd so apologies in advance but I'm just curious, this photo was from 2012, so I was wondering why is it only now you've put up Alex Winter's photo? Do you go through a lengthy enough procedure in determining a celebs height? Bit a random question, but just wondering why some celebrities you've met from say 2012 don't get their photos put until a year or so later.
[Editor Rob: this photo has been up since July 2012...when it was taken.]
hurricane brat
said on 20/May/13
Rob even with your 1/4 inch sneaker advantage, does this guy look 1.5 inches taller than someone like edward furlong whom you've listed at 5'5.5? I'd say this guy is closer to 5'6.25 or max 5'6.5
[Editor Rob: he could be a weak 5ft 7, Furlong can look just 5ft 5 at times aswell]
Trent
said on 4/Dec/12
He's more in the 5'6.5 - .75 range than a legit 5'7
Anoneemoos
said on 26/Jul/12
He looks 5'6.5''
Danimal
said on 25/Jul/12
You're looking really thin here Rob. Alex looking in the 5'6" range.
the shredder
said on 23/Jul/12
5'7 flat .