Amal Clooney's Height
5ft 8 ½ (174 cm)
English barrister, who is the wife of George Clooney. A Daily Mail article once mentioned how
"Mrs Clooney, who is 5ft 8ins, often enjoys wearing stilletoes that allow her to dwarf her 5ft 11in Hollywood heartthrob"
.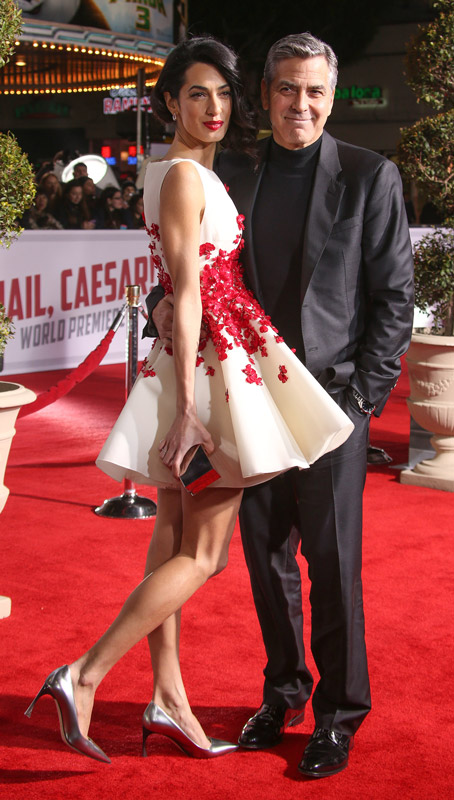 Amal and
George
Photos by PR Photos
Add a Comment
17 comments
Average Guess (24 Votes)
5ft 8.18in (173.2cm)
khaled taban 175.3cm
said on 1/Sep/20
Just 5'8" , she's barely taller than Clooney with her heels on , no way 5'8.5" !
Miss Sandy Cowell
said on 25/Jul/20
I just found a picture of Amal in my new magazine and I thought, "My word - what a gorgeous girl!"
Considering she married one of the most sought after bachelors ever, I ask myself, "Is it surprising? She has everything! A mane of long, russet- brown hair, a model girl height and figure and the face of an angel." 👼
Check her out in this month's 'Woman & Home' mag. You won't be disappointed. My only gripe is that she isn't on the cover, but they'll be plenty of time for future opportunities.
5ft8.75 😁👍💐🌹
mf
said on 1/Sep/19
She almost always appears taller than George in photos of them together, and she is constantly adjusting her posture to appear shorter than him. In their few photos together when she's wearing flats, she is about the same height as George, who is usually sporting running shoes (or higher heeled footwear) in these photos. I wouldn't guess her height as below 5'9", and I don't think it's a stretch to put her at 5'10" or above.
She is one of these tall women who tries to downplay her height around others.
party animal not!
said on 23/Aug/19
She is indeed 174cm but she wears heels and she has massive feet so that adds inches, hence the transgender comments on social media.
Marriage is a social engineering publicity arrangement. Not a successful one, alas. Not sure how she made it on this list as she's no celebrity.
True, George Clooney is not the father of her surrogate born kids. They're her sister Tala Alamuddiin's with her 2nd husband Nico LeTallec.
The boy Alexander "Clooney" looks just like his father Nico.
Sylvia Cheevers
said on 27/May/19
I've seen Amal Alamuddin in real life. I worked with George Clooney's PR network and her mother Baria Alamuddin ran a celebrity bookings agency Globell Communications, when the sham marriage to Clooney was set up. There's not even a stamped marriage license.
I'd say she's about 175cm when she hunches her gaunt big broad shoulders of which she seems self-conscious. Shockingly manly, gawky. Very bad posture as she tries to look shorter. About 5ft9 more like it. Gaunt and equine.
Bearding gig if ever there was one. Wore prosthesis to fake pregnancy. Clooney is not even father of those surrogate born kids. They're her sister Tala Alamuddin's with 2nd husband, personal trainer Nico.
Amal Alamuddin is the niece of money-laundering arms dealer Ziad Takieddine. That is key behind this sham.
Bora
said on 23/Apr/19
But how ? George Clooney is 5'11", she is at the same height with Clooney despite her 4 inches high heels, and let's say that George Clooney is 182 cm with 1 inch foot advantage, then Mrs. Clooney is shorter than 174
Mickie
said on 4/Jan/19
Just 5'8". Clooney being listed too high is why 5'8.5" looks right
Matt93
said on 16/Dec/18
I agree with this listing. Amal Clooney is around 5ft8 or 5ft9. She's got a long-limb and slender physique. Beauty, brains and brawn. What else does anyone need?
mf
said on 29/Sep/18
I find her height extremely difficult to pin down due to how often she is manipulating her body in photographs and because of the fact that, when next to each other, George is often wearing foot wear with some type of lift in them. My guess is that she is probably between 5'8" and 5'9", but it is again hard to know this for sure for the reasons mentioned. She generally appears taller than everyone she is around (and especially the women), but this is again distorted by the very high heels and/or lifts that she is almost always wearing in photographs.
RisingForce
said on 8/Jun/17
Arch, I do think George Clooney WAS 5'11.5" in shoes, and claimed that height, but he's really looking shorter to me since he turned 50, especially this year. I believe he's lost at least 1 cm by now. As for Amal, I'd guess the 5'8" figure probably comes from somewhere and looks plausible enough, at least seeing her with George.
Phil
said on 30/Mar/17
she is shorter than 5 foot 8.5.
5 foot 8 maximum.
Arch Stanton
said on 30/Mar/17
Actually in looking today yes, she can look 5 ft 9 proportionally in a lot of pictures.
ok
said on 28/Mar/17
sick picture
6'1.5
said on 16/Mar/17
About time you add her
James B
said on 14/Mar/17
wow thought she was 5ft11
Arch Stanton
said on 14/Mar/17
Taller than I thought! I remember thinking similar range to Jessica Walter, 5'7.5-5'8 but if Clooney is close to 6 ft in shoes she'd have to be a good 5 ft 8.
Editor Rob: she's got a figure that can make her seem quite tall at times.

Actually in decent heels she doesn't tower Clooney, but certainly can look taller than him.
MaryAnne
said on 14/Mar/17
Whoa! Got me surprised. Never though that she would had a page.