Amanda Peet's Height
5ft 6 (167.6 cm)
American Actress known for roles in movies such as The Whole Ten Yards, Identity and 2012.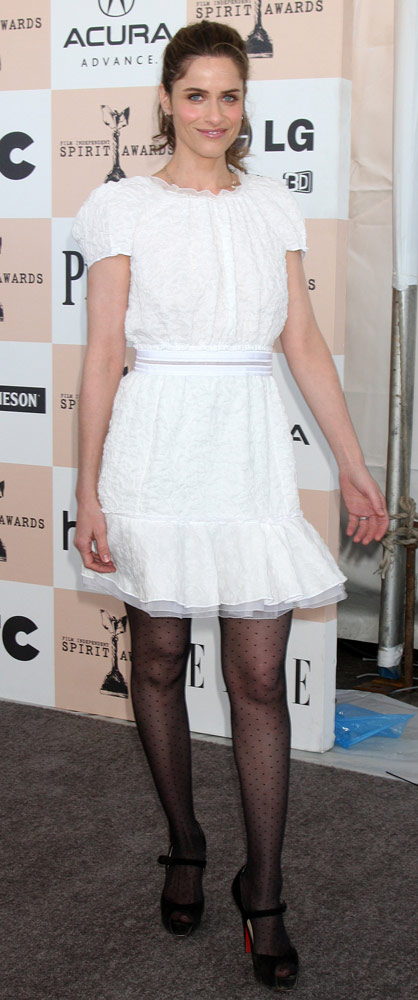 Photo by PR Photos
Add a Comment
26 comments
Average Guess (11 Votes)
5ft 5.98in (167.6cm)
5f6.5i
said on 23/Feb/21
Sarah Paulson only looks taller due to the fact she wear at least 1 inch higher heels and sometimes 2. Whenever they wear similar footwear Amanda Peet looks at least half an inch taller. You can see for sure there is at least a half an inch difference between them with similar footwear.
Leesheff85
said on 20/Feb/21
But sarah Paulsen and her look the same height in photos in fact sarah can sometimes edge amanda out 5ft 6 max for both of them
5f6.5i
said on 14/Feb/21
If Sarah Paulson is listed at 5 foot 6 inches then surely she is 5 foot 6 and a half inches like previously listed unless Sarah Paulson is 5 foot 5 and a half? You can't have a shorter person listed at the same height.
Littlelee5ft6
said on 27/Feb/20
She looks a strong 7 inches on sarah steele who is 4ft 11 so at the very least she is 5ft 6
Nik Ashton
said on 22/Aug/19
The average guess of 5'5" (5 voted)!
Miiiiiiighty_-
said on 20/Aug/19
Never looked that tall tbh, I'm shocked by this listing...
She doesn't look 5'7 it at all "High Crimes" , let alone 5'8"..
5'8" for this girl is an absolute joke.
Jim Caveziel absolutely towered over her in High Crimes, and she didn't look taller than Ashley Judd if at all.
Also a good 3-4 inches smaller than 175ish Adam Scott in the same film. A 169cm girl would never look that small next to a 175cm man.
Barely reaches her husband's bottom nose levels ( who supposedly 6'2") while in regular heels..
A 5'7ish girl would be easily 175cm in such heels, she would be close to his eye level...
5'5 to 5'5.5" to me.
Nette
said on 22/Jan/15
She looks 5 foot 3 or maybe 5 foot 4 5 foot 7 not. The age looks right though.
Hob
said on 11/Jun/12
shes hot she only 5-5 nothing.
steven
said on 14/Jan/12
yeh she is hot. she is 5'5.5-5'6 top.
carnegie
said on 17/Oct/11
shes hot 5ft6
X
said on 12/Jun/11
Looks same height as tara reid. For meshe is 5'5 max
jtm
said on 23/Jan/11
ras i am not sure that she is that short but 5'6.5 is generous. 5'5.5 is more like it.
Ras
said on 23/Jan/11
In martian boy with John Cusack she looked at least 10 inches shorter and next to Joan Cusack she looked about 6 inches shorter. How could she be 5ft6.5? Maybe with 5 inch heels she's 5ft6 and adds half an inch Rob?
Timmy O.
said on 15/Dec/08
Just watched "Alot like Love" with Amanda and Ashton Kucher. At the beginning she looks shockingly only as tall as Winona Ryder who stands about 5' 4". 5' 5" sounds right. I think she looks taller on camera due to her body having an overall slender build and slender limbs. From seeing her in "Something's Gotta Give" she appears to be rather statuesque which means Jack Nicholson must be ALOT shorter than most imagine. Whatever her height, whatta babe.
Lego
said on 17/Jul/08
there are times i thought she was 5'7 and other times 5'8 and other times 5'6 (minimum), my guess is 5'6.5 to 5.7.25 max on a good day.
one of the very few actresses i consider HOT, i can count them on fingers cause i'm very picky. she's ace!
Mattiew_-
said on 6/Apr/08
She looks in the 5'5 range to me .
5'6 at the very best .
Alex
said on 3/Nov/07
I was actually watching The Whole Ten Yards tonight and she was 4-5 inches shorter than Bruce Willis who is 5'11 so 5'6-5'7 sounds more right than my estimate before of 5'8. She can some across as a taller girl sometimes.
Alex
said on 22/Sep/07
Only 5'6.5? I just saw her in Something's Gotta Give and she looks 5'8 and I saw her in barefeet too. She did not look this listing.
dmeyer
said on 10/Sep/07
did look over 5'6 when i met her
eyesonthebabes
said on 22/Jul/07
i just saw her from about 4 feet away -- she's totally beautiful -- but no taller than 5'5" for certain -- there's just no way she's 5'8", and she's not 5-7 either.
dmeyer
said on 10/Jul/07
she did seem closer to 5'7 in person
Anonymous
said on 25/Jun/07
she's always listed at 5'8, can really look it sometimes, or possibly 5'7-ish.
Pik
said on 21/Apr/07
She looks much taller than Claire Danes in a movie Igby goes down. And Danes is listed at 166 cm here.
J.
said on 23/Sep/06
In the film "Identity", her character's license has her height listed as 5'8".
Anonymous
said on 10/Jun/06
Gawker sighting this week says 5'5"
Tybor
said on 22/Aug/05
I think she has excellent posture and longish limbs, compared to Jack Black in Saving Silverman, she seemed like she might even be a little shorter.