Natasha Henstridge's Height
5ft 9 ½ (176.5 cm)
Canadian Actress known for roles in Species, The Whole Nine Yards, Ghosts of Mars and tv shows Eli Stone and The Secret Circle. In Steppin Out she commented on height, saying
"There's a lot of small actors, that's for sure. I don't know why it happens that way. However, there are a lot of ways of disguising the height difference. But you're right, certainly there are times when there are three actresses up for a role and they like all three of them, but one fits a physical profile better than the rest and she'll end up getting the job. So yes, sometimes my height is a problem, I suppose"
. In DaemonsTv.com she said:
"Lately I've had a lot of hearing, 'She's too tall.' I'm 5-foot-9 1/2, which is like 6-foot-5 in acting height. But what am I going to do? I can't shrink."
. This photo (by Duncan) is from a London Film Con in 2013, she had about 2.2-2.3in more footwear than me.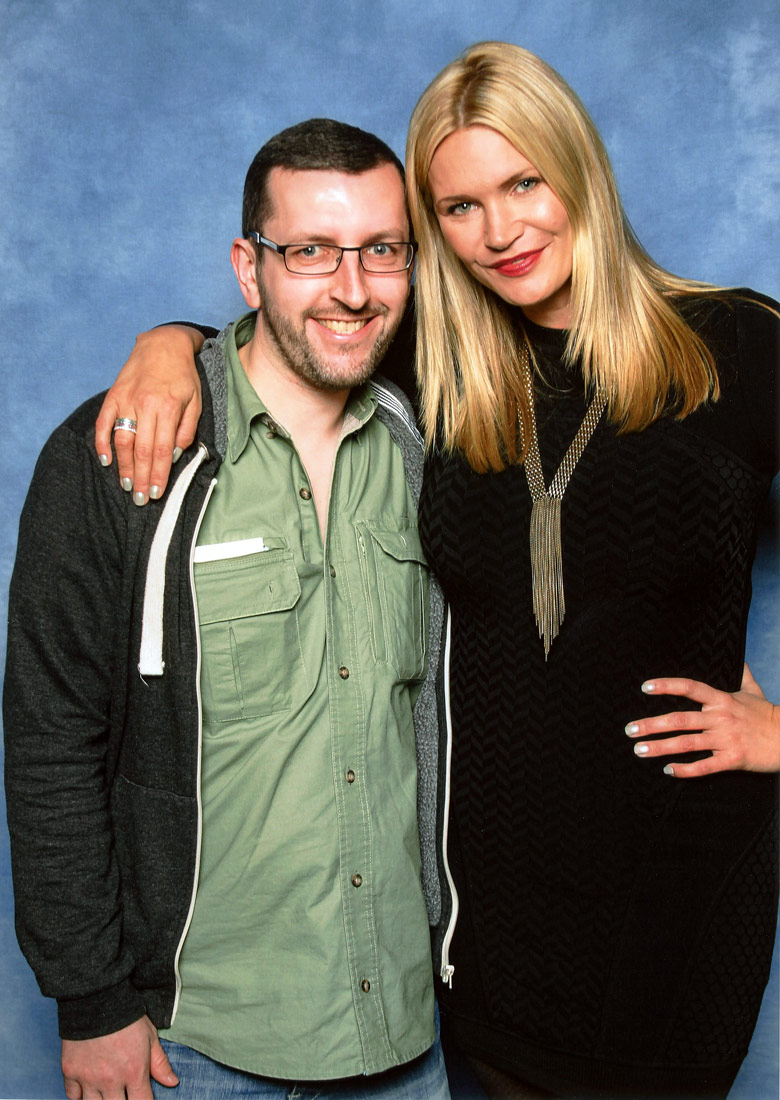 5ft 8 Rob with Natasha
Add a Comment
94 comments
Average Guess (62 Votes)
5ft 9.62in (176.8cm)
officer
said on 17/Jan/21
Hey rob if ur 173.6 she can get close to 177cm,by this foot wear2. 3)inches she looks 9 cm over u, at least she is 176.5 cm, she is tall girl

Editor Rob
in heels she looked taller than how a 5ft 9 lady in similar heels would look, so her claim seemed believable, although sometimes in film she might not look that tall - I remember in Maximum Risk with Van Damme she could seem a few times shorter than him.
Nik Ashton
said on 3/Nov/20
@ Sissy - How tall are you?
The average guess is 5'9.62" (62 votes)!
Nik Ashton
said on 1/Nov/20
It's cool that there are a lot of small actors and Natasha is cool too!
Miss Sandy Cowell
said on 15/Aug/20
💐🎂🎈 Happy Birthday Natasha! 🎈🎂💐
A Very Happy Birthday to Natasha Henstridge, who turns 46 today.
5ft9.75
💐🎂🎈🎊💐🎂🎈🎊💐🎂🎈🎊💐🎂🎈🎊
Jam Cherry
said on 4/Jun/20
I thought she's 5'10" but I guess she's closer to 177 cm
Yang (5 footer 8, 173, Aries)
said on 21/May/20
Per John Moore guess. She IS honest lister....
JohnMoore-162cm
said on 1/May/20
Quite 5ft9 1/2" , she is honest
Mimi
said on 12/Feb/20
Rob as you're the one who has seen her in person what do you think her range is 5ft9-9.5 or 5ft9.25-9.75 ?

Editor Rob
I think she is an honest 5ft 9.5 claimer, I doub she falls under it really.
Nik Ashton
said on 8/Feb/20
It's great that there are a lot of short actors and tall actresses!
I'm proud to give her her 90th comment!
Nik Ashton
said on 8/Dec/19
@ Subwoof - I like your name!
This girl puts the T in tall!
Miss Sandy Cowell
said on 3/Dec/19
You look like the cat that got the cream, Rob! 😺🍦 (Couldn't find any cream emojis, but I can assure you that the coldness of ice cream does nothing whatsoever to put them off nicking it and licking the dishes clean!)
5ft9.5.
Nik Ashton
said on 2/Dec/19
She's taller than at least 58% of Canadian men! 😎
khaled taban
said on 2/Oct/19
More like 5'9.5" , probably 5'9.75" earlier in the day.
Nik Ashton
said on 11/Aug/19
It's very likely that she is around 5'9.65" (the average guess after 42 votes!)! 82 comments will soon become 83!
Junior Hernandez 1990
said on 9/Feb/19
There is at least 18cm between her and 194-ish Darius Campbell we all sees it. She needs a downgrade to 5'9 1/4.
Peter 180cm
said on 19/Jan/19
She's dropping alot of height and still looks atleast 177cm if not 178cm.She's 176cm at worst.
Sarah
said on 25/Dec/18
Almost 5'10
Junior Hernandez 1990
said on 10/Sep/18
She probably holding a lowest 176cm not more. Her ex Darius Campbell look solid 6'4 and a tap bit taller with her.
Kafka
said on 11/Aug/18
Well that's about right. 6'2 Darius I put 4-5 inches over her.
MAD SAM
said on 4/Aug/18
She looked stunning in Species when she dyes brunette, I guess she's exactly 5'9.5" at 176.5 cm that's what she looks in the movie with heels
Nik
said on 2/Aug/18
She looks very towering!
Junior Hernandez 1990
said on 11/May/18
If she is close to 5'10 then Darius Campbell would be 6'4.75. Natasha came below Darius nose without a hair.
BilboBaggins12
said on 23/Feb/18
Definitely very close to being 5' 10".
Sissy
said on 31/Dec/17
She might be taller then most actresses, but her beautiful looks knocks the ball out of the park!
Suzanne
said on 8/Dec/17
I would say 5ft9 tops I am 5ft9.75inches barefoot. In 3 inch heels I am easily 6ft1 Natascha looks between 5ft10-6ft in the picture shown
Subwoof
said on 30/Oct/17
5'10. Could be taller or shorter though.
Anonymous
said on 7/Oct/17
shes's probably wearing heels.
Editor Rob: yes she is in heels that day.
5'11.25 at noon.
said on 23/Jul/17
Same height as Gadot 5'9.5 to 5'9.75
even
said on 5/Jul/17
at least 5'9.5" probably 5'10"
Mimi
said on 21/Jun/17
Ignoring the footwear difference , she looks like 6fter right Rob?
Editor Rob: she looked close to that height standing there that day.
Marquis
said on 29/Mar/17
Looks 5'10" in most everything I've seen her in.
Sandy Cowell
said on 6/Nov/16
I saw her yesterday in 'Species.' She did come over a bit taller, possibly by more than an inch!
MC
said on 17/Oct/16
Rob if she's 2.2 inches more footwear than you does that mean her heels are giving 3.2 inches of height?
Editor Rob: yes roughly a bit over 3, but not as much as 3.4-3.5
Danimal
said on 16/May/15
More like 5'9.5" at night. This woman wakes up over 5'10" easily.
ricky
said on 5/Mar/15
It always seems that on SHE SPIES she looked a bit shorter.
Judd
said on 22/Nov/14
5'9.75" in my opinion!
Arch Stanton
said on 27/Oct/14
Yeah she does look a bit like a tall Kirsten Dunst!
Rampage(-_-_-)Clover
said on 22/Oct/14
Seeing that picture on the home page, I could have sworn for a split second that you'd met Kirsten Dunst!
Arch Stanton
said on 18/Jul/14
She's more than just attractive Crash!!! There's more to attractiveness than just looks. Personality and intelligence go a long way which she's got bags of too. Above all she looks like she'd be a great amount of fun to be with, similar to Charlize Theron in looks/personality. A woman who makes life fun and every day an enjoyable one being around her is really priceless!
Crash
said on 16/Jul/14
LOL yes Maestro, she has a nice pair of shapely long legs. Overall she is an attractive woman too, you're lucky to meet all of these women Rob.
[Editor Rob: it's a perk of the job, one I will never complain about!]
Arch Stanton
said on 1/Apr/14
Ah you met her Rob! She likes Scottish men! I know she's not with Darius anymore but you should have asked her how tall he really is!
[Editor Rob: I should have! I then may have also told her I once wrote a flash game called 'Stop Darius' lol...I made him look like britney and before he finished his one more time song you had to punch him out with cheese...his head popped up regularly and you simply cheesed him. ]
nick
said on 31/Mar/14
Good heaght for a pretty lady.
Jesse
said on 30/Mar/14
Rob, just wanted to ask. Can a girl who is 5'3 ever reach 178cm (5'10) in heels? or what is the maximum height a girl can reach with heels?
[Editor Rob: there are extreme heels, see
This page
for examples that have a 3 and 4 inch platform - those can then get you near 6 and near 7 inches of actual height! You could then measure near 5ft 10 in the larger versions...how the hell you walk in them is a different matter!]
Mastro
said on 24/Mar/14
I need a picture of her legs to do a thorough analysis.
steven
said on 24/Mar/14
Rob, she looks tall here, what was she wearing?
[Editor Rob: it's in the description, she had a about 2.2-2.3 more footwear this day.

If I ignored footwear (i.e. imagine she had same as me) then she did look nearly 6ft, so I think her 5ft 9.5 claim is good.]
Alex 6ft 0
said on 24/Mar/14
Looks 6'0ish in heels so yea 5'9.5 would be right for her
the shredder
said on 22/Mar/14
Still hot. looks 5'11.5 with rob.
Hypado
said on 21/Mar/14
5ft 9.5in (177 cm)
She is Beautiful
Sam
said on 21/Mar/14
She seems like the friendly sort...accurate listing IMO.
The Horse of FUNK
said on 21/Mar/14
5'9.5" it is, straight from the mouth. I always thought she was taller, like 5'10.5" or 5'11". Definitely gives a taller impression.
Yellow Mamba
said on 21/Mar/14
She has always been listed as 5'10" for the past 10 years.
Brad
said on 21/Mar/14
As listed. Forget about working with many, she'd have to be barefoot.
K
said on 20/Mar/14
It's surprising that her height affects her choice of roles so much. Based on her comments, there are quite a few short actors.
Robbie
said on 20/Mar/14
she's still hot
kyuss
said on 20/Mar/14
Yeah 5-9 defo
maio
said on 27/Dec/11
i think she's 5 ft 10 in/178 cm after 8 hrs in the bed and 5 ft 9.25 in/176 cm in for the most of the day.
I think 5 ft 9.25 in is the best mark for her.
LAN Jiao
said on 28/Sep/11
donnoe why i think shes 5ft9 flat. just 175cm next to 194-5 darius danesh.
Sankhak
said on 20/Aug/11
As I recall they showed her Driver's License in "Species," which listed her height as 5ft 10in.
Sasha
said on 30/Jul/11
In the "Species" film her character is announced as 177cm. So 5'9.5" is a precise height.
dolph lundgren
said on 7/May/09
if she is 177 cm thats put van damme at 179 cm barefoot.. so 5'1O 1/2 for van damme, end of story!
Comets
said on 28/Feb/09
wow glenn you lucky dog..could i be you for a day? :D
vinnie
said on 8/Nov/08
worked with her a few days one on one, she has to be one of the nicest people in general I ever met!
Anonymous
said on 11/Oct/08
Now here is Natasha with Amanda Righetti, who says she's 5 feet 8 and 1/2. Nat's WAY smaller than she claims.
Click Here
glenn
said on 31/May/08
im blessed.i love her.
Slaz
said on 29/May/08
I share the question with dmeyer, she seems very very friendly :)
Cheek to cheek so close to this beautiful woman lucky you, glenn ;)
ibtoadus
said on 25/Feb/08
whether she is 5'9,5'10.or 6'0 she is a KNOCKOUT,definitely one of the best bodies of modern times.
dmeyer
said on 10/Sep/07
glenn how was she she seems friendly
Franco
said on 27/Aug/07
i believe she is 178cm straight, she looks every bit of it.
she's a fantastic girl too from the picture and to add to it, she's also very beautiful although i still think her mouth is way too wide but that's a peculiarity similar to Julia Roberts, i think without it she wouldnt be Natasha Henstridge.
i love this actress.
dmeyer
said on 22/Aug/07
she is a bit taller than vandamme
Yodamite
said on 10/Jun/07
It looks like she's just as sweet as she is hot!
talker
said on 9/Jun/07
Natasha is about an inch taller than Paltrow,there's a good photo of them together,i believe she's 5'10".
Chris
said on 8/Jun/07
You probably know better. It depends how big the heels were.
glenn
said on 8/Jun/07
im going with 5-10.
Chris
said on 6/Jun/07
Yes, on the whole I think I'd go with 5'9".
msn87
said on 6/Jun/07
she's just stunning... it's unreal.
i would go with a 5'9-5'9.5
Del Mar
said on 6/Jun/07
She looks hot, and as already said you're lucky, Glenn! But surely not a little under listetd height?
Chris
said on 5/Jun/07
She looks about 3 inches taller than you. Could be 5'9", 5'9.5".
glenn
said on 5/Jun/07
every women on this site is wearing heels alongside me.especially at events.
Chris
said on 5/Jun/07
She looks a bit shorter than this alongside Amanda Peet:
Click Here
Chris
said on 5/Jun/07
Was she wearing heels, Glenn?
msn87
said on 5/Jun/07
there is a reason* hehe
jojo
said on 4/Jun/07
I've never seen Glenn look as happy as he does in these two pics....
pp
said on 4/Jun/07
It's funny how there are always people who insist on drastically downsizing female celebs. This lady is clearly very tall.
glenn
said on 4/Jun/07
thanks guys.everything else in my life wasnt too rosy.but moments like this balance it out a little.
Mimi Ka.
said on 4/Jun/07
oh you're so lucky! I think she does look like 178...
Cat Stevens
said on 4/Jun/07
Glenn, you are the luckiest person alive
glenn
said on 4/Jun/07
very sweet.
Boxing Fighter
said on 4/Jun/07
You have a good life Glenn.
Very nice!
She seems to be a nice person, isn't she?
kobby
said on 19/Sep/06
178 what a joke.. if shes 178 geena davis will put from 183 to 188.. i always watch her movie and notice she use to wear big heels and look near 6ft.. she looks 173barefoot solid flame to me..
Glenn
said on 3/Aug/06
Ive seen dorf at 5-6 and 5-7.
acidspeed
said on 2/Aug/06
have you guys seen her movie with stephen dorff ? it's called Steal aka Riders
she is about the same height as dorff (around 5'8 i think), so yea i agree with american man 5'10 is an exageration.
TNTinCA
said on 14/Jun/06
Whatever the height, she is smoking hot. In my opinion, the most beautiful actress around.
master
said on 23/Dec/05
met her in 2001,i'm 6'0 and she was eye to eye with me,but he had this heels,so she's 5'10 for sure.
american man
said on 2/Sep/05
i had seen natasha henstridge and i see that there is some exageration
she is 5 ft 8 in or 5 ft 9 in not more