Anderson Cooper's Height
5ft 10 (177.8 cm)
American TV Personality. He has mentioned on his show that he is
"Five Ten"
.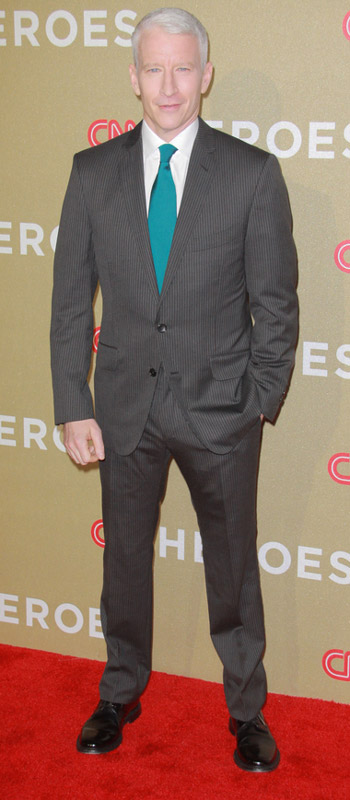 Photo by PR Photos
Add a Comment
42 comments
Average Guess (17 Votes)
5ft 9.93in (177.6cm)
John Bricker
said on 2/Aug/20
He is 5"9.5
Luke Heinz
said on 30/May/20
I don't know what you guys think, but I wouldn't go over 9.75 with this guy
Eric C
said on 5/Feb/20
@Rob How tall do you think Don Lemon is? He's listed at 6 feet on google but I saw him next to around 5'10 Andrew Yang and he looked shorter.

Editor Rob
Don claimed to be an even 6 footer, but is that barefoot? I'm not sure he looks it.
Danrr
said on 17/Jul/18
5'10" sounds correct for him. The king of fake news is about average height.
Bretani
said on 10/May/18
He is the short guy, look how big this head compare to the shoulders. Small people has always their head look bigger that tall
Kelley Arthur
said on 3/Dec/17
Saw him last night walking out of a club. 5'8" maybe. Big maybe.
Ed Kline
said on 18/Nov/17
Christian-6'5 3/8 said on 26/Aug/17
Looks 5.25" inches shorter than a 6'3.25" Conan O'Brien. Click Here 5'10" is about right for Anderson.
Really? Really 5.25? From one picture, you think you can infer a measurement that exact? This is what's wrong with most of the regular commenters here. Deep down they know from experience that one picture can be misleading depending on angle and who is closer to the camera( especially when it comes to small increments). They also know that the bigger the height gap the less accurate their inferences can be. They also should know that the celeb's height they are comparing the person too ( in this case Conan) is also an estimate because we dont know anyone's height exactly. But they chuck those notions right out the window the very next time the are commenting. They rarely if ever apply what they learn form experience with any consistency. That picture tells me that Anderson Cooper is is probably minimally 5'9.5 and could be as tall as 5'11 because Conan is closer to the camera, if Conan really is his CH listed height of 6'4, which I don't know for sure. S that one picture narrowed it down to about a 1.5 inch window at best. 5.25 indeed.
John
said on 28/Oct/17
@dan not in my experience. According to every study I've ever seen on the subject, the U.S. average is somewhere between 5'9, and 5'10. I don't know where you could possibly live in the U.S. that most men you would see are over 6'. It is certainly not true in my experience.
Christian-6'5 3/8
said on 26/Aug/17
Looks 5.25" inches shorter than a 6'3.25" Conan O'brien.
Click Here
5'10" is about right for Anderson.
blazer
said on 26/Aug/17
Met him once definitely at least a half inch under my height. I'd guess 5'9.5 at the Max!
Greg
said on 25/Aug/17
The pic with conan o'brien linked to below clearly pegs Cooper at around 5'9" (unless o'brien is wearing lifts). In regular shoes I've no doubt Cooper is the 5'10" he claims.
HonestSlovene
said on 5/Feb/17
@Dan 5'10.5" is only average among young males of european descent living in the US and a bit higher for certain ethnicities (Scandinavians, germans, dutch, czech, slavs from the balkans). 6'0" is only average in the Netherlands, Bosnia and Montenegro.
HonestSlovene
said on 5/Feb/17
He looks more of a strong 5'9" rather than 5'10" but the listing isn't that far off. 5'9.5". Average for the US, slightly on the short side for a white male (average is 5'10.25" according to the last census and 5'10.5" for young white males of european stock).
MD
said on 21/Oct/16
Another with 6'4" Conana O'Brien.
Click Here
rakesh
said on 20/Oct/16
he seems tall in tv wat is this
Chris
said on 28/Aug/16
On TV, he seemed over 6ft. Surprised to see him at 5'10"/
Jonathan
said on 25/Aug/16
I met Anderson at a book signing. I'm 5'9.25" and he was my height, or possibly half an inch taller. So 5'9.75" would be pretty accurate.
Darren510
said on 19/Aug/16
Between short and average is nonsense. 5'10 is considered average or even high average. As for Cooper I think he could be 5'10 and change
MD
said on 19/Aug/16
What a silly post, Dan. The thread had been inactive sense April and THAT'S what you decide to come with? lol
Kaneff
said on 19/Aug/16
6ft+ is not average anywhere in the US. Good grief. Enough with this 6' average nonsense.
Canson
said on 18/Aug/16
@Dan: even less so with Conan because Conan needs hair to even be 6'4 barefoot. He's 6'3 in reality
Dan
said on 18/Aug/16
It's all a matter of perspective, MD. Next to a 6'4 guy like Conan he definitely is short. In the US he's between short and average. I know the US average for men is 5' 10.5" but let's be honest here, most men in the street are 6ft+.
MD
said on 1/Apr/16
He's not short, though.
Jedi Master 5'11
said on 30/Mar/16
Didn't realize he was short lol, thought he was like 6'2"
richinkle
said on 3/Feb/16
I believe Cooper is about 5'-9". No taller.
Ivan
said on 3/Dec/15
Average height for men is 175cm or 5"9 so Anderson looks above avarage, about 5"10 looks just right for him....
Greg
said on 22/Feb/15
I used to work at CNN and would see him occasionally in the hallways of Time Warner Center. I'm 5ft11 and he was barely shorter than me. He's 5ft 10.
dude
said on 28/Jan/15
I'd put him at 5'9. Next to 5'7 ish Eminem he only looks about two inches taller.
MD
said on 16/Jan/15
With 5'9.5" Alan Cumming:
Click Here
Click Here
If Alan is what he says he's listed, 5'10" is awfully close for Cooper.
Foxtrot1
said on 27/Oct/14
I can confirm he's a full 5'10", I was on his show last week wearing the exact same sneakers and he's about 179-180. I'm 177 and he had most of an inch on me.
Sarah
said on 25/Aug/14
Saw him with Kelly Ripa a few times. Appears to be 5'9." or 5'10".
Crypto139
said on 21/Aug/14
I don't know why but after seeing him quite a bit on tv recently he seems to look kind of short next to a lot of men, then again police officers probably average a bit higher than the average population.
Still if he is a legit 5 feet 10 he looks shorter than average on the streets which is funny because all the 5 feet 10ish people I know look solid average and look more on the tall side than short imo.
Lebensdorf
said on 28/Jul/14
My mom saw him on the bus. She is 5'6. She was wearing clogs at the time and she said that he was not more than an inch taller than her. I'd say 5'9 max. He seems like a shortish guy. No way any taller than 5'9, probably 5'8.
tom
said on 24/Jul/14
Seems right, he can look taller in individual shots but I think that's down to his muscular frame - tends to look about the listed height in pictures with others
cole
said on 30/Jun/14
@Voiceless Dental Fricative: I'm also pretty sure I've seen 5'9 for him, and I think he could be between that and 5'9.5. I haven't seen enough of him to rule out 5'10 though.
Gaz
said on 29/Jun/14
Yeah he looks like an average 5'10'' guy.
SAK
said on 28/Jun/14
Solid 5'10. Looks average in general.
richkid123
said on 27/Jun/14
5'10 exactly
Voiceless Dental Fricative
said on 27/Jun/14
i swear i've seen this guy billed 5'9
Berek
said on 25/Jun/14
Nothing to suggest otherwise.
184 cm
said on 24/Jun/14
looks like a solid 5'10