Andre Benjamin's Height
5ft 10 (177.8 cm)
Andre 3000 is an American Singer from the hip-hop duo Outkast. As an actor he has appeared in Four Brothers, Revolver and Semi-Pro. On ATLiens, their 1996 album, it says 71 inches for his height.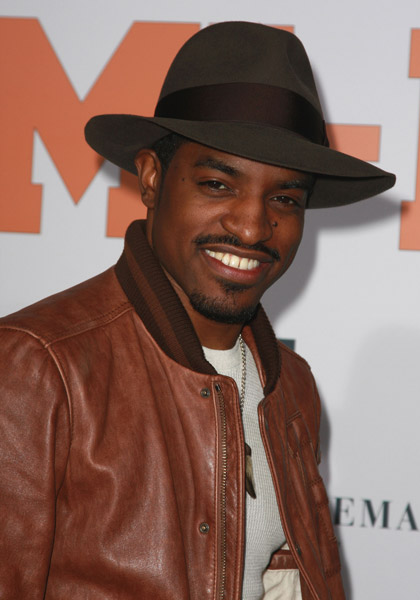 Photos by PR Photos
Add a Comment
21 comments
Average Guess (4 Votes)
5ft 10.5in (179.1cm)
Realist
said on 6/Nov/20
5'10 is right
Im 171CM
said on 19/Aug/17
Looks 5'10"ish when I see him...
James
said on 19/Apr/16
5'10 is accurate. He has photos with his son so is 6 feet tall
Ano
said on 26/Jun/14
Just found this photo of him and Will Ferrell. If Ferrell's 6'3, I don't think Andre looks quite 5'10, even considering his posture.
https://www.flickr.com/photos/venusnep/2265460357/in/photostream/
Jay
said on 11/Oct/12
Marcus I hope you arn't talking about Andrea.
Marcus
said on 21/Sep/12
Dude wears lifts. He's most likely only 5'7" barefoot.
Jeremy
said on 27/Dec/11
RayRay, he also looks really tall because Big Boi is only 5'6"
Tresha
said on 7/Dec/11
Me and my friend hung out with him for three hours back in 01' at the Omni hotel in Austin.He's super cool and chill. Not a smoker or drinker. My best celebrity meeting!
RayRay
said on 7/Dec/10
He looks like hes really tall on tv because hes so skinny but hes really not that big in real life. I walked right by him once in Atalanta, im 5'8 and couldn't tell a difference between our heights.
josh
said on 29/May/09
i think he is 5'10 because in the green light video he was taller than john legend and he is 5'9
matt
said on 25/May/09
I always thought he was very tall in my younger years because of how he towered over big boi...obviously its becase Big Boi is small.
delron
said on 25/Apr/09
i got to meet him at the l.a. international airport, he and his girlfriend were in the same terminal as i was, only i was bound for ny and he was going to atlanta...i'm only 5'7 and he looked like he was only about maybe 2 inches taller than me
sprint84
said on 14/Apr/09
Here he is next to some tall guys at the Semi-Pro premiere:
Click Here
Looks at least 6" shorter than Will Ferrell (6'3") and about the same as a slouching Woody Harrelson (5'10"). I'd say 5'9" at most, probably more like 5'8".
I never got why Andre exaggerated his height so much -- he'd have to be wearing Prince heels to reach 6'.
Snake
said on 21/Sep/08
Yea. I Am 6'0. About 2 Months Ago, I Saw Him On The Street On 86th and Broadway. He Was No Where NEAR 6'0. Like 5'7.
bobby
said on 8/Sep/08
i just saw him on the street in nyc... not a chance he is 5'10 - he looked about 5'7-5'8 - maybe he looks taller bc he always has huge shoes on
Kareem
said on 8/Aug/07
I met Andre in person at an Amusement Park in Ga Called Dixieland Fun Park. My Real Height is 6'0 1/2 without shoes and he was very close to the same height that I am.
Pete
said on 30/Jun/07
he looks so tall on videos, probably cuz big boy is short. 5-11 for him.
Tachna
said on 25/Aug/06
Well MD, maybe you should check you're height :p
nah, i mean there are a lot of people who look very thin but have a certain amount of fat on places that dont see. for instance, but, belly,...
MD
said on 13/Aug/06
Also, he's doesn't even look at 160lbs. I'm his weight, and I look bigger than him at 150lbs.
J.
said on 12/Aug/06
Yesterday, while in the car, I was listed to a radio show hosted by Wendy Williams, where Andre was the guest. During the end of the interview, she began ribbing Andre saying "I had no idea that you were so small!" then she asked him his height. Andre replied, "Right at 6 feet". Wendy replies, "you are not!. But Andre maintained, "I swear, I'm right at 6 feet". He also said that he weights 160 lbs. What do you make of this Rob?
[Editor Rob: I could swear I was right at 6ft...if I included a hat and shoes!]
Jess
said on 18/Oct/05
Considering I'm 5'1, Andre's pretty tall. Taller than my whole family at any height you say he is! What's the deal with height? It's the way he is, and being a little shorter than you might think you are doesnt mean you can't be a great musician. =D