Anthony Daniels Height
5ft 7 ¼ (170.8 cm)
Peak height was 5ft 8 (172.7 cm)
British actor, best known for his portrayal of C-3PO in the Star Wars films. Anthony has officially claimed to be
5 feet 8 inches
tall through his career.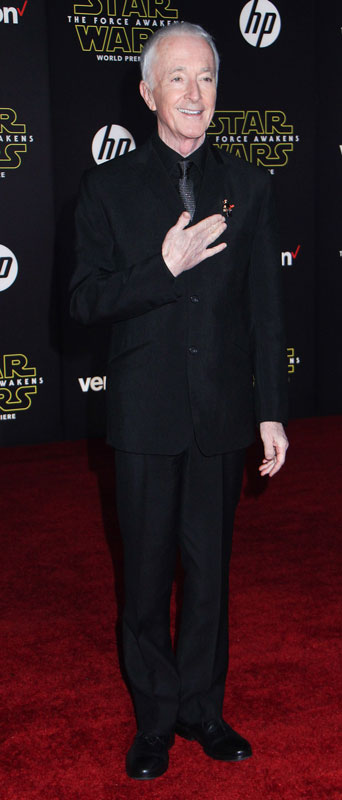 Photos by PR Photos
You May Be Interested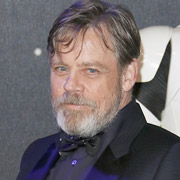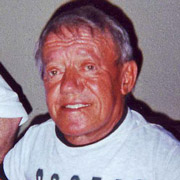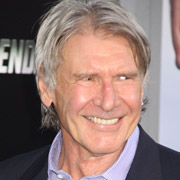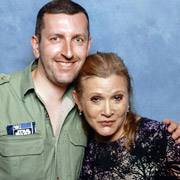 Add a Comment
19 comments
Average Guess (15 Votes)
Peak: 5ft 8.58in (174.2cm)
Current: 5ft 7.67in (171.9cm)
Nearly 180cm guy
said on 17/Mar/20
Back in 2005 when he was 59, Daniels still looked 5ft 8 next to Ian McDiarmid who had 5ft 8.75 at the time:
Click Here
Rob, I think a 5ft 8.25 is a number you can give him as peak height.
'Annonymous'
said on 3/Mar/19
Rob, I have some questions about Anthony.
1. It is possible that his peak height was 1/4 over 5'8" and Anthony could have been 5'9" out of bed?
2. At the time of "Revenge of the sith", could Anthony still be 5'7.5"?
3. Can Anthony be flat 5'7" today?
I hope that you will answer my questions.

Editor Rob
Gracian, there is a chance of a strong 5ft 8...today he might be closer to 5ft 7. I only seen him 6 years ago, he was under 5ft 8 by then, but not seen him recent years.
haxxx
said on 27/Apr/18
Klapperschlangensindgeil21 said on 18/Dec/17
It's weird the character of C3Po is listed as being 5'6 in. He looked about an inch taller than Mark Hamill in Star Wars so I would guess he could have been about 5 ft. 9 in. at his peak.
Hamill was never more than 171 cm in his prime. Daniels I think would pull off Rob's height in his prime. The actual C3PO head makes him look half an inch taller, so 5'9 I seriously doubt. If anything, he would be that straight out of bed.
Marc
said on 20/Dec/17
I always noticed he had a tad on Luke
Klapperschlangensindgeil21
said on 18/Dec/17
It's weird the character of C3Po is listed as being 5'6 in. He looked about an inch taller than Mark Hamill in Star Wars so I would guess he could have been about 5 ft. 9 in. at his peak.
Dino
said on 6/Dec/17
I stood next to him at Star Wars Celebration. I'm 5'10 and he was at least 2 1/2 inches shorter than me. I'd say the height is correct.
Travis
said on 17/Nov/17
Hadn't any idea he was this tiny.
Scarlett Rose
said on 25/May/17
I have dug out my old Star Wars scrapbooks. In one, there are the profiles of six of the major stars of the Star Wars saga at the time they were published in a British magazine (1982). They were Mark Hamill, Carrie Fisher, Harrison Ford, David Prowse (Darth Vader), Anthony Daniels (C-3PO) and Kenny Baker (R2-D2). This is what it said about Anthony Daniels...
Birthdate: 21 February [no year was given]
Birthplace: Salisbury, Wiltshire (UK)
Birthsign: Pisces
Height: 1.73m (5ft 8in)
Weight: 61kg (133 pounds)
Hair: Black
Eyes: Hazel
Education: Yes!
Home: A flat in London
Hobbies: Writing, cooking
Married: No
Fav. food: Chinese
Fav. drink: Whisky
Car: Volkswagen
Previous jobs: Member of the Law Society, three years at hotel school, barman
Fav. TV show: Tomorrow's World
Likes: Smarties
Dislikes: People smoking
If you want to read about the other five stars of Star Wars, seek the pages dedicated to them. 😊
Dean
said on 19/Jul/16
I've stood next to both you Rob and Anthony Daniels and I would say you're the same height. Definitely 5'8.
Editor Rob: I would be surprised if he was still 5ft 8 today, having met him he looked shorter than jenny side by side...
Darth Vile
said on 23/Apr/14
I met him... he is 5ft 8 inches.
ACG
said on 27/Nov/11
Dunno why, but I always thought the actor portraying C-3PO was 6'+ after learning that there was actually a man inside of R2D2. I guess this was before I really knew about dwarfism. XD
ChiasmataX
said on 21/Nov/11
Looks a flat 170cm in this picture consider their eye-level and ear-level.
Mamun
said on 4/Nov/11
Listen to your King !
Regards
SUPERMUN
taiwan
said on 4/Nov/11
same as mamun
[Editor Rob: remember mamun does look to have less footwear.

I've seen anthony before and today he looks under 5ft 8, he was about 2cm shorter than Jenny in front of me.]
CZ
said on 10/Oct/08
Anthony Daniels's height is 5'7". He said that in some interview.
Mark
said on 30/Sep/07
Daniel's in the C3PO costume looks a good 2-3" taller then Mark Hamill in the closing episode of Empire Strikes Back.
hb45
said on 12/Jan/07
I think there is no place for doubt. Anthony Daniels seems to be 173cm in Star Wars, and Anthony Daniels himself states he is 173cm. So, I believe him...
Fox Clapper
said on 18/Mar/06
Anthony Daniels is 2" taller than Mark Hamill in Episode 4. He is also 2" short of Billy Dee Williams in Episode 5. He may well be 5'8" to 5'9" Max.
Anonymous
said on 10/Dec/05
not this tall about 5ft 6