August Alsina's Height
5ft 11 ½ (181.6 cm)
American singer known for songs such as "No Love", "Ghetto" and "I Luv this Shit".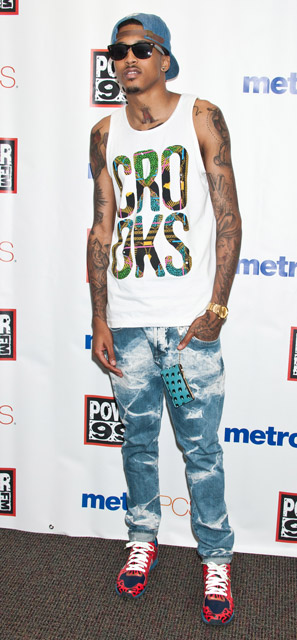 Photos by PR Photos
Add a Comment
17 comments
Average Guess (14 Votes)
5ft 10.93in (180.2cm)
Mich
said on 5/Nov/17
I went to his don't Matter Tour & bought a meet and greet ticket, I'm 5'10.. in the picture we are standing side by side, we're the same height. He is definitely below 6'0ft
Brandon
said on 17/Jul/17
Most likely 5'11 maybe 6'0 to 6'1 if we were to push it
Chase
said on 7/Jun/17
Still waiting for the downgrade. He just looks the same height as rick Ross and Chris brown has over an inch on him. I just can't see 5'11.5. At all.
yvruu
said on 3/May/17
Click Here
6'1 Bro because
His back is very crouched
And has one leg longer than the other
It is considered the long leg does not cut it
Guest
said on 10/Apr/17
Dude is 5'11 at best
Chase
said on 9/Apr/17
Click Here
Him with 5'11 Ross
Ross is 5'11 on the dot. August is 5'11 on the dot. They the same exact height in that pic and you can't argue otherwise. Chris brown has at least an inch on him so Chris needs that quarter inch upgrade that he deserves if not then a whole half inch but that half inch is not existent. I'm 5'10.75-5'11 at night so I know what these guys look like.
Click Here
J Tyle
said on 3/Jan/17
He looks to be in the 6ft range, perhaps 6ft in the mornings and shrinks throughout the day. Btw could you do the rapper YG?
MD
said on 9/Jul/16
@Rob,
Can you look at these recent posts? This is a to-tall listing.
MD
said on 5/Jul/16
I agree all of these guys are slightly off, but I'd not list any of them at the lowest heights you give them.
Either way, at the very least, the half-inch should be knocked off.
Sam
said on 2/Jul/16
August Alsina seems to be about the same height as Trey songz in most pictures sometimes shorter than trey songz. He's probably no more than 5'10 with shoes off. Here are two pics with August Alsina and Trey songz and one with August Alsina and Arsenio Hall who you have listed as 5'11 on here Rob.
Click Here
Click Here
Click Here
Rob I think you have Trey songz, Drake, August Alsina and Possibly Chris brown height listed about an inch over what they really are with shoes off. Again my guess is
August Alsina-5'9-5'10 (Look at Arsenio Hall picture)
Trey Songz- 5'9-5'10 ( Look at picture I post with Rich homie Quan)
Drake- 5'10-5'10.75 max ( Look at Picture MD posted with 5'8.75 Tyler Ulis)
Crypto139
said on 25/Jan/16
@MD
His arms are not exactly extremely long. They are skinny but are still a bit above his knees. My finger tips are very close to my knees when I stand up and put my arms by my side.
TJE
said on 6/Jan/16
181 range is fine for him.
MD
said on 5/Jan/16
He has unusually long arms, but aside from that, he's not any taller than Chris Brown and he's really just around the same height as Trey Songz. All of this insistence of 6'1" and 6'2" is crazy; he's not even 6'0".
With Chris Brown:
Click Here
Click Here
Even in that first picture with the bad angle it's clear Brown is taller.
Rick
said on 3/Jan/16
Looks 5'7 cos of his build. Probably is 5'7 really.
Chase
said on 3/Jan/16
Thanks for the addition, Rob! In the video Benediction he looks very thin which makes him look the 6'1 he claims though I'm glad this clears that up. Though he does look at least an inch taller than Rick Ross in that video, so I don't know what that says about his listing. Would like to see Rich Homie Quan and G-Eazy added too. Thanks!
Keith
said on 2/Jan/16
He's taller than Drake.
This is inaccurate.
Click Here
Editor Rob:
a guy like Drake seems to have a pose at times where he drops a fair amount,
I'm not sure
they are that much different.
R6manDan
said on 2/Jan/16
Rob / @rob
He's taller than 182, I would say between 6'1 and 6'2
Taller than 182cm drake (drake also wearing timberlands)
Click Here
and slightly taller than 187cm Jay-z
Click Here