Berenice Marlohe's Height
5ft 8 (172.7 cm)
French Actress best known for playing Severine in Bond movie Skyfall. A french casting site listed her as 172cm.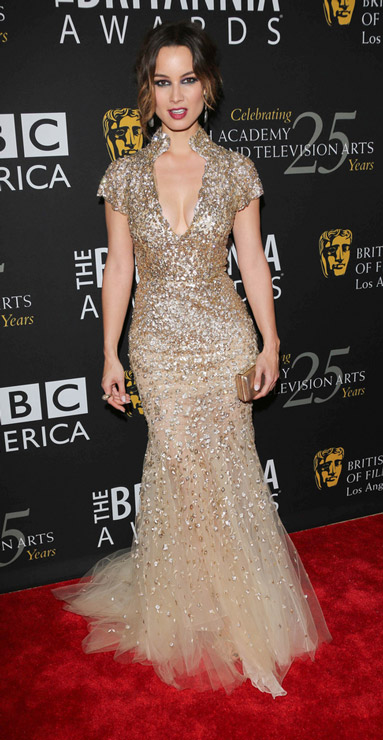 Photo by PR Photos
Add a Comment
58 comments
Average Guess (13 Votes)
5ft 7.94in (172.6cm)
Ayy
said on 17/Mar/20
172 is a bit low I think. She and Stacy Keibler, who is 179cm were pictured together both in heels. They looked the same height. If she was only 5ft7.75 would look much shorter next to a legit 5ft10.5 gal. The only explanation is that she has to be 5ft9 range or 175 cm. She is at the minimum a solid 5ft8.5 or 174 cm. The 172 measurement seems incorrect. Here is the photo:
Click Here
SS
said on 16/Apr/17
She looks 5ft7.5 in Skyfall
Chris
said on 19/Nov/16
171/172cm looks better
Bruce 5'11 2/3
said on 2/Dec/15
I think she's at least 5'7 1/2
Marcinho
said on 8/Nov/15
When a casting site listened her with 172 cm why do u think she is 173 cm?
Editor Rob: I think she looks more a decent 5ft 8
Axaros
said on 7/Oct/15
In shoes she is taller than Craig for sure!
littlesue
said on 18/Aug/15
In Britain its around 5 inches as its 5ft 4 or 5 for women and 5ft 9 or10 for men
The Dutch Guy
said on 16/Aug/15
littlesue said on 15/Aug/15
No, its about 5 inches usually
Why? Because they 'always' use 5 inches heels?
184.3cm (Night)
said on 16/Aug/15
Listing looks spot on.
Here in The Netherlands its more 4 inches between men and women.
5'7 for women and 5'11 for men as averages.
littlesue
said on 15/Aug/15
No, its about 5 inches usually
The Dutch Guy
said on 13/Aug/15
Amaze says on 5/Dec/14
yeah a tall girl - equivalent to 6'1" male
5 inches? Thats a lot for equivalence between men and women height. Between 3 and 4 inches sounds reasonable.
Amaze
said on 5/Dec/14
yeah a tall girl - equivalent to 6'1" male
Bro
said on 30/Sep/14
She looked very close to Daniel Craig in the skyfall shower scene... Id say shes atleast 5 9, or craig is shorter than listed...
Just
said on 20/Aug/13
I thougth she's at least 5'10".
Jack
said on 14/Jun/13
5'8" is definitely above average height for women, but it's not like she's 6 feet tall. Even many 5'10" actresses have been beautiful, talented, and successful
SolidSnake
said on 5/Jan/13
Is 5'8'' really tall enough to make her lose roles? In Skyfall she was amazing in more ways than one
bambi
said on 21/Nov/12
She must officially be at least 5' 8". I kept hearing 'she is so tall' yada yada. Plus, I read that she says her height kept her from getting roles in Europe. Which made me think she was Brooke Shields tall lol, but she is just 5' 8". Wouldn't be surprised if she played down her height.
solomonic 9304
said on 6/Nov/12
she's so beautiful and seductive in Skyfall. a perfect role for her....
Mark
said on 19/Sep/08
Sorry guys i've got only three questions.How can you convert cm into ft or the opposite?Really what's this thing that you say:"336" tall or whatever.I can't understand this ****.How do you convert it??
JokeMaster
said on 6/Apr/08
Watson: Why are you painting your front door yellow Holmes?
Holmes: It's a lemon entry my dear Watson.
glenn
said on 12/Nov/07
yes,tom could be 6-2.as for the singer of destruction,i didnt find him as tall as you say with boots,but as with angelripper i think he is 6-2 as well barefoot.
Dave
said on 12/Nov/07
Glen, have you ever met Schmier from 80's german thrash band 'Destruction'?.... I saw them last night and i was very impressed at how tall schmier is!!!, he was wearing big boots which gave him about 1.8 inches, BUT.... so did i, and im 6'1 flat. (183), my brother is about 185 and my friend 180.... But schmier towered over us. He looked about 6'6 in those boots, i think he must be a 6'3-4 flat minimum. I was just curious if you knew the band or met him before.
He always gave the impression of a big guy, but hes one of the few guys that lived up to my expectation height-wise when meeting them.
Dave
said on 28/Oct/07
Onkel tom angelripper is closer to 6'2, im 6'1 (barefoot) and i met him at wacken open air this year, he had an inch on me, we were both wearing very similar boots. Needs a slight upgrade rob. Even glenn can maybe vouch for me, Glenn, did you think tom could be as high as 6'2?
€.P.
said on 7/May/07
i have a photo with him. He was a funny guy who took photo with my physics notebook and appreciated me:))
Metalstud
said on 29/Apr/07
O guess Chuck schuldiner was somewhere between 5`7 - 5`9. I am about 5`8 and he did not look tall compared to the other death members.
Dunken
said on 9/Nov/06
Sodom rules. the galloping breakdown in Magic Dragon is one of my favourites.
cool to see some old-school thrash fans.
LuckyLuciano
said on 19/Oct/06
Glenn you going to see the mighty IMMORTAL in NYC?!? I got my VIP tickets!13.07.2007 - New York - BB King's!!!!!You gotta go!!!!!
Glenn
said on 18/Oct/06
And of course Pleasure To Kill!
Glenn
said on 18/Oct/06
Great album.but Cause had a blatant Slayer ripoff or 2 that annoyed me.my faves are Renewal, Outcast and Endorama.
ER.
said on 17/Oct/06
Not to big of a fan of "Enemy..." either. I like Kreator best when they play/played pure thrash, not too technical or experimental. Their best effort which was somewhat in that vein is in my opinion "Cause For Conflict".
Glenn
said on 9/Oct/06
Not to sound argumentive,but nobody I know likes Enemy.Violent was good,but experimental is what makes the return to pure trhash fun for most. not me.I miss and want exploration.not stagnation.same with Voivod.they SUCK since the went back to basics.Newstead ruined them.the new cd,everyone I know finds it one of the worst cds ever!
Marc
said on 6/Oct/06
SorryGlenn, but I hated Kreator'ss exiperimental stuff, like Endorama. Enemy of God is amazing though.
Glenn
said on 3/Oct/06
Must add Forced Entry,Infernal Majesty,Bloodfeast,Evil Dead,DBC,Zoetrope,Meliah Rage,Agent Steel,Leeway(Hardcore genre,but sounds thrash to me)Raven,Tokyo Blade.sorry guys,had to shout those out and represent true Thrash Metal,Underground or Euro.Im sure Ill recollect others.bear with me.hopefully,someone or many will enjoy these lists.thanks.
Glenn
said on 2/Oct/06
Yeah,Marc I prefer Kreator, especially the experimental albums.I dont care for the new Sodom cd.sorry ER,didnt see your post.fave Thrash or Euro metal would be in no order, Rage Perfect Man,Kruiz,Helloween Walls Of Jericho,Hallows Eve Tales Of Terror,At War,Hirax(1st 2 lps),Guillotene,Testament Low,Demonic,Overkill(everything)any Voivod except last 2,Artillery,etc.fave Metal in general would be Maiden Killers, Black Sabbath Master Of Reality, Sabotage, Mercyful Fate Melissa,Dont Break The Oath,Celtic Frost Into The Pandemonium,To Mega Therion,Mr.Bungle,Deep Purple In Rock,Van Halen Fair Warning,1984,Rush Hemispheres,2112, Dio Holy Diver Judas Priest Hellbent For Leather,Stained Class etc.
Glenn
said on 2/Oct/06
Gene told me Chuck was taller than me,which Im not sure on.
Marc
said on 1/Oct/06
Gene Hoglan is a big guy. Here he is with Chuck Shuldiner, who I think was about 5'8":
Click Here
Sodom's a cool band, but I prefer Kreator (in terms of the german thrash bands). I met KReator ater a concert, they were cool guys. Mille Petrozza was about 5'9", but the drummer was big as hell (like 6'4").
Marc
said on 29/Sep/06
D. Ray Morton: I have this pic of Hoglan next to Chuck Shuldiner - he looks massive. Chuck I think was only like 5'7" -5'8" anyway.
Marc
said on 29/Sep/06
Yo Glenn: You listen to the other teutonic thrash bands? I personally like Kreator m/. The lead singer/guitarist Mille Petrozza is about 5'11, and the durmmer is really big (6'4"). I met them back stage. They're cool guys too.
I just got Sodom's new album by the way...
ER.
said on 3/Aug/06
Glenn: Wow, tough one, but if I were to choose a few I'd probably say: Metallica - Ride T.L., Dan Swanö - Moontower, Death - Human, Cynic - Focus, Helloween Keeper O.T.S.K. I, Dark Angel - Darkness Descends. That was just a few, there's more though, too many to mention. What are some of yours..?
Glenn
said on 31/Jul/06
What are some of your favorite albums?
ER.
said on 30/Jul/06
Glenn: Yeah, some. Not as much as you probably have though, I started out collecting mildly in the early 90's when Metallicas "Black Album" came out, and got more serious about in the mid-90's. Love the Bay Area scene-releases and the Germany 80's thrash, also a little bit of NWOBHM and black/death. My collection is by no means complete though, there's always stuff I'm looking for. The net has helped a lot in that aspect.
Glenn
said on 30/Jul/06
Thats what Hoglan said to me and did look close to it.350 at least.
D. Ray Morton
said on 29/Jul/06
Hoglan is 6'4"?? Then he must weigh around 400 lbs.
Glenn
said on 29/Jul/06
Rob-too low on this guy.6-1 minimum.6-2 max.please change this.thanks.
Glenn
said on 29/Jul/06
ER-Ive been collecting metal vinyl since 1983! so yeah,got some rare stuff.and you?
ER.
said on 28/Jul/06
Ah, thanks for those answers. Never realised Hoglan was as tall as 6-4, he has always looked big though. Do you collect any metal vinyl by the way? Do you have much rare stuff? thanks.
Glenn
said on 22/Jul/06
No on both Cliff and Chuck.Cliff was before my time.I heard 6-2.Chuck, I tried to get into a sold out gig and regretfully went home due to cold and having to wake up in the morning.I usually wait after a gig,even if I cant get in.he gave me the impression of a 5-8 guy.he was according to Gene Hoglan(6-4), 5-10.Im believing more 5-9.Les I see on occasion(6-1,6-2).
ER.
said on 21/Jul/06
Hey, Glenn. Did you ever meet Cliff Burton and/or Chuck Schuldiner (both deceased)? And how about Les Claypool? Amazing bassist.
Glenn
said on 29/May/06
One of the best live albums since Nugents Double Live Gonzo,Priest Unleashed in the East,Halfords Live Innsurrection,and the unreleased Van Halen Live At The US festival.and Im not big on live lps.
Glenn
said on 27/May/06
Bumped into PUNGENT STENCH and MACHETAZOS last night.
D. Ray Morton
said on 27/May/06
"Mortal Way Of Live" is a classic!
Glenn
said on 26/May/06
Just please remind me.I hate when people pick live albums,but in this case that first live album with the caligula type cover is one of the best live lps I ever heard.cant remember name.mortal way of live? or was that the 2nd live lp? marooned was 2nd no? studio, I might have to agree with you.
ER.
said on 26/May/06
Glenn, cool! Thanks. What's your favourite Sodom-album by the way? I prefer "Agent Orange" myself. Fantastic album.
Glenn
said on 26/May/06
I met everyone in metal ER.maybe Ill put some up tonight.if I dont,please remind me next week.
ER.
said on 26/May/06
How about putting up more pictures of the hardrock/metal-celebreties you've met Gleen? ;)
Glenn
said on 13/Apr/06
I didnt know you knew this kind of stuff Ray! its been the same lineup since 1997.so not the 80s lineup.
D. Ray Morton
said on 13/Apr/06
OMG -these guys were great. Did you meet Chris "Witchhunter" and Frank "Blockfire"? lol
Glenn
said on 13/Apr/06
First time ever in this country.6-1.