Charlie Bewley's Height
5ft 10 ½ (179.1 cm)
British Actor best known for roles in films Twilight: New Moon, Hammer of the Gods and The Vampire Diaries (as Galen Vaughn). These pictures (by Malcolm) were from a Massive Events Twilight Convention in Birmingham, 2010 and 2011. In the bear shot I had about 0.3 inch thicker footwear than Charlie. In 2009 when asked
"how tall are you??? For erm...purely scientific reasons"
he said
"5.10.5"
. Also he said his shoe size was 10.5UK.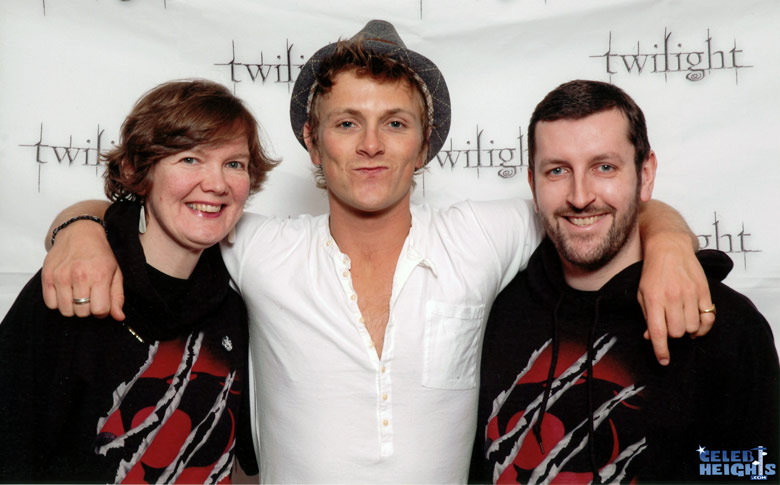 5ft 8 Rob and Charlie
You May Be Interested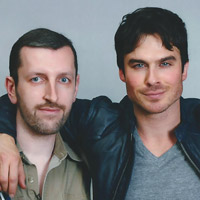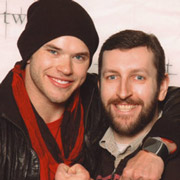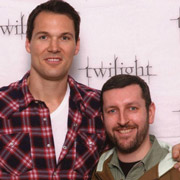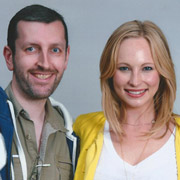 Add a Comment
43 comments
Average Guess (28 Votes)
5ft 10.67in (179.5cm)
OriginalAnon
said on 30/Apr/21
His claim looks legitimate. Someone who doesn't exaggerate.
Cathy Wu
said on 6/Jun/20
Rob, what do you think his morning height and low height is then? I read one of your replies saying that Ciarán McMenamin looks shorter than Charlie Bewley and has a morning height of 181 and a low of 179.

Editor Rob
Charlie might still hold 5ft 10.5 at dinner time, I'd call him a solid 5ft 10.5 guy.
JohnMoore-162cm
said on 5/May/20
His claim is believable , 179 cm guy
Miss Sandy Cowell
said on 9/Aug/19
If Charlie has any brothers, he could be one of the Bewley Brothers that David Bowie sang about in the album 'Hunky Dory'! There is a slight difference though; David's song spells Bewley with an L-A-Y, instead of Charlie's L-E-Y.🎶
Charlie gets a young 'n' handsome 5ft10.5.
Bobby 178cm
said on 18/Feb/19
Rob's eye level is at his mouth in the lower picture, which usually dictates a 3-inch difference in stature. So, I wouldn't go less than 5'10.75 for him. I think he's very close to 5'11. Even though Charlie is stretching up a lot in the bottom photo, Rob would no doubt match his posture as best as possible for an accurate height comparison. So, I would not go under 5'10 for this guy, that's just laughable. I would say closer to 5'11 than 5'10.
Nik
said on 22/Jun/18
At a push 5'10", but probably slightly less!
MAD SAM
said on 31/May/18
Gonna give him as almost 180 cm
Ajay
said on 22/Mar/18
Rob how come he claims 5'10.5 when he looks 5'11ish? Do you think he measured at his very low or could he drop a bit below 5'10.5?

Editor Rob
I think his claim is believable, he got measured obviously at that mark.
Snape
said on 17/Mar/18
Looked 175-177 in Renegades
Ben
said on 27/Oct/17
Seems taller than 179 in those photos.
even
said on 17/Jul/17
morning 5'10.5"
night 5'10"
S.J.H
said on 12/Jul/17
I will put Charlie Bewley as 5'10 in mind. Jamie Campbell Bower is 5'11 not 6'0
S.J.H
said on 6/Feb/17
5'9.5 from bear shot plus 0.3 less footwear he is 5'9.8 but if rob is few mm over 173cm in bear shot then he is 5'10 and his shoe size UK 10.5 is a little large for a 5'10 guy. I have know two 5'10 guy one wear a 8.5 UK and another 9.5 UK. I wear size 12 UK but i'm 9" taller than Bewley which i consider to have normal feet size can't imagine bradley cooper having a size 13 UK feet at sub 6'0 range..
HonestSlovene
said on 14/Jan/17
Looks very similar height to me, maybe a touch taller. 5'10.5".
SammySmith
said on 16/Nov/16
Holy crap I always thought he was 6'2.
S.J.H
said on 27/Sep/16
Bewley can't be 1.5" shorter than jamie campbell bower. One of them lie about their height for sure
Sam
said on 27/Aug/16
5'10.5 seems fair, doesn't look over it though.
Peter 180cm
said on 31/Mar/16
178cm in first pic with less footwear,180cm or strong 179 in second one,so 179 which is what he claimed anyway is fair.
S.J.H
said on 5/Mar/16
He look at least 8.5" shorter than 6'6.5 daniel cudmore. Use 5'8 jenny above to compare, we could see a 5'10 flat charlie
S.J.H
said on 1/Oct/15
A big 177cm guy. 5'9.75 on the spot
Dale
said on 10/Jul/14
Perhaps he looks about 1.5-2 inches taller than Rob I guess.
cole
said on 23/May/14
Looks about right in the bottom pic.
avi
said on 25/Jun/13
no way in hell theres more than 2.25 here. sorry...
thc
said on 26/Mar/13
i see a difference of cm, 179 CM spotted
Adam
said on 25/Mar/13
Some of you people are insane...obviously has more than an inch on Rob and Jenny in these pics. Get your eyes checked!
Yitzhak
said on 11/Mar/13
Looks a legit 5'10.5".
jimmy
said on 10/Mar/13
He looks only about 5'9"(maybe a bit more)next to 6'6" Daniel Cudmore.Nowhere near 5'11".
richkid123
said on 27/Feb/13
looks 5'10.75" to me. 5'9" - 5'10" is bogus
Elijah
said on 30/Dec/12
Looks around 5'10" in the first shot, which makes sense considering the footwear advantage Rob had there... second shot he's clearly closer to 5'11" with the more or less equal footwear (but could he have been lowering Rob and Jenny when he rested his arms on them?). So his listing seems pretty spot on.
Peyman
said on 27/Dec/12
thats how a real 179cm guy should look like
I'm 6ft & my difference with a measured 5ft 10in friend of mine is slightly less than that.
Dmeyer
said on 15/Aug/12
Statham like sly have a built of 5'11 man
phl
said on 11/Feb/12
rob is a generous guy, thats all.
avi
said on 24/Dec/11
5'10 storng 5'10 Rob what is this tendency to boost certain peoples height with .5-.75 inches?? this happened with Daniel Cudomre
Triplescrew
said on 19/Dec/11
jake, 1.82 m says on 24/Sep/11
Doesn't look over 5ft9.75 in this picture.
---------
If Rob is 5'9 in the morning there is no way this guy is below 5'10.25".
jake, 1.82 m
said on 24/Sep/11
Doesn't look over 5ft9.75 in this picture.
Martin
said on 25/Aug/11
dicksock says on 3/Jun/11
Talie says on 6/Mar/11
I know Charlie, he told me he's 5"11 im 5"6 and he's a fair bit taller than me Click Here
There's clearly only 5" between you... He has a whole head on you. You're coming out to around 5'2" max if he's 5'11".
Dito, what people say and what people are is two totally different things. Most people are not completely honest with their height. Everybody exaggerates a little. That's common knowledge. And I think many people not necessarily care or know how tall they are either. So they might just say something.
dicksock
said on 3/Jun/11
Talie says on 6/Mar/11
I know Charlie, he told me he's 5"11 im 5"6 and he's a fair bit taller than me Click Here
There's clearly only 5" between you... He has a whole head on you. You're coming out to around 5'2" max if he's 5'11".
jana rene
said on 4/Apr/11
i dont know but i saw the movie eclipse and mother cried say oh my gosh that so beautiful,i laughed at her its so funny but my mother stopped crying and smacked my head.
BenMussolini
said on 1/Apr/11
@Talie
If he's 5'11" you look a lot closer to about 5'4" in that shot-- but angles and slouching and such can come into play I suppose. Maybe he was in boots and you in flats?
Talie
said on 6/Mar/11
I know Charlie, he told me he's 5"11 im 5"6 and he's a fair bit taller than me
Click Here
sean89
said on 5/Feb/11
5'10.5 179 cm?
Dean
said on 24/Jan/11
no way 3 inches! lol hes 177 at best from this photo.surely rob? How can he be anymore than 178? no shoe difference? confused.com lol
James
said on 2/Jan/11
yep looks 5'10 tops next to rob.