Chris Barrie's Height
5ft 11 (180.3 cm)
English actor best known for playing Rimmer on TV comedy series Red Dwarf. He has also had memorable roles in The Brittas Empire and Tomb Raider. This photo was from a Collectormania in Glasgow. Barrie has consistently listed himself in the Spotlight casting Bible as
Height 5 feet 11 inches
.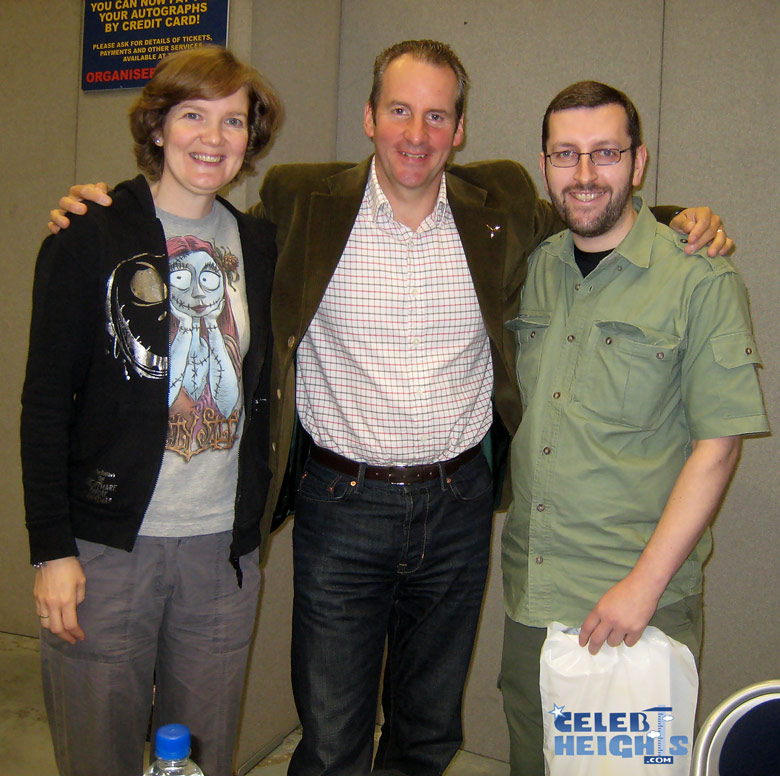 5ft 8 Rob and Chris
You May Be Interested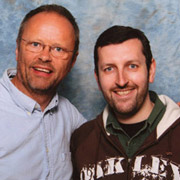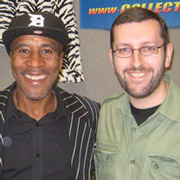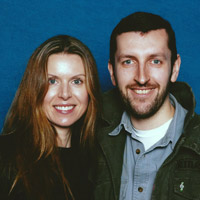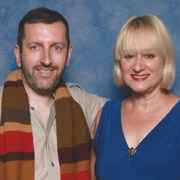 Add a Comment
18 comments
Average Guess (14 Votes)
5ft 10.86in (180cm)
Nik Ashton
said on 10/Feb/20
I don't think he's lost much height!
R-A-N-D-O-M C-E-L-E-B!
Miss Sandy Cowell
said on 25/Nov/19
Chris just popped up as a random celeb and I thought I should scoot over to his page to see if I'd mentioned that he'd starred in an episode of the infamous 'Blackadder'. Indeed I have, so this time, I shall expand a little. The episode is from Blackadder the Third, and is a send-up of the French Revolution. You can compare Chris, who plays a nasty Frenchman calling Baldrick a 'little gnome' and a 'stinky wead', to Rowan Atkinson, Tony Robinson and the very tall Nigel Planer, and that's merely from the mini clip I saw a minute ago. If my memory serves me correctly, Tim McInnerney has a part in this too. I can see him (Chris) at 5ft11, yes! He towers over Tony and can look Rowan straight in the face while they're conversing.
I'm not going lower than 5ft11 because there is only one box, and I doubt he's lost anything very significant.
⭐ My Mum used to enjoy watching 'The Brittas Empire' with me. In fact, she was the one who got me into it. 😃👍 Oh yes - and another show was 'Waiting For God', a sitcom about the goings-on in an old folks home, and considering the ages of the people it centred round, it was really rather racy! 😂😂😂
Duffer 5ft 11
said on 1/Jul/19
5'11" then
5'10.5 now
Sandy Cowell
said on 6/Mar/19
Nice, warm picture of Chris, Rob and Jenny.
There's a distinct possibility that Chris is 5ft10.5 now. 😁👍😃🤝
Befoure
said on 16/Feb/19
He's around 5 10 now.
Sandy Cowell
said on 5/Feb/19
Chris was in a 'Blackadder' too!
5ft11
Rampage(-_-_-)Clover
said on 20/Jan/19
Looks a strong 5ft11
Nik
said on 1/Sep/18
I certainly think that 5'11" was liable for his peak height!
Sandy Cowell
said on 19/Apr/17
I saw the 'Blackadder II' episode over Easter, and very funny it was too - all over again!
Chris was seen with 6ft Tim McInnerny looking him straight in the face, as indeed was the case when he was chatting to Rowan Atkinson, 5ft11.5 I think in those days.
I feel almost inclined now to believe that Chris could have been slightly more than 5ft11 at his peak, but if I had any doubts before, then they were quoshed with that episode!
5ft11, strong, for Chris with none whatsoever deducted!
Sandy Cowell
said on 12/Feb/17
I loved him in 'the Brittas Empire' - and so did my Mum!
We used to watch it together and laugh...those were the days!
That's quite tall, 5ft11! Chris starred in an episode of 'Blackadder', and apart from dear old Tony Robinson's Baldrick, I've never, ever seen an even remotely small/average- heighted actor star or guest star in 'Blackadder', so on those grounds alone, I was expecting Chris to be about 5ft10.5/11!
I am going along with 5ft11, though he's bound to be a bit smaller now, but there is only one box, so I'll go for the man's peak height! 🐍🍻🐍
(He's definitely smaller in the above picture with Jenny and Rob! Just as well I'd already written my piece when I took that in!)
Editor Rob: Barrie I think in last 2 years is probably at a stage of losing a small fraction...but over 5 years ago still looked near 5ft 11, noticeably above how 5ft 10 men look to me.
Shalom
said on 1/Dec/16
He's arounf 5 10 now.
S.J.H
said on 1/Nov/16
Chris Barrie is always 5'10 no changes and Llewellyn 5'11
Lelman
said on 23/Oct/15
You think he could have been a fraction above this in his prime?
[Editor Rob: hard to say, always possible though]
Esther Roadnight
said on 12/Aug/13
He's around 5'10 to 5'10 3/4.
Dan
said on 8/Jan/13
I always thought he was more 6'-6'1 when you compare him to Craig Charles and Danny John Jules in Red Dwarf.
footballed28
said on 21/May/08
Is it me or does he look 6 inches taller than Jolie in this picture?
Click Here
wouldnt that make Jolie 5'5-ish?
Dai
said on 16/May/07
Always looked same height as Kryten, but that was because of his faultless posture. 5'11 seems accutate
Anonymous
said on 11/Jan/07
he does look a solid 5' 11" in Red Dwarf