Chris Eubank's Height
5ft 10 (177.8 cm)
Former British Middle and Super-weight WBO Boxing Champion. On his official site it said:
"Standing at 5'10 and with a reach of 73 inches"
. In this convention photo Chris had about 0.6-0.7 inch more footwear than me.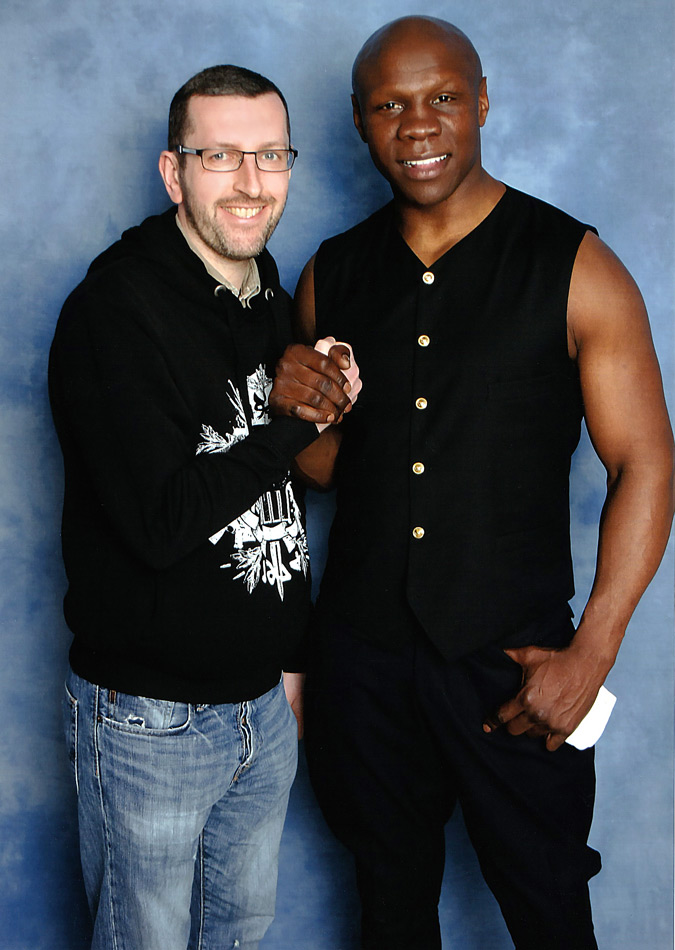 5ft 8 Rob and Chris @ Collectormania 2014
You May Be Interested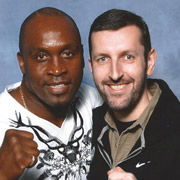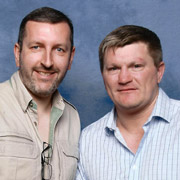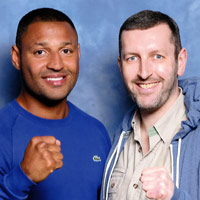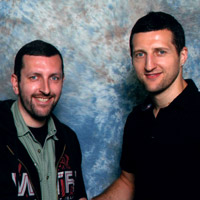 Add a Comment
68 comments
Average Guess (43 Votes)
5ft 10.18in (178.3cm)
Scott 5'6
said on 3/Oct/20
I think he's 5'10 flat and 6'0 in shoes
Nathan Hatton
said on 24/Sep/20
Chris Eubank Jr can look near 5'11" looks a bit taller than his dad he might be 179-180cm being specific
Preeme
said on 14/Sep/20
Jr is 179 at very worst, always looks taller than his dad by about 2 cm, just look at the photos of them together, only time when they look similar height is when Jr is wearing boxing shoes and Sr wearing thick heels like in the photo with Rob above. Also look at the recent pics of him with 5'10.5 listed here Roy Jones, Eubank Jr looks taller than him
5'10.75 would be a fair mark for Chris Eubank Jr. A very good example of weak 180 cm guy
Joseph175
said on 12/Feb/20
Eubank Jr. should be 179cm. At worst 178.5
Sean william Winter
said on 26/Nov/19
rob here photo full body shot. i dont think junior is much taller than his father maybe 1/2 inch.
Click Here
:

Editor Rob
179-80 is possible for Eubank Jr
Beej
said on 27/Sep/19
5 9 - loves a 2 and 1/2 inch heel ; )
Boxing fan 07
said on 18/Jun/19
He looks 0.25" shorter than Tyson. I say 5'10"
Bobby 5'10 (178cm)
said on 4/Feb/19
That footwear advantage explains why he looks closer to 5'11. Is a fraction over 5'10 possible for him?

Editor Rob
5ft 10 1/8th is possible for him. But as I said years ago, I think Chris is a guy if he measured over 5ft 10 he'd list himself at it.
Nik
said on 1/Jan/19
@ Sandy Cowell - Oh, I didn't know that! I am now wondering what was said!
Canson
said on 30/Dec/18
@Rob: he may look a hair over 5'10 even with the footwear advantage. How was his posture when you saw him in other moments outside the pic above

Editor Rob
Eubank is a confident guy who seems to walk reasonably tall from what I remember.
Sandy Cowell
said on 29/Dec/18
@ Actually, Nik, that comment made by the late, great Caroline Aherne's alter ego Mrs Merton, has an extremely rude double meaning! 😂🙊
Chris gets 5ft10.
Nik
said on 16/Nov/18
@ Sandy Cowell - I would love to have had a ringside seat when this other boxer licked him!
😁😂😜💪!
It has got to be said that Chris Eubank is a strong 5'10"!
Sandy Cowell
said on 15/Nov/18
I wonder if Chris was a fan of 'Mrs Merton' after she asked him how it felt after some other particular boxer crept up behind him and licked him in the ring?
🤔😂😊
Today Chris can have 5ft10.💪
Zampo
said on 2/Sep/18
I think Eubank looks a little above 5'10.5 in the photo. Maybe about 179.4 cm. Subtract the footwear advantage (1.7 cm) and you get around 177.7 cm in this pic. His posture seems loose s I reckon he could squeeze out a few mm if measured. He is probably about 178 cm. A solid 5'10 guy.
Brenner
said on 6/Aug/18
Rob,how tall do you reckon Billy Joe Saunders Is? He's listed at 1.80 which is very suspect. He looked similar to Kell Brook in a photo from last year. I would say 5'10 at most. Possibly 5'9 1/2 even ?

Editor Rob
I think 5ft 10 range looks possible
Nik
said on 31/Jul/18
For me he is 5'10" - 5'10.25"!
Adnan
said on 24/Mar/18
176-177 cm
JJJ
said on 26/Feb/18
@Editor Rob: Fair enough. I did not see the quote at the top, my mistake.
JB - 5'9
said on 24/Feb/18
Looks more 5'10.5 to me. He has a very casual posture in this picture and still manages to appear nearer 3 inches taller than 2 imo. I would say his mouth is lower than the average man, and yet Rob's eyes still manage to level with it. Also, his eyes are nearly level with Rob's hairline which indicates a wider gap that 2 inches apart.
@Editor Rob: what do you think?

Editor Rob
He looked in the 5ft 10.5 range that day, but he had a thick heel on, 0.6-0.7 more than what I was in...
PhysicsEnemy
said on 15/Feb/18
Groves is 1.75-2" taller than Jr in head to heads, far more sturdily built too. Not seen Jr look taller than Sr.
sean89
said on 22/Jan/18
rob how tall is chris eubank jr? hes listed as 5'11 a lot??

Editor Rob
He looks taller than his Father, but how much? A full inch I'm not so sure on!
Blake
said on 6/Jan/18
Rob, how tall would you say his estranged son Nathanael Wilson is? Here is a photo with Ricky Hatton
Click Here
Editor Rob: over 5ft 8, maybe close to 5ft 9 is possible.
movieguy
said on 3/Dec/17
Looks 5'10''. Boxers heights aren't always exaggerated for those who doubt the listed heights of Muhammad Ali or Anthony Joshua SAY.
Beej
said on 30/Nov/17
5 '10...and is also fond of a heel on his boots remember ;)
Faza
said on 9/Oct/17
His son eubank jr is a very good exciting fighterlooks 5ft11 to me taller than his dad could be a weak one could face george groves now who i think is a solid 5ft11 guy be interesting to see jr and groves how they match up
faza
said on 14/Sep/17
yes Vibram, I think Eubank Jr is listed 5'11 on boxrec that is about right could be a weak one as you say I would guess he is 179-180cm, Ironically Billy Joe Saunders is listed 5'11 same as Eubank Jr when he is clearly shorter, I think he is 5'10 max but can look 5'9 range imo.
Saunders could be 176- 177cm range in all honesty from what I have seen of him
Vibram
said on 11/Sep/17
Chris Snr: 5'10.25 / 178cm. Chris Jnr: 5'10.75 / 179cm. That would make Billy Joe Saunders a flat 5'10 (not 5'11 he listed) as he looks close to a full inch shorter than Eubank Jnr. BJS maybe even 5'9.75 / 177cm? What do you think Rob?
Click Here
Tubbs
said on 16/Feb/17
Maybe 5'10.5", I've watched most of his fights and he looked up towards 5'11 against the bigger guys he fought, Carl Thompson, Calzaghe, Graziano Rochagiani, Wharton. I think in a few of his fights he was even listed at 5'11". Also, bizarrely when he sparred with Louis Theroux there didn't seem to be that much between them.
anon
said on 9/Feb/17
Yh I agree Rob on Eubank Jr, He does look to edge out his father he is likely 179 range maybe 180- I think close to 5'11 is possible he does have a picture with Paul Pogba and looked a good 4 Inches shorter, Pogba is a solid 6'3, Andre Ward looked a solid inch or so taller than him after the fight in dress shoes, Jr has his boots on.
Andre Ward is officially down as 6'0- 1.83m thats possible though he could be a weak 6'0 like more 182
anon
said on 7/Feb/17
Chris Eubank Jr could be 5'10.5- 11?
Editor Rob: looks taller than his Father, so probably near 5ft 11.
King of the hill 91
said on 7/Nov/16
Is there a paige on carl the cat thompson rob mate
Editor Rob: I don't have a page for him
King of the hill 91
said on 3/Nov/16
Could he be 178 .5 peak how tall could carl thompson 183 .5 peak maybe rob i dont think carl would have lost height yet
Editor Rob: a man like Eubank I think if he was 5ft 10.5 would have claimed it...he has the personality of somebody who seems quite precise.
I think though there is a chance 5ft 10 and a little bit.

Rampage(-_-_-)Clover
said on 5/Aug/16
He looks 5ft10½ range but has a shoe advantage over Rob. Might be a shade under 5ft10 at worst today. But not as low as 5ft9 flat
Editor Rob: I think he'd still hold a decent 5ft 10 today.
Johno
said on 28/Jul/16
He has 1.5-inches on Rob so averages around 5'10, yeh.
Editor Rob: Eubank looked a decent 5ft 10.5 guy up close...but then he did have more shoe, so I would class him as a robust 5ft 10 guy.
anon
said on 12/Jul/16
Eubank Jr I have seen listed as 5'10 and now 5'11, He looks similar to his dad maybe bit taller, Rob How Tall would you guess Eubank Jr, maybe 5ft10.5, He was similar to Michael B jordan in a pic too
Editor Rob: Jr I think can look 179-80 range
Hulk
said on 12/Apr/16
Chris eubank jr with Jack whitehall(6'1 on this site)
Click Here
someones listing is wrong!
Emil 183 cm
said on 31/Dec/15
Morgan said on 25/Nov/14
Would a 5'10.25 guy look significantly taller than 5'9 guy?
[Editor Rob: it's a good 3cm, up close you could tell that amount between two people, but significantly taller? I wouldn't say that.]
Well, 3 cm can still make a significant difference statistically speaking.
lelman
said on 12/Jun/15
@Morgan
These two are a good example of that.
Click Here
Ramy
said on 30/Mar/15
Same like me, I am also 5'10"
Morgan
said on 25/Nov/14
Would a 5'10.25 guy look significantly taller than 5'9 guy?
[Editor Rob: it's a good 3cm, up close you could tell that amount between two people, but significantly taller? I wouldn't say that.]
ray
said on 28/Oct/14
Looks 5'10 or 178cm, His son is also listed at this height and looks basically same height as his dad so he for sure is a legit 5'10 guy too, I actually thought Eubank Jr was a bit taller at first too.
Kevin
said on 5/Sep/14
5'10 is spot on
matt
said on 15/Aug/14
Looks a legit 5'10 and so does his lad chris Jr, Looks a decent prospect too, Eubank was a boxing legend though
howaryh
said on 9/Aug/14
5'10 and a brilliant boxer
max
said on 4/Aug/14
Looks 5ft 10, His son Chris is also listed at that height looks same height as his Dad so must be 5ft10 too, Both looked around 2 Inches under Carl Froch who is 6ft
avi
said on 10/Jun/14
I think this is good example of solid 2 inch difference
Amaze
said on 8/Jun/14
his son looks 5'10 too like him, or maybe 5'10.5? chris eubank sr himself is 178cm
MJKoP
said on 3/Jun/14
This guy is forty-seven years old?!?! He may not lie about his height, but he could easily lie about his age!
dirth
said on 3/Jun/14
5'10.5 peak
5'10 today
Greg
said on 31/May/14
Ray33,
Chris Jnr is 5'10" also. Although he looks taller, I think.
Alex 6'0
said on 28/May/14
Most people are going to be very close or at their low midday anyway. If you're up 5-6 hours you're at your low or very close. More autograph signings are in the afternoon anyway though I met a few in the AM like 9-11am range
ray33
said on 26/May/14
how tall his son ?
the shredder
said on 25/May/14
Rob , is claiming your lowest your real height ?
[Editor Rob: we all have a range...in most photos I am near my low anyway.]
Vibram
said on 25/May/14
A solid 5ft10.25 in his prime (178cm) back in about 1994. Still passes as 5ft10, maybe 177cm.
The Exorcist
said on 25/May/14
Legit 5'10". He's got a really young face though - looks about 25! Ha! :)
Arch Stanton
said on 25/May/14
Editor Rob says on 24/May/14
Eubank is a kind of guy who was a real showman,
Eccentric, yeah!
Peyman
said on 25/May/14
looks a solid 179 here,
so he is probably 177.5 barefoot, 3mm under 5ft 10in is nothing. I assume him a real 5ft 10in
@ Editor Rob, who gave you a taller impression? this guy or Tyson ?
[Editor Rob: I think these 3 guys, Eubank/Toney/Tyson would all measure very close to one another, around that 5ft 10 mark.]
JohnGB
said on 25/May/14
he looks very close to 5'11 in the photo, so take off the footwear I guess he's 5'10
Afg
said on 24/May/14
He looks like a solid 179
the shredder
said on 24/May/14
He looks like Danny Glover in his face lol
Editor Rob
said on 24/May/14
Eubank is a kind of guy who was a real showman, if he was over 5ft 10 I think he would claim it!
6ft Froch and 5ft 10 Eubank
.
I thought he looked pretty much in 5ft 10.5-.75 range, take away his shoe advantage and he is what he claims, a 5ft 10er.
Although Arnie may agree with anybody wanting Eubank to be above his claim, because it would make him 6ft 2 again :)
Arnie with Eubank in October 2012
Hopefully that is a nail in the coffin that reads 'Arnie wasn't over 5ft 11 in 2012'...
Rhonda
said on 24/May/14
73 inch reach is a lot for 5ft10. Looks 5ft11 here.
Junior31
said on 24/May/14
Met him, looked very similar to mike tyson height wise. He's nothing below 5,9.75. Probably wakes up 5'10.5.
Alex 6'0
said on 24/May/14
Rob, 0.6-0.7 footwear you say. Assuming he was in boots and you were in sneakers under an inch?
Alex 6'0
said on 24/May/14
Even with the footwear advantage he looks to be close enough to 5'10. 5'9.75 maybe?
Arch Stanton
said on 24/May/14
Good addition. Solid 5'10".
Big T
said on 24/May/14
wow, surprisingly tall, looks every bit of 5'10". A rare boxer listed at his correct height?
Connor 183cm
said on 24/May/14
He looks about 5ft 10.75-11 in the footwear with Rob he seems like a good 5ft 10er.