Kell Brook's Height
5ft 8 ½ (174 cm)
Ezekiel Brook is a British professional boxer and IBF welterweight champion. This photo by Giles is from a Collectormania, he had about 0.3inch more sneaker than me this day.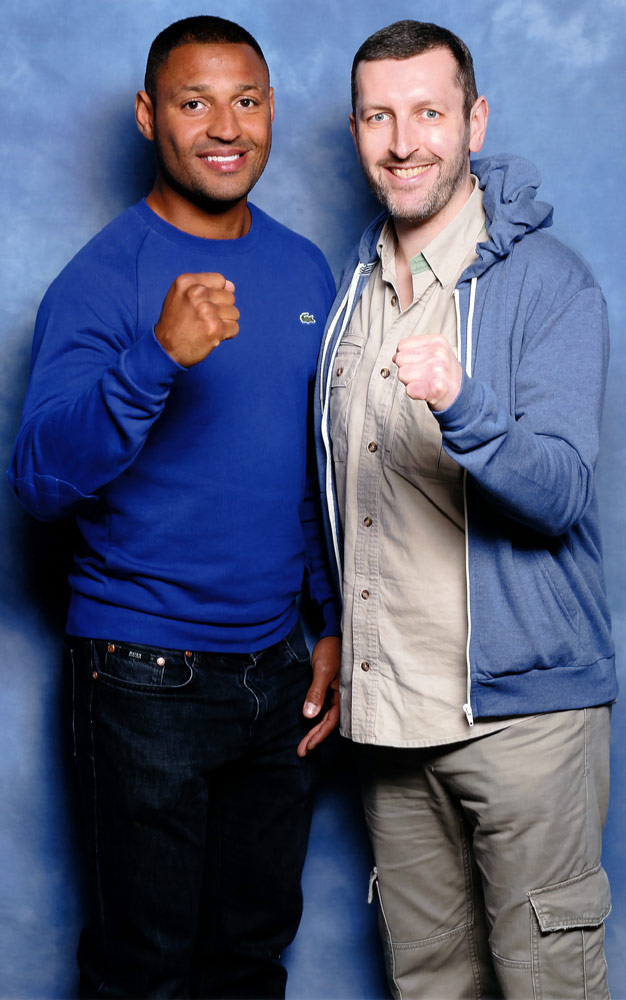 5ft 8 Rob and Kell
You May Be Interested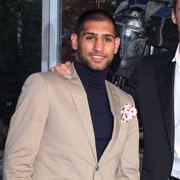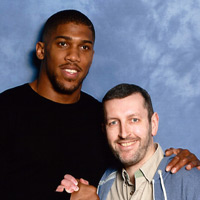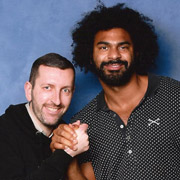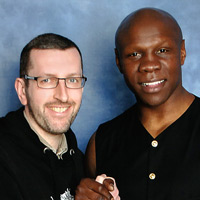 Add a Comment
59 comments
Average Guess (38 Votes)
5ft 8.4in (173.7cm)
JohnMoore-162cm
said on 17/Jun/20
He is 5ft8 1/4" without the 0.3" shoe advantage !
Aaron Richardson
said on 27/May/20
My official Height (doctor measurements)
Is 178.1CM when (barefoot)
When I met Kell, I had flats on and hes not much shorter
Click Here
Nik Ashton
said on 20/Apr/20
5'8.5", without sneak!
Rory
said on 17/Apr/20
Rob, in the picture with you and Kell he looks slightly taller, what difference would you say that is visually ? 1cm ?

Editor Rob
He has a tighter hairstyle, so I'd have said about half inch visually, although he can look 5ft 8 flat at times. I wouldn't rule that out really, 5ft 8 to 8.5 max.
Miss Sandy Cowell
said on 8/Jun/19
I came across Kell when I was rooting around this morning, so as he's just shown up as a Random Celeb, I shall take this opportunity to write him a comment!
Yes, he looks marginally taller than Rob, so 5ft8.5 will do nicely for the guy similar in name to actress and TV personality Kelly Brook...🥝🥝!
Bobby 5ft 10
said on 21/May/19
Can look around 5'9 with the footwear advantage.
Nik
said on 27/Mar/19
I would love to know how tall he claims to be!
Nik
said on 1/Jan/19
The average vote of 5'8.35" is reasonable!
Peter 180cm
said on 31/Dec/18
Not over 173cm,at most he could be 173.5
Zampo
said on 24/Nov/18
Taking into consideration the footwear discrepancy, he looks around 5'8.5 (174 cm) range, well I think 174 cm would be nearest cm he could measure to. I wouldn't be surprised if measured the average guess (173.6 cm) in the afternoon.
Bwk
said on 16/Nov/18
Seems accurate, looks a weak 5'9'' with the footwear advantage.
Nik
said on 15/Nov/18
He is at least Rob's height!
Nik
said on 2/Aug/18
I see nothing to dispute this listing!
PhysicsEnemy
said on 15/May/18
Agreed 'even', with similar footwear and posture his height's identical to Rob's, perhaps fraction less. Rob needs photo posture = to that on a stadiometer. :)
Faza
said on 24/Apr/18
Any idea on adrien broner rob?
@ anonymous i think saunders is in tge 5ft9 range he can look 5ft10 then other times 5ft9 max but i reckon he might be 176cm if measured

Editor Rob
Not really looked at adrien
even
said on 27/Feb/18
he's height is identical to rob
PhysicsEnemy
said on 4/Feb/18
Same thing with Hatton/Mayweather; Kell's more upright, Rob's legs/torso is less aligned. You underrate shoe advantage, Air Max 90's add a lot. He's 5' 8".
Anonymous
said on 18/Dec/17
Estimate on Billy Joe Saunders height?
PhysicsEnemy
said on 9/Nov/17
Rob underestimates Kell's shoe & posture advantage over him, Kell's 5'8" max. Pic is misleading in that regard.
If they stood together barefoot, with upright posture, they'd be about same height. Rob may edge him infact.
errybodyshutup
said on 30/Jul/17
"0.3inch more sneaker than me this day."
- rob the riddler
me: what the frak?
Editor Rob: well I'm in a 0.7 inch range sneaker, he has minimum 1 inch (it was possibly more, 3 people that day had nike air max 90, anthony joshua, this guy and nick blood), and they generally are 1-1.3 inch range, some models vary slightly.
anon
said on 30/May/17
What did you guys make of Kell and Errol looked similar in height, Maybe Spence is a tad taller, shame for Kell in the fight he is very good boxer but spence was too good.
As for Saunders see him listed as 5'11 looks more like 5'9 to me, I asked Rob before on a guess for him and he said 5'10 at a guess.
Editor Rob: Errol I think looked taller
World Citizen
said on 28/May/17
Around 5ft 8.25
VeryShortRussianDude
said on 15/May/17
Click Here
Rob, Speaking of Saunders how many inches does he have on AVTANDIL KHURTSIDZE in this face off? khurtsidze is listed at 5'4 and if that's correct I don't see 5'10 in this clip.
Editor Rob: wouldn't have thought above 5ft 9
anon
said on 25/Mar/17
Exorcist I would assume Spence was in dress shoes considering he was in a suit, Brook likely had some trainers on being he was in his training shirt, I think Errol is likely 0.5- 1 Inch taller he could be 5'9-9.5 range, Brook is on here at 5'8.5 and as Rob said it is possible Brook could infact measure only a small fraction over 5'8 flat who knows he could be a 173-174 range guy and Errol could be 175- 176cm who knows we will see in the ring when they fight.
Overall I think your estimates are good on Both guys
The Exorcist
said on 23/Mar/17
Brook: 5'8.25 / 5'8.5
Spence: 5'9.25 / 5'9.5
Errol looked an inch taller than Kell, but one of them will have a shoe advantage. Unless they were both wearing the same shoes.
anon
said on 23/Mar/17
Rob, Did you see the face to face presser for Brook vs Spence, If so wondering what would be you guess for Errol Spence? He looked to edge out Brook in height maybe an Inch he is listed as 5'9.5 so it could be accurate He must be at least 5'9 imo going off how he looked with Brook
Editor Rob: didn't see it, but just this moment had a look and yeah he does look at least an inch taller, in fact in one photo he looked more...but then, never rule out brook nearer my height.
anon
said on 10/Mar/17
Rob, Have you seen much of Boxer Nathan Cleverly, he is listed as 6'1.5 or 187cm looks legit to me remember him looking maybe an Inch shorter than Bellew I am guessing he must be a guy who is close to 6'2.
Any Thoughts on Cleverly?
Editor Rob: not seen enough of Cleverly yet
Rory
said on 30/Dec/16
De Gale looks 182cm. He's often been listed 184cm but he doesn't look that tall next to someone like George Groves. 184cm could be in footwear.
anon
said on 13/Dec/16
Any Idea on the boxer James Degale?
boxfan
said on 7/Nov/16
Do billy joe saunders the boxer please your site is the most accurate
anon
said on 1/Nov/16
Rob, Have you seen much of the Boxer Billie Joe Saunders gets listed as 5'11 he was shorter than Chris Eubank jr, I would have put him maybe 5'9.5 or around that not that sure tho he does look a bit taller than Frankie Gavin who looked Similar to Kell Brook so maybe Frankie is 5'8.5.
What would be your guess on Saunders?
Editor Rob: he might be 5ft 10
PhysicsEnemy
said on 20/Sep/16
Yes I was about to say like the others, he looked 5' 8" max vs other fighters. If you account for his posture and shoe advantage vs Rob in the pic, makes sense.
PhysicsEnemy
said on 20/Sep/16
I think you're a tad taller than him Rob. If you stood side by side and straight up, then deducted his 0.3" footwear advantage, you'd edge him. 5' 8" max.
Vibram
said on 19/Sep/16
To be honest, I saw a 2.5cm > 3cm difference between Golovkin/GGG and Brook at their weigh-in. If Brook is 174cm, I think GGG is 176.5cm > 177cm. Maybe 178cm straight out of bed for GGG? P.S. I think they rehydrated from 159lbs to 165lbs or 73kg to 75kg for the fight. And yeah, GGG deserves his own page. Probably the best middleweight of all time and can hit as hard as most cruiserweights, as documented. He'll put away Alvarez, won't be as quick as the Brook fight, then I don't see anybody else in the division that poses a threat.
Antonia
said on 16/Sep/16
Golovkin deserves a page her more than anyone else left out I think...someone many accounts for as the best P4P boxer in the world right now belongs to any comprehensive list encompassing celebrities on a broader, universal basis of public interest. Other boxers that might deserve to be added includes Billy Joe Saunders, Canelo Alvarez, Bernard Hopkins, Chris Eubank Jr.
Johno
said on 9/Sep/16
Yeh anon, the difference is a bit less than 1-inch.
The weigh-in, barefooted pictures are in of the two. Very similar in build.
anon
said on 8/Sep/16
Its pretty clear Golovkin looks about 0.75 taller than Brook, Golovkin is 5'9- 9.5 range likely around 5'9.25 if Brook is 174cm
Johno
said on 5/Sep/16
Judging by Brook's height and current weight; he will be big as GGG in the square ring.
Lex
said on 3/Aug/16
Johno, yesterday I saw a video of that new face off. GGG looks max 2 cm taller, but again that's due to his hair. If you take away GGG's hair advantage (which is about 1 cm), then GGG is only 1 cm taller than Kell.
MD
said on 3/Aug/16
Yeah, that's not a full inch difference in height.
Johno
said on 3/Aug/16
There is actually more to that set but GGG generally looks near an inch taller but not quite. Kell clearly clears GGG's hairline but there still seems to be about 0.75-inches left and to mention GGG's hair, which looks 0.5-inches thick.
Phoeno
said on 2/Aug/16
Rob, here's a brand new (from yesterday) face-off video between Kell Brook and GGG where they have the same footwear (dress shoes). They look almost the same height. I think GGG may edge him out by maybe 1 cm at most, if anything. What do you think?
Have a look here:
Click Here
Editor Rob: overall in that clip I think GGG looks taller (even considering a fraction more hair), possibly 5ft 9.25 range at times
Lex
said on 2/Aug/16
Johno, can you link us to the new set of pictures? I've only seen the older ones of them two at that conference.
Johno
said on 2/Aug/16
Saw a more recent set of pictures of these two in formal attire. GGG lookee about 0.75-1-inches taller than Kell. A height average of 5'9.25 or 5'9.5 is fine for GGG.
Brook 5'8.5
GGG 5'9.25, 5'9.5
roberto
said on 15/Jul/16
Rob, how tall would you say triple G is? In this recent face-off video with Kell, he seems to be at most 0.5 inches taller:
Click Here
He's listed at 5'10.5"...when he looks 5'9" at the very most.
Editor Rob: yes as said before, in the 5ft 9 range might be more believable than over 5ft 10.
stev
said on 14/Jul/16
Rob, I'm sure you have been asked before about GGG being as he's known for being the number 1 boxer in the world right now. If you look at the recent pictures of Brook with Golovkin, there is really no difference in height between them. Golovkin is listed as 5'10.5, would be interesting if you could add him. Thanks.
Johno
said on 14/Jul/16
GGG and Brook just had an press conference; as i thought, GGG looks about 0.25-0.5-inches taller than Brook. Looks like a very dangerous match for Brook but i rate his will.
GGG 5'9.3 morning, 5'8.5 evening
Editor Rob: yeah that publicised 179cm for GG looks a bit inflated.

I would put him at 5ft 9 range, although I don't know what footwear he had when standing with brook...if they are equal or not.
anon
said on 13/Jul/16
Kell judging from the pic is 5'8.5 at best and 5'8 at the least, dont forget too he has very little hair, lovely boxer, I think he is same height as Amir Khan really but has less hair too.
Johno
said on 17/May/16
Yeh Rob, Bizier nearly had an inch on Brook and Bizier has been listed at 5'9, 5'8.5 and even 5'8 before !!!
Well i doubt Bizier can be as low as 5'8, somewhere close to 5'9 is probably in the vicinty of his true height but point being he nearly had an inch on Brook.
I do not believe a tall welterweight like Brook is taller than you Rob; i reckon he wakes up at 5'8.75 and goes to sleep at 5'8, 5'8.5 average rounded up.
Johno
said on 16/May/16
Kell would have the slighty higher eyeline even when compensating for footwear but Rob's forehead is clearly larger.
Editor Rob: when brook fought bizier he looked no more than 5ft 8 really...
Johno
said on 11/May/16
Virtually the same height and probably range. The only difference between the two would be ~0.15-inches, a silly difference but one which i give to Rob.
Kell Brook 5'8 afternoon
Johno
said on 10/May/16
Damn, how did i miss this picture?
Kevin
said on 21/Apr/16
This post was interesting, Kell Brook always struck me as a strong 5'9 guy. Rob how tall would you say is Shawn Porter then?
Click Here
Editor Rob: he could be 5ft 6.5 at most.
Lmeister
said on 20/Apr/16
He is a tad taller than Amir Khan. Could almost give him 175cm ~ 5ft9.
CD
said on 19/Apr/16
Rob, does he have an eyelevel less than 4.5 inches or am I being fooled by his really short hair?
Based on eyelevel he's basically half inch taller in this pic.
Editor Rob: well i have 1/4 inch hair he has more like 2mm of hair, but his eyelevel could be 4.3-4.4 range.
Andrea
said on 18/Apr/16
Rob, he looks barely taller than you with 0.3 more shoes... He probably isn't any taller than you!
Editor Rob: he could be anywhere in 173-4 zone...I believe he edges out a guy like amir khan, I watched a clip once of them standing in the ring and there wasn't much between them.
Alucard
said on 17/Apr/16
5'8... Probably the best welter around, although he's cutting a lot and he's a full Jr Middleweight/Middleweight...
Moke
said on 16/Apr/16
Yes, fair listing.