Chris Hoy's Height
6ft 1 (185.4 cm)
British former track cyclist who is a 6-time Olympic Champion. In his autobiography he is listed as Height: 1.86m and Weight: 93kg and on twitter mentioned
"I'm only 6ft1""
.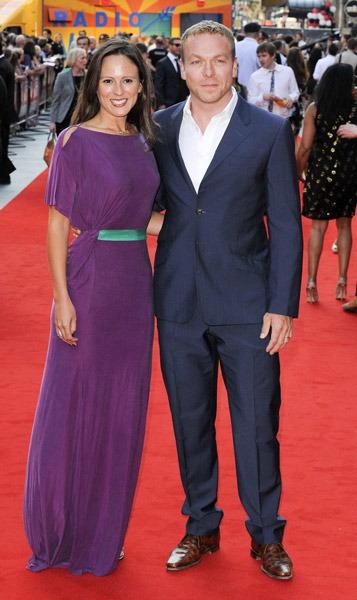 Photo by PR Photos
Add a Comment
19 comments
Average Guess (6 Votes)
6ft 0.71in (184.7cm)
Rory
said on 21/Apr/20
Difficult man to pin down height wise. Just when you feel certain he's like 183-4 there'll be a good example of him looking 185-6. My hunch is he could be 6ft0.75 but can give a shorter impression than that I feel with his proportions and/or posture.
Anon11
said on 27/Oct/19
I truly believe Hoy is no more than 183cm barefoot.
Tunman
said on 15/Jul/17
Rob,how tall would you guess his wife is?
Click Here
Would have thought a strong 5'8/weak 5'9
Editor Rob: somewhere in 5ft 8 range
Matt
said on 10/Jul/17
He is not 6'1 or 185cm. He's 6ft range. My brother is 184cm for the majority of the day and he seemed to edge him out. They were both doing caterham racing last weekend and my brother came 3rd and Chris Hoy who came like 13th presented him the award. I think he's around low 6'0 range.
Rampage(-_-_-)Clover
said on 16/Mar/17
Rob, maybe 186cm earlier in the day?
Rory
said on 16/Jan/17
It's funny because you'd never hear an actor say he was "only 6'1" they'd say something like "I'm a big guy, I'm 6'1" but for an athlete in things like cycling or rowing 6'1 is probably bang average in height at most.
Rampage(-_-_-)Clover
said on 6/Sep/16
Could be 184/185cm barefoot and 186/187cm in shoes.
Arch Stanton
said on 2/Sep/16
He came across very well though during the Olympics. Seems a no BS sort of guy and straight laced, but at the same time not obnoxious and personable. I previously thought he might have been a bit of an arrogant p***k but he didn't seem like that sort of guy in the commentary, and more intelligent than I'd thought too.
MD
said on 30/Aug/16
This is silly. Bolt is one of the few very close (we're talking a centimeter or so) to his listed height if not right on it. Here he is with a listed 6'2" Justin Rose directly to his left. He's leaning and he's still significantly taller:
Click Here
You shave an inch or two off of Justin Rose's listing and it's still clear Bolt is basically his listed height.
Canson
said on 28/Aug/16
@MD: well Kobe Bryant (6'4.75) had an advantage over Bolt As did Barkley (who is the same height as I am. My 6'3 friend met him in person) as did Peyton Manning as did Michael Jordan. So doubt he's really 6'5. Now bolt has scoliosis and may not stand straight or may have lost height, but with that he looks at most a solid 6'4 barefoot his 6'5 is likely In shoes. Essentially Brandon's estimate 192 isn't unreasonable because it would make him 6'5 in shoes
MD
said on 28/Aug/16
He knows that; he's just trolling because he can't accept it.
Rampage(-_-_-)Clover
said on 27/Aug/16
Brandon, Usain Bolt is almost 6ft5
Brandon
said on 25/Aug/16
6'0"--6'0.5" next to 6'3.5"--6'3.75" usain bolt
Rory
said on 23/Aug/16
I think roughy 6'1 is fair for Chris. He looked about 2 inches shorter than 6'3 range Bradley Wiggins.
Arch Stanton
said on 23/Aug/16
He does look a decent 6'1 with Andy Murray, surprising. With some others he looked nearer 184. Perhaps a 185 6'1 is OK. He's a decent build, can look around 15 stone, 93 kg is 205 I think, but that might have been his cycling weight and normally heavier. It's really quite a big weight for a cyclist, most of them are only 10 or 11 stone range!
Arch Stanton
said on 11/Aug/16
Rob, do you think a full 6 ft 1 is a bit optimistic?
Editor Rob: he could fall into the weak 6ft 1 range possible...I doubt he was much more than an inch shorter than andy murray
Arch Stanton
said on 5/Aug/16
With Usain Bolt
Click Here
Arch Stanton
said on 5/Aug/16
Rob, do you think a full 6 ft 1 is a bit optimistic? I saw him with decent 6'3 Bradley Wiggins and it looked nearer 3 than 2 inches! I would say 184 might be more accurate with Chris. 1.86 might be a sneaker measurement.
MD
said on 15/Dec/14
Not the best picture, as Usain Bolt (6'5") is lowering himself giving Hoy an advantage, but for reference:
Click Here