Claudia Christian's Height
5ft 8 ½ (174 cm)
American actress, best known for playing Susan Ivanova on TV series Babylon 5. In film she can be seen in Hexed and The Hidden. In this photo she had between 0.5-0.75 inch more footwear than me. Claudia once said
"I'm not a size two, I'm a regular [US] size eight, 5ft 9 girl."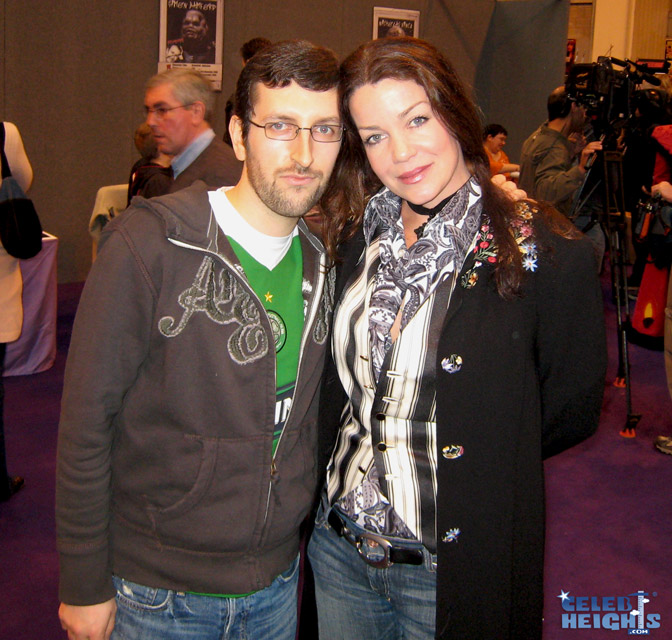 5ft 8 Rob and Claudia @ Memorabilia 2006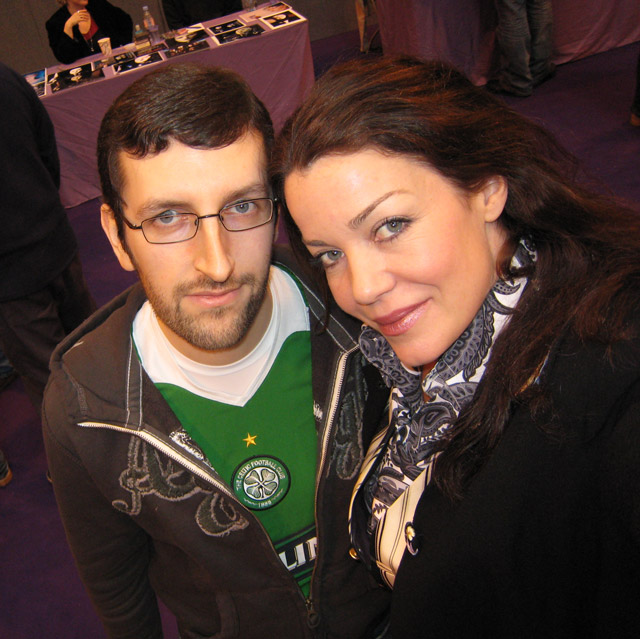 You May Be Interested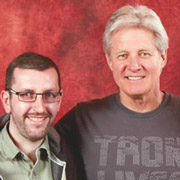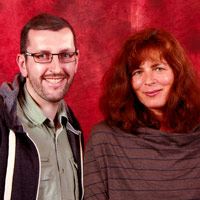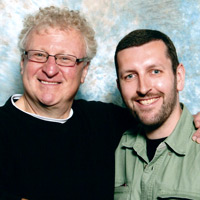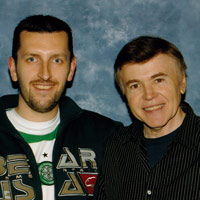 Add a Comment
50 comments
Average Guess (14 Votes)
5ft 8.82in (174.8cm)
JohnMoore-162cm
said on 29/May/20
She is the same as Rob , both are 5ft8 1/4"
khaled taban
said on 26/Oct/19
5'8.5" , that's it !
joshjeffords
said on 15/Oct/18
Looks 5 9 or better in all the b movies ive seen her.
Contrary to her quote she is pretty thin making her look even taller.
Also she likes heels as many ladies do, tall but not freakish.
MAD SAM
said on 31/Jul/18
5'8.75" or 174.5 cm
cmillzz
said on 19/Jul/18
Rob, do you still think your low is 5'8 1/8 today? I feel like it might be a bit higher these days especially after seeing your most recent videos.

Editor Rob
Mostly I would get 5ft 8 1/8th after a day of more physical activities.
Canson
said on 26/May/18
@Bobby: why do you feel that making Rob or anyone else taller than they claim makes them a better person?
Christian-6'5 3/8
said on 24/May/18
@Bobby
Rob isn't 5'8.5", he's said plenty of times he's 5'8 1/8" and even proved it on his videos. At best maybe 5'8.25" these days.

Editor Rob
Yeah, I'm never going to be 5ft 8.5 in any photos unless I was taking one within say 90 minutes of wakening up, which has never happened once.
ERIC PLEASANT
said on 22/May/18
They use to have her down as being 5'10 for the longest time.
Bobby
said on 4/Oct/17
This is why I say that Rob is a 5'8.5 guy, there's no difference here that I can spot.
Danimal
said on 13/Aug/17
She looks just like the late WWF wrestler, Chyna and about the same height as her too.
even
said on 21/Jul/17
5'9" out of bed , 5'8.5" before bed , looks a good 150 pounds
anyonmious
said on 21/Dec/16
She is no more then 5'7"
jeff
said on 20/Dec/16
Looks solid 5'9
ricky
said on 4/Mar/15
She use to be advertised as being 5'10 in the past.
Danimal
said on 23/Sep/14
Her face bares a strong resemblance to Chyna from WWE wrestling.
Alex 6ft 0
said on 6/Apr/14
Rob, same footwear? Her head is tilted a bit. Not sure how much height that'll make up but she does look a hair under 5'9. 5'8.75 is likely
[Editor Rob: that day I think she had a very basic heel, but I think she can look near her claim.]
Arch Stanton
said on 26/Aug/13
She's the spitting image of my cousin!!
Anonymous
said on 16/Mar/13
rob! you are so damn lucky! always getting the chance to stand next to gorgeous chicks!
Logan Hedlund
said on 29/Dec/12
Rob: did you post the same photo twice with Claudia?
[Editor Rob: it's meant to be a different one, but I can't find the other one on my computer this moment.]
J.Lee
said on 23/Nov/12
is 5 ft 8.5 possible
TNTinFL
said on 11/Oct/12
She is SOOOOOOO gorgeous!
And a great person too from what I have heard. Really nice to fans.
tony t.
said on 25/Dec/11
Great pic rob! Looks 5'9.
the shredder
said on 18/Dec/11
She is cute in rob's pic .
Wide not tall
said on 25/Aug/11
Looks the same height as Mamun.
Mamun
said on 15/Aug/11
Thanks ROB !
Regards
SUPERMUN
Mamun
said on 15/Aug/11
This one's gone too ROB .
Regarsds
SUPERMUN
thorterr
said on 28/May/11
such a good actress on babylon 5,god knows why she never did season 5 ,she had such a good part,im clutching at starws rob but i bet you dont have claudias number aswwell,,you dont have to answer that ,,ach everybody tweets and had facebook,,one day ill join
[Editor Rob: I believe she's quite active with fans on facebook, although I no longer have that as I don't have the time for it.]
Phil
said on 3/Apr/11
I think she is 5 foot 9.5
Will
said on 13/Mar/11
Claudia is 5'9" for sure.
ACG
said on 7/Jan/11
Her posture is slightly better than Rob's in the bottom picture. ;-)
TNTinCA
said on 6/Jul/09
She is SOOOOOO gorgeous!
J.Lee
said on 21/Apr/09
Rob she does not look an inch taller than you. in the pic she doesn't even seem taller than your girlfriend. Why does she not seem tall?
[Editor Rob: she could be 174cm, 175cm.]
Anonymous
said on 5/Mar/09
if she is 5'9' and a size 8 she shud weigh abt 160lbs, is that rite
SuperAnonymous
said on 4/Mar/09
What's with her face? Is it strange makeup or she had a plastic surgery?
rob89
said on 26/Jan/09
She does look around 5'9 in these pics. For some reason i never thought she looked particularly tall on B5, around 5'5-5'6. But i also thought the guys who played Sinclair, Sheridan and Garibaldi were only around 5'11-6', not 6'2, so maybe that's why i thought she was shorter lol.
Mamun
said on 1/Dec/08
Thanks ROB !
Regards
Mamun
Mamun
said on 29/Nov/08
Rob my friend ! You forgot to put in my picture !
Regards
Mamun
[Editor Rob: no worries, I fixed the filename so the pictures are seen!]
Josh
said on 25/Nov/08
5'9 is right
Alex
said on 4/Nov/08
Looks 5'9.
Jlee
said on 3/Nov/08
you wouldn't consider her to pass for 6 foot rob?
[Editor Rob: nah, you ever seen her on b5 with 6ft 2 guys like Jerry Doyle and bruce boxleitner...]
Yaspaa
said on 13/Aug/08
I love the crazy pics.
Anonymous
said on 4/Oct/07
5'9 may be about right for her. I watched her in a 'Relic Hunter' episode and she was obviously taller than Tia Carrere, by at least 1 inch. If Tia is really 5'8, as mentionned on her page, then Claudia should be 5'9 at the very least.
myspace celebrity
said on 3/Oct/07
is she related to gabrielle?? anyways, she looks 5'9
[Editor Rob: no idea, she looked 5ft 10 but had an inch more footwear than me, so I believe 5ft 9 unless the footwear was more than I guessed.]
Franco
said on 28/Sep/07
max 176cm barefoot. so 175cm average is correct.
glenn
said on 23/Sep/07
wasnt she in hellraiser? she is hot.
Anonymous
said on 17/Mar/07
Bruce Boxleitner 6'4"? Where did you get that? 6'2" and I've never seen him or anyone else claiming otherwise. Try to find a cast photo with CC standing next to anyone else with their feet showing.
Editor Rob
said on 25/May/06
Quoted in 1998 book 'Coming of the Shadows' as saying:
"I'm not a size two, I'm a regular size eight, 5ft 9 girl"
flarn
said on 5/Mar/06
Heard an interview of Patricia Tallman tonight and she claimed Claudia was very tall, taller than Patricia, who said she was 5'9". Also I just watched an episode where she walks next to Capt. Sheridan (6'4") and she wasn't that much shorter than him. Looks like a long girl from this side of the camera.
Firebird
said on 9/Jan/06
In her DREAMS! I'm 5' 8", I've met her and I am seriously taller than her. 5' 6" IF she's lucky. On Babylon 5 they had boxes for her to stand on, seriously, I've seen them. Check out photos of her and other cast members and look at where her waist is compared to theirs. 5' 10"? That is just SO funny!
[Editor Rob: yeah, her agency is still giving her 5ft 10...she did look tallish on B5, 5ft 9, although I forget if she had bigger shoes...]
CelebHeights Editor
said on 8/Oct/05
According to her management agency resume she is 5ft 10.