Craig Parker's Height
5ft 9 ½ (176.5 cm)
New Zealand actor best known for playing Haldir in The Lord of the Rings movies and for roles in tv shows such as Legend of the Seeker and Spartacus. He said on one of his fan sites
"I'm 5'11"
and was listed on his
agency
as 180cm. This photo was from a Collectormania event in 2006.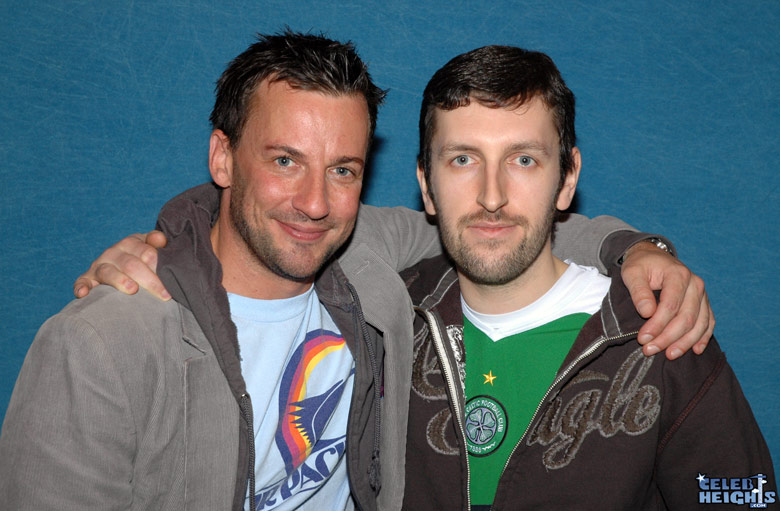 5ft 8 Rob with Craig
You May Be Interested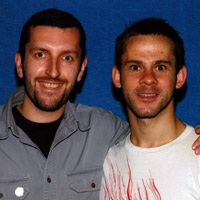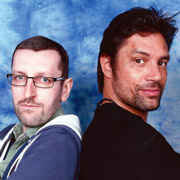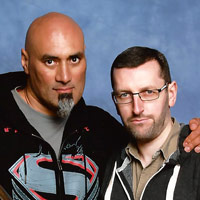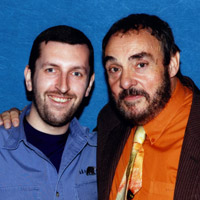 Add a Comment
27 comments
Average Guess (16 Votes)
5ft 9.42in (176.3cm)
JohnMoore-162cm
said on 4/May/20
A fraction above 5ft9 is perfect for this guy , 5ft9 1/4" for Craig Parker
Christian 6'5 3/8"
said on 30/Apr/20
5'9". Hard to believe that some are giving him 5'9.75". They must think that Rob's nearly 5'9", lol.
Gerry Blue
said on 3/Jul/18
No more than 5'9. Just saw the last episode of first season in Seeker, Bridget towers him. That's why I'm here now, actually.
Nik
said on 21/Mar/18
For me Craig Parker is at least 5'9.5" but I will offer him 5'9.75"!
Jaragon2k
said on 19/Mar/18
How is anyone seeing anything on rob with this guy more than 1 cm? He's hardly bending and he's the same height so straight up he may be 5'8.75 at most.
Slim 182 cm
said on 7/Aug/17
Just goes to show that 5'11 is such a frauded height...
Guy knows how to act though..
overall my final guess will be 5'9.75.(177)
Slim 182 cm
said on 29/Jul/17
Could dip as low as 176 compared to tarabay.
Slim 181 cm
said on 8/Jul/17
Spot on! 3.5 cm on big rob.
indy
said on 26/Sep/16
Saw him this week-end. 5'8.5" tops.
Ian from Auckland
said on 31/Dec/15
Walked past Mr Parker in the gym this morning. I'm 177.5cm (at most these days, with a smashed-up knee) and I was clearly taller than him. So...I guess he looked around 175-176cm. Oddly, a few years ago he seemed taller than me in the same situation and I wouldn't have been surprised then if he was 179-180cm at that point [different shoes?]
Carlos
said on 2/Aug/15
5'9.25 (176cm)
172.4cm guy
said on 14/Jul/15
Rob, were you in similar footwear with Craig in the photo. If so, he looks far closer to 175-176 than 177cm. I've also noticed that he tends to wear shoes with a large heel or sole, to give him a boost and have him look close to 180.
184.3cm
said on 20/Feb/15
Excellent as the bad guy, really hated him in Spartacus. 5'9 range is right he was slightly shorter than Andy who is listed 5'10.
Maor
said on 30/Dec/13
5ft 9.5in Really? He don't look like it. 175 ( 5'9 ) is more like it.
James
said on 31/Oct/13
He always looks small onscreen, and certainly doesn't look 177cm in the picture above, is there something your not telling us in the picture rob? Less footwear or poor posture? A flat 5ft 9 guy with loose posture would look as above, very even to 5ft 8, a 177guy, so very nearly 5ft 10 would look comfortably taller than a 5ft 8 guy like yourself Rob. At a very generous push I would say he is 175, but more 174. His claim of 5ft 11 is completely outrageous.
Mark
said on 8/Jul/13
In high heels maybe! I'm 5'9" and I was standing next to him in Melbourne city today and he was shorter than me!
Big T
said on 5/Feb/13
wow...first time I've ever met a guy who Rob has a photo with. Spent a lot of time around this guy the other day and he has to be MAX 5'9"....I'm 5'10 1/2" and had some substantial height over him. The picture above doesn't lie. Maybe you're giving him a bit too much benefit of the doubt Rob? The 5'11" claim is pretty egregious.
jaypee
said on 12/Dec/11
what is your opinion rob? 5'9?

Editor Rob
I'm not sure he's that mark, I've only seen him that time 5 years ago and at the time thought he was over 5ft 9 but maybe not a big 5ft 10 guy
Ciccio
said on 11/Dec/11
5'9 MAX. He claims to be 5'11, how is it possible?
herminia
said on 3/Jan/09
watever hieght he is he is still super hot
Krysta
said on 25/Feb/08
I so don't care what his height is, he could be 5'5 and still be the best looking guy ever. Wonderful man:)

Editor Rob
is a pretty cool fellow, seen how he talks to fans, solid bloke!
jj
said on 21/Feb/08
i love craig parker ... a really good actor
big t
said on 6/Feb/08
lol, this sort of hurts brother_h's constant assertions that New Zealanders are modest about their own heights compared to people from other nations. Craig looks 5'9" here at best but claims 5'11". btw, he is back on Shortland Street back here in NZ these days- our one long-running local soap.
AshnarLynx
said on 26/Sep/07
I remember an interview where he said "I'm 5'11, maybe 5'10". So he wasn't lying, he just wasn't sure.
Marcus
said on 12/May/07
He's listed 177 cm on his unofficial website craig-parker.net, but he's also listed as 5'10'', so that must be a small error??
Seems like a nice guy, never met him though :)
Marcus
said on 8/May/07
Why not 5'10'' as a starter? I have to admit this guy had a great posture in LOTR.
He looked slightly shorter than Mortensen, when they were huggin in that Helm's Deep scene.

Editor Rob
a really lovely guy, but honestly he looked 5ft 9 to me, but had less trainer than mine, 177cm is what I guessed when I seen him last year. I've seen his face in a uk adverts for something recently, maybe work has totally dried up...
Alassenya
said on 26/Oct/05
I've seen Craig a couple of times at conventions and he is 5'9" maximum. I also remember a panel where he was asked about his height and he laughed and said that everyone adds at least two inches to their official profiles. He's still gorgeous though.