Shane Rangi's Height
6ft 2 (188 cm)
New Zealand actor and stuntman known for roles in Lord of The Rings and Hobbit Trilogies. On TV he has appeared in Spartacus: Gods of the Arena. In the
Telegraph
he once said
"I'm 6ft 4in"
and his agency added an inch, 4 and his
claiming
he was
"Height 195cm / 6ft 5in"
.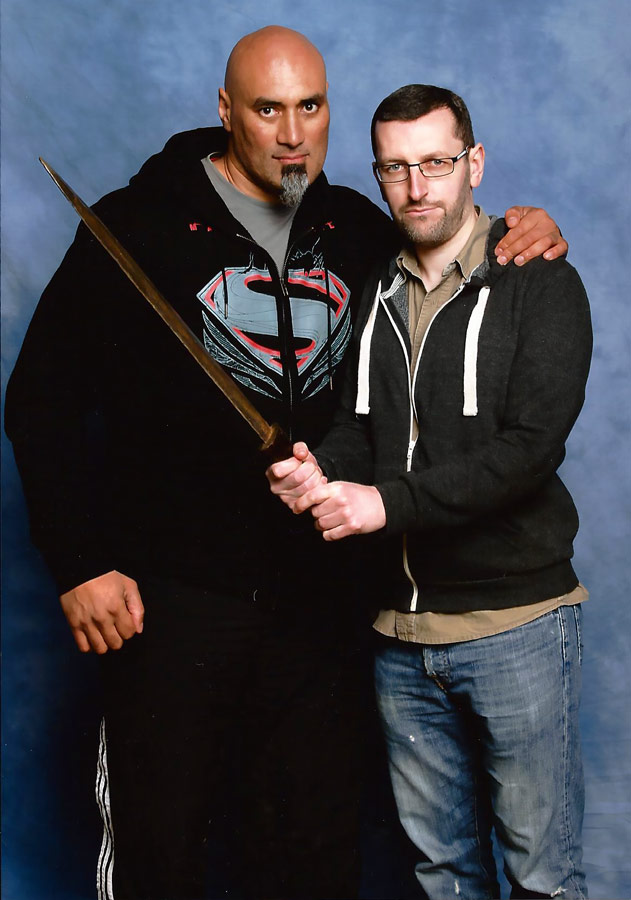 5ft 8 Rob and Shane @ Collectormania 2013
You May Be Interested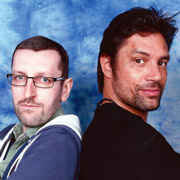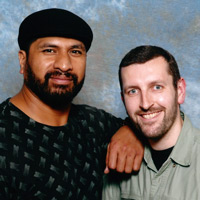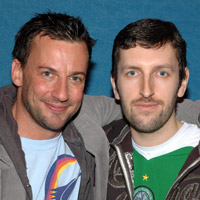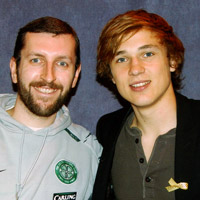 Add a Comment
38 comments
Average Guess (14 Votes)
6ft 1.63in (187cm)
eng6'3
said on 21/Apr/21
Haha,this is the coolest rob's photo IMO I like it!
ChaosControl 6'2 1/2
said on 20/Jan/21
In his defence he claimed 195cm, which isn't a full 6'5
Soda machine
said on 14/Dec/20
6-4? 6-5?? Are they still in acting mode!! 6-1.5 max!! Lol.
Nik
said on 3/May/20
He's nearer to 6'2" than 6'1"!
Christian-6'5 3/8
said on 4/Jan/18
@Jason
I know, it devalues honest 6'4" guys such as yourself. I'm surprised that sometimes you get guessed at 6'3" since we live in a society of height inflation. I've seen 6'4" guys that claim 6'5" and no one bats an eye.
Jason
said on 2/Jan/18
6'4? What a joke. Maybe right out of bed in sneakers with 3cm lifts.
Bard
said on 2/Dec/17
Something's up with his posture here. He generally looks around 6'2, but here looks more like 6'1 tops.
Christian-6'5 3/8
said on 11/Aug/17
He doesn't look 189 at all standing beside Rob.
Slim 182 cm
said on 9/Aug/17
Mark(5'9.5, they have similar facial hair, I can't see anyone similarities...
189 rob? I could see 10 cm between tarabay and this guy, that would make tarabay 178 or this guy 189.
Mark(5'9.5
said on 3/Aug/17
Rob. This is probably me, but he kinda looks like a bald taller version of 'Jason David Frank.'

Editor Rob
I'd never have guessed Shane has having a resemblance to JDF...there's certainly about 4 inches or so between them in person...neither of them would be advisable to get on their bad side though!
rikashiku
said on 21/Jul/17
This is very surprising. I know this man. Definitelny not under 190cm. We did have him at 195cm about 7 or 8 years ago, but not under 190.
There are pictures of him with Sala Baker, who you have at 6'1" with Shane having more than 1" over him. Another with a 185cm listed musician, Ben Barnes, with Shane again looking much taller.
Slim 181 cm
said on 10/Jul/17
Rob,and debaters, he may be 6'2 and a fraction.
Slim 5'11.5
said on 5/Jul/17
@Born Again, I very much doubt you're on celebheights anymore but that is actually pretty damn perceptive, I will hold onto this for future reference. As if i were to divide 182 by 2.5 and convert the answer to feet+inches I'm 6"1 or close to it.
Born Again
said on 14/Apr/17
Wonder if he thought of himself as roughly 190 cm and then divided by exactly 2.5 instead of 2.54.
Mark(5'9.25
said on 12/Jan/17
Shane looks a legit 6'2".
Don't worry Rampage and Anonymous, it's not uncommon for some people to exaggerate. However, their height claims can be questionable to the point where I question their honesty. The nightmare happens when I meet someone less than an inch taller than me and they even CLAIM 6'1". Heck, some people have asked me if I'm a 6 footer which I'm clearly not even close to being one!
Anonymous
said on 12/Aug/16
@Rampage: I can't tell you how many "6'2" guys I've met who I bet are probably 5'10" to 5'11". Once people get into the exceptional range, they seem to get more honest. I've met 6'4" to 6'10" legit who are honest. And, shorter guys I've met seem to be honest as well. It's the just over average who are always exaggerating.
MrTatum
said on 10/Apr/16
Calm down Rampage, he may have measured at the start of the day in boots (Ahahaha, funny, but possible).
Born Again
said on 2/Feb/16
@Rampage(-_-_-)Clover: He's just like my oldest brother, who claims to be 6'4 when he's about 6'2. I find it silly.
Aza
said on 25/Jan/16
His posture looks awful. Rob although you are matching his stance you clearly have better neck posture. Just based on this he could well be taller than 6"2 with better posture.
Rampage(-_-_-)Clover
said on 5/Jan/16
Yeah, Skilton looks an honest 6ft3 guy and is definitely taller than Rangi. Lomu (god rest his soul) in fairness I think lost some height over the years. He was probably never 6ft5 but it's possible he may have been 6ft4 and his health issues caused some height loss. I stood behind him years ago at IRL VS NZ match in Dublin and he in his boots he was slightly taller than me.So, the 6ft5 listing is probably a boots height
184.3cm (Night)
said on 13/Dec/15
Looks about 6'0.5" in the pic but obviously dropping height. Can see him around 187-188 if he straightens. 6'4 (193cm) is fantasyland.
Rampage(-_-_-)Clover
said on 8/Sep/15
I really resent men who embellish their heights by 2-3in. It's incredibly narcissistic.
Rob, I'd love to see this dude claim 6ft4 in the presence of any of the guys you met

Editor Rob
2 New Zealanders at this show (Rangi/Lomu) claimed taller heights than the other new zealander (Emmett Skilton). In person Emmett looked a decent 6ft 3, taller up close than Rangi and Lomu I felt.
Crane
said on 16/Jun/15
How tall do you think if he stood up properly Rob?

Editor Rob
I think he could look near 6ft 2
Andrea
said on 25/May/15
Rob, how much height is he losing here? He certainly looks nowhere near 6'2 with you...

Editor Rob
he is losing a good inch more than me, he's miles from 6ft 4, I think near 6ft 2 is still quite possible.
Rampage(-_-_-)Clover
said on 31/Mar/15
A weak 6ft2 claiming 6ft4 is delusional
Tommo
said on 13/Mar/15
Nowhere near his claim, looks like he'd come up to Ryan McPartlin's eyes.
Rampage(-_-_-)Clover
said on 24/Feb/15
A 6ft2 guy claiming 6ft4 is ignorant and unappreciative of his height...
Rampage(-_-_-)Clover
said on 15/Nov/14
Rob, is 189cm possible?

Editor Rob
more chance he's 187 than 189.
Rampage(-_-_-)Clover
said on 28/Oct/14
He's listed 6ft5 in some places!
Rampage(-_-_-)Clover
said on 1/Oct/14
What was he like in person, Rob?
He looks like the typical bouncer who would throw you out of club for just glancing at him

Editor Rob
he interacts and talks with fans a lot, just didn't look his 6ft 4 claim though.
Oanh
said on 15/Sep/14
I don't see 6'2"...maybe 6'1".
Sam
said on 31/Jul/14
I agree, you should keep the sword, Rob, in case the "Ultimate A$$hole" tracks you down at a con.

Editor Rob
anybody messes with me and they know I mean business!
James B
said on 4/Apr/14
Seems 6'1 with rob but his posture is poor
Arch Stanton
said on 24/Mar/14
If you took away Rob here though his face and build screams that of a 6 ft 4-5 heavy set guy. Clearly he's no more than 189 though.
lol@6'2
said on 18/Mar/14
a doubtful 6'2. Seems more like 6'1 to me
176,2Tunman
said on 8/Mar/14
Some sites had him up to 193 or 194, he could even be a weak 6'2 standing straight.
Lol,better keep this "Sword of Justice" Rob,some celebs are probably angry against your listings.

Editor Rob
he is a 6ft 2 range I think, I know he claimed 6ft 4 but I think it's a bit much!
StopHijackingMyNick
said on 24/Feb/14
Huge? lol rather normal solid tall height. Looks 6ft0-6ft1 with the slouch, could be close to 6ft2 if stood ramrod straight.
richkid123
said on 23/Dec/13
That guy is huge. Looks like he is dropping alot of height. 6'2"