David Krumholtz's Height
5ft 6 (167.6 cm)
American actor, best known for film 10 Things I hate about You and TV series NUMB3RS. He mentioned his height on twitter, claiming
"I am 5'7"
and also in 1997
"I want to be Mr. Suave and Mr. Cool, but I'm 5-7 and I've got really long eyebrows and a big nose. I've got to be me."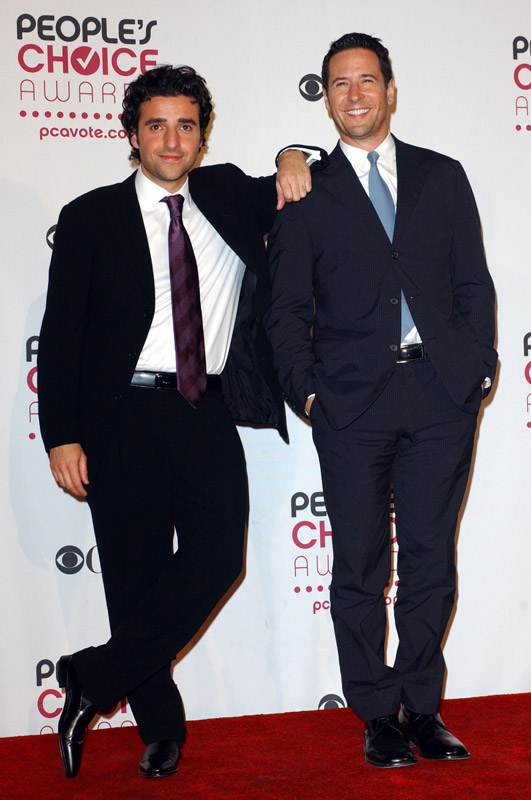 David with
Rob Morrow
Photos by PR Photos
Add a Comment
16 comments
Average Guess (23 Votes)
5ft 7.48in (171.4cm)
Maggie Sammoud
said on 10/Dec/19
David 's height Is 172 cm
Me
said on 12/Feb/17
Note, that standing on his one leg makes him taller about 2 cm due to pelvic tilt. Accurate listing.
Emily
said on 14/Aug/13
In that prospect, i don't think Michael Urie looks 5'11.5 next to him in this picture:
Click Here
Also, Brandon Routh looks more than 3 inches taller than Urie in this pic. Do you agree Rob?
[Editor Rob: he could be about 5ft 11 on the nose]
Claes
said on 22/May/13
I'm the same height as Rob has David listed as. He always look short to me, so I can believe that is his height.
dmeyer
said on 22/May/09
i met the guy a few times 5 ft 6 to 5 ft 6.5 is safe range
Lemonpoptart
said on 10/Jan/08
I know he once said he was 5'7". I tend to believe him.
BackStageJim
said on 22/Oct/07
MAde me think of a question. If David was cast first, and reall is the star, i.e. 'all about math' why is Rob first name. Either way they could lose Rob Morrow, and still have a show. Anyone can play the FBI guy looking to find a clue even thru math.
dmeyer
said on 21/Feb/07
he does look under 5'7 in person
KC
said on 26/Dec/06
It's the fact that Rob Morrow is wearing a uniform color and more formal clothing. It tends to make guys stand up taller and straighter, as well as look far more imposing. David's in more casual clothing, which is alright, but can inspire slouching and it's not one color, so there's no imposing uniformity that Rob Morrow has. And I think he's bending his knees.
sf
said on 12/Aug/06
Yes, I think Krumholtz is pretty spot-on. I laugh at how he and Rob Morrow are supposed to be brothers not too far apart in age, when Morrow is probably a good 15 years older... yet they talk about high school, etc. Okay - say Krumholtz was "Doogie Houser" but he still aint going to go to high school with his 15 years older brother. Yea, I know I'm being knit-picky...
dmeyer
said on 11/Aug/06
rob you are good it is exactly wath he looked when i met hin we even talked he is jewish like me 168-70 range
RobertTheBruce
said on 3/Dec/05
Yeah t is right. They cast him way way beforehand anyways. But in some films he's quite tough looking (e.g. Confessions of a Teenage Bookie), so let's cut him some slack - he can probably kick some ass.
tyoung
said on 4/Nov/05
He wasn't hired to make Rob Morrow look tall...David Krumholtz was cast in the role long before Morrow. They actually did an earlier pilot of the show with Krumholtz and a whole different cast.
Mr. R
said on 31/Oct/05
He actually makes 5'8" Rob Morrow look tall! (Which is why he was hired for the role of course!)
Anonymous
said on 28/Oct/05
i met him a few times taths wath he is about 169
MD
said on 27/Oct/05
Just some reference, here he is with his co-star Rob Marrow at either 5'9" or slightly shorter:
1.
link