Donnie Yen's Height
5ft 6 ½ (168.9 cm)
Chinese actor best known for roles in films such as IP Man, Rogue One, Blade 2, Seven Swords, Hero and Iron Monkey.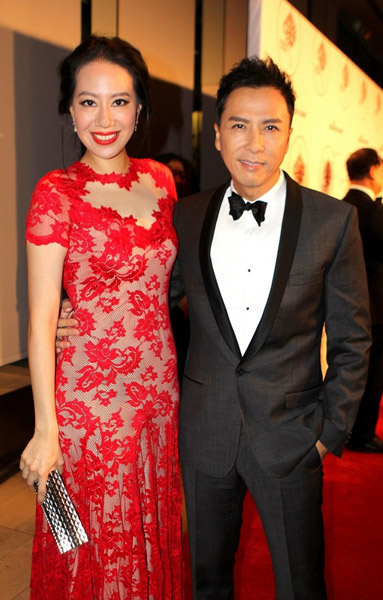 Photo by PR Photos
Add a Comment
55 comments
Average Guess (34 Votes)
5ft 6.7in (169.4cm)
Junior Hernandez 1990
said on 11/Jan/19
Donnie wife is 5'8 and there are about 1.5" between them. Listing by Rob seem legit.
MAD SAM
said on 21/Jul/18
I would give him 5'6.75" at 169.5 cm, I guess he's kinda average height
Junior Hernandez
said on 8/Feb/18
@Eric That would make him 5'2.5" max if you're telling truth. I doubt the ground you miss it. He can't be listed 4" higher than in real. He look at least 5'4.5" in proportion.
Eric
said on 19/Jan/18
I saw him a few years ago in Times Square Hong Kong, when a super jacked dude walked past me and I realised it was him. I'm 5'7 and he was only up to around my eyes.
S.J.H
said on 2/Jul/17
166cm not over
Reimund Chong
said on 28/May/17
I had met him at a restaurant in Kuala Lumpur last year 2016, I saw him in a distant approximately 10 ft away, he is at my height 5'6" and should weigh approximately 60 Kg as he is just similar to my height and size. In the Internet from many sources claims that he is 5'9" which is definitely NOT and I can confirmed.
Vincent
said on 25/May/17
@Editor Rob,
How tall do u think the Taiwanese-American actor Andy On is?
with Hayden Christensen (Andy is on the far right in 1st pic) -
Click Here
Click Here
Click Here
Donnie yen
Click Here
Click Here
Click Here
Daniel Wu
Click Here
Click Here
Chris Hemsworth
Click Here
Jackie Chan
Click Here
Andy Lau
Click Here
He could look anywhere from 5'10"-5'11.25" (178-181 range) Surprisingly! He was described as "5'11" or 6' " in New Police Story.
But i don't think he's that range, more 5'10-11ish.
What do u think, Rob?
Editor Rob: from just a brief look, he can seem 5ft 10, then close to 11...but I've not seen an awful lot of him really.
Realist
said on 13/Apr/17
I thought he was 5'7 in every movie he looks 5'8 in Triple X return of Xander Cage.
Alam khan
said on 27/Mar/17
I like yen's kungfu style
172.4cm guy
said on 20/Jan/17
It's interesting. When I looked at Rogue One and some premiere photos, Donnie does seem to be about 169-170cm, and seems to accept his height very well. But the average guess seems to be around 171cm. For myself, he looks just shy of 5-7, maybe 5-6.75, which is still 170cm.
S.J.H
said on 21/Oct/16
@john said on 29/Sep/16
Donnie yen is much shorter than listing here hes only 5'5 in real. Believe or not he wore special made lifts with taller actors during filming. Andy lau have self confess that he was only 5'7.5 when he was young and probably 5'7-5'7.25 nowadays
john
said on 29/Sep/16
Andy Lau and Donnie yen looks the same height
If andy is listed as 174cm here, then Donnie cant be 169cm
Click Here
Click Here
lol
said on 9/Jul/16
so 5'6.5 is not that short then
?
said on 9/Jun/16
what made you change your mind?
Editor Rob: just having more of a look I think the current mark could be closer.
2020 oriental prince
said on 5/Apr/16
There is no way in hell hes what he claims I am six one and a half bare foot took a pic with his wax figure at the madame tussade museum and I completely dwarfed him could be as low as 168 cm
MD
said on 7/Mar/16
Maybe looking a bit taller here with 5'10" Mike Tyson, but probably has to do with angle and footwear:
Click Here
A picture better showing the height difference:
Click Here
From another event with Yen getting a slightly favorable advantage given placement in the photo:
Click Here
Definitely the listing at the most. I think he might have a penchant for small lifts at a lot of premieres, and he can look slightly taller. Nothing ridiculous.
louise
said on 29/Jan/16
his height is probably 172-174
Hong Kong
said on 18/Dec/15
Donnie is no more than 5'6/167cm. Someone I know took a picture next to him and she's about 5'4. He looked to be an inch 1/2 taller. Tbh I think Donnie is 5'5 1/2 / 166cm.
randomazn
said on 5/Apr/15
Knew he was 5'7 or close to it, he is shorter than 5'9 Wesley Snipes.
MD
said on 17/Dec/14
Thanks for the change, Rob.
MD
said on 15/Dec/14
Rob,
Admittedly, Tilda Swinton is a tall woman and she's in heels, here...
Click Here
...and you can't just judge it off this picture. But, a guy of nearly 5'8" wouldn't look consistently this short. He doesn't look like a guy just under the average western height. He routinely looks legitimately short. There is no way he' near 5'8", and I'm not even convinced he's a full 5'7", honestly.
[Editor Rob: 5ft 7 is probably a lot nearer for him.]
Guy
said on 13/Dec/14
Hey Bob I've did some research on him through some Chinese websites and I've come to a conclusion that he's 5'6 (168 - 169) at best and yes I do watch most of his films.
Hypado
said on 11/Aug/14
Donnie Yen looks between 170-172cm
edguy282
said on 1/Aug/14
If Keanue is 6'1" and Donnie looks about 5.5-6.0" shorter with similar footwear, I think he's more like 171cm tall. A slight downgrade is needed.
Ali
said on 2/Feb/14
I think he is 5 6 and a half.
MD
said on 11/Dec/13
With 6'1" Keanue Reeves:
Click Here
Elfoersaan
said on 26/Nov/13
Donnie Yen didn't look anything taller than Sammo Hung in SPL and Ip man 2.
Click Here
Click Here
Click Here
Here is a picture of Chan, Hung and Biao to give an idea of the height difference between then 176 cm Chan and the shorter Hung.
Click Here
The difference is a solid 5 cm. Which makes Hung 171 cm. Without any doubt Hung lost at least 1 cm since that photo was taken 30 years ago, which puts him nowadays at 170 cm tops. The conclusion? Donnie Yen can't be taller than 171 cm and may even be 170 cm.
Mox
said on 28/Jun/13
169 no more
rudi
said on 15/Jan/12
i took a photo with a wax model of him at Madame Tussaud's Hong Kong. Dude is tiny. more like 169/170cm.
Amazed by Stupidity
said on 23/Nov/11
Jake T, you can really tell a 1cm difference in this man's height through movies and photos? No, you can't so get a life, shorty.
Josh
said on 22/Sep/11
Yen has claimed many times that he's 5'9". He's pretty adamant about it. Then again, he could be lying.
Jake T.
said on 11/Apr/11
I have seen some pictures of him with Jackie Chan and Jet Li and 171 cm could be a more accurate height for Donnie.
Lord Chief Justice Victor
said on 18/Nov/10
in my opinion, at most he stands at 5'8, thts the highest he can claim...
but solidly barefoot, he stands at 5'7, so yeah the stated height above is quite accurate
Mateial Art fan
said on 20/Jun/09
He's 170 for sure. Met him on the set of a couple of Hong Kong films.
Tomtom
said on 9/Jun/09
Can some body go home take a tape measure and pull it out until it says 5'10 (178cm) or 5'11(180cm) and put the tape against the wall, use your sense and try to realize how tall it is. I've read a lot of threads in this forum and most of them really crack me up when I see Nicholas is 175cm, Louis Koo is 181cm. And better yet, all Hong Kong TVB's actors are listed 180cm. I mean, come on, we're Asian and you think Ron Ng or Raymond Lam is as tall as Brad Pitt (180cm). Dream on people.
Felix
said on 11/Dec/08
Zhang Bai (Zhi Cecilia) cheung WAS LISTED 165, but she was ONLY 158.
My friend(In charge of light of a film) is 170.8cm barefoot(physical exam data, 100% sure), Xie Ting Feng is 1 inches shorter than him, he is 172-174?
Click Here
So "Felix Incorrect Again", are you from HK? Now I know the reason why HK people improve their height a lot and so many so called 6 feet guys in the street, because your ruler is different! I am 178, 76kg. And in HK, I am a little taller than many 6 feet local guys. at that time I was 28. I growed another 2 inches within hours! So everybody who wants to be a big guy and grow another 2 inches, please go to HK! It is a fantastic place.
Felix Incorrect Again
said on 11/Dec/08
Look at Nicholas with his wife Cecilia cheung (who is listed as 165cm tall). Please tell me how that isn't at least 172-174cm??
Click Here
felix
said on 22/Nov/08
I give you a link, Xie and Tian stand together, barefoot!
Click Here
felix
said on 22/Nov/08
Most HongKong stars exaggerate their height. Gallen Lo 179cm(176), Gu Tian Le 181cm (177), Li Ming 182cm (178). Guo Fu Cheng 170cm (166-167), Wu Yan Zu 186cm (182-183), Gu Ju Ji 178cm(174), If you know chinese, you will find all the truth. here is the link, plenty of images.
Click Here
Tian Liang is 168cm in 2004 olympic games, he is 2 inches taller than his 162cm's partner, most important is they are all barefoot! do not tell me he grows again when he is 24 years! 172 is only the data when he retired and be an actor.
Edison Chen I am 100% sure is only about 172, I met him, he is at least 2-3 inches shorter than me! if he is 178, he should the same with me. look at his weight, only about 62-65kg, I am 75kg, 178 and I am mid build.
Felix Incorrect Again
said on 19/Nov/08
Can't see the picture, but Francis Ng is profiled to being 178cm tall (and he certainly does appear to be of this height) and not your claim of being 175cm tall. The drama that he had appeared with Gallen Lo( who is 179cm) he appears to be of the same height as him, and Gallen Lo sometimes looks even taller than Louis Koo who is listed as a 180cm. Francis Ng = 178cm at least Nicholas Tse = the shortest he can be is 172cm, but my guess is still 174cm
felix
said on 18/Nov/08
Here is the link, Xie with 175cm's Wu Zhen Yu!
Click Here
Felix Incorrect Again
said on 18/Nov/08
Tian Liang is 172cm in most websites that shows his profile, and for him being 168cm that could be true but ONLY in the early stage of his career. There is a possiblity of him growing in his latest olympic appearance. And also, Nicholas Tse had dated FAYE WONG a few years ago, who is at least 170cm. I seriously doubt that a megastar like Faye Wong would date a man who was not only younger than her, but also shorter. For the Shawn Yue talk, he is the same height as Edison Chen, and he gets listed as a 178cm. In my eyes, Jackie Chan's son looks 180cm, I seriously don't know where you got that 173cm from. Please provide some pictures to prove your point because I seriously doubt Nicholas Tse and Shawn Yue is that short.
Felix
said on 17/Nov/08
Do you really belive Xie Ting Feng (Nicholas Tse) is 174? He is nearly the same with Tian Liang(Olympic Diving Champion) who is offical 168cm, they two were bare foot near the swimming pool. Yu Wen Le (Shawn Yu) is even a slight shorter than Jackie Chan's son, Fang Zu Ming who is about 173. So 174 for Yu is generouis!
Felix ur Incorrect
said on 3/Nov/08
Felix..
Nicholas Tse is 174cm, not 169cm
and Shawn Yu is 178cm tall, not 174.
Dont know where you got those numbers from but your wrong buddy
Felix
said on 7/Mar/08
He is about 172cm, In a chinese film "The gate of dragon and tiger", he and Xie TingFeng(169cm) Yu Wenle(174cm) stand together, He is about 1 inch taller than Xie and a little shorter than Yu.
artha5
said on 6/Mar/08
I don't think he's 1.63-1.65, that would make pretty much shorter than Jet Li, which i think obviously it isn't
Joe
said on 10/Dec/07
If you watch Donnie with Jet Li in Once upon a time in China or Hero, Donnie's got a good two inches on Jet, so I'd say he is about 5'8 since Jet is 5'6. Donnie also appeared to be the same heigth as Jackie Chan in Shanghai Knights and Jackie is 5'8
N Spec
said on 26/Sep/07
He's a solid 5'8. He may appear taller if he wears some thick soles and tight pants and clothes to make him look longer.
B-nn
said on 5/Aug/07
Just watched his latest flash point, i will say he may be around 5'9....Louis koo is 5'11 1/2 - 6'0. 5'6 or 5'7 quite not.
Dunken
said on 3/Jul/07
KIN: don't think so. he was taller than Jet LI in Once Upon a Time in China and Li is 5'6ish. i give him 5'7.
KIN
said on 2/Jul/07
He is 163-165cm
I am 170cm(maybe shorter). Met him at the airport in Hong Kong.
Simon
said on 10/Jan/07
I met Donnie back in 98 for an interview. He was possibly 2" taller than me, making him around 5' 8" 1/2
trueheight
said on 22/Jul/06
yea, he looked 5'7 on Blade 2. Maybe under b/c his shortness relative to everyone else was distracting
Dude
said on 8/May/06
He's closer to 5'5" or 5'6". With hair and thick soled shoes he could be 172 cm. With hair and thick soled shoes I'm 180 cm, without them I'm 178 cm.