Doug Jones Height
6ft 3 (190.5 cm)
Peak height was 6ft 3 ½ (191.8 cm)
American actor, known for films such as Pan's Labyrinth, Fantastic Four: Rise of the Silver Surfer, Hellboy and as Saru in Star Trek: Discovery. He said in LA Daily News,
"When you show up in Hollywood and you're almost 6-foot-4 and weigh 140 pounds"
and in a
Backstage.com
blog interview,
"I was a gawky, awkward child. I'm 6'3½", I weigh 140 pounds, and I've always looked like that"
.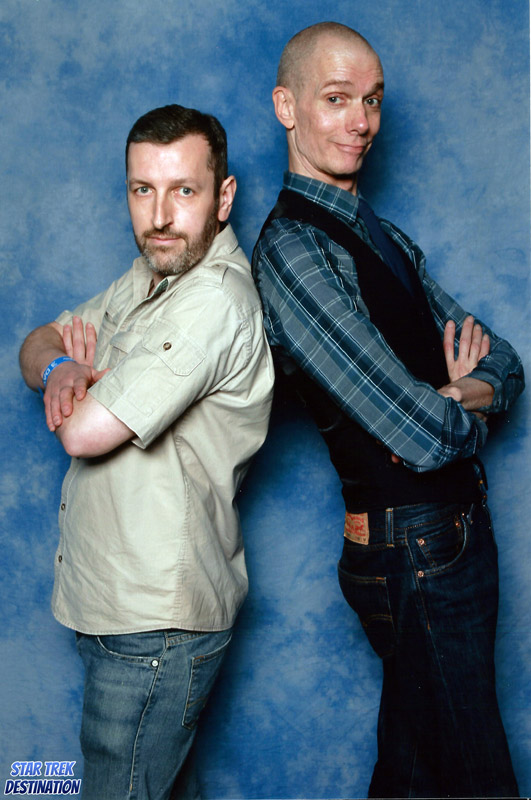 5ft 8 Rob and Doug @ Star Trek Destination
6' 3" and some change
6' 3 1/2", but being skinny might make me look taller.
I'm 6'3" in real life,mans 6'8" in my Saru boots.
-- Twitter
You May Be Interested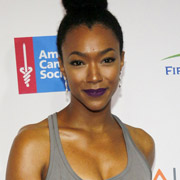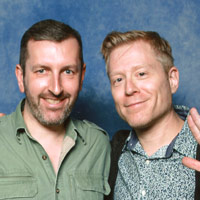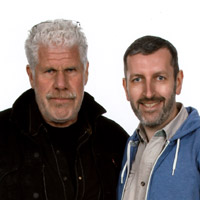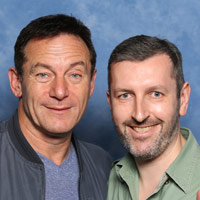 Add a Comment
114 comments
Average Guess (14 Votes)
Peak: 6ft 3.61in (192cm)
Current: 6ft 2.95in (190.4cm)
Ian C.
said on 28/Dec/20
Is Doug Jones unhealthy? I doubt it. He's just a thin man, like Mick Jagger or James Stewart, who is able-bodied and free from disease. Many champion marathon runners are as thin as Jones, and those guys are extremely strong.
Look at him in Hellboy II, and he seems lithe and athletic.
OriginalAnon
said on 28/Nov/20
190/191cm
Rampage(-_-_-)Clover
said on 21/Nov/20
I wouldn't say he's 140lbs in that photo...more 160ish
James B 172c,
said on 20/Oct/20
According to BMI 140 pounds at 6'3 1/2 is extremely underweight and unhealthy.
Maybe Doug has a medical condition making him thin?
Tunman
said on 10/Oct/20
Although not proved,it's indeed very possible that he has Marfan syndrome since he's also a contortionist which requires a very flexible body.The symptoms of the disease are a tall very thin body with long arms fingers and legs as well as overflexibility.
6'3 Julian
said on 7/Oct/20
Looking at him I think he might have Maarfan syndrome (not sure if I spelled it correctly)
Tunman
said on 5/Oct/20
Yeah,some guys like Doug have bone structures that are naturally thin like myself.I'm currently around 130 lbs and healthy although I'm only 5'9-10 range.You can compare us with Matt Damon who stated that being at 139lbs didn't do him any good.Now for someone whose easily 6"taller,to be that weight,it definitely requires a thin bone structure,otherwise it would be much better to be at least 170-180lbs
I am 188cm
said on 25/Feb/20
Some people have thin bone structures others large, some in between. 140lbs may be perfect for his body structure whereas other 6'3" people may be 220-240lbs and still look right for their bone structure. Looks about 6'3", I enjoy watching the characters he plays.
Chris Junior Hernandez 1990
said on 11/Nov/19
@Jdubbz We'll about the same height and i'm holding 197lbs now and i don't really look skinny in most outfit, maybe its a good weight for you to drop down around my weight. But somewhere 185-190 as you mention it starts to look skinny.
Nik Ashton
said on 26/Sep/19
I think he can pull it off!
Christian 6'5 3/8"
said on 7/Sep/19
@Jdubbz
It fluctuates a little, but I typically hover around 225-230 these days.
Jdubbz
said on 24/Aug/19
@Christian: how much do you weigh these days? I'm currently 213lbs and maybe 19-20% bodyfat. I'm planning on cutting to 185-190lbs and getting to 10% bf, but that sounds pretty skinny for a 6'5.75" guy. Anything under 200lbs does to be honest.
Ben
said on 11/Aug/19
He just said to me he's "always guessed as 6'6" but I'm only 6ft3". It's nice to know honest height claimers are still out there!
Christian 6'5 3/8"
said on 9/Aug/19
@Importer
Still, that's unhealthily thin. Even my lightest was no less than around 200 at 18-19, when I basically stopped growing taller. And I'm only 1.5" taller than Rampage.
Importer
said on 7/Aug/19
@Christian 6'5 3/8" I guess he was 150lbs when he was younger.
Christian 6'5 3/8"
said on 6/Aug/19
@Rampage
That's insane, what happened to you that you became so thin?
Rampage(-_-_-)Clover
said on 2/Aug/19
I used to weigh 150lbs at 6ft4. It's not pleasant, let me tell you....
Chris Junior Hernandez 1990
said on 17/Jul/19
Doug weight is 140 pounds which is super skinny for 6'3, but Javier Botet is 1.5" taller and only weigh in 123 pounds diagnosed with Marfan syndrome.
Jordan87
said on 11/Jul/19
Assuming him and Rob Have equal posture, he is not much over 6'2.
Nik
said on 27/Jun/19
It would be amazing if a height chart was added!
Average vote = 6'3" (11 votes!)
Junior Hernandez 1990
said on 21/May/19
Click Here
6'5.5" google listed Javier Botet and Doug Jones. Interesting to see two super skinny tall stunt actors taking picture together. Rob should give Javier a page as he had too many credits on horror movies over europe and america.
Tall Sam
said on 19/Apr/19
Just saw Doug in passing at a Washington DC hotel restaurant, he did look a solid 6'3" to me but not 6'3.5" in my eyes at about 1.5 inches shorter than myself.
Benjamin Fritz
said on 29/Mar/19
He looks a solid 6'3" now, 6'3.5" atleast, in his peak. I'm trying to get him to come to London in april. He's a good friend of mine.
Mickie
said on 27/Dec/18
6'3.5" peak.
Peter 179cm
said on 15/Dec/18
Listing seems dead-on this time.Even a fraction more is debatable.
Zampo
said on 17/Nov/18
@Christian:
I'm looking and I still find it difficult to tell. I think possibly a 5/8 postural difference in Rob's favour. So possibly 6'2.25 range but I have no clue really. It's not a good photo for trying to assess height precisely. So I couldn't rule out 6'3, particularly after the photo with Tim Russ. Logically if I had to make an estimate from the evidence on this page, maybe 6'2.75.
Christian 6'5 3/8"
said on 16/Nov/18
@Zampo
I think if he was standing the exact same way Rob did, he would've looked around 6'2.5". I just can't see 6'3". I'd say that he has a 2cm postural disadvantage over Rob.
VelikiSrbinn
said on 14/Nov/18
Good thing I'm already taller and heavier than Doug Jones :D
VelikiSrbinn
said on 14/Nov/18
Looks 6'2 but he's leaning alot so I can definitely see 6'3 if he stood up straight but no more. He's also extremely thin for his height, if I was him and had the choice I'd happily give up a few inches for 50 extra pounds of bulk.
Sakz
said on 13/Nov/18
@Rob Yeah some taller people will naturally lose height in a pose whereas others won't. I guess you just got unlucky with Doug!
Zampo
said on 13/Nov/18
@Christian:
I agree they aren't losing the same amount. The photo only tells us that he is at the least 187 cm. I just couldn't be bothered to speculate on what the difference may be though. Lol.
Sakz
said on 12/Nov/18
As he's taller than Rob he's understandably losing more height. Standing straight I can see him measuring anywhere from 6'2.75-6'3.

Editor Rob
It can be a hit or miss how somebody stands if you ask for a pose...6ft 3 rangers like Alastair Petrie or Lars Mikkelsen weren't standing great with the other people which is why I asked them (and they ended up in a good pose) but I shouldn't really have asked for a pose with Doug.
Christian 6'5 3/8
said on 11/Nov/18
@Zampo
But they aren't losing the same amount of height. Doug's losing more than Rob. 187 is too low.
Nik
said on 8/Nov/18
He's dropping much height!
Zampo
said on 8/Nov/18
I think Tim Russ is nearer 5'11 flat today. Doug Jones looks (6'2.75-6'3 range) in that photo with him to me.
In the photo with Rob, it's too difficult to know how much either is losing but taking the assumption they are losing an equal amount of height. Then Doug doesn't look over 187 cm (6'1 5/8).

Editor Rob
Tim can look about 5ft 11 with Doug, he might be near that range...although seemed over 5ft 11 when I last seen him.
Andrea
said on 6/Nov/18
I know he isn't standing at his tallest (but so isn't Rob, I reckon), Connor. That's why I asked Rob how much (more) height he thought he was dropping here. Without considering any posture difference, he looks nothing over 6'1.5, although he clearly must be well over that. As Paul pointed out, he easily looks somewhere in 6'3 range with Tim Russ (who is probably no more than 5'11 today, I think):
Click Here
Christian 6'5 3/8"
said on 5/Nov/18
@Andrea
6'1.5" is too low. He's clearly dropping more height than Rob. That's not to say that he looks a solid 6'3" in the photo either.
Dream(5'9.5")
said on 3/Nov/18
This listing is fine.
Paul NS (6ft 0.5)
said on 3/Nov/18
Yeah he doesn't appear to hit the 6'2" mark in this photo... but with Tim Russ (someone Rob has met and deemed 5'11"-5'11.5" range) he's clearly over 3 inches taller
Click Here
. So he's gotta be quite close to 6'3" if he isn't exactly that.
Csimpson6ft
said on 3/Nov/18
@Andrea he isn't standing up straight, that's the reason why he looks shorter, he would look a full 6'3 if he was standing better.
Csimpson6ft
said on 2/Nov/18
140lbs at 6'3-6'3.5 must be dangerously underweight for someone his height right Rob? He looks so skinny in that photo with you! He does look very lanky though so I can buy 6'3 for him, he would look it if he was standing up straight.

Editor Rob
I'm around 164 pounds in october, I'm sure he is still in the 140 pounds range, but he's always been a thin guy through his career.
Andrea
said on 2/Nov/18
Is he losing 1.5-2 inches more height than you here, Rob? 'Cuz he doesn't look over 6'1.5 in the photo...

Editor Rob
Well he looked around 6ft 3 in person.
Ben
said on 1/Nov/18
Whoa there! When did you take the picture? Must be pretty old because he has been filming Star Trek this week, today and yesterday he has been free. While talking we slipped into the suubject height, I told him that you met him and he certainly remembers you! He mentioned that Ron Perlman was "5'11" isch".

Editor Rob
I was meant to be doing a convention with Jenny that weekend, but the organiser had cancelled about 70% of the guests who were going...since I already had train tickets booked that passed via Birmingham, I decided to pop along to an actual 'Star Trek Convention', something I've never done in 14 years...attended a convention about Star Trek 😮
It's no surprise Perlman gets guessed at 5ft 11, that's what he can look half the time. I'm sure Doug looks 4 inches taller than him too over last 10-15 years.
Christian 6'5 3/8"
said on 31/Oct/18
Around 6'2.5" with Rob.
Ben
said on 28/Oct/18
Got myself an exclusive statement from the man himself just for you, Rob! ;) :)
Click Here

Editor Rob
Yeah, he's mentioned his height quite a lot, a few more quotes:
"Barefoot, I'm 6'3", and in Saru's hoof boots, 6'8" 🖖🏻"
"6' 3 1/2", but being skinny might make me look taller"
"My real height is 6' 3 1/2""
"I'm just a mere 6'3". But the skinny tends to make me look longer!"
"Arrived safely for my 3rd time in Mexico City. At 6' 3", blond, blue, I think I've finally discovered that I don't blend in here."

But as you can see, even with poorer posture than me he still managed to look tall.
Junior Hernandez 1990
said on 28/Oct/18
Should be a solid 191cm now and almost 6'4 peak.
Rampage(-_-_-)Clover
said on 9/Apr/18
and sorry but 140lbs at near 6ft4 is dangerous...
Rampage(-_-_-)Clover
said on 9/Apr/18
No exaggeration, his head would look proportionate on a 6ft7 or 6ft8 guy
Tall Sam
said on 12/Feb/18
Rob, would you consider a current listing for Jones now?

Editor Rob
6ft 3 flat, he's been saying that figure a fair bit on twitter actually.
Ben
said on 9/Feb/18
Unbelievable that this guy is 57 years old. Looks to be in his 30's. He gets 6'3.5", has always striked me as being very tall.
Tall Sam
said on 19/Jan/18
Rob, could you see him as having height loss and maybe deserving a current listing? I would guess being a contortionist and doing crazy stuff for weeks in Del Toro's crazy monster costumes could cause a lot of wear and tear, especially someone almost delicately thin like Doug.
In these premiere shots, Michael Shannon seems to edge him comfortably, even if Jones is standing more loosely, Shannon looks nearly an inch taller. And Shannon looked (standing loosely himself) like a flat 6'3" guy at best himself by that tall teenager and Armie Hammer.
Click Here

Editor Rob
He's been saying 6ft 3 a lot on twitter, so maybe he is around that now.
moe
said on 9/Jan/18
I met him in Burbank today. Friendly and skinny. I'd say he's certainly over 6'3.
S.J.H
said on 8/Apr/17
I bet he still weight at 140 pounds.
Sam
said on 9/Nov/15
I think he's an honest guy about height, few celebs go into half inches.
Ace
said on 15/Jun/15
Just met him Rob. I have to admit I was actually quite surprised. I've mentioned a few times in the past I'm just shy of 6'3 (6'2 and 7/8ths to be exact), and this man was definitely more than an inch taller than me. My 6'4.5 gym buddy was with me and Jones was if anything a hair taller. Maybe Doug had a shoe advantage that I couldn't see (both my friend and I were wearing converse).
Aaron
said on 31/Aug/13
I thought he claimed 6'5. Either way he is still very tall, very slim aswell aswell. Which makes him look even taller.
Shaun
said on 13/Jul/11
Those legs look like 38' inseams!
Shaun
said on 13/Jul/11
Good find Rob. I initially thought 6'10" but he is closest to the camera. He does look 6'9" range in my view especially if you compare the level of the top of his head to the shorter guys on the left..
Shaun
said on 13/Jul/11
That Mike Richardson looks about the same height and build as Ronald Rich, the guy who played Hans the Bodyguard in the 1967 James Bod film you only live twice! Google search indicates he was 6'8" so you are probably right Rob.
Shaun
said on 13/Jul/11
Mike Richardson, he's a film producer, one of the producers of The Mask. I googled him but all I got was a few "the extraordinary tall producer" or the "very tall fellow". I found one site which says "Dark Horse's Mike Richardson put on an exhibition of his original comic ... Very genial fella. He is at least 6'5"-6'7" tall. Certainly looks at least 6'8" in that photo accounting for angle. Funnily he looks exactly like my old art teacher, although my art teacher was about 6' max.
Shaun
said on 12/Jul/11
No he doesn't have a swimmer's body. He hasn't any muscle. This is extreme for a guy in the 6'4" range to be 140 pounbds. This is a good example of how you DON'T want to look at 6'4".
WOW Rob check out
Click Here
If he's almost 6'4" how tall is that guy on the left?
[Editor Rob: he's a little bit nearer camera I think, it's possible he might be near 6ft 8, I don't know who he is though.]
Ace
said on 28/Apr/11
He certainly never appeared below this mark in either Hellboy films. I don't think anyone would contest his height. And for anyone who thinks his weight is impossible, lots of people are taller and even thinner than he. People with Marfan Sydrome can have situations where they are 6'7 and 130 pounds.
Hellmistress
said on 11/Apr/09
Yes, Comets, he is. As I have said before, Dougie is around 140-145 usually, and that is normal for him. He doesn't have to work at it, and he has a very hearty appetite, by the way. It's just the way he's made.
Comets
said on 25/Feb/09
wow, seriously???.. damn he is very tall..he probably weighs 70kg ..I'm 175cm and weigh 123 pounds and i think this guy is definitely not 140 pounds
Forrest 6'1.5
said on 1/Feb/09
A 6 Foot 4 person could way between 185 and 245 and look normal (depends on your build). Unfortunatley your underweight
lisa
said on 28/Nov/08
how much im i suposed to wieght??? im 140, 16 years old and 6"4 centimeter
Hellmistress
said on 19/Nov/08
Doug fluctuates in general between 140 and 150, usually around 140 at the moment. When he was in college he was even lighter. Fact. That's just the way he is.
Mike
said on 19/Nov/08
Height and weight don't tell the whole story. I'm 6'3" 136 lbs., which might sound unhealthy, but it's actually right around where I should be given my ectomorphic frame. I could gain weight if I wanted to, but it would all just go to my gut.
flash_of_eden
said on 12/Nov/08
abesapien- actually, it is very possible. i had a friend from germany who was 6-5 and around 150 when he landed in america -- although at the end of the year he left carrying 20 more pounds, that's america for you. either way it all depends on body density and frame. i myself am in the 137-140 range at just under 6-2 (6 ft 1.6 if you wanna get technical); doug probably weighs what he says he weighs.
abesapien
said on 11/Nov/08
It's not possible for a man of his frame to weigh that much at 6'3. I was 6'2 142 lbs no body fat and I was twice as thin. Hellmistress, you are either
lying or Doug isn't telling the truth. He weighs a bare minimum of 165 pounds.
flash_of_eden
said on 10/Nov/08
edward-
you never know, you may get past 6'. my own parents are the same height as yours but im about 6'2 and still growing, over the past year i had to switch from a 32 jeans length to a 34 (i am 19 yrs old). you may be surprised how tall you get, as plenty of men grow well into their 20's.
Edward
said on 20/Sep/08
hey jasper, i found out that dad is actually 5'10'' not 5'9''. my mom is still 5'4''.
last month was birthday. im 15 and now i measure 5'9''. how does that alter my final height?
Jasper
said on 29/Jul/08
Hi there Edward,
I think your final height is gonna be about 180 - 185 cm so say 5'11 - 6'1. You can calculate is like this, first calculate both you mom's and your dad's height in centimeters. Then the formula is like this. 'Dad's height in cm + Mom's height in cm =..../2 + 11 cm = YOUR FINAL HEIGHT' At the end you can be 0-5 cm taller or smaller.
Edward
said on 15/Jul/08
wow he is skinny. i'm 5'8 and a half and weigh 133 lbs. i hope i get to be at least 6'. i'll be satisfied at that height. people think i'm 17 because of my height when i'm really only 14! my dad is 5'9 and my mom is 5'4 but most of my uncles are 6'3 or 6'1. how tall do guys think i'll be?
Hellmistress
said on 25/May/08
I know Doug, have known him for over four years, I run his official website, and Doug fluctuates in weight between 140 and 145 at exactly 6 feet 3 1/2 inches tall. FACT. He also loves his grub and is a good eater.
scott
said on 24/May/08
im 6'4 and skinny (albeit toned) and weight a tad over 190 ... i can't imagine being 140 - i'd be nothing that skin and bones.
Jason
said on 23/May/08
My dad's only 5'10'' & my mum's 5'7''. Don't worry too much about the other stuff ... if you're meant to get taller, you will.
RICHARD
said on 23/May/08
I really just want to get to 6' and stop there. I try to take care of myself and get enough sleep,calcium in my bones,and drink water. I'm not really athletic,but yet I have enough energy and I don't stress to much. I REALLY WISH I COULD BE 5'11 or 6',but my mom is only 5'5 and dad is 5'9
Jason
said on 22/May/08
RICHARD says on 19/May/08
''I got weighed and my height taken down today. It said I was 5'10 and 145. I surely am not big,even though I lift weights occassionally and eat constantly,but I got a roundish face and a big chest. I'm only 18 and I'm not sure if I'll get taller or bigger but I'm glad I'm not under 5'8.''
The big chest & head means you might. I'm 6'3'' 240lbs (27 y/o) ... I was just 5'11'' 160lbs when I was your age.
glenn
said on 21/May/08
i never noticed it until you guys brought it up,but he does look a tad unhealthy.
RICHARD
said on 20/May/08
He reminds me of this kid I know at school. He is 6'3 and weighs 145,and his legs are really,really thin and he probably wears size 3 pants. His girlfriend said he grew up very quickly at age 13 and he couldn't store much fat anywhere so he's as thin as a rail. He's the same weight as me,only he's taller
RICHARD
said on 19/May/08
I got weighed and my height taken down today. It said I was 5'10 and 145. I surely am not big,even though I lift weights occassionally and eat constantly,but I got a roundish face and a big chest. I'm only 18 and I'm not sure if I'll get taller or bigger but I'm glad I'm not under 5'8.
Charliemoto
said on 18/May/08
hey nice image Glenn you look cool there and doug seem a nice guy, he's very underweight which isn't odd most 6'3+ most of the time are kinda skinny or thin, i'm 5'11 and underweight but not as much as doug but i got sunken cheeks i seem to have lost also some weight lately about 3-4kg out of the blue even though i'm eating well (lots of icecream and chocolate) and not doing any sport wtf?!
anyway he looks close to 6'4 anyway so 6'3.5 is fine.
Ian
said on 17/May/08
Looks a tall guy. Looks skinny even though he is wearing many layers of clothes. You can see the bones in his hands easy enough. He kind of has the Peter Crouch(6ft 7 skinny UK footballer) look about him.
Mcr
said on 17/May/08
I'm 6"4 and 185 or so, definitely on the slim side but people don't consider me 'skinny'. I think this guy looks about 145, looks like he has a very small frame so his weight is quite believable, I have a friend who is about 6"2 and very ectomorphic, weighs a little less than this, literally all skin and bones. Saying that he's only 18 so I suppose you've got a lot of filling out to do at that age but Doug Jones is just a very skinny guy although if he has a small frame he is probably not that far from what is medically, a healthy weight for him
Jason
said on 17/May/08
BMI becomes less accurate the taller or shorter you get from the average because it doesn't take into account people grow o-u-t/in (width), as well as up and down.
Yaspaa
said on 17/May/08
BMI calculators are useless but even if they are correct 140 is still 12ibs under minimum.
glenn
said on 17/May/08
uh,more 6-3.but i asked him and he said 6-3.5.
anonymous
said on 17/May/08
so glenn, did he look 6`4ish?
eddiehaskell
said on 16/May/08
On a BMI calculator, it says at 6'4" a normal weight is between 152 and 204.5.
At 140 he would only be 12 lbs away from a normal weight. If he is really 6'3.5" he would only be 10 lbs away...probably not a huge health risk.
In the US, the average man weight is what...195lbs at 5'9"? Thus, a lot of men in the 125-175lbs range are seen as skinny when they are actually at a healthy weight.
shemp
said on 16/May/08
He seems very friendly Glenn. Also you met him so what's your opinion on his height?
Josh
said on 16/May/08
He looks 6'3
Joe
said on 16/May/08
For 6-4 weighing anything under 170 means being extraordinarily thin. I think 185 is the minimum healthy weight for someone who's over 190 cm tall. I'm 5-11 and 180 and I have a normal frame, just as someone who's 6-4 and 210-220.
Jake Is Back
said on 16/May/08
For 6'3" - 6'4" you're ideal weight is probably going to be between 160 and 210 unless you're especially muscular.
Yaspaa
said on 16/May/08
190lbs min not max and 6'6 and 150 lbs who are you kidding?
Andy
said on 13/May/08
210-220?? That a bit much unless it is made in muscle. For 6ft4/6ft3.5 you want to weigh in between 150 and 190 for healthy weight. As for doug last year i was lke that im 6ft6 and i barely weigher 150 pounds. But i gained a little bit of weight and now im 173. But im sure he eats healthily its just a natural thing.
Hellmistress
said on 8/Nov/07
I'm Doug's webmaster for his site and know him well, so be assured that Doug has a very, VERY healthy appetite - he's just naturally lean and slender, and stays around the 140-145 mark. He's also very fit, as much of his work is under prosthetics and he has to have plenty of stamina and strength to do the roles.
Onno
said on 25/Jul/07
I'm 6'2 and I weigh only 58 kg. My small frame makes me look taller and my height makes me look even more skinny.. It's kinda annoying! But its true that a small frame can give you an ''inch'' extra.
Taylor
said on 17/Jul/07
This guy must be a weed. 6'3.5, 140. CRAZY!
anonymous
said on 26/Jun/07
i am 6`2.75 and 185 pounds and i never thought of myself as being over or underweight. i have a brother who is 6`4 3/8, and weighs 271. he is an amateur boxer, and doesn't have any fat on him at all. it is kind of scary actually.
As for doug jones, i wonder how he is so naturally thin. maybe he lost the weight for pans labyrinth.
Alex
said on 18/Jun/07
6'3.5 and 140lbs is very skinny. For 6'3-6'4 I think around 210-220lbs is a fair weight where you're not too lean but not too heavy.
Anonymous
said on 18/Jun/07
I'm 6' and I'm 135...I thought I was skinny. I saw rise of the Silver Surfer today, and he looks in shape in the movie , though I don't what is from prosthetics.
Danius
said on 10/Jun/07
140 lbs? 6'3.5?................Im 132lbs and im 5'8.5.....I look skinnny, this guy must look like a...............................
Jason
said on 7/Jun/07
Yep, just goes to show what I said. 101kg (223lbs) is a normal weight for 200cm (6'6' 3/4''), not overweight.
Anshelm
said on 7/Jun/07
His BMI would be just over 17 (the given figures are a bit vague; no more than 17.4, however). Though BMI:s are BS, as they give distorted figures for people of unusual height: if a BMI of 18.5–25 is considered normal – as I've seen somewhere recently – 74 kg (163 lbs) would be normal for a height of 200 cm (6'6¾"), while 101 kg (223 lbs) would be overweight.
As for Jones's physique, I've thought of something for comparison: Croatian FEMALE high jumper Blanka Vlašić is 193 cm (6'4") tall and weighs 75 kg (165 lbs).
Click Here
A fellow university student of mine was 188 cm (6'2") and 65 kg (143 lbs) at one time, though he did gain some 10 kg (22 lbs) during his military service.
Matt Thomas
said on 7/Jun/07
Yeah my little 17 year old bro is 6 foot and weighs 140 and hes thin as a rail 6'4 at that weight I can only imagine
anonymous
said on 2/Jun/07
TheJerk, i never said it was normal, but it is not anoerexic. besides, look at this guys bodytype, he is the skinniest man i have ever seen.
p.s. he had better do a good job as silver surfer in the new movie.
Thrashman
said on 1/Jun/07
Im 6'4 and 230lb and i am bigger and broader than the average man of my own height, but not by too much. a man of 6'3.5 should carry about 190lbs at least, no matter if they have got a slight or thick frame naturally
TheJerk
said on 31/May/07
How can you suggest that 140 lbs is a normal weight range for a 6-3.5 inch man? It is seriously underweight. It would be thin for a 5-8 man, I should know my friend and brother are 140 and 5-8 and both are thin, if not skinny.
Jason
said on 28/May/07
Nah, his BMI is a lot less than 22. More like 16. Pretty much anorexic, if technically not so.
not reall
said on 28/May/07
dude his bmi is 22 and at his age the range for "normal weight" is at 22-27. that means that he's not underweight but the bottom end of what is supposed to be "normal".
anonymous
said on 19/May/07
never mind, i just checked the bmi ratio. he is very underweight, but not enough to be considered at an anorexic weight.
5'11.5 guy
said on 19/May/07
140 pounds? That can't be healthy.
Tallish
said on 16/May/07
140 pounds,wow that's light for his height